Schwartz and Neu will resurface on the show circuit only once in the upcoming year, having retained the rights to run a big show in their home state of Florida at the Loews Hotel on Miami's South Beach in October 2010 (October 17-19, 2010 to be specific).
Though not exactly their swan song, this third consecutive annual show in the Big Apple was a fitting first class send off for Schwartz and Neu as they head off for a well deserved 12-month break from the show production grind. Equally deserving of an extended vacation are their wives, Barbara Neu and Alina Schwartz, who have worked tirelessly alongside them at every show for the past five years.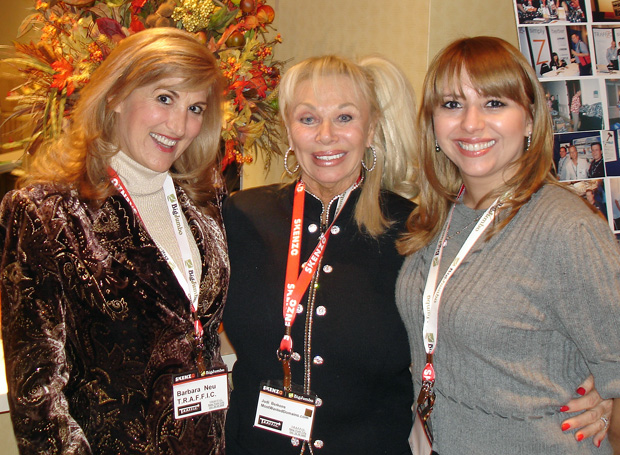 Barbara Neu (left) and Alina Schwartz (right) welcome
Judi Berkens (center) to T.R.A.F.F.I.C. New York
The Neu's son Ray Dillman has done the same, but that young man's work has just begun. Now an executive with the Rick Latona team, Ray will continue to work on the T.R.A.F.F.I.C. shows when the Latona crew takes charge beginning with T.R.A.F.F.I.C. West in Las Vegas January 21-23.

Even though an ICANN meeting was running in Seoul, Korea at the same time (pulling away many people who would have been at T.R.A.F.F.I.C. otherwise) a solid crowd of close to 300 people was on hand when the New York event got underway with the traditional opening night cocktail party at the Brookyln Bridge Marriott Monday evening, October 26.

Ray Neu in New York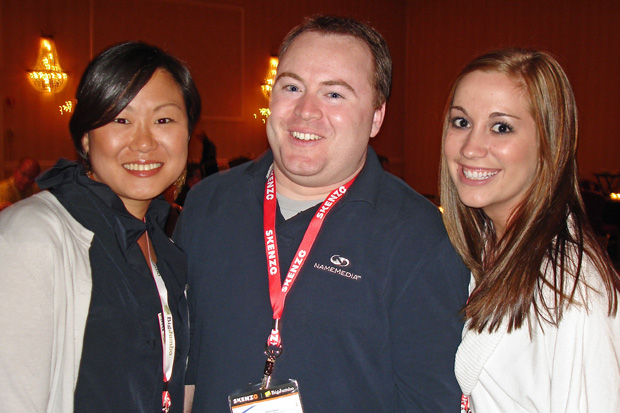 Faces in the crowd at the opening night cocktail party that kicked off T.R.A.F.F.I.C. New York
Above (L to R): NameMedia team members Joanne Rim, David Zakur and Cortnee Gunn
Below: Richard Douglas (Oakville.com) and Patrick Ruddell (ChefPatrick.com)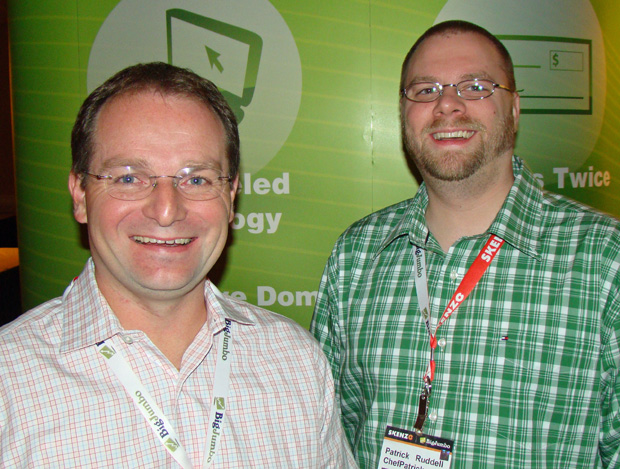 Below: The opening night networking always gets the week off to a sizzling start and
invariably ends well after the scheduled closing time with hotel staffers having to nudge
people toward the exits so they can finally go home!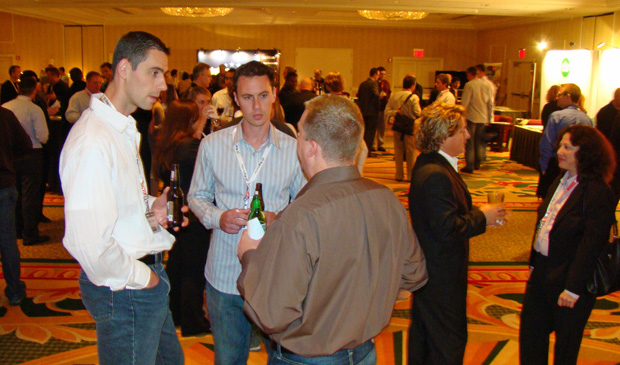 The next morning, Schwartz and Neu kicked off the first full day of business with welcoming comments at 10am. At 10:30 the first of several new T.R.A.F.F.I.C. features was unveiled. T.R.A.F.F.I.C. Test Track, a takeoff on the ABC-TV show Shark Tank, gave three people seeking funding for their development projects a chance to pitch their ideas to a panel of potential investors that included (left to right in the photo below) Michael Berkens, Rick Latona, Jon Waterman, Rick Schwartz, Michael Castello, David Castello and Dr. Chris Hartman (moderator Howard Neu is standing at the podium at left).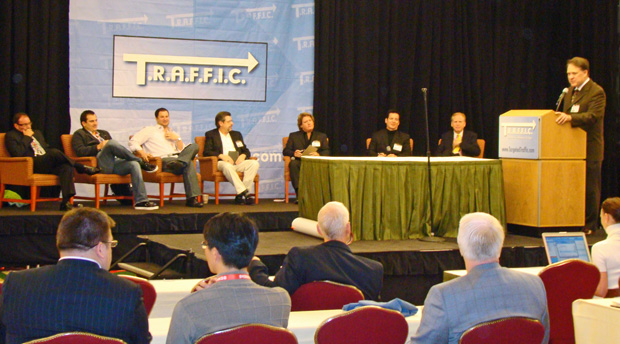 The developers making presentations were Kevin Woods (ByOwner.com), Mark Michael (DevHub.com) and Poland's Daniel Dryzek who has plans for a multi-service ccTLD conglomerate in Europe. The three were chosen from more than 20 applicants seeking the same opportunity. Though none won funding on the spot, all impressed panelists with their presentations and some of the investors expressed an interest in learning more about their ventures.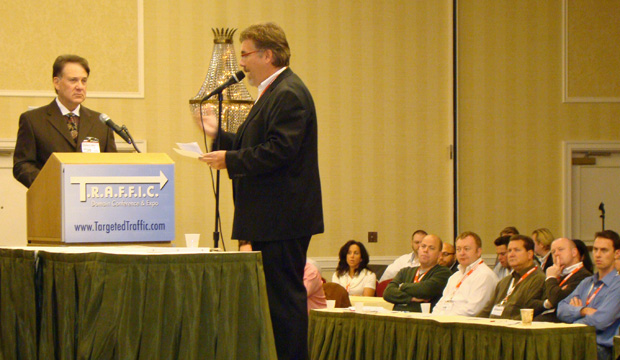 With audience members (right) and moderator Howard Neu (left) looking on, Kevin Woods
makes his pitch to the investor's panel during the T.R.A.F.F.I.C. Test Track session Oct. 27.
Kevin Woods kicked off the session seeking $500,000 for 20% of his profitable ByOwner.com real estate listing service, a business that Woods said generated a $150,000 annual profit on $225,000 in revenues. Most of the panelists bowed out either because they thought Woods' valuation was too high of because they thought there would be too much brand confusion with a popular company at BuyOwner.com. Woods said his company offered different services than that site and had huge growth potential, also adding that he owned his name first so trademark concerns were not an issue.
Though Woods didn't get the funding he sought his presentation was very well done and he did T.R.A.F.F.I.C. a favor by immediately demonstrating the viability of the Test Track concept as an informative and entertaining addition to the conference program. Audience members got some unique insights into the mindset of both web-based business owners and potential investors that could help them as they develop their own online business.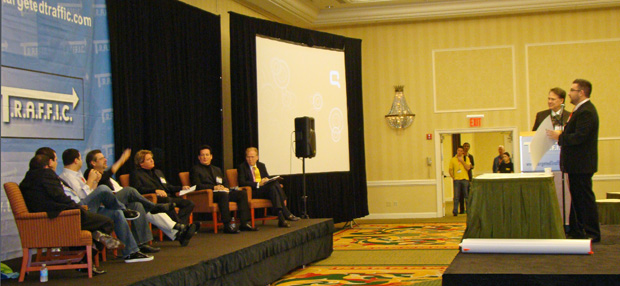 At far right, Mark Michael (DevHub.com) make his pitch to the Test Track panel.
Mark Michael of DevHub showed that the opportunity to present is also a great way to publicize and promote an existing business. Michael, who sought $1,000,000 for 10% of the company, told everyone he didn't know Test Track was going to be conducted in front of a live audience. He thought it would be a private pitch to the investors but Michael quickly adapted and used the platform to spread the word about DevHub, a company that already has a number of high profile investors, including Rob Monster.
Poland's Daniel Dryzek was the final presenter. He sought $1 million for 20% of his company, a firm that plans to invest in European ccTLDs and become a one stop service provider for domain owner/developers on the Continent. Dryzek already owns 5,000 generic keyword ccTLD domains and runs the MeetDomainers conference that just conducted its second annual show in Warsaw. Panelists liked him and his plans but most were out due to unfamiliarity with some areas in the European market, including Dryzek's home base in Poland. The Castello Brothers urged him to seek funding at home, where people would be more familiar with his targeted market than U.S. based investors are.

The Test Track concept has terrific potential so I hope it will remain a part of the T.R.A.F.F.I.C. program in future shows. Before the debut of this feature Schwartz said it would take about three shows to get the recipe for this idea right, just as it took the live domain auctions that T.R.A.F.F.I.C. and Moniker pioneered a few outings before they got the formula right and started having great success with it. Eventually, the Test Track investors panel could include

Daniel Dryzek

venture capitalists (like Rob Monster, who was in the audience) rather that the well-known domain figures on this panel who are already so busy with their own successful projects that investing in additional outside ventures is less appealing that it might be to pure angel investors.
CNN Anchorman Rick Sanchez
delivering his keynote address

The lunch break that followed featured CNN anchorman Rick Sanchez's keynote address. Sanchez has been a pioneer in melding traditional TV journalism with live interaction from his audience via social media platforms like Facebook, Twitter and MySpace. Like print, TV has been losing viewers to the Internet so Sanchez decided he had to come up with a way to re-engage the audience. By turning his newscast into a social media platform of its own, featuring live commentary and questions posted by viewers, he has succeeded in that quest and his career has been on an upward trajectory ever since.

"The more I did it, the better the show got," Sanchez said. "It was no longer the Rick Sanchez Show, it was their show." Sanchez told the audience that the new media delivery system is going to push out the old one and urged them to incorporate social media in their own

Internet development ventures if they want to better tap into the vast revenues that will be generated in the migration of media from traditional platforms to the web.
Sanchez, who donated his speaking fee to charity, also made a funny comment about Rick Schwartz's $750,000 sale of the domain name, iReport.com to CNN. Most people in the domain business thought the domain was worth only a fraction of that amount, but noting that the iReport concept has been a huge success for his network, Sanchez said with a smile, "Rick didn't get enough money for the name - he was had!"
Alap Ghosh - DomainAdvertising.com's VP
of Strategy and Business Development at the
company's booth. He was on the Ad Networks
and Traffic Quality panel Tuesday, October 27.

After lunch the first afternoon session covered Ad Networks and Traffic Quality - a New Weapon in a Down Economy. Panelists included Alap Ghosh (DomainAdvertising.com), Steve O'Brien (Click Forensics), Adam Epstein (AdMarketplace), Adam Heimlich (Razorfish) and Richard Sim (Anchor Intelligence).

Ghosh's company, DomainAdvertising.com, made its debut at T.R.A.F.F.I.C. New York. Ghosh said the firm "evangelizes the domain medium and its merits to key online ad spend controllers, and helps these media buyers effectively use the domain channel, thus creating sustainable value for both the advertiser and the publisher." Buying Domain Traffic, Leasing Domains, Advanced Audience Targeting via Domains and Competitive Elimination are some of the services that DomainAdvertising.com provides to agencies, advertisers, ad networks and other aggregators.

Ghosh said, "Our studies show that online advertisers are very interested in learning more about the domain channel. The advertisers who aren't using the domain

channel yet said that they will jump all over it, if someone just shows them how. Across all advertisers, the primary focus of 2009 has been ROI improvement on ad spend. Advertising on domains provides just that. We are bringing in fresh thinking and out-of-the-box solutions that will help advertisers buy the right traffic and publishers sell their inventory for the right price."

DomainAdvertising.com is accepting pre-registrations for its domain publisher program on it's website.
Next up was one of T.R.A.F.F.I.C.'s perenially popular events - speed networking. The format was changed this year to a more effective one (first used at T.R.A.F.F.I.C. Amsterdam in June). Attendees sit facing each other in chairs arranged in two giant circles. Those in the outer circle rotated over one seat every two minutes allowing each participant to meet and exchange business cards with dozens of new contacts before the hour was over.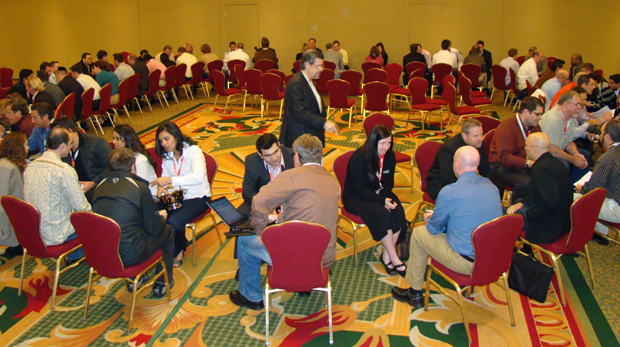 Scene from the Speed Networking session Tuesday, Oct. 27.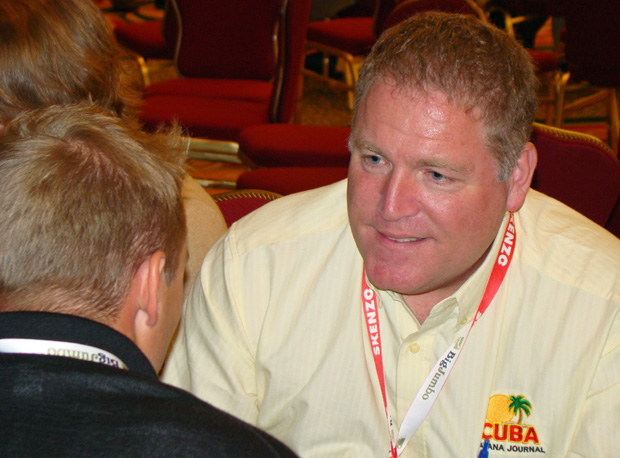 Rob Sequin (HavanaJournal.com) makes a new contact.
Tuesday's business day closed with the RickLatona.com live domain auction, a sale that reminded me a bit of the glory days of such events. A big crowd was in the room filling most of the seats and overflowing along the back wall where dozens viewed the action while standing. Better yet, they were breaking open their wallets to make big purchases like Rio.com ($450,000), Whiskey.com ($185,000) and SchoolLoans.com ($137,500), the latter being a fully developed site with a nice revenue stream. While the final total of approximately $1.2 million was a long way from the record breaking days we saw a couple of years ago, the overall vibe throughout the energetic event produced a feeling that the aftermarket is on its way back.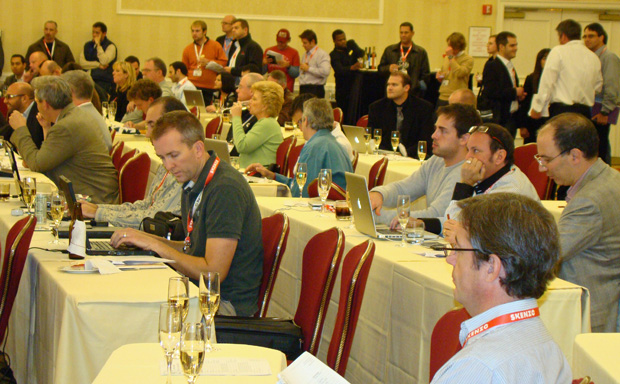 Above: Bidders crowd into ballroom for the Rick Latona live domain auction.
Below: Another scene from the Rick Latona auction Tuesday, Oct. 27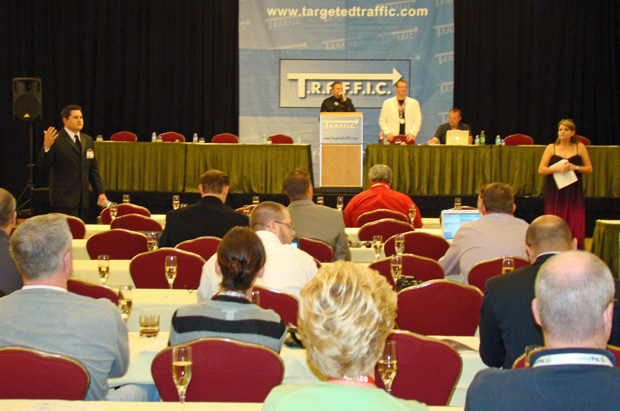 With the day's business done, it was time to play, and Skenzo allowed attendees do that in style at their jam-packed casino night party in Manhattan. Guests were taken to the soiree at the Touch night club in a huge fleet of limousines. Those who won at the gaming tables received tickets to drawings for more than a dozen high tech gifts including Amazon Kindles, Sony cameras and a Blue Ray video system. The party drew well deserved rave reviews from everyone I spoke to.
Scene from Skenzo's official T.R.A.F.F.I.C. party at the Touch night club in Manhattan.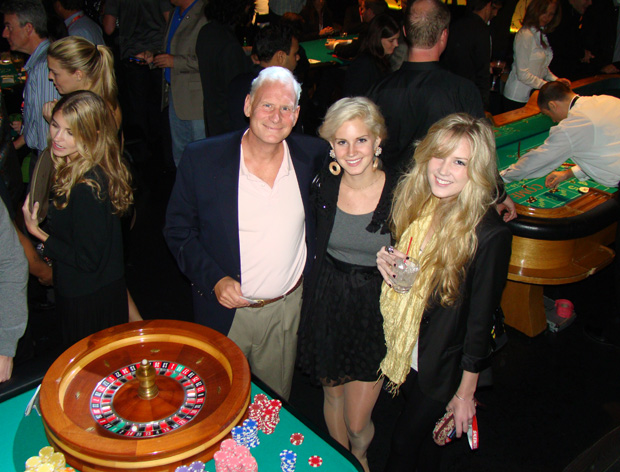 Left to right in middle of photo above: Rob Grant with daughters Lizzy and Caroline.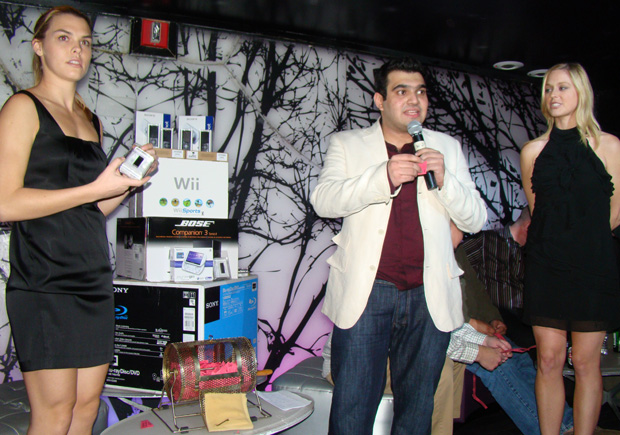 Skenzo's Vishal Manjalani (center) calls out winning ticket numbers in a prize drawing.

Wednesday's schedule opened with a fascinating 10am session called Inside the Candy.com Deal, that featured both the seller of the $3 million domain, T.R.A.F.F.I.C. Co-Founder Rick Schwartz, and the buyers, Joe Melville and Greg Balestrieri of the Melville Candy Company. This was the first time the three men had met in person. Morning sessions held the day after the official show party have always been very lightly attended as people sleep in after a long night out. This one was no exception and it's a shame because it was one of the most interesting sessions, not just for the New York conference, but for any conference I have attended over the years.
Joe Melville (left) and Greg Balestrieri (right) of the Melville Candy Company
gave Rick Schwartz a bonus when they met in person for the first time Oct. 28.
On top of the $3 million they paid for Candy.com, the duo presented
Schwartz with a giant lollipop to commemorate the deal.
Both sides detailed how the often contentious negotiations led to a deal and Schwartz, who is known as one of the shrewdest negotiators in the domain industry, revealed some of the tactics he has used in this and other landmark deals (like the $750,000 sale of iReport.com to CNN) to earn top dollar for his domains. In defense of his often brusque negotiating tactics Schwartz said, "I have a theory that if someone really wants something it is impossible to piss them off! You can't take negotiating personally. If people stick around even when I try to brush them off I know they can be serious partners. If people get offended I know they didn't seriously want the domain and I am better off not wasting my time with them."
Though this was the first time Melville and Balestrieri had heard Schwartz's theory, Balestrieri essentially confirmed what Schwartz said. "He did try to piss us off," Balestrieri laughed, "but we didn't care. He is stern but he is fair and he knew how much that domain was worth."
Joe Melville gives his account
of the Candy.com deal.

It is a good thing that a category killing domain like Candy.com went to two young and energetic end users like Melville and Balestrieri who couldn't be better evangelists for the inherent value of owning such a powerful domain. The two executives from the family-owned Massachusetts-based candy company said that since they took over the domain in June they have received thousands of daily type-in visitors and they believe they can make $1 million a year on that traffic. "We will see a return on our investment very soon," Balestrieri said. On that note Schwartz said, "As time goes on this purchase is going to get smarter and smarter from their perspective and dumber and dumber from mine! These guys have won the game, the other guys in their industry just don't know it yet."

Melville noted that buying the domain has brought them a lot of positive attention including a cover story in the industry trade

magazine, a spotlight they never could have gotten otherwise. He added that despite being a small company, the domain has given them instant credibility and respect from the large players in their industry, even though some still don't fully understand why they paid $3 million for a generic domain name.
Melville said, "We are young and we want to think outside the box. We hope to revolutionize the industry with bold ideas and thinking. This purchase made our company an internationally recognized brand overnight. " Schwartz concurred saying, "They will disrupt an industry that has been around for a long time and will go it on a worldwide basis. They are going to shock the established companies."
Both sides stressed the importance of the role their attorneys played in drawing up an ironclad contract that made the deal acceptable to both sides. That is a separate story in itself but both sides said getting the exact terms spelled out in writing to the satisfaction of both sides is critical in making a deal like this successful.
After the Candy.com session was another T.R.A.F.F.I.C. first, a two-hour brunch, sponsored by EuroDNS, that stretched from 11am to 1pm and featured an array of speakers plus the main event - presentation of the annual T.R.A.F.F.I.C. Awards. The speakers included Gregg McNair (who is profiled in our current Cover Story), who spoke on behalf of The Water School, a great charitable organization that the industry has been rallying behind.

I delivered a report on aftermarket domain sales through the first three quarters of this year. The numbers I cited are detailed in our latest monthly newsletter. I also had the singular honor of seeing Bobbleheads.com founder Warren Royal unveil a new Ron Jackson bobblehead doll during the brunch. Royal had one placed at every table setting so let me take this opportunity to apologize in advance for any indigestion that may have caused!

Bobbleheads.com Owner Warren Royal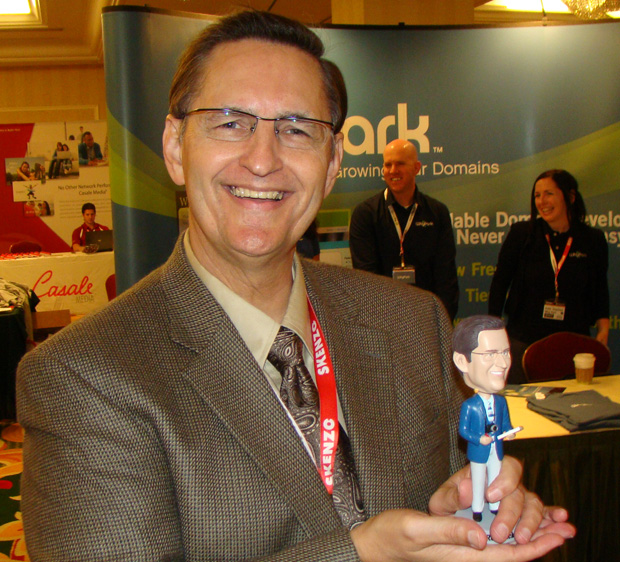 Ron Jackson and his pint-sized doppelganger. The new bobblehead doll
was introduced by Bobbleheads.com at T.R.A.F.F.I.C. New York
Royal, who is a dedicated domain owner/developer, introduced the company's first domain industry bobblehead last year in New York with a Rick Schwartz doll. He decided to follow up on the theme this year and I was certainly humbled that he chose to add me to his extensive inventory at Bobbleheads.com. In addition to retailing countless bobblehead figures, Royal has increasingly moved into manufacturing and recently inked a deal with the estate of the late Dr. Martin Luther King to produce and sell a commemorative bobblehead doll that will be available at the King Center in Atlanta among other outlets.
In another nice gesture, Schwartz and Neu called representatives of Moniker.com to the podium to thank them for the role the company has played in T.R.A.F.F.I.C.'s success over the years, especially as the original operator of the show's live domain auctions. Starting next year, that five-year relationship will end as Rick Latona Auctions becomes the sole auction provider for T.R.A.F.F.I.C. Moniker CEO Monte Cahn was singled out for praise but unfortunately, because he is recuperating from a foot injury, could not be at the conference. Bari Meyerson and John Mauriello stepped up to represent Moniker (Victor Pitts was also at the conference but missed the brunch due to a meeting).
Howard Neu (left) and Rick Schwartz (right) thank Moniker.com reps John Mauriello
and Bari Meyerson for Moniker's role in T.R.A.F.F.I.C.'s success over the past 5 years.
The highlight of the Wednesday brunch was the presentation of the annual T.R.A.F.F.I.C. Awards. Honors went out in 8 categories and veteran domain investor Michael Berkens, who also writes a popular blog at TheDomains.com, picked up trophies in two of those. Berkens joined the Castello Brothers (David and Michael) as this year's inductees into the T.R.A.F.F.I.C. Hall of Fame and also picked up the top individual award - Domainer of the Year.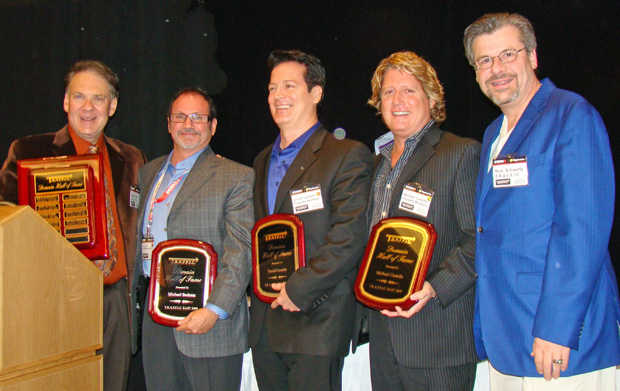 Above (left to right): T.R.A.F.F.I.C. Co-Founder Howard Neu,
Domainer of the Year Michael Berkens and his fellow Hall of Fame
inductees David Castello and Michael Castello, and Rick Schwartz.
The award winners were all chosen in open balloting. Here are the winners in the six other categories: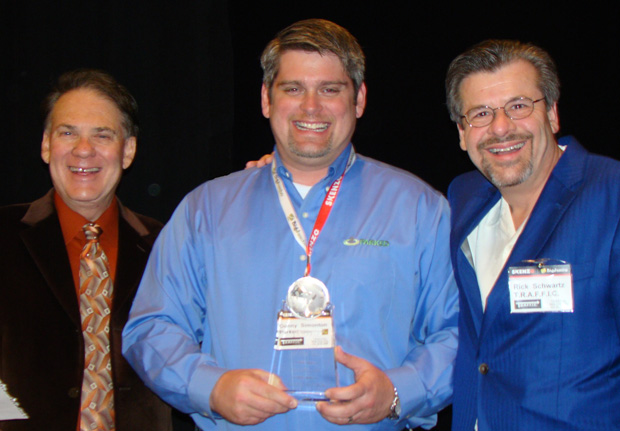 Sponsor Of The Year - Parked.com
Award accepted by Donny Simonton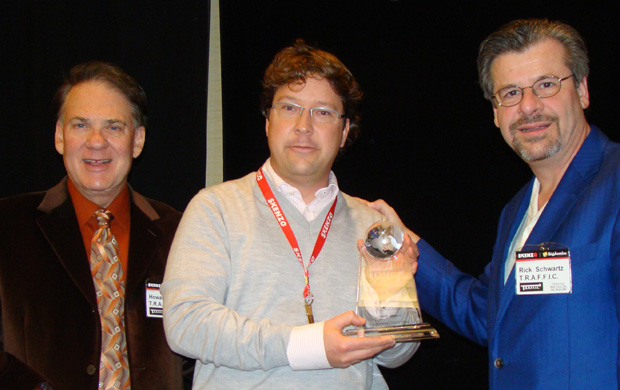 Best Overall Domain Solution - Sedo.com
Award accepted by Frank Tillmanns

Best New Monetizing Solution - Above.com
Award accepted by Nancy Bianchi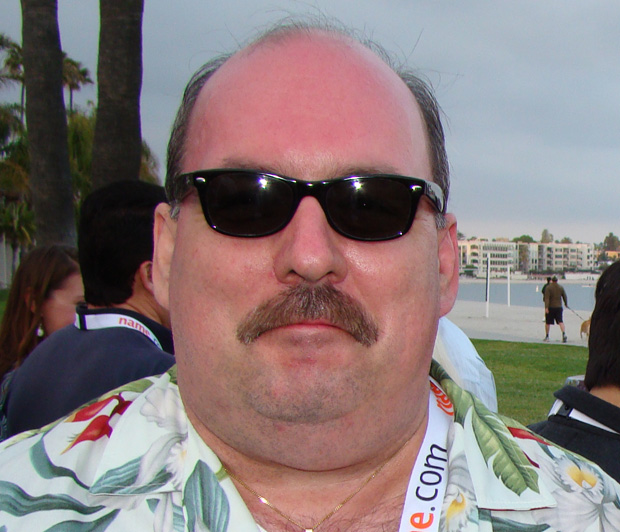 Best Developer Of The Year - Shaun Pilfold (Kelowna.com)
Shaun could not be in New York to accept the Award but here is a photo of him from our files.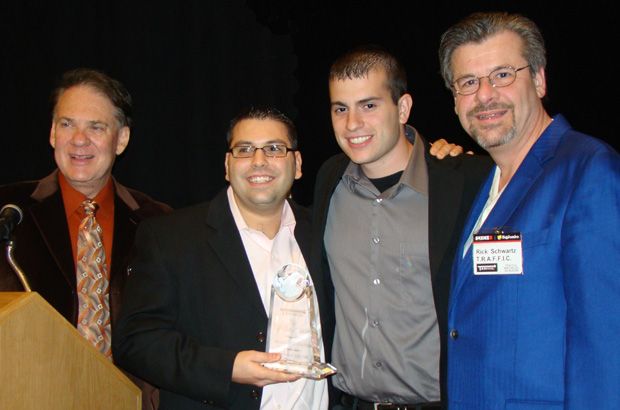 The "We Get It" Award - Melville Candy Company/Candy.com
Award accepted by Joe Melville and Greg Balestrieri
Best Domain News Blog - Ron Jackson - DNJournal.com
The Wednesday afternoon schedule opened with Blog Roll, a session that featured Man on the Street video interviews conducted by Howard Neu in Florida before the show, with the panelists (industry reporters and bloggers) then commenting on the sometimes surprising street sentiment expressed in the videos on three topics. Those were the interviewees' preferred computer operating systems and search engines (Mac rapidly gaining ground on Windows and Google trouncing Yahoo in search), preferred social media outlets (Facebook in a landslide) and their preferred source for news (the Internet overwhelming traditional media).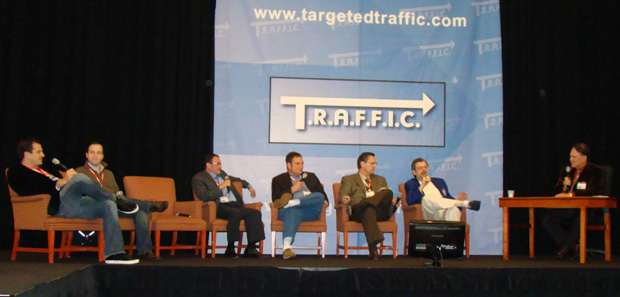 Blog Roll panelists (from left to right): Rick Latona (RickLatona.com), Elliot Silver (ElliotsBlog.com), Michael Berkens (TheDomains.com), Owen Frager (FragerFactor.com), Ron Jackson (DNJournal.com), Rick Schwartz (RicksBlog.com) and moderator Howard Neu.
Next up was a Meeting of the Chiefs, with seven top level company executives fielding questions about the current state and future of domain monetization from four panelists who operate their own companies (left to right in the photo below); Dr. Jeffrey Reynolds (Precision Marketing Solutions, Inc.), Gregg McNair (PPX International), Ron Jackson (DNJournal.com) and Lonnie Borck (Bookmarks.com).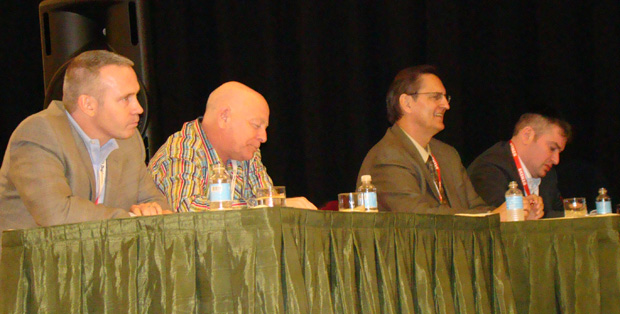 The executive team featured (left to right in the photo below): Divyank Turakhia (Skenzo), Pete Lamson (NameMedia), Ammar Kubba (TrafficZ), Peter Celeste (Oversee.net), Dr. Kevin Ham (Reinvent), Sean Moriarty (DDC.com) and Donny Simonton (Parked.com).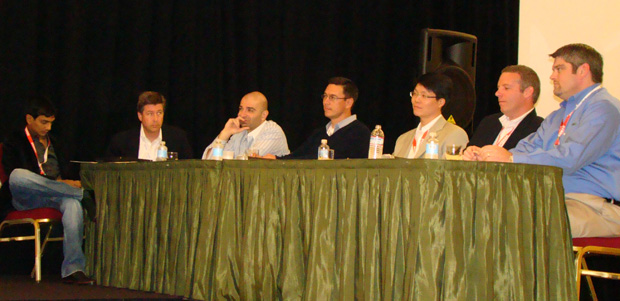 Parking revenues have declined across the board over the past year prompting many domain owners to actively seek out alternative methods of monetization. However, the company executives all said they are working on various innovations to improve conversions and payouts including incorporating additional monetization methods (such as CPA and ecommerce platforms) alongside PPC. Another strategy for some is making acquisitions that they think will help them retain their roles as the leading providers of domain monetization services (one example being Parked.com's purchase of minisite services provider WhyPark.com).
The conference closed with Moniker.com's final T.R.A.F.F.I.C. live domain auction. With total sales coming in at approximately $412,150, the Moniker auction didn't fare as well as the Rick Latona sale the previous day. Some frequent auction buyers in the audience told me they passed on many names in the Moniker event because they felt the reserves were set too high. The biggest sale was Multivitamins.com at $45,000 (the Latona auction Tuesday had been topped by Rio.com at $450,000). Moniker did add an additional $278,338 in sales through a week-long extended online auction that followed the live event, increasing their total take to more than $690,000.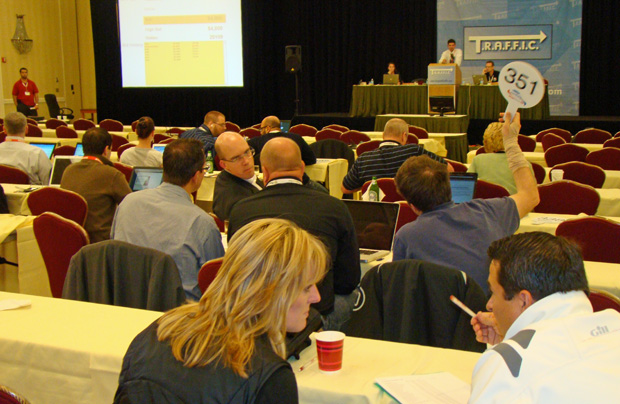 Scene from Moniker's live domain auction Oct. 28 in New York.
T.R.A.F.F.I.C. New York closed the industry's 2009 conference schedule. 2010 action opens in January when T.R.A.F.F.I.C. returns to Las Vegas. Here is the complete list of locations and dates for next year's T.R.A.F.F.I.C. conferences, a slate that will feature four new international venues:
Las Vegas - January 21-23, 2010
Milan, Italy - April 27-29, 2010
Vancouver, Canada - June 15-18, 2010
(Update - Vancouver dates have been changed to June 8-10, 2010)
Dublin, Ireland - August 24-26, 2010
Miami (South Beach) - October 17-19, 2010
Hong Kong - November 15-16, 2010
In closing we would just add our voice to those who have expressed appreciation to Rick Schwartz, Howard Neu and their families for what they have done to advance the industry by creating the T.R.A.F.F.I.C. conference in 2004 and ensuring that the event has continually evolved over the past five years to stay abreast of current industry issues and trends. Going forward, we think T.R.A.F.F.I.C. will be in good hands with the Rick Latona team who will put their own unique stamp on the five shows they will produce in 2010.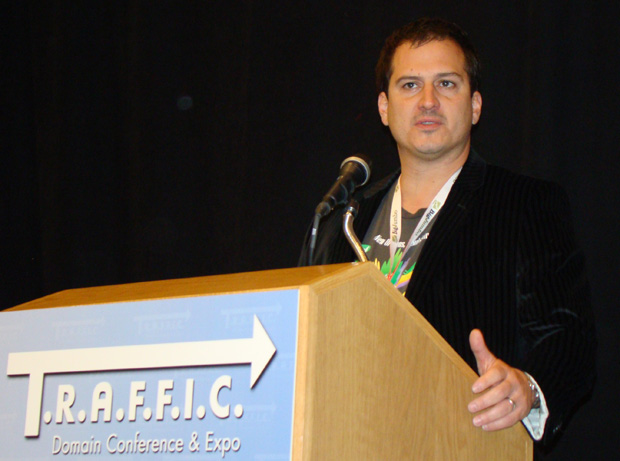 Rick Latona and his team at RickLatona.com will stage five of the six
T.R.A.F.F.I.C. conferences coming up around the world in 2010.
Change remains the only constant in this fascinating business and in our view the best way to keep pace with those changes and make them work in your favor is to take advantage of the incomparable networking and educational opportunities provided by our industry's top notch trade shows.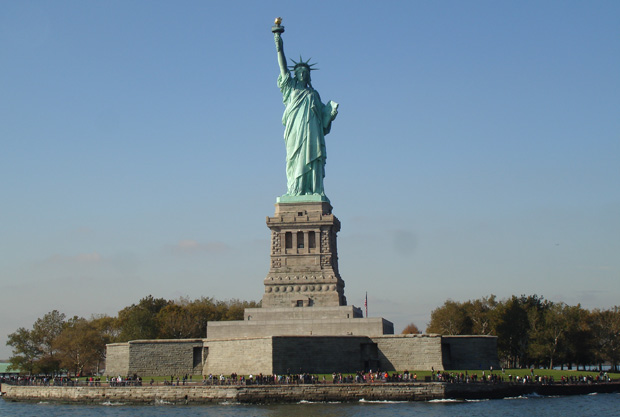 P.S. Thank you New York!