My first encounter with them came on the night of October 26th, 2006 on a Florida party boat called the Miami Magic. TrafficZ.com had booked the boat during the T.R.A.F.F.I.C. East domain conference to take guests on an evening cruise on the Intracoastal Waterway. The Castellos would turn out to be two of the most interesting and instantly likeable people I have ever met.
I bumped into Michael first and was immediately struck by the depth of his knowledge about domains and even more so by his willingness to share so much information on how to wring the most profit from developed websites. During our conversation he pointed out his brother David who was talking with a small group at a table a few feet away. I took an open seat while David was in the midst of a discourse that I naturally assumed would be about domains. Wrong! To my surprise he was regaling his tablemates with a remarkable account of World War II history! I soon learned that military history and music were among his greatest passions.
I had owned a series of record stores before entering the domain industry so David and I (being relatively close in age) immediately hit it off trading stories about our favorite recordings, musicians and concerts through the years. As the chat turned more personal, I learned where he and Michael had come from and how their ups and downs had paved the way for the great success they enjoy today.
Left to right in photo above:
future CCIN CEO Michael Castello,
future CCIN CFO Victoria Castello and
future CCIN COO David Castello

They were born in the Little Italy section of the Bronx in New York City – a neighborhood that spawned Dion and the Belmonts, Jake "The Bull" La Motta and the New York Yankees, among others. "The church (Our Lady of Mount Carmel) you see at the beginning of the Robert DeNiro movie A Bronx Tale is where our parents, Aldo and Victoria were married and where Michael and I were baptized," David said. When David was 3 and Michael 2, their parents moved the family to Boynton Beach, Florida so Aldo could go to work for Pratt & Whitney, the company that makes turbine engines for jetliners.

Aldo had always loved the aerospace industry and his interest in the stars spilled over into a fascination with science fiction. "Dad always found time for us to park at the drive-in and watch the all night sci-fi movies at the Skydrome." Michael recalled. Aldo also loved music and while the boys were still in elementary school he taught them to play the traditional Italian musical instrument, the accordion. Michael was a quick learner, in fact David says he was a musical prodigy.
"I remember him sitting down at our piano and playing the Beatles Hey Jude by ear when he was nine!," David recalled. "My love was writing and research, particularly about history and archaeology. When I was thirteen, I was excavating Indian mounds that were to be demolished by hotel developers. Yes, I was a weird kid! However, when my adolescent hormones kicked in I decided I stood a better chance of meeting Southern Belles if I played the drums with my brother instead of showing off my ancient Jeaga pottery collection!"
Good choice. By the time they reached high school the brothers had formed their own rock band, The Flying Tigers. "I played the electric accordion bass," Michael said. It became quite the gimmick. I would play an amplified accordion bass with my left hand and an organ/synthesizer with the other while performing songs like The Who's Won't Get Fooled Again and Grand Funk Railroad's We're An American Band. We were so unique that we won the South Florida Battle of the Bands, which was no small feat for a trio of fifteen and sixteen year olds. A year later, I switched to guitar."
David added "Unlike most of our South Florida peers, we were more into artists like David Bowie and Aerosmith than KC & the Sunshine Band. Disco was driving us crazy and I began to read about bands in New York City named The Ramones, Blondie, Talking Heads and Television, and about a club called CBGBs. So we packed up the van and relocated to live and rehearse in a loft on 30th Street in Manhattan, around the corner from Madison Square Garden. Blondie rehearsed on the floor below us and we'd fall asleep listening to them work on their songs."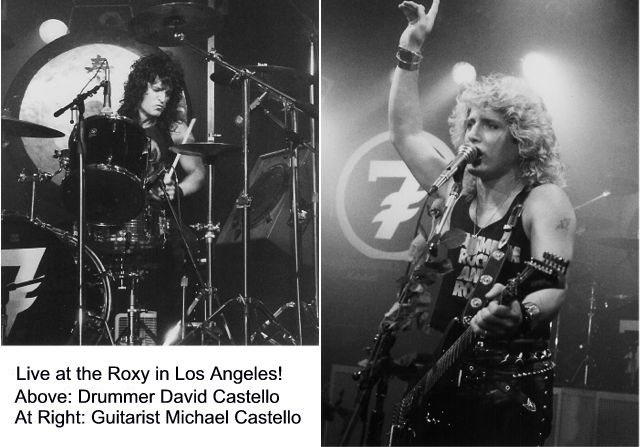 "Our first day job was as waiters at the Windows on the World restaurant on the 107th floor of the World Trade Center. The staff would come to support us when we played at CBGBs and Max's Kansas City. Michael and I played the NYC music scene in various bands for ten years before deciding to relocate to Los Angeles," David said. With the move west their musical careers starting branching off in new directions. David began promoting rock shows at two famous clubs on the Sunset Strip. "I promoted hundreds of shows at the Roxy and the Whisky a Go Go – even broke the attendance record at the Roxy," David said. Meanwhile, Michael got interested in sound engineering and production and his services were soon in high demand.
Michael said "In the late 80s and early 90s I was intrigued by the idea of digital recordings. I was one of the earlier producer/artists to experiment with digital hard disk recording. I was using a computer that could record 16 channels of music to a computer. It was very ground breaking in what could be accomplished having sound in data file form. Of course everyone is doing it these days, but we were at the beginning of the logic and what could become of it."
While looking for new ways to meld music and technology, Michael started thinking about how this new thing called the Internet could be used to build his music business. That sent him down a path that would totally change his life, as well as David's.
CEO Michael Castello
Castello Cities Internet Network, Inc.

"I felt the Internet would be a great way to promote music," Michael said, "so in 1991 I started a company named Powwow Productions for the purpose of promoting my music on the Internet." He started learning how to use web tools like Telnet, FTP and Gopher (a forerunner of today's modern search engines). Using the web as a resource he came across the Columbia University website where he was able to learn how to write HTML code. Now all he needed was the right domain name for his new venture and naturally he zeroed in on Powwow.com.

"After much investigating I found a site called InterNIC.net. There literally must have been a couple guys managing the .com, .net, .edu, org and .mil TLD databases at that time! All I had to do was fill out a simple form and the name would be mine free! Well, after six weeks I finally got a reply but my request was declined. Back then if one word was wrong with the form they would send the registration back. It took me about four long months to finally get those guys to give me Powwow.com so I could start trying to put together my music site."
That experience in nailing down a domain name had piqued Michael's interest though. "Over the next few weeks I started using Telnet to do WhoIs checks. Just about every domain name was available. At the time all I needed was Powwow.com but as the months rolled by I noticed that many of the names I originally checked on were being registered by others. It dawned on me that I was missing out on something huge!" Michael said.
"This was now early 1995 and I quickly sent out registration requests for PalmSprings.com, Whisky.com and several others. To my surprise I was the first to register these names but I was sent an email from the database managers that said I was abusing the spirit of registering names. I was told that my five names were enough for my company and I truly thought that I had overstepped my bounds. I sat back for the next several months watching as the other top domain names were being snapped up and in desperation devised a way around my problem by registering domains under different, but applicable, business names," Michael said.
David clearly remembers Michael's detour into the world of domain names. "I remember him telling me that the Internet was the future in 1992," David said. However, I was still performing and promoting, and computers were the last thing on my mind. In fact, on April 19, 1995 he called me and said, "Did you hear the news?" I replied, "You mean about the bombing this morning in Oklahoma City?" Michael said, "No, I registered PalmSprings.com!" I thought he was nuts!"
In 1997, things would take a dramatic turn for both David and Michael. For Michael, the big event was an entirely new opportunity in the world of domains. He explained how that came about. "In the early days domain names was free to register, it was all done on a first come first serve basis. Then Network Solutions came into the picture and started charging $100 per registration as their fee for managing each name in the database. On principle alone many of the internet's early pioneers balked and refused to pay," Michael said.

"For me, this presented an opportunity as soon some of the best names would become available again. I calculated that all the names that were not paid by July 1997 would be released back into the registry. I watched as many domain names were put On Hold for a period of two months, after which they would be taken from the original registration holder and given to the next registrant in the cache. The secret was that very few of us knew that the cache was seven days long. All I needed to do was find what premium names would be released, then start sending in registration requests for those names seven days before the release date," Michael explained.
"For instance, Traveler.com's expiration date was set for July 19, 1997, so I started sending in registrations from July 12th every hour, every day. I repeated this technique with many other names and when that week in July 1997 started, the successfully registered names started coming in like a slot machine paying out. I felt like I struck gold! At that time my brother David was back in Florida helping me send in these registrations. Between the two of us we locked up such names as Traveler.com, Cost.com, Rate.com, Sample.com and many others," Michael recalled.
David had gone back to Florida after things turned bad for him in L.A. After his initial success as a concert promoter he decided to open his own night club. The venture failed and he wound up losing every penny he had. Suddenly bankrupt and in dire need of income he headed back to Boynton Beach in May 1997 and tried his hand at a number of new occupations. "I tried being a real estate agent and a commodities broker but neither position lasted more than a week," David said. "Even though I was out of the music business, I was still iconoclastic at heart and the typical corporate environment was not for me. It was our mother who suggested that I help Michael with his domain names."
David had always loved writing, and during the dark days at the end of his stay in L.A. he had rediscovered that passion. "I sat down one night, started typing every day and didn't stop until I'd finished the manuscript for an historical fiction novel titled Rabbit On The Moon. For me, I'd gone full circle." That writing skill would come in handy in his new domain partnership with Michael.
COO David Castello
Castello Cities Internet Network, Inc.

"As luck would have it, Michael owned BoyntonBeach.com and the first pages I created were local history articles I'd written for the Boynton Beach Times. I knew nothing about domain names and very little about the Internet. However, I instinctively equated web site traffic with ticket sales for the concerts I'd promoted on the Sunset Strip. To me, a unique visitor was like a ticket buyer to a show and once the ticket buyers were inside the concert hall, you wanted them to spend their money by purchasing as much band merchandise, drinks and CDs as possible. I also noticed that BoyntonBeach.com was generating a lot of intuitive traffic. That got me excited because it made perfect sense that someone interested in visiting Boynton Beach would go straight to BoyntonBeach.com," David said.

"I went door to door and began signing local hotels, shops and restaurants for $100 a year. I was more interested in learning about this new medium than making money. In the summer of 1997, most local businesses didn't have web sites so I also built them a splash page. I signed about thirty local businesses and learned the basics of Internet marketing.
By late 1997, I was convinced that Geodomains (geographical domains), particularly those cities with national recognition like PalmSprings.com, could generate a lot of advertising revenue if they correctly built upon their intuitive traffic to promote local businesses around the world."
Michael was totally sold on city domains as well, but initially for different reasons. "I originally had an idea in 1994 that the World Wide Web should be as virtual a copy of our planet as man could make it. Years earlier I use to sit in my apartment in New York while it would rain for weeks and reminisce about sunny Florida. Before I would go out of my mind I would pack a small bag and drive to the airport and take a flight down to see my parents. In 1994 I wondered if there was a way one could virtually reach out through their computer to visit any place in the world, the immediacy of it would be profound."
"I eventually started registering places I liked to visit in California such as Palm Springs, Laguna Beach and Pebble Beach with the intention of creating as much feel as I could for that city or place. In the coming years I realized just how much others felt like me. It was very gratifying to have been able to bring other visitors to these virtual cities that I journeyed along and created in this new virtual world."
While Michael had that vision of building virtual cities, David, by necessity, focused on the financial aspects of this new opportunity. "Even though I was quite ignorant about the Internet, I quickly envisioned a way to monetize BoyntonBeach.com. To my brother's credit, he let me run with the ball and go with my marketing instincts. After I learned the ropes with BoyntonBeach.com, I was ready to move on to our most popular Geodomain. That was, and still is, PalmSprings.com, but it meant I would have to gamble everything and relocate back to California," David said.
"Again, it was our mother who came up with a strategy (Editor's note: Victoria Castello is now the Chief Financial Officer for Castello Cities Internet Network). She's been a Florida real estate broker for over thirty years and was impressed by the large number of inquiries coming in through the real estate section of PalmSprings.com. She suggested that I fly out to Palm Springs for two days and offer our real estate section to a broker for $15,000 a year. I nearly died. In those days I was barely getting $100 a year from an advertiser on BoyntonBeach.com."

"On December 14, 1997 I flew out to Palm Springs and walked in cold with my laptop to see every real estate broker in town," David said. "Some laughed - one even said, "I wouldn't give you ten cents!" - and some were interested, but no one was buying," David said.

Michael (left) and David Castello
at the 2006 Moniker.com/T.R.A.F.F.I.C. East
live domain auction in Hollywood, Florida
"The next day I had the same reaction and was ready to fly home when a Coldwell Banker broker recommended I speak with a popular Re/Max broker with 135 agents twelve miles away in Palm Desert. His name was Lorenzo Lombardelli and when I walked into his office he said "You have sixty seconds. Go!" By the end of that minute he agreed with my assessment of PalmSprings.com and signed a two year contract. I flew back to Florida, packed up the T-Bird and arrived in Palm Springs on March 1, 1998. In my first eighty-eight days I signed ninety Palm Springs businesses and we never looked back!" David said.
Their success with city domains (they own more than 100 of them in .com) eventually led David and Michael to join Associated Cities in 2004, a very successful organization that has managed to get city domain owners from around the world to join forces to jointly promote member sites. They now sit on the board of directors with guys Michael first heard about years before.
"Back in 1995 I was interested in acquiring as many city names as I could and was watching names like LosAngeles.com, Denver.com and Dallas.com, hoping that they would expire. At some point in 1996 the owners apparently put these city names up for sale. I missed that opportunity, but Dan Pulcrano was watching and grabbed them. He really hit paydirt on that one! In 2002 we met him for lunch in Los Angeles and exchanged ideas."
David noted "Guys like Dan Pulcrano (SanFrancisco.com), Sean Miller (NewYorkCity.com), Skip Hoagland and Mike Ward (Atlanta.com) and Josh Metnick (Chicago.com) blazed their own paths to glory and were quite self-sufficient long before they joined Associated Cities. It is for that reason that the sharing of creative ideas seems to resonate stronger there than with most organizations."
| | |
| --- | --- |
| | Michael added, "Associated Cities helps .com city owners work with those of us that have found successful formulas to make money from our sites. We virtually want to connect the city dots that will create a world picture for the visitor. We do extremely well with our sites both locally and globally. Why not show what we have perfected over the last eleven years to other city owners to help them make money?" |
"The beauty of exchanging ideas with another .com city owner is that our city markets don't compete. Different city owners with differing personalities make each site look unique. For example, look at our Acapulco.com and Sean Miller's NewYorkCity.com. Their looks are different but very appealing, efficient and profitable," Michael said.
Next Page:
What They Plan for Their Generic Gems

Can You Duplicate Their Success? They Say Yes!

Their View of the Future for Domains and the Internet

Why Their Partnership Has Endured Through Thick and Thin