By Ron Jackson
Editor/Publisher
For close to a decade an invaluable chunk of internet traffic has been controlled by a far flung group of little known Lone Rangers huddled in front of computers around the globe. Few people knew who they were and many of them didn't even know each other. They operated without the benefit of the kind of support apparatus that is commonplace in other successful industries.
There had never even been a major trade show where domain owners, developers, attorneys and support companies could come together and collaborate on ways to take advantage of the untapped full power of their targeted traffic, the very fuel that runs the internet. It may have come a few years late, but the domain business just entered the 21st century.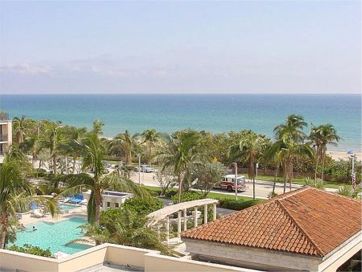 View of the Atlantic Ocean from the Delray Beach Marriott - Site of T.R.A.F.F.I.C. 2004
In
a historic gathering at
Delray Beach, Florida
October 20-23, 2004 the industry had a coming out party that no one who was there will ever forget. I covered the event and posted daily reports
Thursday, Friday
and
Saturday
. Those reports recapped what happened each day but there was no time during the fast paced show to reflect on the overall impact of the event and why it was so important to the industry. I will attempt to do that in this article.
Domainers are an independent minded group with different ideas about the best way to utilize the valuable internet property they hold. It can be very hard to get a group of more than one to row the boat in the same direction in this business. That is one reason there has never been a trade group for professional domainers, even though they have absolutely no voice in the regulatory process that governs domains. It is one reason there has never been a major trade show, though other capable people tried but gave up after receiving a lukewarm (at best) response.
When

Rick Schwartz

of

eRealEstate.com

and

Howard Neu, Esq.

of

NeuLaw.com

contacted me several months ago to tell me they were going to stage a trade show I was glad to hear it, not only because there was a desperate need for it, but because with them involved there was a good chance that it would actually take place. Schwartz is a pioneering domainer who sold

Men.com

for over

$1 million

last December. Neu is one of the few attorneys that specialize in domain matters (thank God the few we have are darn good at what they do). Even so, I wasn't sure what to expect when show week finally rolled around and it was time to head to Delray Beach to cover the event.

Rick Schwartz and Howard Neu
Co-founders of T.R.A.F.F.I.C. 2004
(DNJournal photo)

Having produced music industry trade shows for more than a decade myself (with an average of more than 100 exhibitors and 1,000 attendees) I knew about the workload involved and the virtual certainty that something would go wrong, especially the first time out. If things didn't go well I would have to write about it so I kept a professional distance from the show. I stayed at a different hotel a couple of miles down the beach and planned to attend only the business sessions; none of the breakfasts, lunches, dinners or social events (a plan I kept to other than accepting an invitation to attend the Friday night dinner so I could cover the awards that were handed out that evening).
I invited my wife along on the trip, assuming there would be little going on at the Marriott and assuring her it would be a mini-vacation with lots of walks on the beach, art and antique shopping and romantic dinners in the excellent restaurants that dot Atlantic Avenue in Delray Beach. Big mistake. Her mini-vacation wound up encompassing a lot of solo shopping, sitting by the pool and going to bed alone well past midnight while I sat up hammering out daily show summaries. I didn't expect things to turn out this way but everyone in the business should be thankful that they did (even my wife, though not a domainer, grasped the importance of the event and gave me a "get out of jail free" card this time around)!
We arrived in Delray Beach Wednesday night just as the welcoming cocktail party for registrants was ending at the Marriott and barely in time to make a dinner appointment we had with brothers Roger Collins and Michael Collins who head the new (and much improved) Afternic.com. We have a lot in common. In addition to being fellow Floridians, DNJournal and Afternic (under their new ownership) both opened Jan. 1, 2003 and we have taken pleasure in watching each other grow since that time.
I didn't know it at the time but when we got back to the hotel and went to bed it would be my last full night of sleep until we returned home to Tampa Saturday night. Thursday morning I headed to the conference and was warmly greeted by Rick Schwartz whom I was meeting in person for the first time. He directed me down the hall where the first seminar was about to begin and on the way I passed something I hadn't expected to see - a trade exhibit area complete with professional show booths that DomainSponsor.com and Moniker.com had built specifically for this event.
That was the first sign that people were taking this thing very seriously. I found out how seriously when I joined about 125 others for the opening session featuring success stories from members of a private domain board operated by Mr. Schwartz. Panel members detailed how they had successfully built thriving businesses based primarily on the acquisition of powerful domain names.

While I took extensive notes and taped this and other sessions with the idea of distilling what worked for these people into a few tips I could pass along to you, I've found that is almost impossible to do. There's no magic formula - it is a process and one that is dictated by the names you have - every one is

unique

(which is a primary reason they can be so valuable). You have to determine if the name you have will produce better for you if you develop it and sell products

or better

if you rely on revenue from pay per click programs. You'll want to look at the tradeoffs involved with going each route. These things may require some research and experimentation and the panelists explained the many things you have to consider. A developer like

Jeff Reynolds

has a thriving business at

AmericanFlags.com

where he now sells more than 300 products. But that meant learning an entirely new industry and accepting occasional calls in the middle of the night when shipments went awry or other problems cropped up.

Another panelist, Canada's Chris Stewart takes a different approach. He acknowledged that in some cases development might produce more money for him, but not enough to offset the freedom provided by his PPC model. He said not having to develop a site and process orders lets him play with his kids in the middle of the afternoon if that's what he wants to do. Then there is Florida's Roy Messer who does some of each with developed sites like Vodka.com combined with PPC landing pages on other domains. Both strategies contribute to his bottom line. Hearing experienced and articulate domainers like this offer minute details on how they implement their strategies and answering any questions the audience posed got things off to a great start.

Throughout that day as I sat there in the middle of discussions with CEO's from companies like DomainSponsor.com, Sedo.com, Fabulous.com, top notch domainers and the industry's top attorneys, the magnitude of the opportunity hit me. How do you put a price on a chance to interact face to face with people like that all in one place at one time? How valuable is it to your business and your future in this industry? I can't put a price on it, but I know it will pay dividends for years to come.

While the seminars were universally beneficial, I think most would agree that the networking opportunities easily ranked as the show's top draw. There simply is no substitute for meeting someone face to face and shaking their hand, especially in an industry where the opportunity to do that is so rare. To illustrate what I mean I will use conference co-founder Howard Neu as an example. Before going to the show all I knew about Howard was that he was one of the industry's top attorneys. Other than that all I knew was his name.

When I arrived at the opening session there was Mr. Neu moderating the panel like a professional broadcaster. His questions to the panelists were insightful and he was able to keep coming up with new ones while simultaneously directing a steady flow of people to the microphone stands in the aisles where they could ask their own questions. When I spoke with him after that first session I wasn't at all surprised to learn he had been a TV talk show host. I wasn't surprised but it was something I never knew about him (or expected from one of our industry attorneys). The biggest surprise was still ahead.

After the awards were presented at the Friday night dinner, who pops up singing a duet in a surprise musical number ("Summer Nights" from

Grease

) - it's Howard! And the biggest surprise of all - he was good! From now on in my mind Howard Neu is not just a name. Whenever I get an email from him, in my mind I see a face I know, I hear a voice I recognize, I

know

a guy who can moderate a panel, sing a song, dance like

Sammy Davis Jr.

and practice law! In short he is now a person, a new friend, not just 9 letters in my Rolodex.



Howard Neu and non-domainer Felicia Lynn
belting out "Summer Nights"

Here is another example who also just happens to be an attorney (I love to make examples out of them for a change instead of vice versa)! In the photo below you see the Three Amigos, top notch domain lawyers (from left to right)

John Berryhill,

Neu and

Ari Goldberger.

The first time I heard Berryhill speak I was struck by his great voice, the enunciation, perfect modulation and emphasis on his words. When I was a radio/TV broadcaster we said guys like that had "great pipes". I asked him where that came from and found out he had done some theater where you have to be able to project your voice all the way to the last row and keep your words perfectly understandable at the same time. It would be a terrific attribute in the courtroom - it would be like Perry Mason in the flesh - jurors wouldn't have a chance. Fortunately for us, Berryhill eschewed the court room to handle our document based legal needs while saving that great voice for when it really counts - the cocktail hour.

That started giving me a picture of the things that made Berryhill unique and memorable, but again, the best was yet to come. At a luncheon featuring the three attorneys, Berryhill (a movie buff) started talking about how terrible things happened in the domain business, just like in the movies. As an example, he recalled that awful scene in Aliens where a voracious extraterrestrial burst out of the victim's stomach. At this point, Berryhill alarmed everyone by beginning to disrobe. He loosened his tie and started unbuttoning his shirt. A nauseated look came over his face as if something truly horrible was about to burst from his abdomen.

He then ripped open his shirt to reveal the cause of his distress, greeting the audience with a

Network Solutions

T-Shirt underneath! It drew the biggest laugh of the week. For those who happen upon this page and are not in the business, it's an inside joke. Best to leave it at that. So the guy is a comedian too!

As with most people at the show I only got to chat a few minutes with Berryhill (due to dozens of people to meet and a very short time to do it in) but I went home feeling like I know someone as a human being and not just a name or avatar in a domain forum. There is a world of difference.

John Berryhill
photo courtesy of
Scott Ross, Promediary.com
I could go on and on, repeating this for every single one of the people I met and regretting not being able to do it for the many I didn't get a chance to meet (fortunately, like in football, there is always next year)!

Even for those you did not meet you know you will go away having shared the same experience, which is an important piece of common ground as well.

Domainers Marcia Lynn Walker & Steve Stoeser (above)
Some other now familiar faces from the crowd:

Michael Song, DomainSponsor.com (above left)

Ira Zoot, domainer from Chicago (above right)

Michelle Miller, COO, BuyDomains.com (at right - photo courtesy of Scott Ross, Promediary.com)

In addition to memorable people, there were endless memorable quotes. I find random statements bouncing around in my mind that have me excited about the months and years ahead and ready to charge the computer every morning when I wake up. Below are a few I scribbled on a note pad from a couple of seminars.

"There is still so much growth to be had."

"Whoever controls the traffic controls the transaction"

"You are the one who determines whether a sale will ever take place."

"Many terms are drastically underpriced. For example what should an advertiser pay for the term "double parallel crane"? That's a $750,000 piece of machinery. How much is a click that leads to a sale like that worth when you can deliver a qualified customer to the seller's door?"

(these quotes from Dan Warner of Fabulous.com with the last one underscoring what all of the PPC providers said at the conference - pay per click rates will continue to rise)


"There is a way to monetize any traffic"

"To not be a moron you need to look years or even decades in front of you."

"We are the real estate barons of this era."

"The written word is still the most powerful medium on earth" (of course I would like that one!)

(above from Rick Schwartz)

Something else I take away from this event is the incredible camaraderie of the people in this business. Even people who are direct competitors treat each other like they are playing for the same team. Warner (of Fabulous.com) went so far as to say "none of us can meet all of your needs all of the time. Go ahead and move your domains around and see what works best for you."

In what other industry will you find a top executive telling you to check things out across the street and see how that works? Warner says his company cares about relationships and doing what is best for their partners. In most industries that would come across as B.S. but not from this one. We are a small group (I remember Warner saying there are only something like 2,000 people who own more than 100 domains) but we are a tightly knit group, a group that when it combines its resources can wield power in the marketplace that is far in excess of what our numbers would suggest.
If we can continue to come together like this, sit down and have dinner or a drink together, share ideas for improvement, develop plans of attack to solve problems, who can stop us? How high is the ceiling? Is there even a ceiling there?

Left to right: Marcia Lynn Walker, Keynote speaker Ben Stein,
Barbara Neu and Howard Neu.
So we went home Saturday invigorated and exhausted at the same time. But as the noted philosopher Bon Jovi once said, "I'll sleep when I'm dead!" OK, I guess Grant Keiser (in photo at right) listens to classical instead of rock, but you get the idea!

If our industry was a person it could fairly describe itself with the title from Joe Namath's 1970 biography - I Can't Wait Until Tomorrow 'cause I Get Better Looking Everyday.

Ain't that the truth!

Grant Keiser of California catches a few winks
(but try to snatch his Fabulous.com
briefcase and you are a dead man!)

Special note of thanks. T.R.A.F.F.I.C. Co-founders Rick Schwartz and Howard Neu provided the public face for this event but as is always the case, behind every good man is a better woman! So many attendees commented on the enormous amount of work put into this event by Veda Solomon of Strategy for Success (Howard Neu's sister), Barbara Neu (Howard's wife) and Alina Rusu (Rick Schwartz's significant other) that we would be remiss if we did not report the universal appreciation for their efforts and warm hospitality throughout the week.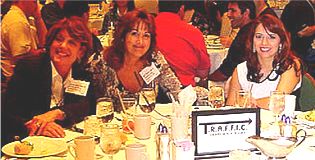 Veda, Barbara and Alina

In case you missed our previous Cover Story, it is available through the link below:
Why Parking Companies Want YOUR Portfolio and What DomainSponsor.com Is Doing To Try to Get It