In 2010 at least a dozen large scale events are on the show docket including 6 T.R.A.F.F.I.C. conferences, 2 DOMAINfest events, a Domain Roundtable (dates and location still to be announced), a GeoDomain Expo, a Domainer Mardi Gras and the recently announced DNCruise which will be the first domain show to be held on a cruise ship (can the final frontier - space - be far away now?!).
Still more events may be announced before the year ends...and we're not even counting the regional events held around the world, popular company specific events like the annual SedoPro Forum, local domainer meet-ups or domain related shows (many of them bigger than domain industry conferences) that attract domain owner/developers interested in topics like affiliate programs, web publishing, search engine optimization, tapping the local advertising market or specific sectors like adult. Whew!
Guests line up to register for the
2010 T.R.A.F.F.I.C. Las Vegas conference

Of course we would never have seen this conference/meeting explosion if the interest in domains had not exploded as well - so that is a good thing. You also do not hear show attendees complaining. Those who actually go to the various events almost universally give them rave reviews that are posted everywhere from industry blogs and forums to Facebook and Twitter. Those people understand the high value of networking face to face with peers and potential business partners and in learning first hand about the latest developments that will affect their own bottom lines.

While there are far too many conferences for anyone, including me, to attend all of them anymore, the sheer abundance of shows and, equally important, the lower registration prices fostered by the fierce competition, makes it far easier for people to find a meeting they can attend at a price they can afford.

The real fallout from conference oversaturation is falling squarely on the

shoulders of the show promoters. Some now find themselves losing money despite drawing decent crowds and favorable feedback from their guests. Is that sustainable or is a shakeout inevitable?
That is a question we are going to explore further in this article, but to better understand where we are going, it is important to know where we have been. The full story of how the domain conference business got started is one that only a handful of industry pioneers have been familiar with - until now.
You may be saying - wait - I already know that the large scale domain conference era began with the first T.R.A.F.F.I.C. conference in Delray Beach, Florida in October 2004. That's true, but the idea was planted in the minds of T.R.A.F.F.I.C. Co-Founders Rick Schwartz and Howard Neu two years before they held their landmark debut event - and a few conference seeds had been planted even earlier.

Fortunately, before I entered the domain industry in May 2002 (and before DN Journal debuted on New Year's Day 2003), someone else was already documenting the initial activities that eventually led to the overflowing banquet of domain meetings that we enjoy today. That someone was Marcia Lynn Walker of MyrtleBeachTV.com and DomainerTV.com who, along with her husband Warren, were among the first people I met in this business at the debut T.R.A.F.F.I.C. conference in 2004.

Marcia was a member of a private domain forum that Schwartz had begun operating a decade ago. In 2000 and 2001, Marcia had a chance to meet a few those board members one on one in

Marcia Lynn Walker
MyrtleBeachTV.com

personal visits. In 2002 those meetings continued and expanded into small group gatherings. Marcia has published a complete timeline and even photographs of those early meetings on a web page at MillionaireClub.net. The notable meetings included one at Schwartz's Boca Raton, Florida home in July 2002 that was dubbed BocaFest.
Dean Shannon
Dark Blue Sea founder

In October 2002 another event was held that truly set the stage for the birth of domain conferences as we know them today. Dean Shannon, the founder of Dark Blue Sea (the Australian parent company of Fabulous.com) invited the board members and other clients to come to Beverly Hills, California to hear about some new products and services his company was launching. Two other Dark Blue Sea execs, now well-known industry figures Richard Moore and Dan Warner, were also on hand to greet guests when they arrived at the Beverly Wilshire Hotel for an event that came to be known as DeanFest in honor of Shannon.

The guest list included a virtual Who's Who of the domain industry - both then and now - with people like Frank Schilling, Scott Day, Sahar Sarid, Steven Sacks, Donna Mahony and Roy Messer (to name just a few) among those on hand (Marcia identifies and has photos of many others at MillionaireClub.net).
Also in attendance were Rick Schwartz and Howard Neu. The T.R.A.F.F.I.C. co-founders liked what they saw at DeanFest and after a few more small group meetings in 2003 and 2004, they decided the time was right for a large scale conference for domainers that would bring people from around the world together to meet face to face and discuss ways to grow their young businesses.
That historic show, the first T.R.A.F.F.I.C. conference, was held at the Delray Beach Marriott October 20-23, 2004 and it was a huge hit with the 125 or so attendees on hand. They heard Schwartz declare "We are the real estate barons of this era" and they had good reason to believe it.

Schwartz and Neu made sure everything from the food to the keynote speaker (actor/author Ben Stein) was first class. Their attention to detail and determination to give their guests a world class conference experience gave everyone who was there a sense that they were part of an emerging industry that was for real and that was destined to go places that many of them had never dreamed of going before. In the ensuing five plus years - that sense that something big was about to happen was realized as domain values rocketed and mainstream business investors began piling into the space.

T.R.A.F.F.I.C. Co-Founders Rick Schwartz & Howard Neu (R) at their first conference in
October 2004 at Delray Beach, Florida
Industry conferences played a huge role in getting investor's attention and spurring the growth we have seen since 2004. They also played a huge role in permanently changing relationships between domainers. Instead of being limited to online messaging between between screen names, people were now meeting face to face, producing new business partnerships and life long personal friendships.
Fresh off their initial show's success in South Florida where both men reside , Schwartz and Neu decided it was time to take the show on the road. They formulated plans to hold a T.R.A.F.F.I.C. West conference in Las Vegas in May 2005. However a problem cropped up. One of the attendees at their debut show, Jay Westerdal (who at the time owned and operated Name Intelligence Inc. - the parent company of DomainTools.com), announced he was starting a show of his own to be called Domain Roundtable that would debut in Seattle - also in May 2005.
GoDaddy Founder Bob Parsons
was among the guests at the
2005 Domain Roundtable
conference in Seattle.

The opposing shows wound up colliding as they ran on the same dates that month (T.R.A.F.F.I.C. rolling May 24-27 and Roundtable May 25-27). My daughter happened to be graduating from high school that same week so those wound up being the only T.R.A.F.F.I.C. and Roundtable shows I have ever missed. I did however still put reports together on both conferences; Domain Heavyweights Leave Las Vegas Stronger Than Ever After Quality Time at Traffic West and Debut Edition of Domain Roundtable Served Up Rich Banquet of Seminars and CEO's.

Roundtable scored a coup that year that helped establish the show's credibility. They got GoDaddy Founder and CEO Bob Parsons to attend and serve on a panel (the year before we had profiled Parsons in a September 2004 Cover Story). To date the 2005 DRT show remains the only domain conference Parsons has appeared at though GoDaddy has continued to send other executives to industry shows over the years.

Interest in domains was so strong that neither show had its momentum blunted by their face off in 2005. As it would happen, the competition for attendee dollars was just getting started. In 2006 both T.R.A.F.F.I.C. and Roundtable would face new challengers as DOMAINfest and the GeoDomain Expo arrived on the scene.
Oversee.net's DomainSponsor division, who had been T.R.A.F.F.I.C.'s lead sponsor, would end up going into the show promotion business themselves with a pair of regional DOMAINfest events in 2006 - the first in Barcelona, Spain in July of that year and the second one in Oversee's hometown - Los Angeles - in September 2006.
That same year, DomainSponsor's Ron Sheridan told me about a group called Associated Cities that was staging their first GeoDomain Expo in Chicago June 2-3, 2006. I had a scheduling conflict at the time so could not consider attending, but I kept the Associated Cities and GeoDomain Expo names in mind and would learn much more about both later that year when I meet AC Executive Director Patrick Carleton and AC board members and brothers Michael and David Castello for the first time at the 2006 T.R.A.F.F.I.C. East conference in Hollywood, Florida.

A popular December 2006 Cover Story about the Castello Brothers

(L to R): Michael Castello, Ron Jackson & David
Castello at the 2008 GeoDomain Expo in Chicago

came out of that meeting and the following year I would attend my first GeoDomain Expo when I was invited to be the keynote speaker at their November 2007 conference in San Francisco. I have been to every one since then and continue to benefit from the Expo's unique focus on domain development.
2006 was a year of strong growth for the T.R.A.F.F.I.C. conference as well. They started the ball rolling for everyone with that initial show in 2004, then expanded to two events in 2005 - the Las Vegas conference I mentioned above and another back in Delray Beach in October 2005 that drew twice as many people as their debut show had attracted in the same location the year before.
In 2006 T.R.A.F.F.I.C expanded yet again - moving to three annual shows - Silicon Valley in January, Las Vegas in May and Hollywood, Florida in October. The Silicon Valley show was the first one designed to get the attention of high tech investors by putting the event in their own backyard.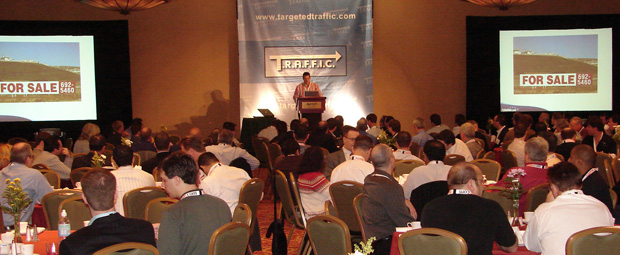 Part of the crowd that turned out for the 2006 T.R.A.F.F.I.C. Silicon Valley conference
This strategy worked extremely well and as that year progressed investments involving tens of millions of dollars started pouring into the domain industry to form or purchase companies, buy large portfolios or both. Meanwhile, the Las Vegas and Florida shows both doubled their attendance from the previous year as each event set records by signing in more than 500 people.
Domain Roundtable, sticking to its one a year format, returned for its sophomore outing in April 2006, this time moving across Lake Washington from Seattle to Bellevue, Washington. That was my first Roundtable conference and the event produced by Jothan Frakes impressed me. There was not just one - but four keynote speakers, including Internet pioneer Vint Cerf and then ICANN President and CEO Dr. Paul Twomey. The conference also had a unique four-track format which had multiple seminars all going on at the same time. You could pick and choose from the menu to design the "curriculum" that best suited your business.
If there has been one golden year in the domain conference business, 2007 was it. Business was booming in just about every corner of the industry and the growth at the shows reflected that. The year got underway in January with Oversee's first DOMAINfest Global conference in Hollywood, California.
Jeff Kupietzky (then Oversee.net's General Manager, now their President and CEO)
welcoming guests to the first DOMAINfest Global conference in Hollywood, CA (January 2007)
Oversee obviously learned well from the two smaller regional shows they had run in 2006. A combination of a very low $395 registration fee, great content and entertaining social events staged in the entertainment capital of the world served notice that Oversee intended to aggressively compete for leadership in this space.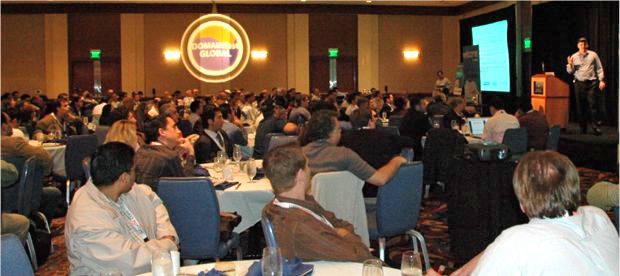 Crowd at DOMAINfest Global 2007 listening to a keynote
speech from TechCrunch.com founder Michael Arrington.
T.R.A.F.F.I.C. rose to the challenge with a trio of spectacular shows in 2007 beginning with T.R.A.F.F.I.C. West in Las Vegas that March. I still have a vivid memory of walking into the ballroom on the first day of that show and having my jaw literally drop when I saw how big the crowd was. Over 600 people were in the room at the Venetian Hotel.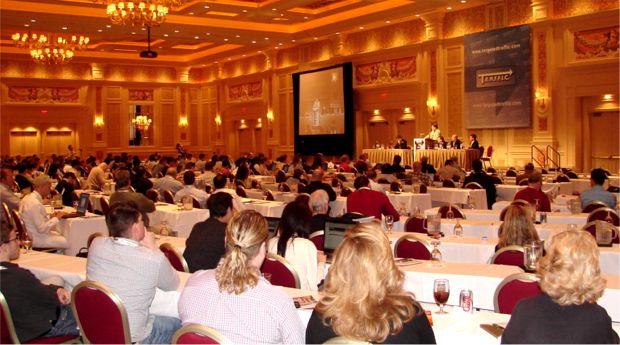 Just part of the record-breaking crowd at T.R.A.F.F.I.C. West 2007 in Las Vegas
It was also a this show that then SnapNames VP Nelson Brady made what was, to my knowledge, his only public speaking appearance. In 2009 Brady would be identified as the infamous alleged shill bidder "Halvarez" who reportedly cost SnapNames bidders hundreds of thousands of dollars. It is a mess that current Snapnames owner, Oversee.net is still in the process of cleaning up (Oversee bought SnapNames two months after this 2007 T.R.A.F.F.I.C. conference).

In June 2007, T.R.A.F.F.I.C. made another huge move by taking their show to the media capital of the world - New York City - for the first time. This show was arguably the biggest one ever for the T.R.A.F.F.I.C. series. A record $12 million worth of domains (a record that still stands) were sold in Moniker's live auction at the show. It was a far cry from the first auction at T.R.A.F.F.I.C.'s debut show when names were written on a dry erase board and people could walk up and put their name and bid next to a domain if they were interested in it.

The conference also attracted multiple

Nelson Brady (AKA Halvarez)
speaking at T.R.A.F.F.I.C. Las Vegas 2007

mainstream media representatives for the first time with the Associated Press, Forbes Magazine and all of the major New York newspapers sending reporters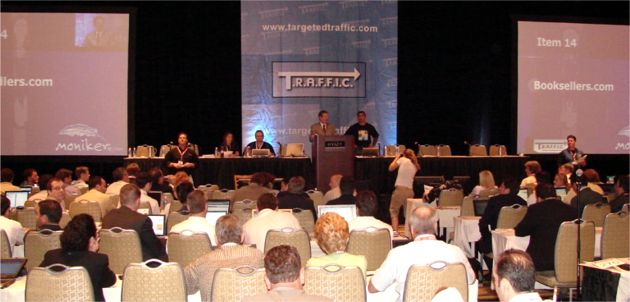 Above and below: Scenes from Moniker's record-breaking $12 million
live domain auction at T.R.A.F.F.I.C. New York 2007.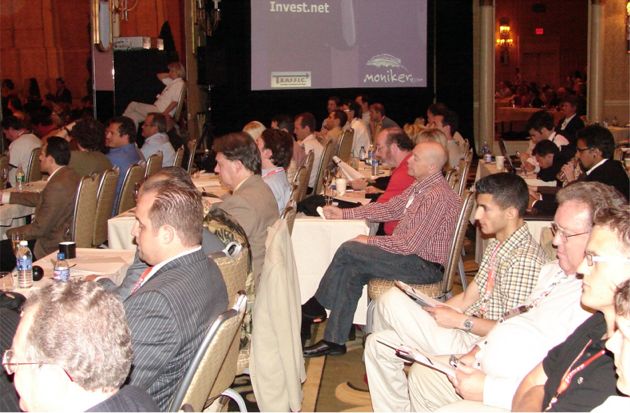 T.R.A.F.F.I.C. closed out their golden year when they returned to Hollywood, Florida in October 2007 with a former U.S. presidential candidate, Steve Forbes (of Forbes Magazine), as their keynote speaker! Forbes expressed admiration for domain investor/entrepreneurs and that in itself was probably more important than any other single thing he said in his speech.
Steve Forbes after delivering his keynote
speech at T.R.A.F.F.I.C. East 2007

As I wrote in my review of that show, "Those who missed the Internet/domain boat and remain bitter about their lack of foresight now stop at nothing to cast the entire industry in the most negative light possible. It is their hope that people will believe their misrepresentations (and outright lies) so that laws and dispute resolution policies can be changed in a way that will allow them to grab the assets they previously did not want - but now cherish - without having to pay for them. It has to be a blow to that camp to see one of the most mainstream of successful mainstream businessmen - and a respected political figure - stand up and give entrepreneurs in our space the credit and respect they deserve."

That is not to say that here in 2010 we have won the PR war - clearly we haven't, but every battlefield win helps people who have a sense of fair play see through the smokescreens opponents have put up in an effort to steal assets they have no valid claim to take.
Domain Roundtable and the GeoDomain Expo also moved forward in 2007. The Expo with the San Francisco show I mentioned earlier and Roundtable with a return to Seattle in in August 2007. Stephen Douglas took over as producer of that show which introduced some impressive high tech twists including a new Internet auction platform that allowed people at home to bid online in real time along with those in the auction hall. That system helped generate close to $4 million in sales.
DOMAINfest Global again kicked off the new year in 2008 with their second Hollywood event, one that helped them move the ball further down the field as a crowd of 600 flocked to the Renaissance Hotel for the show. The many highlights of that conference included a Town Hall meeting with Frank Schilling who answered the audience's domain related questions. There was also a keynote address from Wired Magazine co-founder John Batelle.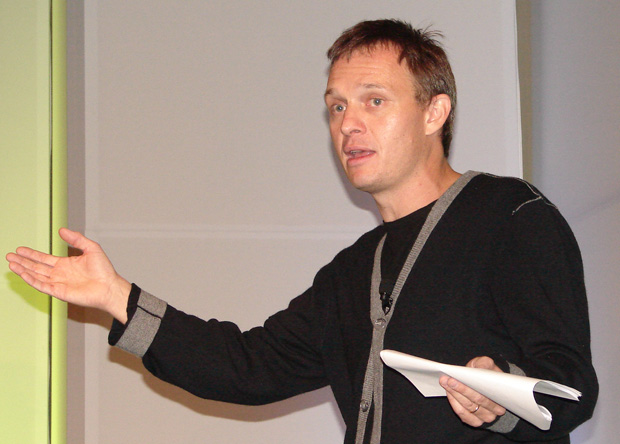 Frank Schilling answers audience questions at DOMAINfest Global 2008
T.R.A.F.F.I.C. grew yet again in 2008 by adding their first international show, an event in Australia that closed the year after three U.S. conferences. They kicked off 2008 with a February return to Las Vegas, then in May took their road show to Disney World in Orlando for the first time.
Attendance was off for the Orlando show with most speculating that Disney's family atmosphere didn't appeal to the many young men who make up such a large part of the industry demographic. The general economy and PPC payouts were noticeably starting to slip by this time which also had to play a role. Whatever the reason for the lower turnout, those who were there agreed this was one of the most fun shows in the entire T.R.A.F.F.I.C. series - one that presented an overall experience they would gladly do again.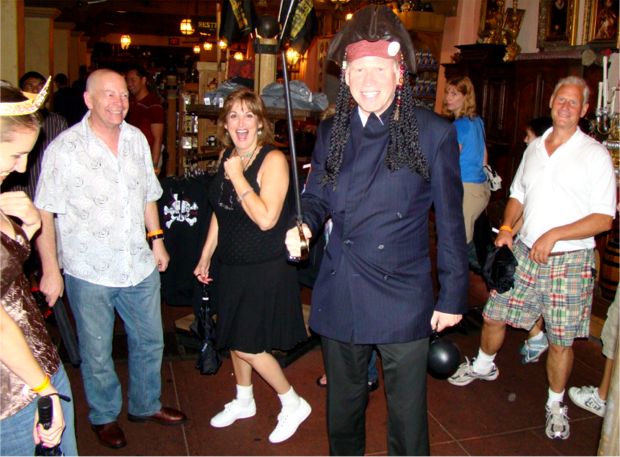 Brandishing a sword, Dr. Chris Hartnett gets into character for the
Pirates of the Caribbean ride at T.R.A.F.F.I.C. Orlando 2008 at Disney World.
Keynote speaker Barbara Corcoran (from
ABC-TV's Shark Tank) with Rick Schwartz
at T.R.A.F.F.I.C New York 2008

The economic downturn people were noticing in May 2008 had turned into a full fledged meltdown by the time T.R.A.F.F.I.C. took its next lap around the track - returning to New York in September for a show at a new venue - the Brooklyn Marriott. Still, even as the goliaths across the East River on Wall Street had entered into a tailspin, the domain investors gathered in Brooklyn remained optimistic about their prospects.

Rick Schwartz put things into perspective in welcoming comments to attendees saying, "There is no doubt that we are at the epicenter of history in the making. All the titans of business across the street are crumbling and here this little tiny group of domainers is becoming the next generation of "real estate" barons in the world. Domains may turn out to be the safest asset in the world. You can control them from anywhere in the world at any time - you don't have to wait for the bank to open - you can move them on a whim. They produce income

and if you have good ones, the value is rising. So we have a lot to be thankful for." That is something that has remained true throughout a historic recession that has still not been vanquished as I write this in early 2010.
In November 2008, T.R.A.F.F.I.C. made their first big overseas leap with a show on Australia's Gold Coast that was staged by Fabulous.com under a licensing agreement with Schwartz and Neu. Fabulous pulled out all of the stops and many show regulars told me they thought this was the best show they had ever attended. They loved the exotic locale and flipped over the unique adventures Fabulous took them on during the week.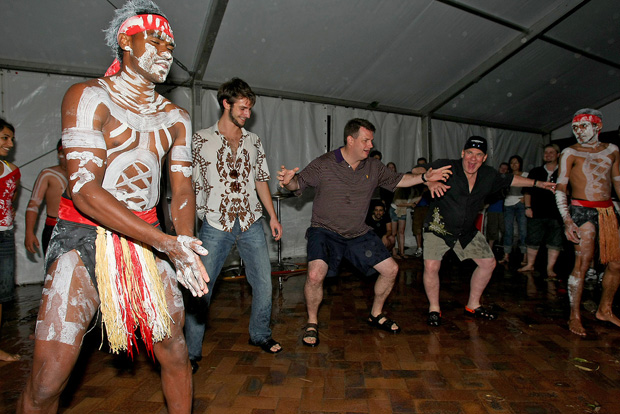 Several domainers accepted an invitation from an Aborigine dance troupe to show off
their moves at the November 2008 T.R.A.F.F.I.C. Down Under conference in Australia.
While Fabulous gave their guests from around the globe an unforgettable experience, they lost money on the show and that is a perfect illustration of the problem all conference promoters were about to face. With fewer attendees to go around, how do you continue to produce a big budget world class event without losing your shirt? We'll talk about that on page 2.
Coming Up on Page 2:

By the end of 2008 the economics of domain conference promotion had changed - how will show organizers adapt?

Undeterred by heavy competition, new players enter the game in 2009 and 2010.

Despite the financial challenges some shows grow bigger and better than ever, taking guests to Europe, the Playboy Mansion & Mardi Gras!

We answer the question posed in our headline - can domain conferences survive oversaturation?