That would obviously be not just a full, but an over-flowing plate for anyone to handle but Kupietzky has proven to be up to the task. It is no coincidence that Oversee's growth spurt and its ability to weather more than one ferocious storm over the past four years has corresponded with the time Kupietzky has been on board.
With an extensive business background already under his belt, as well as an Ivy League pedigree (Summa Cum Laude graduate of Columbia University) and a Harvard MBA (with high distinction), Kupietzky joined Oversee as an Executive Vice President (responsible for DomainSponsor.com) in 2006. Just two years later, in November 2008, he was elevated to his present position as CEO, President and member of the Board of Directors.
Jeff Kupetzky (left) talking with AOL Senior VP
David Mason at 2010 DOMAINfest New York

Kupietzky's rapid ascent has caught the attention of mainstream media and he is now frequently called on as an industry spokesman - recent examples being a live interview he gave CNBC-TV in July, a CNN Money video report that featured him during the DOMAINfest New York conference in August and a Smart Business magazine Cover Story in June.

So where exactly did this young domain industry dynamo come from? How did he guide Oversee to its current position of prominence and what does he have in store for the many clients and customers of the company's various divisions going forward? Those are questions we set out to answer in this month's Cover Story.

Jeff kicked off our interview by dispelling a common misconception about him. "Despite many people's assumptions, I am not a New Yorker but was born in Los Angeles in 1970 to two parents who were recent transplants from the East Coast," Kupieztsky said. "I'm the middle of three boys and remain close to my brothers. I used to say I'd never be back in L.A. and I am now living less than 100

yards from where I grew up!" he laughed. "Unlike many Angelinos, I'm not currently seeing a therapist and therefore have little I can blame my parents for. In truth, it was a great childhood and I believe L.A. remains an ideal place to raise a family."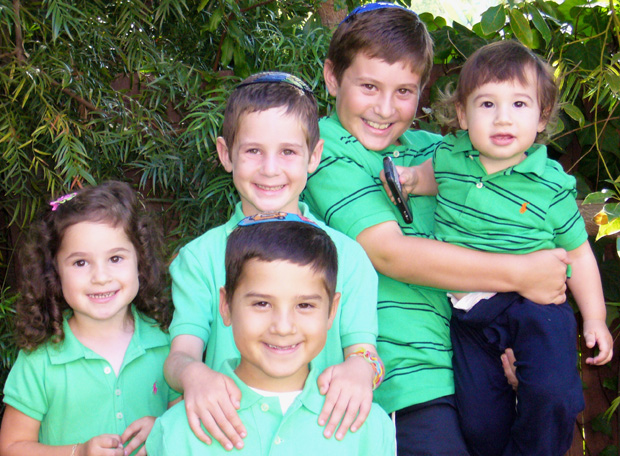 Jeff Kupietzky and his wife Carolyn are now raising five kids of their own. (L to R): Meira,
Eliezer, standing with his hands on brother Ezra's shoulders, Betzalel and Amiel.
"I went to parochial schools as a youngster and enjoyed some very close relationships with friends and family that I maintain today," Kupietzky said. "I did spend a lot of time on the East Coast as I went to camp in Pennsylvania each summer which allowed me to create close bonds with other communities. By the time I got to college, I had a great group of friends from around the country."
"As a kid, I thought I was pretty good in school and sports until I faced some real competition. My claim to fame before being cut from the team was guarding Mitchell Butler who would go on to a pro NBA career. Facing some early losses helped keep my own accomplishments well in check," Kupietzky said. If Jeff's athletic career had panned out we might have been seeing him featured on ESPN (undoubtedly dubbed something like Special K by Chris Berman) instead of on CNBC business shows - but business seemed to be the path Kupietzky was destined to take from the get go.
CEO Jeff Kupietzky at Oversee's
Los Angeles headquarters

"In my community everyone expected your career to be either a doctor or lawyer (once you did not want to be a rabbi)," Kupietzky said. "I wanted to do something a bit different but really had no idea what that would be. I liked the professional aspect of those careers but really enjoyed solving problems, especially business ones. I remain fascinated by business challenges in any industry and especially enjoy learning about business history – finding parallels for today's world from previous times."

Kupietzky's plans for a business career started coming into focus soon after he arrived at Columbia College. "When I was a freshman I took a great economics class from Sunil Gulati (today the head of U.S. Soccer)," Kupietzky recalled. "He got me excited about the whole field and then made an introduction for me to Union Bank of Switzerland (UBS) which led to a semester of work in Zurich."

"I consider that relationship and subsequent experience to be a critical opportunity for me. It helped me feel confident that I could operate in any situation no matter how foreign and achieve great results," Kupietzky said.

"I was fortunate to begin my career at McKinsey & Co. where I was a young analyst working with banking and software clients. I then had a year selling watches for Movado Watch Group which included launching the Coach Watch line and developing a sales automation system for them."

McKinsey had offered to pay Kupietzky's way through business school if he would return to work for them, but he decided to take a bit of risk and go off in a new direction. "After two years at business school, I joined Siebel Systems," Kupietzky said. "My first project was to launch a business for Sales.com. We had just purchased it for $175,000 and there was not a clear idea what to do with it. We pitched a concept for a workgroup sales platform to USVP and Sequoia (venture capital companies) and got it funded easily. Unfortunately, our parent company did not want to compete with itself so we ceded this idea to another company launched after ours called SalesForce.com."
Kupietzky continued on a bit of a journeyman career before finding a perfect match at Oversee.net. "Prior to Oversee, no position lasted more than two years, but in truth, each role has helped expose me to another business model, culture and group of great colleagues," Kupietzky observed.
"My next gig after Siebel was at a start-up in Silicon Valley that really pioneered cloud computing, but was ahead of its time. I ran product for Loudcloud which became Opsware. Once my wife and I started having kids, we decided to move back to L.A. to be close to family and I joined Digital Insight, which was helping small banks and credit unions compete in the online space," Kupietzky said.
While back home in Los Angeles, Kupietzky met the founders of Oversee.net, Lawrence Ng and Fred Hsu, and was intrigued by all they had accomplished. "I had just committed to work at an Idealab company, X1, but as soon as that ran its course, I joined Oversee and have been there ever since," Kupietzky said.

"Lawrence and Fred started the company after they worked together at an Internet startup. In the early days, cutting-edge optimization technology and knowing what tools and tactics domainers needed to be successful were the hallmark of the company. At its core, Oversee understood the growing significance of Internet advertising and the importance of controlling quality traffic."

"The company grew quickly. Since it was a leader in domain services, we wanted Oversee to fill the leadership position in all areas of the domain

Lawrence Ng and Fred Hsu
Oversee.net Co-Founders

name services marketplace. So it was a natural next step to acquire SnapNames (in 2007) and Moniker (in Jan. 2008) - both were solid, well-respected providers and not only enhanced the services we could provide to the domainer community, but extended our reach further. We knew domain names were soon to be seen as the asset class they were, so by integrating those two companies, we had all the tools for customers of any kind," Kupietzky explained.
Jeff Kupietzky speaking to a crowd of 700
attendees at the 2010 DOMAINfest Global
conference in Santa Monica, California


"DOMAINfest, our industry event, was developed completely in house and has exceeded our expectations in terms of brand prominence. We thought there needed to be a setting that all parties interested in the domain industry, regardless of expertise, company affiliation, or background, could come together to learn, network and be entertained," Kupietzky said.

"Domains touch every aspect of business on the Internet so we get professionals from many disciplines joining us and becoming involved. Each conference seems to extend the frontiers of our industry. Our European show in Prague (coming up October 5-7, 2010) has such a broad group of talented professionals participating—many of whom have never taken part in a domain industry show. And, of course, DOMAINfest Global 2011 should be a knockout. Four regional shows are also in the planning stages for 2011."

While Kupietzky is happy with Oversee's standing today, he and the company have had to overcome some major challenges. They have had to keep the ship afloat through the worst recession since the

Great Depression while simultaneously dealing with a huge threat to a key division's reputation. That came when a SnapNames Vice President, Nelson Brady, was caught shill bidding in company auctions (Brady was fired and is currently being sued by Oversee. SnapNames customers were given refunds for the amount they had overbid due to Brady's actions).

Another roadblock came when SnapNames lost their exclusive contract to auction off expiring Network Solutions domains after NetSol decided to move into that business themselves, teaming up with eNom to launch NameJet.com. Still another setback happened when Moniker lost its position as the sole auction services provider for the T.R.A.F.F.I.C. conferences (a situation now largely offset by the success of Oversee's DOMAINfest conferences where Moniker and sister company SnapNames operate the auctions).
Dealing with any of those situations would have been challenging enough, but getting hit with all them sat once would be enough to make anyone throw up their hands and wonder "What else could go wrong!?" Panic is not in Kupietzky's repertoire though and the even keel he has maintained in the face of so much adversity has served the company well.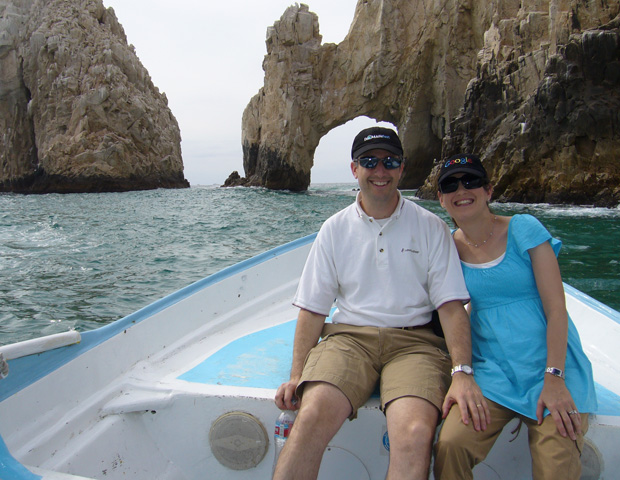 Jeff Kupietzky (with wife Carolyn in the photo above) steered Oversee
through some treacherous straits over the past couple of years).
"It's been an interesting year or two, sure." Kupietzy allowed. "There's not much I can discuss about the Brady scandal since it's still a legal matter, but I'll say the company did everything possible to treat customers how we ourselves would expect to be treated if we were in their shoes. The customer response was very positive and I'm proud of the way our team handled the situation."
"Economically, yes, this continues to be a challenging time," Kupeitzky continued, "but the evidence in the industry corroborates what we've been saying for some time now—that domain names are valuable assets with tremendous long-term potential. They have outperformed all kinds of other assets on a relative basis for some time and that's a trend we expect to continue. Oversee is in a very strong financial position and I expect it to stay that way. So I would say the sky is brighter, but it never really got all that dim, either. We've navigated the past couple of years by handling business fundamentals the way they deserve to be handled, putting ourselves in the strongest position possible in the industry, having a very strong team and focusing on what I call A-plus execution," Kupietzky said.
Jeff Kupietzky debunking 5 Myths About the
Domain Industry at DOMAINfest New York

There is another major issue that Kupietzky is still dealing with today. Domain owners are unhappy with the cuts they have seen in their PPC revenues - some have even pronounced parking dead. That would obviously be a very bad thing for one of Oversee's key units - the DomainSponsor.com domain monetization service that Kupeizky was brought in to run when he first joined Oversee.

While some are ready to schedule funeral services for parking, Kupietzky insists there is still plenty of life left in PPC and that it is already making a recovery. When he spoke at the DOMAINfest New York conference in August he discussed "industry myths" and said the idea that parking is dead is one of them.

"Parking is dead" makes a great headline, but it's just not true." Kupietzky said. "What is true is that the industry has

matured and feels closer to other online businesses exiting hyper-growth phases. The good news is I believe the overall market is still quite large, stable and profitable. Advertisers continue to bid for the traffic at a growing rate (We've seen a 15% rise in RPC this year)," Kupietzky said.

"The reason for some of the declines in the past years has to do with how those ad dollars are being divided among all the players in the value chain based on their respective positioning," Kupietzky said. "There is no longer sufficient competition among the upstream search networks so more of the profits are captured there than are flowing to us. Our segment remains quite competitive which maintains share of payouts. In terms of the future, I do expect competition to increase among the search networks which will be positive for all publishers."
With the upstream providers (Google and Yahoo) paying less to those who provide the traffic - domain owners - the owners have begun looking for better alternatives. A number of companies – most of them newer than the existing parking companies - have emerged with mass development solutions that they say is the next evolutionary step beyond parking – one that will provide better returns.
When asked if Oversee has any plans to hedge its own bet on parking with alternative monetization solutions Kupietzky said, "First, Oversee has always maintained non-PPC monetization solutions which I would characterize as critical to maintaining leadership in monetization. It's not a hedge for parking but a natural extension. Like physical real estate, the "highest and best use" won't be a parking lot for all properties. Eventually, land gets built out for its best use," Kupietzky added.

"For domains, I do expect lots of innovation to create additional monetization options for those properties where it makes sense. We are supporters of developing names and continue to test it. Whether the "mass development" approach will emerge as the best model or selecting individual sites that can have significant revenues from dedicated development remains to be seen."

In tracking aftermarket domain sales (something we have done in weekly reports for the past seven years) an interesting phenomenon we've seen recently is the decoupling of PPC earnings and the sale price of domain names. Good keywords are

Jeff Kupietzky on the cover
of the June 2010 issue of L.A.'s
Smart Business Magazine.

selling for solid prices whether they produce a high revenue stream or not. The brand potential of the domain seems to outweigh all other considerations for many active buyers.
"We think that is because there are more end users in the market who plan to build on the power of the right domain name," Kupeitzky said. "Marketing and advertising professionals today are incorporating domain names into their strategies. Individuals starting businesses are thinking much in the same way. Acquire the right domain name as a first and necessary step."
Jeff Kupietzky (left) interviews Zappos.com
Founder Tony Hsieh in the keynote chat
at DOMAINfest Global 2010 in Los Angeles

"In a sense that's why we changed the mission of DOMAINfest three years ago," Kupietzky noted. "Instead of being insular and focusing DOMAINfest's programming only around the traditional interests of domain industry professionals, Oversee.net realized that the continued growth, evolution, and success of the domain industry depended on bringing new knowledge, new technology, new talent, and new investment into the domain industry."

"Now, SEO/SEM experts, online brand managers, ad agencies, venture capitalists, intellectual property attorneys, website development experts, affiliate networks, and other online marketing-related professionals come together for a united purpose," Kupietzky said. "The common denominator is a passion for finding the best way to generate maximum revenue from any given domain name."

The domain business has seen some remarkable ups and downs over the past decade. There was the late 90's boom, followed by the so-called .com bust, then another boom starting near the end of

2003 that ran almost five years before the most recent downturn. While history is always instructive, the question in everyone's minds is "where do we go from here?"
"The industry is positioned to grow again in different ways," Kupietzky said. "As we grow this time, it's essential to bring transparency to our industry. We can't operate in the dark—we are Internet professionals with clearly defined goals. We want businesses and individuals to be aware of the value of domain names. That will only happen if each of us steps up and helps to redefine the industry. In my view, the next few years will be unrivaled in terms of potential. It's not just about domaining—it's about every aspect of doing business on the Internet."
"It's also going to be critical to continue to bring broader business voices into the industry. Lots of regulators, from ICANN to the U.S. Congress to the European Union and other governments, are taking hard looks at the industry. Having strong voices advocating for a wide range of domain name usage is going to be important," Kupietzky said.
Along with his forecast for the domain industry at large, we asked Kupietzky about the future prospects for growing Oversee and its various business units – DomainSponsor, Moniker, SnapNames and DOMAINfest.

"Let me talk about DOMAINfest first," Kupietzky said. "This year we launched a huge initiative, bringing DF to Fort Lauderdale and New York City and expanding it abroad with our upcoming two day conference in Prague. Fort Lauderdale drew a modest audience of about 130—we were expecting about 100 for that first regional."

"New York really blew it out of the park with over 200 people attending. Many attendees were

Scene from DOMAINfest New York - August 2010

business people interested in learning what domain names could do to enhance their business and how they should get started. Being in New York also gave us the opportunity to be at the center of the media world. CNN did a nice piece and a number of positive articles from mainstream press spoke to why "owning a brandable domain name on the Internet is extraordinarily valuable for business."
"We continue to expand our footprint outside the U.S. with our European office in Frankfurt, Germany. Many clients have been pleased with how our optimization technology has worked compared to alternatives. Having the insights from the U.S. market has really helped us in penetrating new areas," Kupietzky said.
"Oversee will also continue to be opportunistically looking for great businesses we can add to our family. We recently purchased AboutAirportParking.com as an example to add to our travel assets. This service is like Open Table for airport parking lots and has offered us additional opportunities to market to our travel visitors on Lowfares.com," Kupietzky added.
Jeff Kupietzky (left) with Rob McClinton, Oversee's
Sr. Director of Client Services & Registrar Operations
at the company's December 2008 Holiday Party.

While you may not currently think of Oversee as a domain development company, going forward you can expect to see more and more construction on the company's vast portfolio of Internet real estate. "As you know, Oversee.net owns one of the largest domain portfolios in the world—some one million names," Kupetzky noted. "Because we see the potential of owning this Internet real estate, a major initiative for us is development. Our Emerging Businesses Group is completely focused on build outs. You can think of them as a business incubator."

"You know about LowFares.com which has become one of the top ten travel sites on the Internet. It now has more than one million subscribers. And we are soon going to launch another site in the travel arena. In education, we

re-launched our Degrees.com site. And in the lifestyle area, there is the three word domain, WeightLossPlans.net, which is now up and running."
In conclusion, Kupietzky credited Oversee's staff for putting the company in position to benefit from the vast opportunities still out there on the Internet. "Oversee.net is fortunate to have a great group of employees all committed to increasing the value of Internet Real Estate," Kupietzky said. "No matter which unit they work in, they pride themselves on their ability to execute, how they collaborate and innovate to achieve excellent results. Each one brings a passion to their work and it's a privilege to lead them each and every day."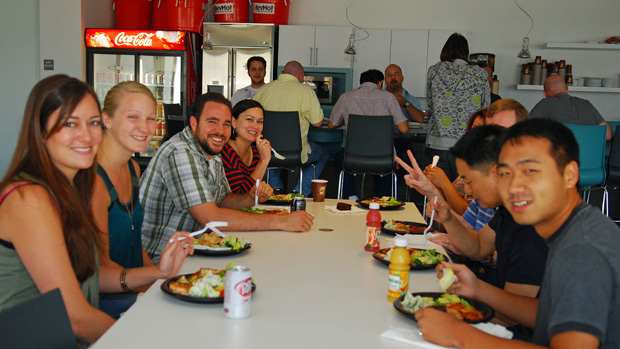 Above: Oversee employees congregate in the company cafeteria.
Below: Oversee team members square off at the foosball table.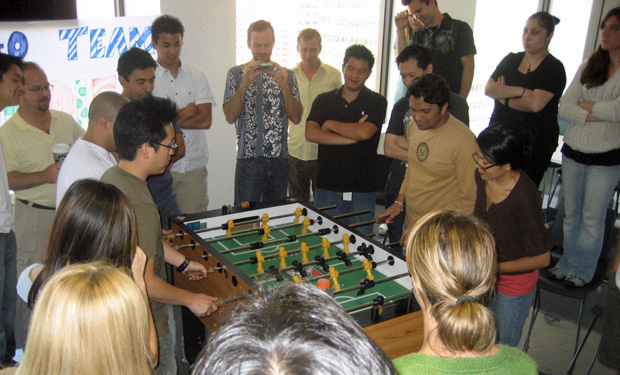 Below: President & CEO Jeff Kupietzky makes himself a target at the Beach Day Sponge
Throw - a highlight of the company's 2008 Summer Party at Will Rogers Beach in Santa Monica.