By Ron Jackson

After debuting with three consecutive top notch annual shows at the Renaissance Hotel in Hollywood, California - each one better than the last - Los Angeles based Oversee.net took the risk of tampering with success and moved their popular DOMAINfest Global conference across town for the 2010 edition that ran January 26-28 in Santa Monica.

I've always believed in the old adage, "if it ain't broke, don't fix it," but soon after arriving at the new venue - the oceanfront Fairmont Miramar Hotel that has been revered by discriminating travelers for more than a century, I understood that the show's organizers were putting their faith in a different time tested axiom, "never rest on your laurels."

That philosophy and a willingness to spend the time and money it takes to continually one up themselves resulted in a record breaking crowd turning out in Santa Monica where DOMAINfest Global cemented its reputation as a can't miss event.

Everything about the show looked like a million bucks - and for good reason - that is the approximate budget Oversee allots to staging this event. The precision with which every session and social event ran also made it clear that their show staff had used every one of the 365 days since last year's highly acclaimed event to work on making the 2010 show even better.

The Fairmont Miramar Hotel
Santa Monica, California
Scene from the outdoor luncheon at
DOMAINfest Global on a perfect Southern
California day - Thursday (Jan. 28)

One concern I had about moving to the beach for a January event was that the weather can be very unpredictable at that time of year and an untimely storm system (such as the one that dampened DOMAINfest in 2008) could have erased the appeal of the oceanfront setting. Indeed, it was raining on opening day Tuesday, Jan. 26, however the cozy layout at the Fairmount allowed everyone to move from one place to another completely undercover - including in and out of a large tent that was attached to the complex to house an exhibit hall and break area.

When the weather broke for the remainder of the conference any reservations I had about the new location disappeared along with the rain as the advantages of the Santa Monica setting became clear. In addition to being steps from a now sunny beach there were glorious outdoor luncheons under a spectacular fig tree whose branches shelter almost the entire courtyard at the historic hotel.

Oversee took over the entire hotel for DOMAINfest (and, when the Fairmont quickly sold out, had to use two adjacent

hotels to handle the overflow crowd, estimated at 650 people) so everyone you bumped into, except hotel staff, was a domainer or someone interested in doing business with people in the domain industry. That made for a great atmosphere that brought domain owners together with many new accomplished businessmen and women who came to learn more about what domain assets could do for them.
Oversee.net CEO & President Jeff
Kupietzky welcoming DOMAINfest Global attendees Tuesday (Jan. 26).

Drawing outside interest and investment to the domain space was exactly what Oversee was shooting for with this conference. In fact their theme for the event was Domain Names: Overlooked. Underutilized. Essential to Online Marketing Success.

Oversee CEO and President Jeff Kupietzky expanded on that theme saying, "As an industry with a vested interest in domain names, it's up to use to reach our and build real recognition for the value of Internet Real Estate and the critical role it plays in marketing and advertising. Domain names should not be overlooked and underutilized. If we can demonstrate their value in our own usage of them, and communicate their value by reaching out beyond our industry borders, I'm confident that all of us will see many new opportunities come our way in the years ahead."

The show got underway Tuesday morning (Jan. 26) with the first of two Pitchfest sessions (a second one would be held on Thursday). Pitchfest is a contest in which four companies presented at each session, describing new approaches they have developed to improve domain monetization.
At the Tuesday session Verisign, Elephant Traffic, AdMarketplace and Tempesta Media made presentations. A panel of four judges that included Frank Schilling (Name Administration), Adam Rioux (Octane360), Eric Liaw (Crossover Ventures) and Ron Sheridan (RSS.com) selected AdMarketplace as the winner of round one which earned a trophy for Adam Epstein who made the case for AdMarketplace.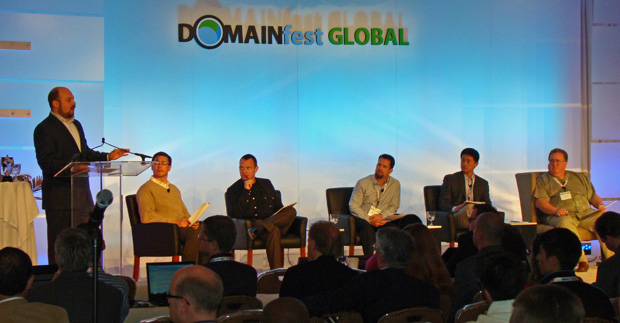 (Left to right in the photo above): Adam Epstein of AdMarketplace who won Tuesday's
Pitchfest session, moderater Peter Celeste, judges Frank Schilling (Name Administration),
Adam Rioux (Octane360), Eric Liaw (Crossover Ventures) and Ron Sheridan (RSS.com).
At the Thursday Pitchfest session the presenting companies were RootOrange.com, Skinected.com, RapidDomainBuilder.com and DevRich.com. A new panel of judges that included David Liu (Jefferies), Douglas McPherson (New Ventures Group), attorney/entrepreneur Richard Morganstern and the returning Ron Sheridan (RSS.com) picked the winning presentation. That honor went to Chad Folkening (eCorp) for his new RapidDomainBuilder.com platform.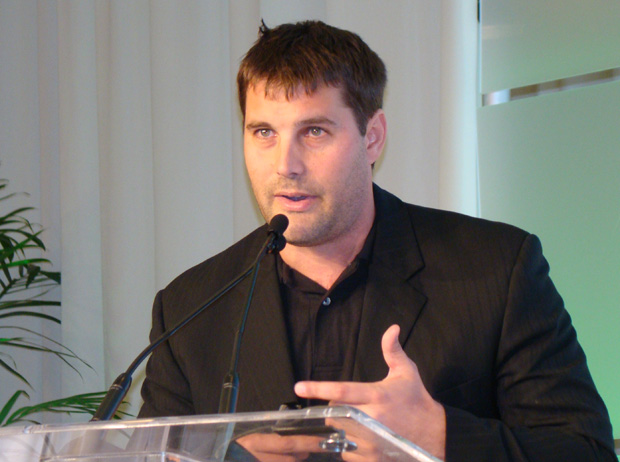 Chad Folkening presenting his case for RapidDomainBuilder.com as the best new domain
monetization platform. The judges agreed - he won their vote in Thursday's Pitchest Contest.
The judges weren't the only ones who got to pick Pitchfest winners though. On Thursday, the audience was allowed to vote for their favorite solution from among the eight companies that presented over two days and their choice wasn't the same as the judges. RootOrange.com wound up winning the attendees' vote with RapidDomainBuilder.com close behind. That allowed RootOrange.com Co-Founders Frank Langston and Camilo Acosta to collect the People's Choice Award for Best New Domain Monetization Platform.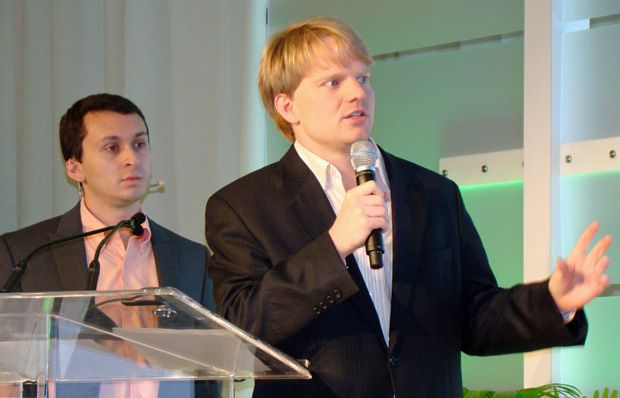 RootOrange.com Co-Founders Camilo Acosta (left) & Frank Langston beat out seven other companies to win the People's Choice Award for Best New Domain Monetization platform.
Returning to Tuesday's opening day agenda, Oversee CEO and President Jeff Kupietzky kicked off the afternoon session with opening remarks and a very interesting State of the Industry presentation. Kupietzky gave the audience a perfect example of why they should be paying attention to Internet real estate when he noted that decades ago his grandfather had passed up a once in a lifetime opportunity to buy real estate on Wilshire Boulevard (undeveloped and inexpensive then but now one of the priciest thoroughfares in Los Angeles). Kupietzky said a similar opportunity exists on the Internet today and he thinks 2010 will be the year that awareness of that opportunity will finally get through to the general public.
Next up was a panel discussion about the unlimited number of new gTLDs that ICANN plans to begin rolling out later this year. Though the exact timing has not yet been set all of the panelists agree that the new TLDs are coming and talked about how they might fit into or affect current domain investment strategies. The session, featuring Kurt Pritz (ICANN), Ken Hansen (Neustar) and Jon Nevett (Domain Dimensions, LLC) was moderated by Mason Cole (Oversee.net).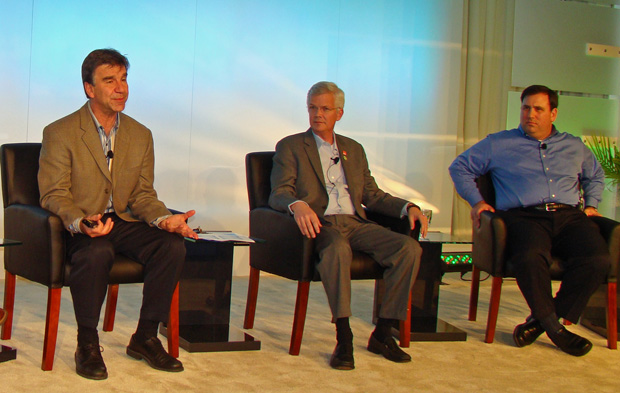 New gTLD panelists (left to right): Kurt Pritz (ICANN), Ken
Hansen (Neustar) and Jon Nevett (Domain Dimensions, LLC).
Pritz said from ICANN's standpoint the initiative is all about creating competition and choice, especially at the registry level. Hansen said that thus far in the domain community he has seen little interest in operating new gTLD registries. He said he thinks there is an opportunity there and he hopes to see more people exploring it. Nevett said there will be some success stories among new registries, but as with all businesses, some failures as well.
The first day of business closed with Moniker's No and Low Reserve Live Domain Auction - an event that set a new sales record ($150,950) for this opening day short list "appetizer" auction. The No/Low Reserve auction helped set the stage for the main auction event that would be held on Thursday. The top sellers in the No/Low Reserve event were FamilyCounselor.com and Love.info at $12,000 apiece, Pucks.com at $11,000 and Taskmaster.com at $10,000.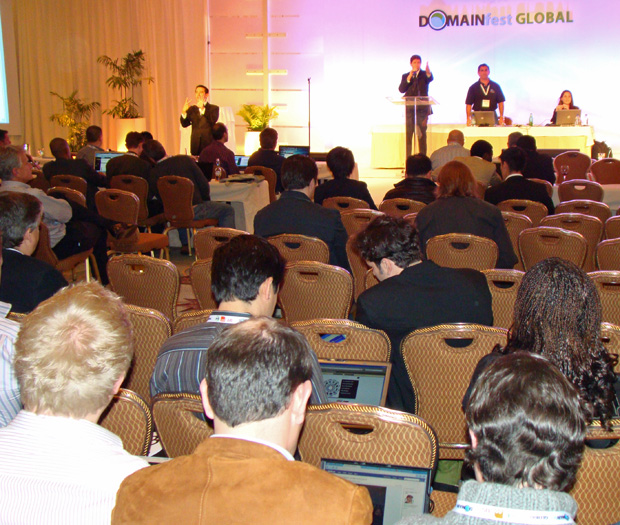 Scene from Moniker's No and Low Reserve Domain Auction Tuesday (Jan. 26).
With the day's business out of the way it was time to party and the .CO Registry made that possible by hosting a colorful cocktail party and dinner at the Fairmont Miramar, complete with a Samba dance troupe and an irresistible beat that brought everyone to their feet.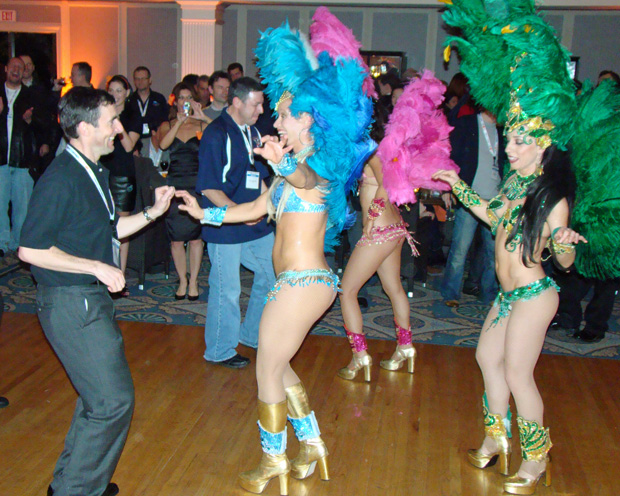 This event was originally planned as a beach party but the Tuesday rainfall forced it indoors. Even so, people had such a good time it was clear the move inside did nothing to dampen spirits.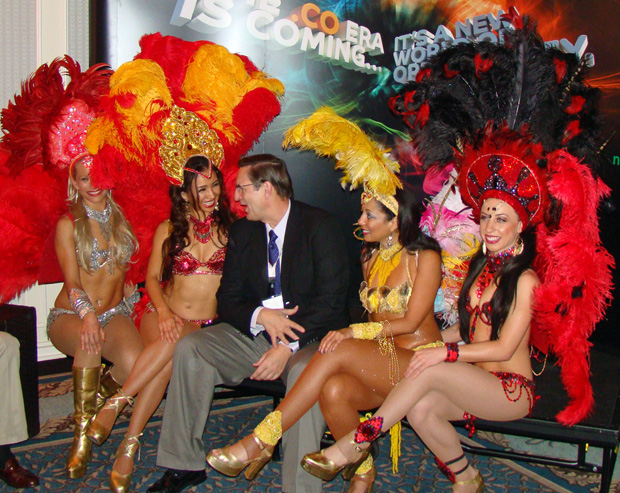 As a responsible journalist it was necessary for me to conduct interviews after the Samba troupe performed to see what they thought about the upcoming .CO sunrise scheduled to begin April 26. (It is a tough job but someone one has to do it!)
As the party began closing down around 11pm, many in the crowd drifted across the street to the Huntley Hotel where Demand Media held a late night party in an upper floor lounge. That one was still growing strong when I headed back to the Fairmont a little after midnight to sort through the day's notes and put together a post for our daily Lowdown section.