Hoagland at home
in Hilton Head, South Carolina

article. His solution to developing on a broad scale has also allowed him to get sites built outside the geo space on some of his great generic domains like Fishing.com and OutdoorFurniture.com (for a list of some of his top owned and co-owned domains and websites - taken from a total portfolio of approximately 2,000 domains - click here).
Now this is the kind of branch office
that anyone would like to work at!

that have vexed so many others, we talked at length with Hoagland (as well some of his partners) for this article. Before we raise the curtain, let's set the stage with a formal introduction to Skip Hoagland - where he came from, how he got started and what it took to get where he is today.
Hilton Head Island lighthouse

information in one convenient location. We built these high end custom brochure racks and got the hotels to sign contracts that gave us the exclusive right to place these racks in their lobbies. So anyone who wanted to have their brochure available in the hotel lobbies had to come through our company. It was a big success and that's where it all began for me," Hoagland said.
Myrtle Beach, South Carolina

Hoagland's assets are obviously well worth fighting for. Having the city websites has allowed him to keep his print publications strong at a time when so many others are being devastated by the Internet. He is able to offer dual buys (print and the web) to his advertisers in Island Events magazine, Savannah Scene magazine, the Official Guide to Charleston and other publications. That ability to cover all the bases has kept advertisers loyal to him in these times when traditionalists aren't sure which way they should jump.
Hoagland photo from a Winter 2000
article about him in the now defunct
Domain Street magazine.

As his websites proved their worth Hoagland started adding more American city domains (either solo or with partners) including Baltimore.com, Honolulu.com, Portland.com, OkahomaCity.com and also went international, landing Cuba.com, Uruguay.com, BuenosAires.com, Geneva.com, Amman.com and Cali.com, to name just a few. He also moved outside the geo space with domains like ChamberOfCommerce.com and CityClassifieds.com (that will serve as the center of a worldwide classified ads network).

Hoagland always bought with the idea of building out his domains and that was something he knew he could not do on his own. "I'm not a technology person nor do I consider myself a good manager," Hoagland said. So he turned the technical and management duties over to experts in those fields, taking them on as equity partners so they had plenty of incentive to produce. "I consider myself more of an entrepreneur, even though I've had my entremanure days," Hoagland laughed. "But I

learned from the failures and you need some of those to be a good entrepreneur. When we started buying these great .com brands that naturally attract traffic we minimized our entremanurial days and had a lot more entrepreneurial success."
"With a geographical domain we can pretty much define what it costs to run a company in a business like this. We normally create an LLC and we buy the domain with a 50-50 partner, or if I already own the domain name they buy a share of the asset from me. It is very important for
everyone that is in business with you to have an equity stake, to have skin in the game and be part owners, not just someone who works for you. As part of the deal we sign a management agreement, because I go into business with people who are management oriented, and that agreement spells out in detail how this management partner is going to run the business and what happens if he can't run the business."

"Then there is the really big key which is that we don't deal with net. The days of net are over - we deal with gross. Net is a word that is used to take advantage of people so you never have to pay




An avid fisherman, Hoagland ready to head out to sea
on a friend's boat, the "Reel Lucky". Skip's own vessel, usually docked in Panama, is appropriately named "Online".

them anything. They pay me a percentage of the gross and they get a fair percentage of the gross to be the manager. To give you one example, if we are 50-50 partners, the manager would keep 90% of of the first $250,000 we gross, so they have enough money coming in to run and fund that business. I would get 10%. From 250K-500K, my share would go up to 20%, from 500K-$1 million maybe 30%. Once we get over a million in revenues, the managing partner gets 55% of the gross. The guy who does the work should get the most money. If you empower people to make money and be paid fairly your life will be much more stable and wonderful than it would be if you're trying to screw somebody," Hoagland said.



Hoagland partner Steven Morales
(SimplyGeo.com, GeoDomainer.com
and others) vacationing with his daughter.

Hoagland pointed to his recent contract agreement with Steven Morales who writes the SimplyGeo.com blog as an example of the kind of deal he thinks works best. They share equity in other domains within their geo domain network, including GeoDomainer.com (social networking) , GeoDomain.com (scheduled to be a premium geo domain auction site), GeoDomains.com (a media company handling network advertising opportunities and forming strategic partenerships), GeoBusiness.com (focused on business tools and services for the geo industry) and GeoAuction.com (a broader based auction platform that the premium GeoDomain.com).

"Steven is the managing partner, he is empowered, he makes decisions and he is certainly going to get paid well. He is going to be able to sleep at night and not worry about me and I don't have to worry about him. It's got be fair for everybody. Steven and I and Mike Ward (who runs the

company's U.S. city sites) and I are going to be partners for as long as we are alive because there is nothing to argue about, we've already spelled it out."
| | |
| --- | --- |
| Hoagland said the burgeoning opportunities in the geo space have created a growth spurt for Associated Cities, a group of .com city domain owners he co-founded whose members share development tips with each other and cross promote each other's properties. They also stage a GeoDomain Expo each year with the 2008 conference being held this month in Chicago. Hoagland revealed some breaking news to us in this interview. Associated Cities will be changing the organization's name to Associated Geos and start admitting state and country domain owners into the group as well. | |
Mike Ward
manages Domain New Media's USA sites.

"Each site is unique so you need to study the market," Ward said. "Why are people coming to the city - is it relocation, business travel, entertainment or tourism? Atlanta has a lot of people relocating there. We have Chattanooga.com and that is more of a tourism area. Each one is very unique. Since Atlanta has so many people relocating we focus a lot on new home communities, apartments and helping people find jobs. In Chattanooga it is attractions and events. So it involves identifying the attributes of each city and providing the content that is required."

Once you have your site up with appropriate content you need to start earning a return on your investment by attracting advertisers. While Atlanta.com has its own sales staff Hoagland is exploring more efficient ways to have a local sales presence because he knows that is an essential element. "In order to be successful you have to be a real company with a real office,"

Hoagland said. "You've got to have a telephone and local sales people to answer it. In the markets where we do not have that yet we are not making it happen. So, what we are trying to do is find people in local media companies. The ones I like best are the people with the local city or tourist magazines. They're easier to talk to and already have an office and sales people, so we go in and offer them from 30% to 50% of the gross revenues to sell ads on our city site as well as provide some local content for us."
Hoagland obviously has a full plate but there is much more we haven't even touched on. With his planned EnthusiastSports.com network he hopes to interlink the definitive generic sites for approximately 80 sports (including his own Fishing.com). He has a company called FlipPageMedia that allows businesses to put their brochures online in a virtual brochure rack. Visitors to an area can then pull the brochures they want and print them out on their own printers. He is working with China Springboard on a network of classified ad sites in China and another joint project with NameMedia is expected to be announced soon.

Hoagland also has plans for Cuba.com but has to resolve issues with the government over what can or cannot be done with that site due to the U.S. embargo of Cuba. He is also working with one of his most valued partners, the manager of his company's foreign assets, Buenos Aires based Gastón Piarrette to create geo networks in Latin America.

Fishing.com owner Hoagland in Brazil
after landing a peacock bass.
In the days when he had a little more time on his hands, Hoagland was a competitive sporting clays shooter and over ten years he shot in tournaments all over the world. His interest in the sport led him to found Sporting Clays Magazine and of course he also owns SportingClays.com (and recently acquired Shooting.com).
Hoagland said he spends so much time working now only because he absolutely loves what he does. He considers himself a lucky man and said he never would have gotten where he is today without help from a lot of other people starting with his family, wife Cathy and a sister and two nieces who operate SanibelIsland.com and CaptivaIsland.com. Hoagland added "Also my mom, the most Internet savvy 83-year-old geodomainer on the planet and my dad who taught me to fish and one saying I have never forgotten - inspect to expect. That ranks right up there with my favorite quote from Warren Buffett, "I only invest in companies a fool could run because chances are one day it will be!"

Hoagland also wanted to personally thank Josh Metnick, Patrick Carleton, David and Michael Castello and the entire Associated Cities board. "Patrick (AC Executive Director) for his great efforts in building our Expo and David and Michael for being the Rock Stars of the entire Geo and Domain Industry and so many others including Sean Miller, Barry Hodge, Mark Burgess, Jessica Bookstaff, Fred Mercaldo and Dan Pulcrano for their tireless dedication to helping our organization and industry prosper," Hoagland said.

Skip & Cathy Hoagland
Below: The founding board members and staff of Associated Cities (left to right):
Back Row - Josh Metnick, Patrick Carleton, Sean Miller, Jonathan King, Skip Hoagland &
Mike Ward. Front Row: Michael Castello, David Castello and Dan Pulcrano.
(Photo taken on Hoagland's boat dock at Hilton Head Island, South Carolina)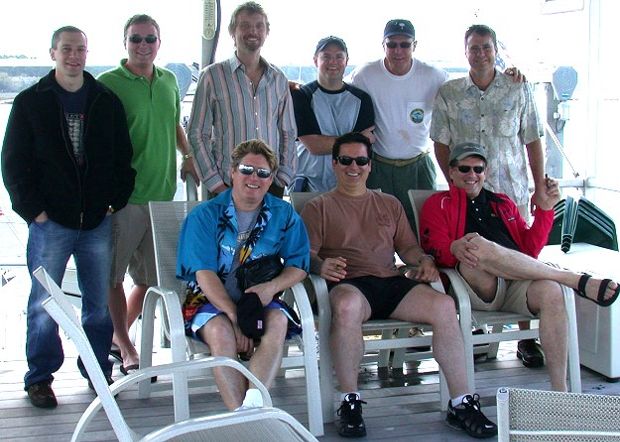 Hoagland closed by singling out members of his professional support team starting with the business parters we mentioned earlier in this article as well as his attorneys Dean Bell and Jeff North and accountant Gary Sadowski.
He also praised Jay Farrell who manages his domain portfolio at GoDaddy.com, Linda Gifford at HiltonHead.com and Savanah.com and Intellistrand who Hoagland said "has done a great job with many of our USA partnership sites like Myrtlebeach.com, Charleston.com, Williamsburg.com , Honolulu.com and others that are all profitable. Equally important is Will McIntosh, partner in many of our USA geo domains. With partners like this you simply can not fail," Hoagland concluded.
*****