2007 utilizing a simple strategy of controlling and building exceptional Internet companies leveraging the world's best domains, technologies and business leaders."
With respect to what's coming in 2008 Mann predicted, "More disruption of the PPC and advertising market. More wealthy domain leaders stepping out from years of shadows and becoming business and community leaders and role models; including building and managing technology and marketing teams and non-domain web assets; and leading more on and offline social and nonprofit activities."
Andrew Miller and Mike "Zappy" Zapolin of the Internet Real Estate Group (who were featured in our September 2005 Cover Story) are equally big proponents of development. Zapolin and Miller consider the most significant event of 2007 the filings by domain name based companies and brands, to go public. "InternetBrands, Creditcards.com, NameMedia to name a few, have opened up their financials for investors to see and they are very impressive," Miller said. "With tens of millions of dollars of EBIT (Earnings Before Interest and Taxes) each, Wall Street is beginning to realize the power of the modern day Internet/Domain Brand." Andrew and

Zappy are also very excited about the strong multiples being paid for private acquisitions of high

Mike "Zappy" Zapolin
Internet Real Estate Group

Andrew Miller
Internet Real Estate Group

quality Internet businesses, Business.com sold for $350 Million, approximately 23 times EBIT, and Dictionary.com sold for $100 Million, more than 23 times EBIT. "This further reinforces the fact that a great domain brand coupled with a great business has an exponential value," they said.

The Internet Real Estate guys are encouraged that owners of the very best generic domain names are interested in partnering with a development partner like Internet Real Estate Group and retaining equity, rather than just selling the domain for a big windfall. "They are realizing the upside and are placing bets on this. Two examples of this where Internet Real Estate Group has formed joint ventures with the owners of domains are DutyFree.com and SEM.com, which IREG is developing into stand alone brands and businesses," Miller noted.

"There are so many Internet sole proprietorships or small businesses that are doing great revenue but desperately need a generic domain name brand, credibility, and a strong management team. By having the generic domain name in some of the strongest categories, we are seeing the crème de la crème of these businesses before the PE firms or VC's and are in a position to acquire, merger, or Joint Venture with them to accelerate development," they noted.

"2007 was another exciting year for IREG. We brought in Rob Monster as our third partner, and with that, brought years of brand and operational experience into IREG. We rapidly developed Luggage.com and exited the business in 2007 and acquired and began full scale businesses on Patents.com, Chocolate.com, Software.com, Phone.com, Jeans.com and Podcast.com. Patents.com is a strong example of the power of the generic domain name, as we took a domain name from date of acquisition, acquired one of the strongest small businesses in the space and with it a terrific management team, and closed a Series A term sheet with a major VC, all in less than 6 months timeframe. This is a model we expect to duplicate many times in 2008 and beyond," Miller and Zapolin added.
Miller and Zapolin see the momentum from the second half of 2007 continuing in 2008, with some of the leaders going public and a "watershed moment" occurring when Art.com files for its public offering, at which point Wall Street and Investors realizes that the business that started from a domain name and a couple of acquisitions is doing hundreds of millions of dollars in revenues and EBIDTA.
"We also expect to see continuing investments from new kinds of investors, who are already jumping into the domain space, given the weakness in the physical Real Estate market, the risk of the stock market, and the weak dollar. There will be continued validation that domain investing is extremely risk averse and continues to have massive upside for speculators and business builders. The hazards we see are people or companies delving into lower quality domains, whether that be secondary TLD's to dotcom or non intuitive names that are not strong brands, and continuing to rely solely on pay per click sites that ultimately provide no end value to the user," the dynamic duo concluded.
Any discussion of development also benefits mightily when Michael Castello and David Castello of Castello Cities Internet Network are included. The owners of PalmSprings.com, Nashville.com, Cost.com and many other great generics were the subject of one of our most popular cover stories in December 2006 (by the way here is a little bonus for Castello Brothers fans that you haven't seen before - a classic video from their rock & roll days (Michael is on vocals and David is the drummer). I challenge you to watch this video and not come away scratching your head as to why these guys didn't become one of the biggest rock bands of the

80's. Oh well, the music world's loss was the domain world's gain).

Looking back at last year Michael had no doubt about the top story, "The trend toward the development of good quality domain names into viable sites," he said. "It is one thing to have thousands of domains that generate PPC but to build a single site into a money maker takes domainers from being search engine tools and elevates them into entrepreneurs with power generated directly from the user/visitor. No one can break that bond. The power is going from big corporate back to the people. The internet has facilitated this revolution like never before,' Michael said. "CCIN has advanced in development and co-development this year by forging relationships on several fronts including Cost.com and WorldGolf.com. Those that "get it" are realizing that the power to build these global powerhouses can come right from the nest of creativity within our own ranks."

Michael Castello (left) and David Castello
Castello Cities Internet Network, Inc.
David added "Domain name development will continue to be the most important trend for domainers. In the past, parking was considered the end game for most domain names. Now, it is being seen as a temporary first step to monetizing a name before it is developed. 2007 was a great year for the Castello Brothers and CCIN. In addition to expanding our city sites such as Nashville.com and PalmSprings.com, we focused on developing our non-Geodomains such as Whisky.com and Kennel.com. We also solidified our first outside development deals with Cost.com and TRAFFICZ, and our Golf Geodomain portfolio with WorldGolf.com to create the world's largest Golf Geodomain Network."
Looking ahead David said, "In 2008, the Enlightenment of Madison Avenue and Corporate America will begin as they start to acknowledge the massive synergistic marketing advantages of adding easy-to-remember, generic domain names to their advertising portfolios and marketing campaigns. Domain name values will rise as they enter the market. However, this will be no love affair - Corporate America will only buy what they can't take."

"Typosquatters will find themselves squarely in the crosshairs of litigation as more of Corporate America awakens to the revenue they've lost and targets anything they can through present and future typosquatting laws. Because of this, there will be a shake-up in the hierarchy of many of those who are now considered the major domain players. When the dust settles, the pinnacle will belong to those who successfully developed their names into independent entities."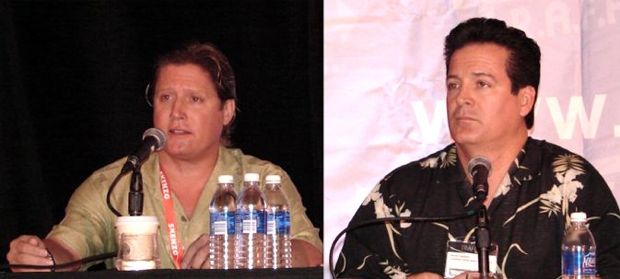 Michael Castello (left) and David Castello speaking at T.R.A.F.F.I.C. New York - June 2007
"The importance of the Internalization of Traffic will become obvious because of domain development," David noted. "With parked names, the transference of traffic away from the site was an inherent characteristic of monetizing via PPC. With a developed name, keeping viewers on the site will become paramount and the idea of a site simply being a monetization conduit to send visitors somewhere else will be seen as ridiculous as a newspaper, radio or television station sending their readers, viewers and listeners away to a competitor."
Michael said, "The hazard will come as the "powers that be" will push back in ways that would make any democracy cringe. That is the way the game is played in capitalism and we need to work together to allow the positive properties of the internet to naturally unfold. We need to be smart in how we position ourselves. We must protect from being labeled as cyber-squatters which is being perpetuated in large part by those trying to make a buck profiting off of legitimate trademarks such as typo-squattering. This type of practice will paint a broad brush of demonization to a public that is struggling to understand what we do. This is the time for the visual brands in our industry to present ourselves in a positive ways in order to calm the fear that is out there. Many of the publications like DNJournal.com and other blogs are

ICA Legal Counsel Phil Corwin

making good, concise information available. The public, because they have the internet at their fingertips, will have the ability to see clearly the growth and direction of our industry."

Before we move on to the topic of PPC, the legal challenges that Michael and David bring up make this an appropriate point to bring in an expert attorney, Phil Corwin, who also serves as the Washington, D.C. lobbyist and Legal Counsel for the Internet Commerce Association. Corwin pointed to five developments that had a big impact on the domain business in 2007:

The RegisterFly fiasco and ICANN's reaction, in which after an initial state of denial and fumbling it began to take the concerns of individual registrants more seriously. While ICANN has taken positive follow-up steps - such as improving communications and mandating secure data escrow for all registrars - it remains to be seen whether a truly improved Registrar Accreditation Agreement (RAA) will be uniformly implemented and enforced to provide registrants with the protection and rights they require.
The launch of CADNA and the significant possibility that major corporate interests may seek to push domainers aside in the online search and advertising business through a coordinated campaign of negative publicity and trademark law changes in the US and internationally.



The continued growth of and support for the ICA and the growing recognition within the domainer community that an organized and ongoing public policy voice is vital to protecting its long-term interests.



The initiation of cybersquatting lawsuits by various major corporations that seek to use anti-counterfeiting statutes against alleged cybersquatters. If accepted by the courts, this tactic could dramatically increase (by a factor of 10) the potential fines faced by domain registrants and expose them to various legal strongarm tactics (without the inconvenience of getting Congress to amend trademark law) - increasing the potential for reverse name hijacking.



The implementation by ICANN of a national law exception policy that will permit accredited registrars to have national privacy protection laws preempt their WHOIS obligations. While this particular exception benefits registrants, it may mark the beginning of the unraveling of RAA uniformity, a development that could hurt registrants in other ways and that could also encourage the establishment of offshore "privacy havens" that become legal shelters for cybersquatters.
We also asked Corwin what he saw coming around the bend in 2008 and he provided these bullet points:

Advertising flows online increase dramatically - increasing the clout of the domain industry but also its vulnerability to attack by interests seeking to usurp it in the battle for online search and advertising dominance.



The possibility of punitive CADNA-launched trademark law legislative initiatives and lawsuits that seek to assign domainers to permanent second class status in the law and the marketplace.

Corwin at T.R.A.F.F.I.C. New York
June 2007

General economic downturn and continued restrictions on credit availability in the US and worldwide - it should help online advertising and e-commerce overall, compared to traditional media and physical retailers; among domainers, those with cash will be king while highly leveraged players will face trouble.

Coming Up Next on Page 3 of DN Journal's Jan. 2008 State of the Industry Report
Michael Gilmour on the Past, Present and Future of PPC

Blog Booster Jay Westerdal Forecasts Ron Jackson's Fate in '08

T.R.A.F.F.I.C. Co-Founder Howard Neu Stirs the Conference Cauldron

Domain King Rick Schwartz Clears the Bases and Closes The Show