The 2016 NamesCon conference continued Monday (January 11) with another busy day of business sessions, a live domain auction and an evening of crowd pleasing social events in Las Vegas (Opening day highlights are here). Day 2 of the 3rd annual event that has attracted a record breaking crowd of some 1,200 attendees to the Tropicana Hotel began with a keynote talk from author and digital IP strategist Jennifer Wolfe (CEO at Dot Brand 360).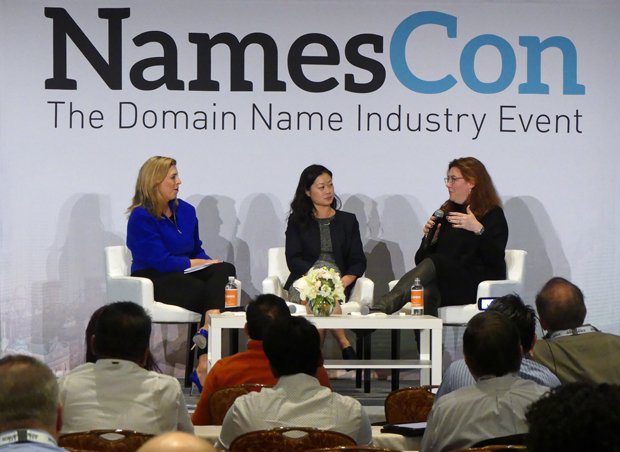 Above: After her keynote Ms. Wolfe (left) was then joined on stage by Cecelia Smith (Director, Domain Names, Fox - center) and Stacey King (Sr. Manager, Amazon Registry Services) for a discussion of Top Brands and their TLD Strategy.
Below: at 10:30am four simultaneous sessions got underway in different meeting rooms. One of those featured Uniregistry Market (formerly known as DomainNameSales) Senior Broker Wade Smith sharing Secrets of a Multimillion Dollar Broker. Wade has brokered more than $20 million in domains sales since joining Uniregistry in August 2012.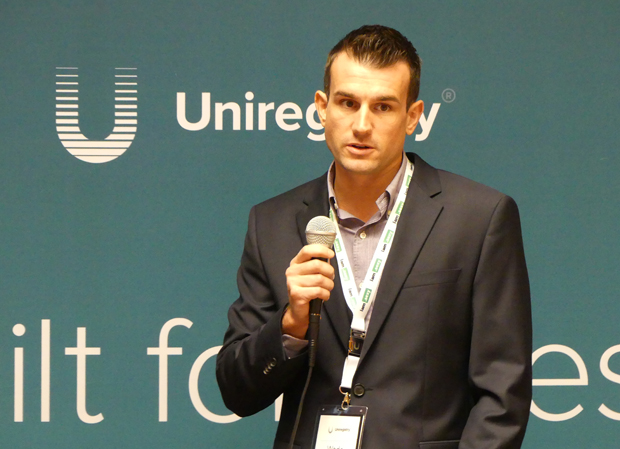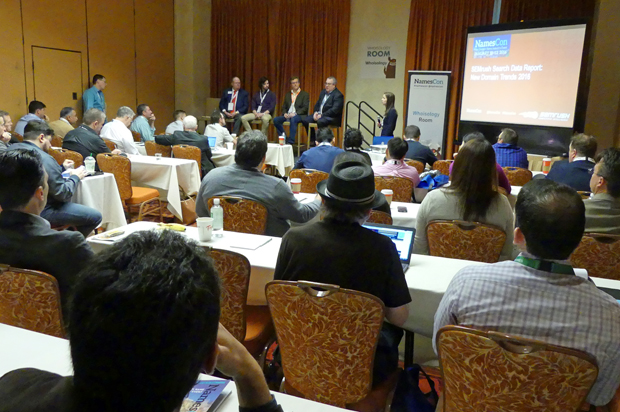 Above: Also at 10:30am a panel discussion titled Black Belt Search-Fu - Marketing, Optimization, and You featured Bill Hartzer, Bill McClure, Michael Stricker and Sean Tyson.
Below: At the same time, one of our favorite sessions from last year returned. Legendary Legal Tales at NamesCon, Year 3 featured attorneys Stevan Lieberman, John Berryhill and Tim Cole along with ace moderator Derek Newman (one of the world's top domain attorneys himself). They shared some hilarious true stories about past cases that often led to some good natured ribbing as you see here between Berryhill (left) and Cole.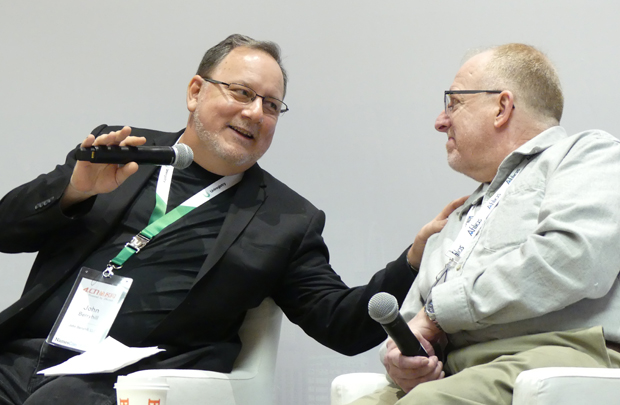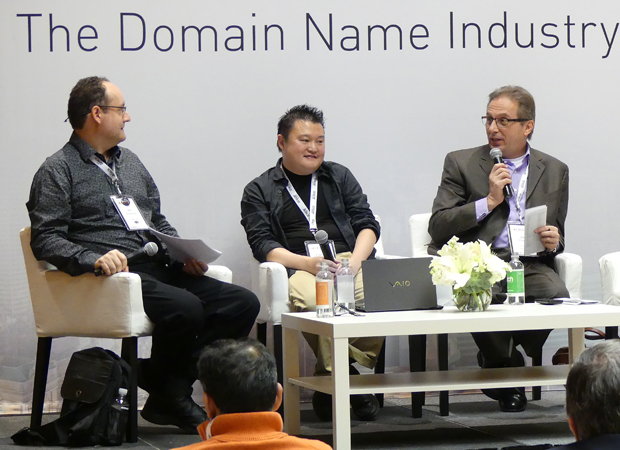 Above: The final 10:30am session was Domainer Crystal Ball: What's the next big thing after the Chinese Domain Boom? with (left to right) moderator Bill Sweetman (NameNinja), Edmon Chung (.asia) and Joe Alagna (101Domain).
Below: We then heard an update an update on the work being done by the Domain Name Association delivered by the Chairman of the industry trade association - Adrian Kinderis.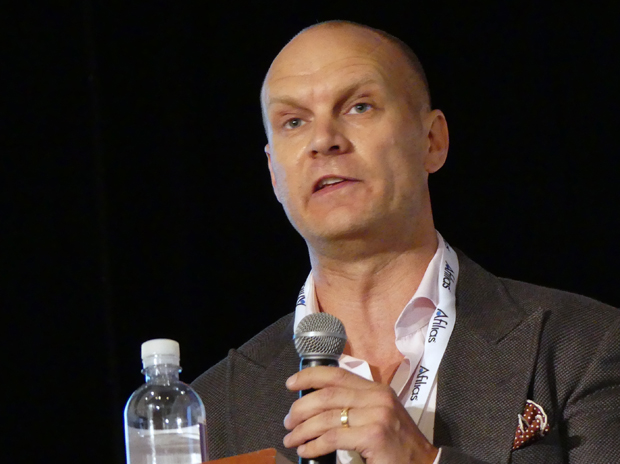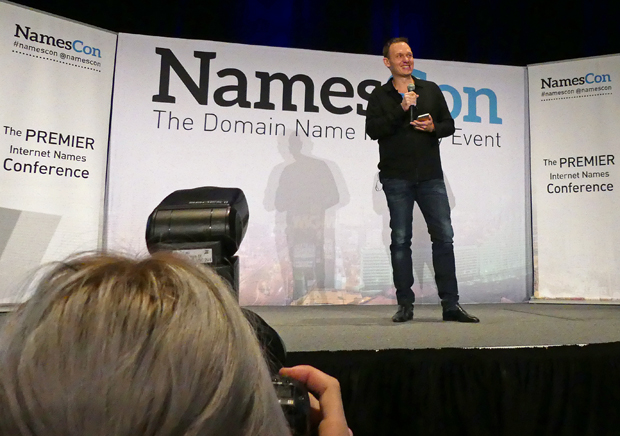 Above: Next up was one of the highlights of the entire week, Uniregistry Founder Frank Schilling's keynote speech. The legendary domain investor/entrepreneur talked about a blockbuster year for the company's domain sales and registration services as well as new offerings like Uniregistry Market (and new and improved version of the already successful DomainNameSales).
Below: Frank also had a nice surprise for attendees who had downloaded company's impressive new mobile app. To show off its functionality Frank gave away two valuable domains to lucky audience members and immediately pushed them into their accounts. One was Paleo.diet, a name the recipient sold the very same day during the NamesCon live auction for $1,700. The other was 123.link. As usual, there was standing room only for Frank's talk.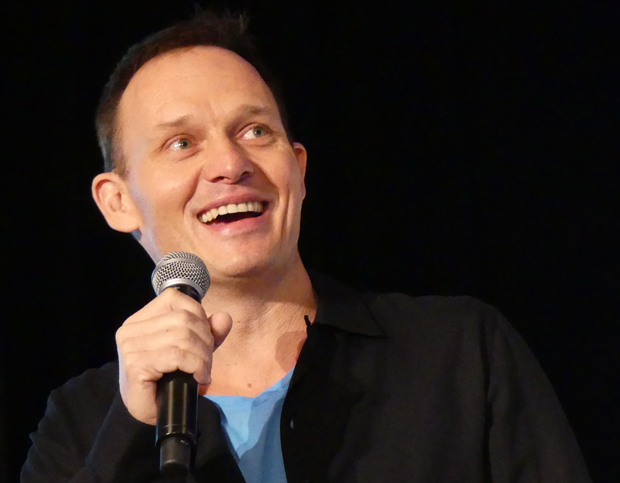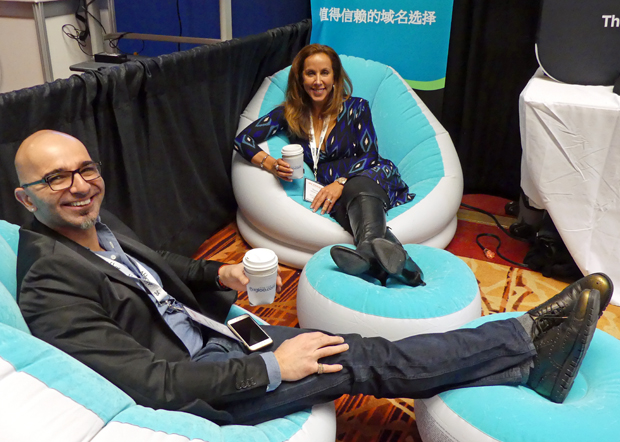 Above: In between sessions, Ammar Kubba (Thought Convergence) and Igloo.com CEO Tessa Holcomb, enjoy a break at Igloo's booth in the Exhibit Hall.
Below: After lunch, the afternoon sessions got underway at 1pm. One at that hour was Brandable names. What are they? What is the market? that featured left to right Michael Navarini, Margot Bushnaq, Michael Rader and moderator Bill Sweetman.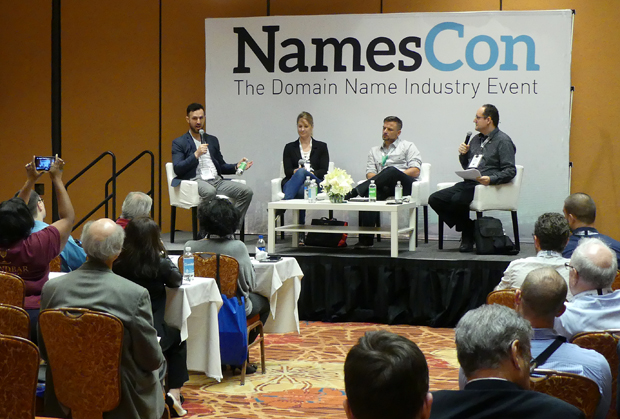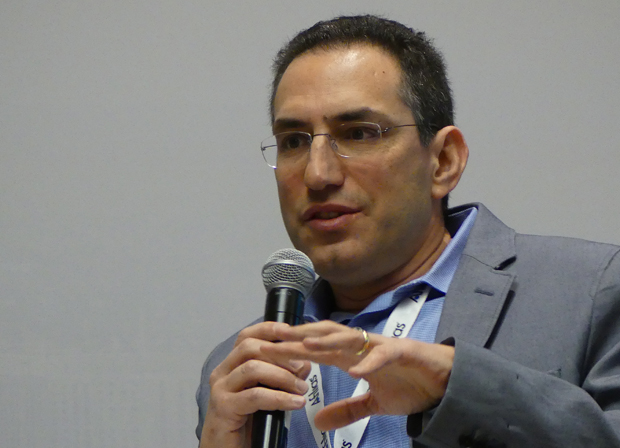 Above: Also at 1pm Nat Cohen (Telepathy, above) joined attorneys Zak Muscovitch, David Weslow and moderator Derek Newman for a breakdown of 2015 Domain Legal Developments in the Industry and Practical Takeaways. Nat also followed with a solo keynote on the work being done on behalf of domain owners by the Internet Commerce Assocation.
Below: In another keynote at 1:30pm industry pioneer Elliot Noss (Tucows President and CEO) shared his thoughts on the current state of the industry.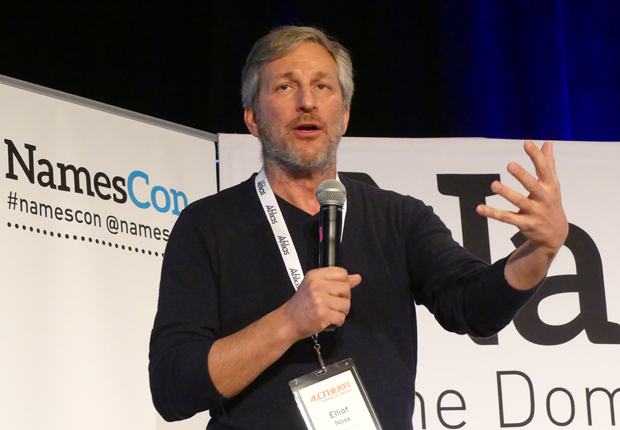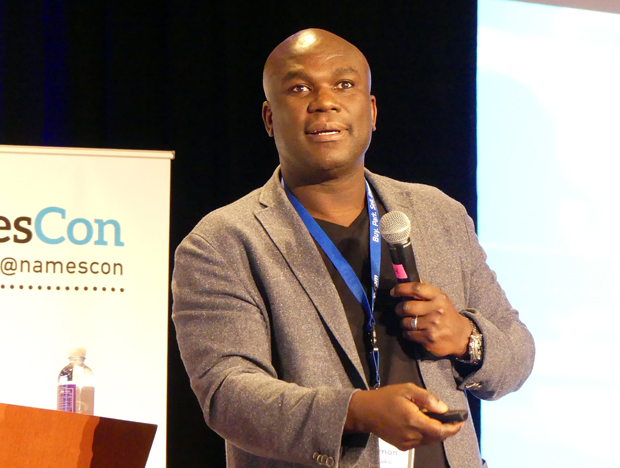 Above: Completing a keynote trifecta at 1:40pm was Sedo's dynamic Chief Sales Officer Solomon Amoako. Solomon gave an eloquent overview of the the rewarding past year for the domain business and the prospects for the year ahead.
Below: The rest of the day was devoted to NamesCon's RightOfheDot/NameJet Live Domain Auction that got underway at 2pm. Sales ended up tallying more than $1.5 million led by Lawn.com at $240,000, Tuscany.com at $157,500 and Penis.com at $110,000. A silent auction is ongoing that will push the final tally higher.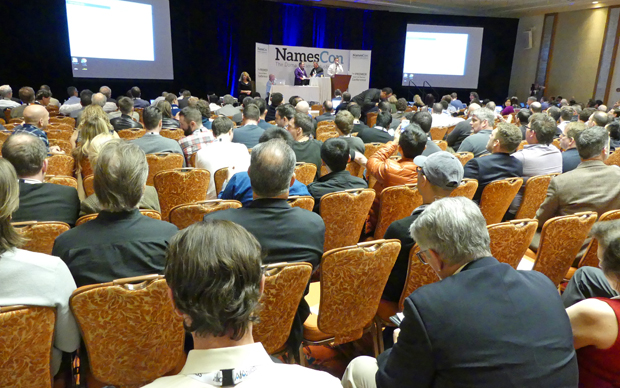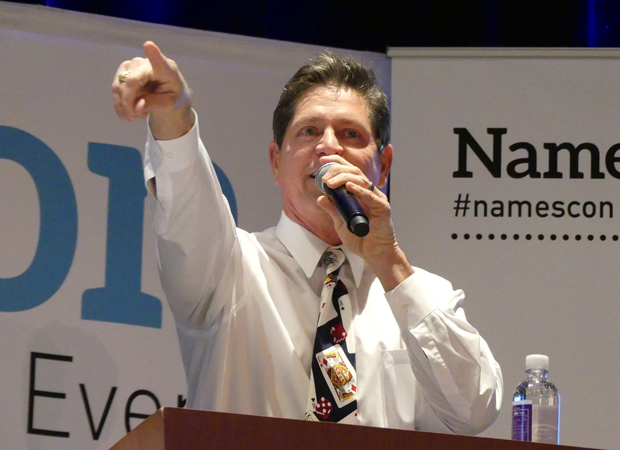 Above: One of the country's best auctioneers, Wayne Wheat, was back from Texas to call NamesCon's RightOfheDot/NameJet live domain auction.
Below: While the auction brought the business day to an end, the social events were just heating up, or should I say just cooling down. In one of those the Public Interest Registry took several dozen guests to the Minus 5 Ice Bar in Las Vegas. This popular attraction features a bar with tables, chairs and even the cups made of ice! The temperature is kept at 23 degrees at all times - so you have to wear the provided jackets and gloves while there. Cooling off below are (left to right) Howard & Barbara Neu, Diana & Ron Jackson.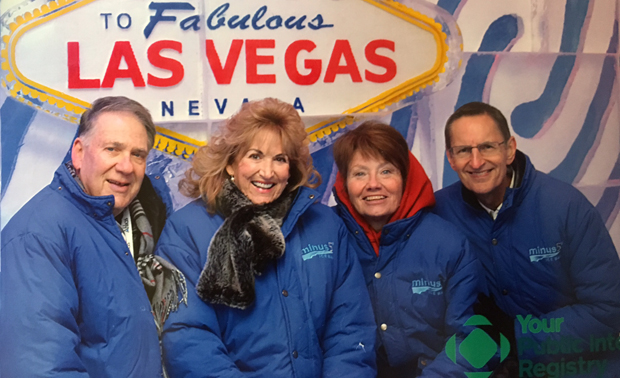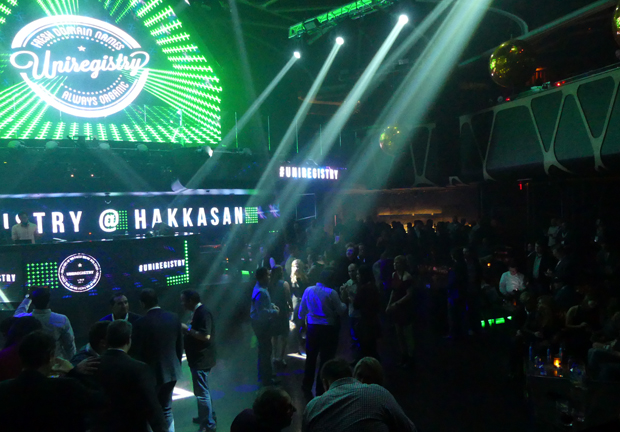 Above: Next up in another highlight of the week Uniregistry hosted a spectacular party at the world famous Hakkasan Night Club at the MGM Grand in Las Vegas.
Below: Uniregistry was everywhere at NamesCon with the kind of high profile the innovative, quick growing company warrants. It has been gratifying to see this level of success for someone who came out - and has always championed - the domain investment community in Uniregistry Founder Frank Schilling.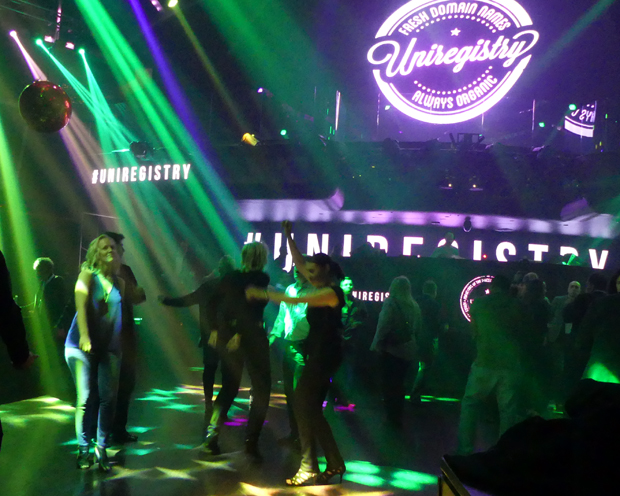 As I write this business day 3 (Tuesday, January 12 at NamesCon) has just come to a close (with the big Water Night fundraising party for The Water School to begin soon). I'll have all of today and tonight's photos and highlights for you in my next post from Las Vegas where NamesCon 2016 will close with a final day of activity Wednesday.