The 2016 NamesCon conference got off to a great start Sunday (January 10) when the first of an expected 1,200 attendees mobbed the registration desk at the Tropicana Hotel in Las Vegas as soon as it opened at 9am.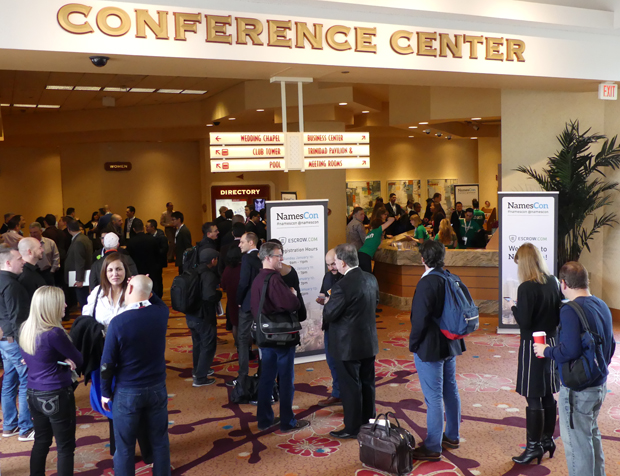 Above: NamesCom attendees lined up early to get their badges for the big show.
Below: Though registration lines were long NamesCon staffers quickly equipped attendees
with their nametags and gift bags (including a souvenir T-shirt).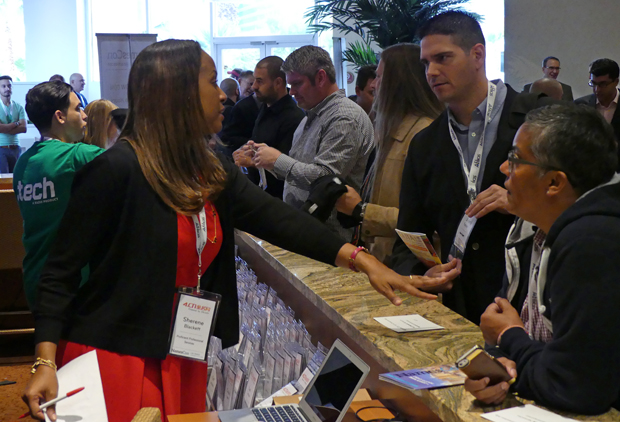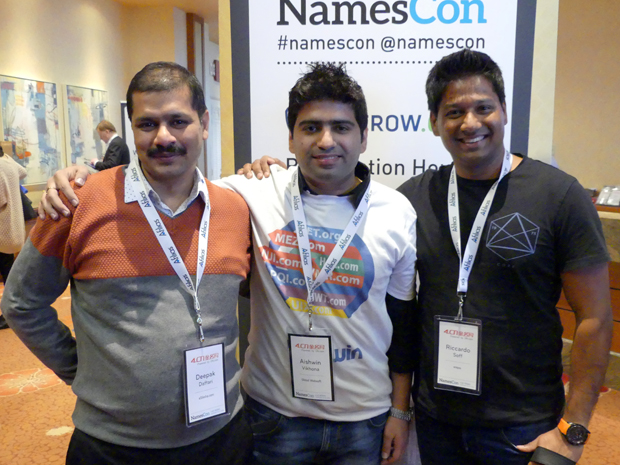 Above: NamesCon attendees came to Las Vegas from all over the world. Deepak Daftari (left) and Aishwin Vikhona (center) flew over from India and joined their U.S. pal Riccardo Soff for a show week that will run through Wednesday (January 13) at the Tropicana Hotel:
Below: The business day began with welcoming comments from NamesCon Co-Founder Jothan Frakes (standing at center) who then had Angela St. Julien from Brand.bar (standing at his right) join him to present a Newcomer's Orientation session.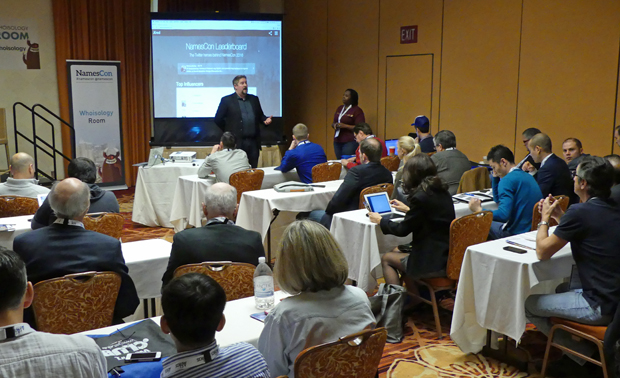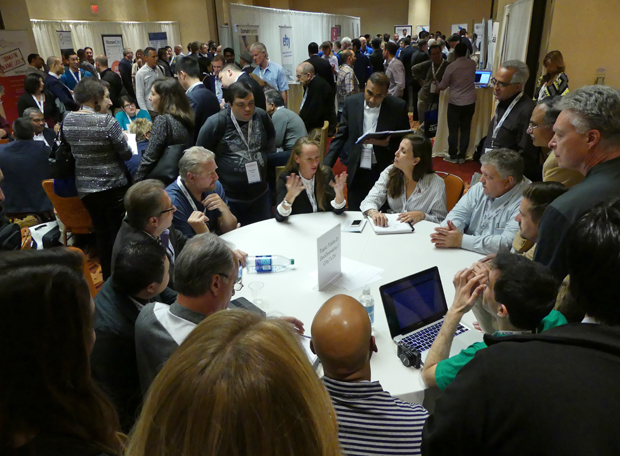 Above: At 12 noon NamesCon opened a highly anticipated new attraction - Network Lane - that quickly proved to be too successful! With experts set up at four Topic Tables to answer all questions - and two rows of sponsor tables behind them (where company representatives did the same) the jam-packed room became so loud it was hard to hear the questions and answers.
Below: Natasa Djukanovic (.ME Registry) listens to fellow expert Joe Alagna (101Domain.com) answer a question during a Network Lane session Sunday.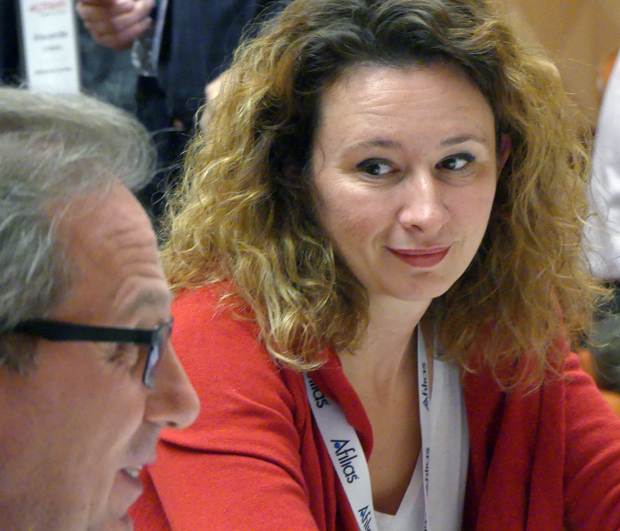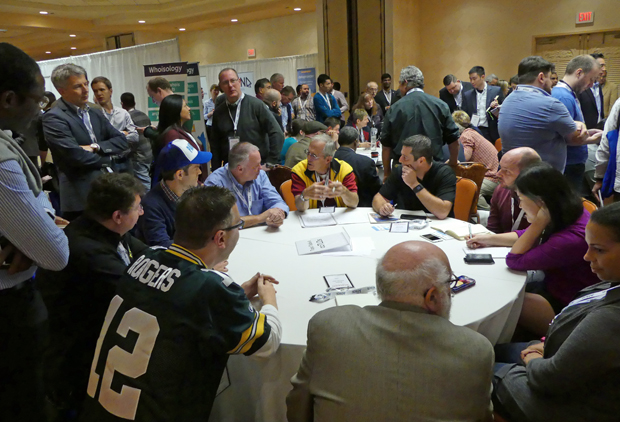 Above: The topics and experts changed every hour on the hour in Network Lane but, when it became apparent before the first hour was even over that crowd noise was a problem, nimble NamesCon organizers promptly solved the problem.
Below: Many of the topic table discussions that ran until 6pm were moved to adjacent rooms where everyone could spread out in a quiet environment and hear every word that was said. Ths session on Working With a Broker featured (left to right facing the audience) Muhammad Al-Asadi (TopNames), Tessa Holcomb (Igloo.com) and Chris Leggatt (DomainHoldings).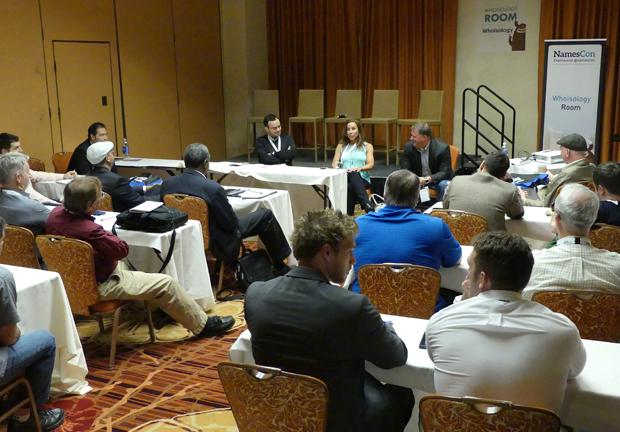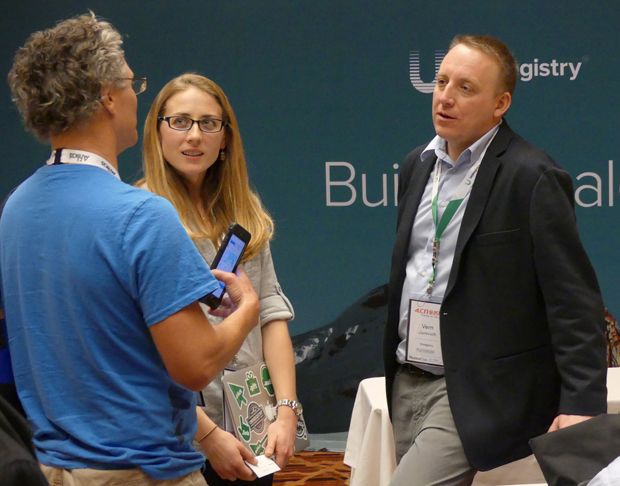 Above: From 2pm-6pm, in addition to the Topic Table sessions, additional business sessions began running in other rooms. At the conclusion of a 2pm session about Uniregistry services Enrico Schaefer (Traverse Legal - at left) chats with Uniregistry's Amanda Fessenden and Vern Jurovich.
Below: Meanwhile back in the Network Lane hall Efty's Doron Vermaat, Lionel Petitiaux and Michael Cyger welcomed visitors to their table.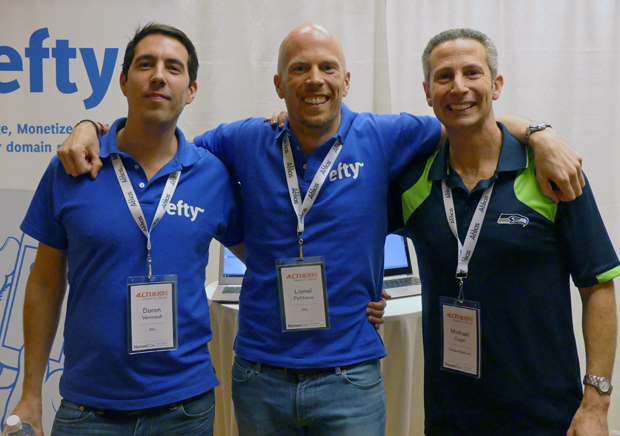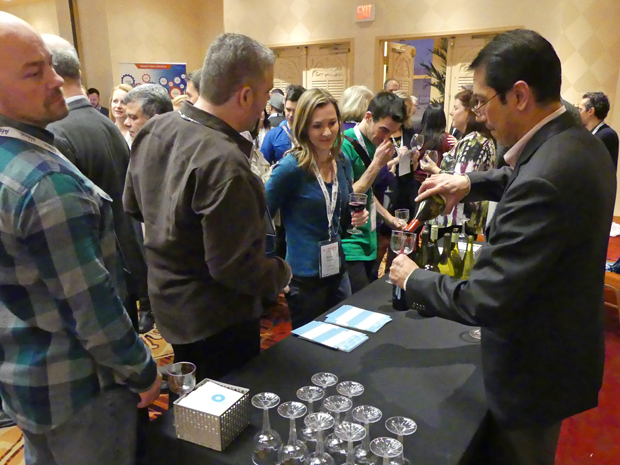 Above: One of the most popular features on Network Lane was the wine tasting bar that Donuts hosted from 3pm-6pm to promote their .wine and .vin TLDs.

At left: Tiffany Marler (LocalTek) samples on one of the pinot noirs served at the Donuts .wine/.vin bar.

The busy business day wound down at 6pm but opening day was far from over - it simply blended into an opening night celebration party hosted by Rightside that ran until 11pm.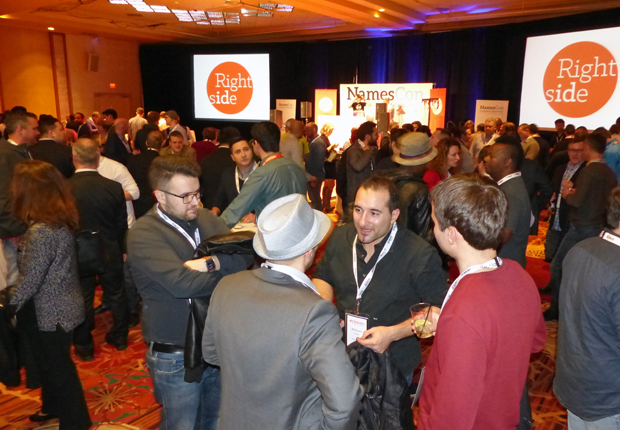 Above: Rightside's Opening Night Party drew a huge crowd to a spacious ballroom set up for the event at the Tropicana Hotel (in the photo above you are seeing only about a quarter of the crowd).
Below: Of course, no Las Vegas party would be complete without Elvis! This was a special Elvis though. Howard and Barbara Neu (who, along with son Ray, are at the show representing The Domain Conference) were delighted to see this Elvis was the same one they hired 11 years ago for the first T.R.A.F.F.I.C. conference in Las Vegas!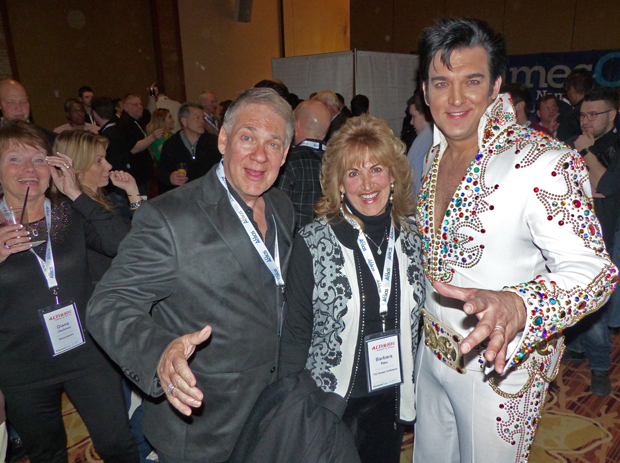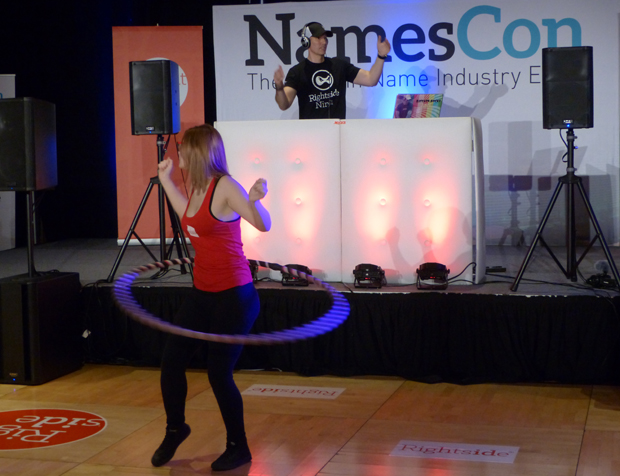 Above: Elvis wasn't the only 50's icon on hand for the opening night party. The hula hoop was back too!
Below: Among the hundreds of faces in the crowd were these familiar ones (left to right) Brooklyn attorney Brett Lewis, Brooke Murphy and Enrico Schaefer.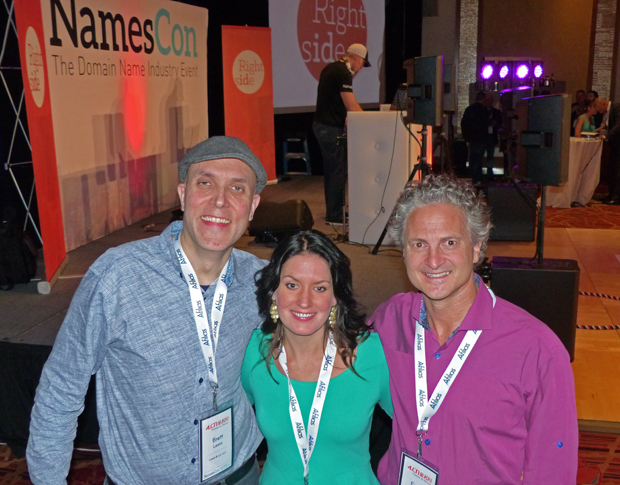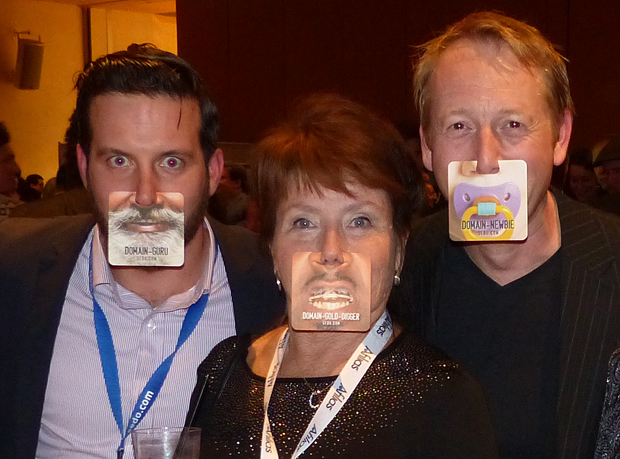 Above: Demonstrating one of the more clever promotional items we've seen, Diana Jackson (center) helped Sedo's Brian Michitti (left) and Christian Voss model the company's coasters that double as make shift facial ornaments. Perfect for the man or woman who thinks they have everything!
After such a crowd pleasing first day it's hard to see how NamesCon can top themselves in the three days remaining in their 3rd annual event - but we suspect they will find a way! Another jam-packed agenda is in store today and tonight, including a keynote speech from Frank Schilling and a live domain auction that is expected to be the most successful in years. You can see the full schedule here. We will have all of the photos & highlights from day 2 in my next post from Las Vegas.