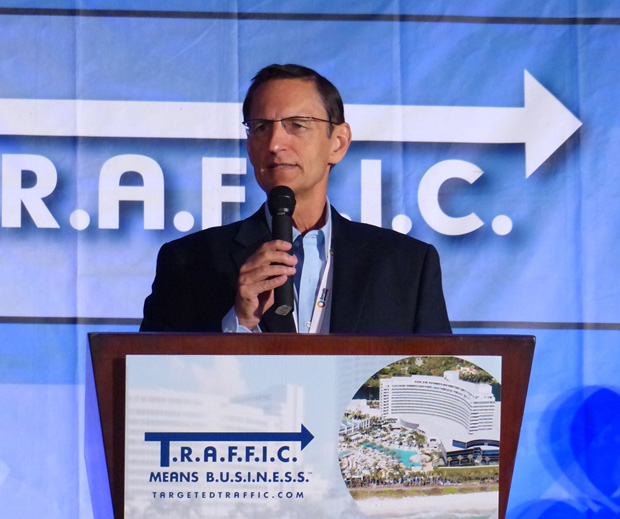 DNJournal.com Editor & Publisher Ron Jackson fills the T.R.A.F.F.I.C. audience in on 2014 domain aftermarket sales trends. In short, the market has been booming this year with the total $ volume of sales reported thus far in 2014 running almost 20% ahead of the same time frame last year.
After talk it was time for presentation of the annual T.R.A.F.F.I.C. Awards to those selected in industry wide voting for excellence in their respective categories. This year, several took home trophies in two categories. DNForum.com owner Adam Dicker was one of those. Adam won the highest individual honor - Domainer of the Year - and also took home the Developer of the Year award.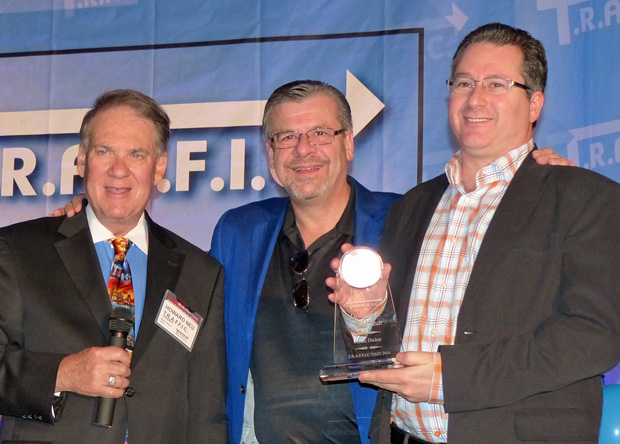 Adam Dicker (right) with one of the two trophies he collected from T.R.A.F.F.I.C. Co-Founders
Rick Schwartz (center) and Howard Neu (left) on Saturday morning (Nov. 1, 2014).
Two corporations also scored double wins. Frank Schilling's Uniregistry.com claimed the Sponsor of the Year Award while his DomainNameSales.com platform won for Best Overall Domain Solution. Frank was unable to attend the conference but Uniregistry's Director of Registrar Sales, Sevan Derderian, was on hand to collect the hardware.

Also hitting the Daily Double was the new .CLUB Registry that has been, by many standards, the most successful new GTLD released to date. .CLUB won the voting for Most Promising New gTLD and for Best Marketing of a New gTLD. Things got even better for them at T.R.A.F.F.I.C. when they announced a deal to sell Coffee.club to Coffee.org's Bill McClure for $100,000 (to be paid over 10 years).

Uniregistry's Sevan Derderian accepted both the Sponsor of the Year Award and the Best Overall Domain Solution Award (for sister company DomainNameSales.com).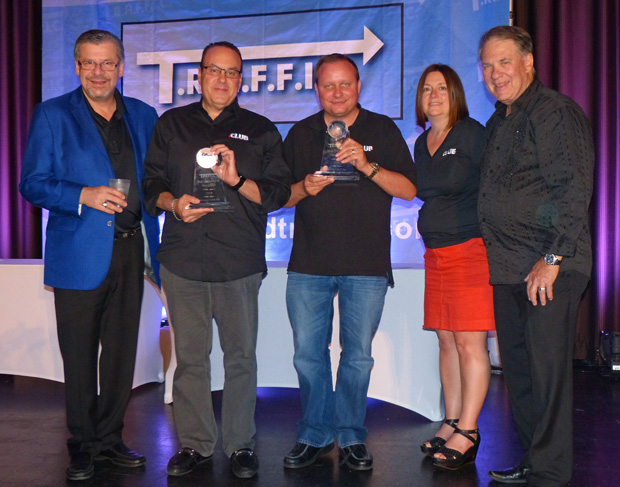 .CLUB team leaders (left to right between Rick Schwartz and Howard Neu) Jeff Sass, Colin
Campbell and Michelle Van Tilborg, accept their two T.R.A.F.F.I.C. Awards for excellence.
Sedo's Dave Evanson won the Broker of the Year Award, making this the third consecutive year a Sedo broker has taken that trophy home. Dave also won it in 2012, then Negar Hajikani did it in 2013 before Dave scored his repeat win this year.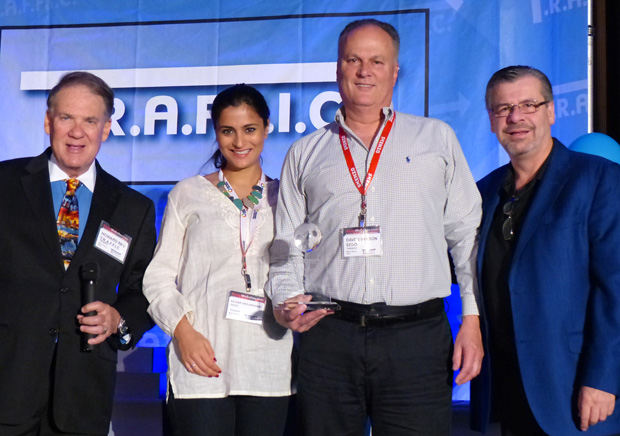 Domain Broker of the Year Award winner Dave Evanson (3rd from left) with
2013 winner and Sedo colleague Negar Hajikhani at Saturday's Award ceremonies.
Another major T.R.A.F.F.I.C. honor is induction into the T.R.A.F.F.I.C. Hall of Fame. Two individuals are voted in each year. This year's inductees are attorney John Berryhill and DomainSherpa.com's Michael Cyger, who also won this year's Blogger of the Year Award. Michael could not attend the conference so his friend (and now a fellow HOF member) Adam Dicker accepted both awards for him.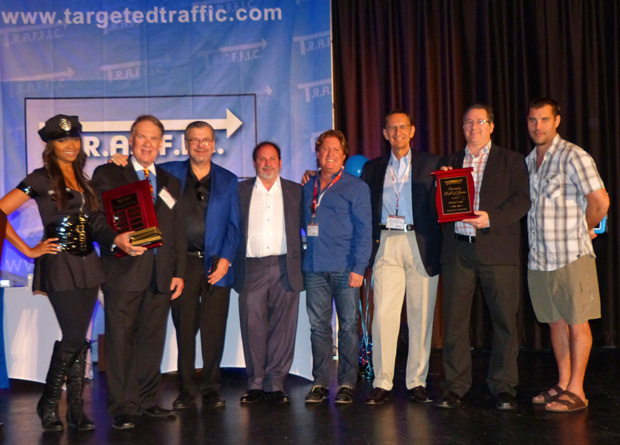 Above: Seven current T.R.A.F.F.I.C. Hall of Fame members were on stage when this year's two inductees - John Berryhill and Michael Cyger - were announced. (left to right, after the T.R.A.F.F.I.C. cop model) are Howard Neu, Rick Schwartz, Michael Berkens, Michael Castello, Ron Jackson, Adam Dicker and Chad Folkening. Adam Dicker accepted the award for Michael Cyger who could not attend.
Below: New Hall of Fame member John Berryhill was at T.R.A.F.F.I.C. but had to fly out before Saturday's award ceremony. This shot is from Friday's Rick Schwartz Roast when John aimed a hilarious series of good-natured barbs at the guest of honor.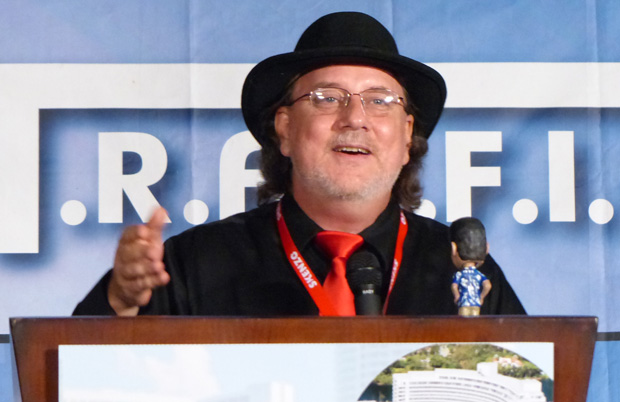 In addition to the two voted into the Hall this year, the late great Ren Warmuz of Trellian.com and Above.com was installed in a special memorial tribute that follows his premature passing thislast October after a long battle with cancer. As part of the ceremony a great music video produced during Ren's days as a talented singer/musician in the 1980s was also shown. Ren's Above.com friends and colleagues Nancy Bianchi and Victor Pitts were on stage to represent Ren during the tribute.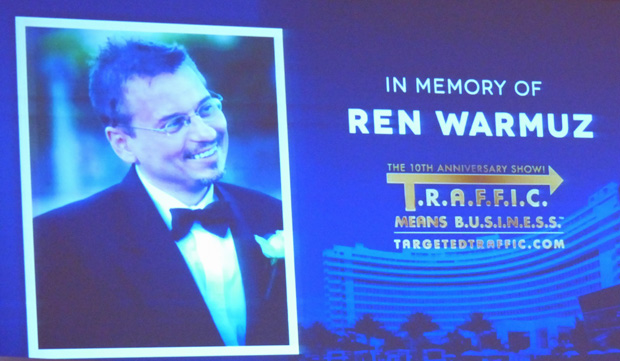 Two other special awards were handed out Saturday morning. Richard Lau (who could not attend) was named winner of the Bandit Berkens Goodwill Ambassador Award and Ilze Kaulins-Plaskacz of ExcellentDomains.ca received T.R.A.F.F.I.C.'s first Women in Domaining Award.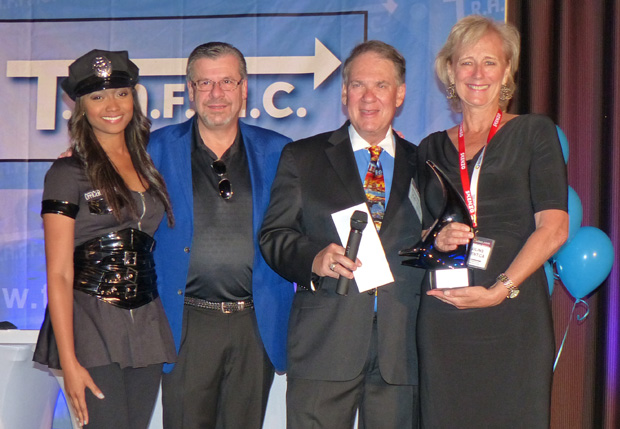 Above: Ilze Kaulins-Plaskacz accepts the first T.R.A.F.F.I.C. Women in Domaining Award.
Right after the awards ceremony, business sessions resumed with a Domain Name Broker Roundtable that featured (on the dais, left to right in the photo below) Alan Hack, George Hong (Guta.com), Tessa Holcomb (Igloo.com), Dave Evanson (Sedo.com) and James Wester (DomainGraffiti.com). Panelists offered advice on the best ways to get your listed domain names sold.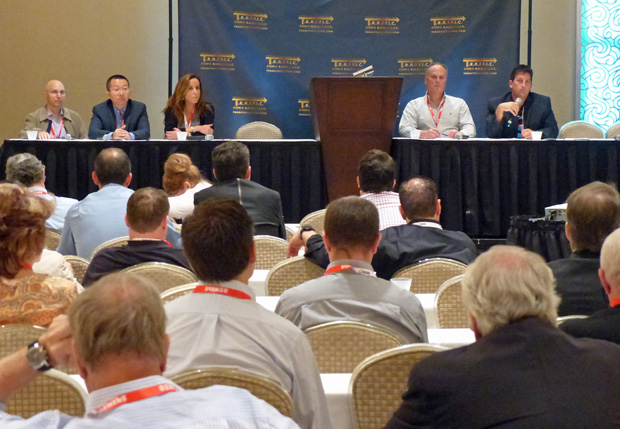 Simon Cousins from TLD Registry
helping Demystify the Chinese Domain Market

In the next session, three China experts spoke to help Demystify the Chinese Domain Market. George Hong of Guta.com returned from his appearance on the previous Domain Brokers panel to join Simon Cousins from the TLD Registry and Jeremy Marx from BeyondTheDot.com.

George was kind enough to give us a link to his slide deck for this session that has a lot of information on the booming Chinese market that you will find interesting. You can access that .pdf file here.

During my session on domain sales trends at the start of the day I noted that the top seven ccTLD sales in the first quarter of this year were all Chinese .cn domains.
TLD Registry, a new gTLD registry operation that administers the Chinese language extensions meaning "online" and "website" has also gotten off to a fast start as Mr. Cousins detailed.
In the final business session of T.R.A.F.F.I.C. East 2014 it was time to "Meet the Chiefs" a long standing show ending session that brings leaders or top representatives from multiple companies together to discuss a variety of industry issues.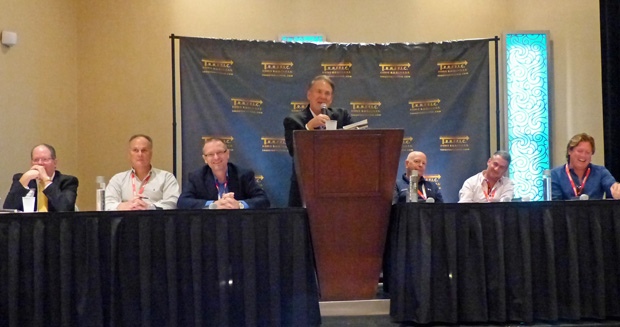 This year's Meet the Chiefs panel featured (L to R) Bill McClure (Coffee.org), Dave Evanson (Sedo.com), Victor Pitts (Above.com), Gregg McNair (Igloo.com and others), John Ferber (DomainHoldings.com and others) and Michael Castello (Castello Cities Internet Network).
A Fontainebleau Hotel staff member loads up the
dessert tables for Saturday night's party.

With business now done, it was time to relax and do some casual networking among friends old and new at a Saturday night Dessert Party at the Fontainebleau Hotel. Two huge tables laden with an irresistible range of delightful desserts attracted guests like moths to a flame. No one got burnt but their waistlines may have suffered some damage! Those desserts were like potato chips - you couldn't eat just one!

After this party, those who could stay awake after ingesting so much sugar headed up to Gregg McNair's suite where the gregarious Aussie entertained into the week hours of the night.

Below: Guests at the dessert party included (L to R) Victoria Castello, her son Michael Castello, Natalie Lambert's mother Arefa, Uniregistry's Natalie Lambert & Luis Petzhold.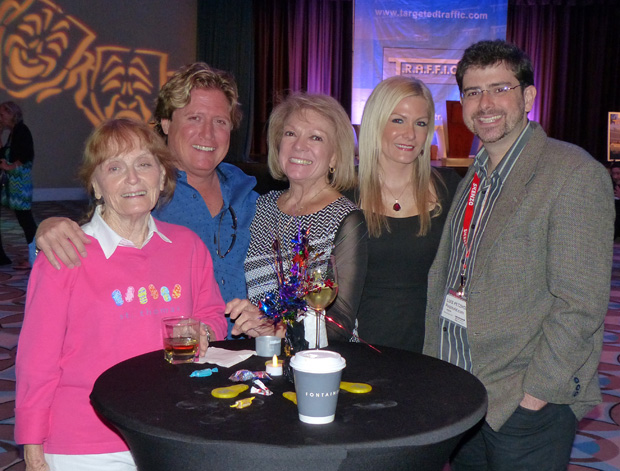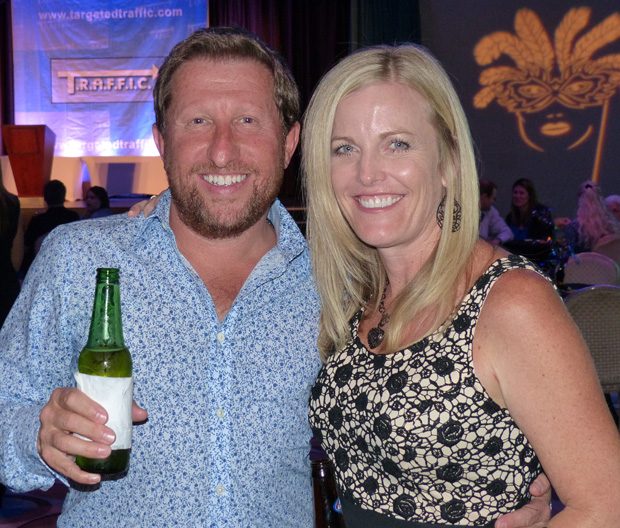 Donuts.co's Daniel Schindler and Andee Hill (EscrowHill.com) at the Dessert Party.
Are you starting to get the impression that there is a lot of good food at T.R.A.F.F.I.C. conferences? If that wasn't proven yet again Saturday night it was Sunday morning (Nov. 2) when show attendees gathered for final time before scattering to their homes around the globe. They were treated to T.R.A.F.F.I.C.'s traditional Farewell Breakfast, an event that encourages guests to fuel up for their trip home and spend a couple of hours table hopping around the room to say their goodbyes until next time.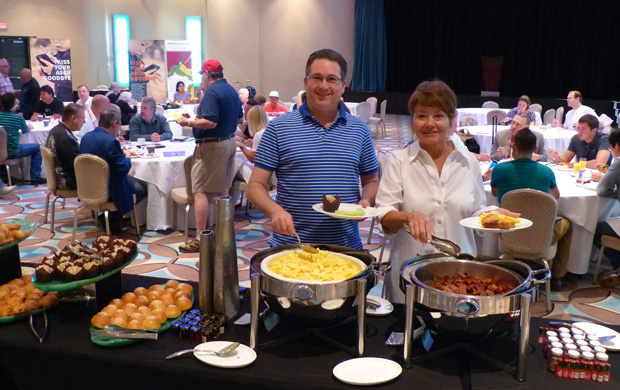 Above: Adam Dicker and Diana Jackson at Sunday's T.R.A.F.F.I.C. Farewell Breakfast.
Below: People made a point to seek out T.R.A.F.F.I.C. Hostess with the Mostess Barbara Neu to thank her for making their show experience the best it could possibly be. Braden Pollock was one of the first in line for a hug.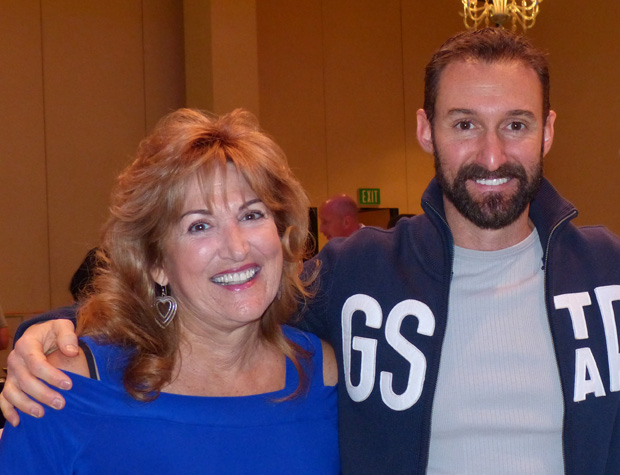 Before the conference, T.R.A.F.F.I.C. Co-Founder Rick Schwartz announced this was the last show he would be a part of. Over the past decade T.R.A.F.F.I.C. has helped launched countless careers, companies and deals. Not knowing when I would see him again as he heads into "retirement" I made sure to personally thank him for helping create and grow our industry - and also get a picture with the King to mark the end of a remarkable decade.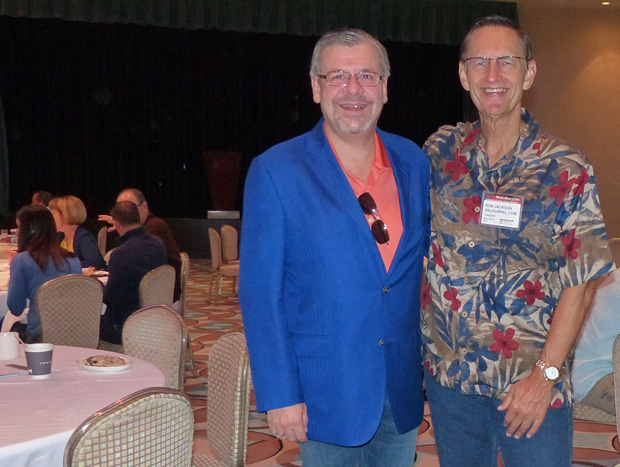 Rick Schwartz and DNJournal.com's Ron Jackson at Sunday's Farewell Breakfast.
I also would have gotten a photo with Rick's T.R.A.F.F.I.C. Co-Founder Howard Neu who will now carry the ball forward but he was busy photo bombing other shots! You can see what I mean in the photo below (anyone named Howard put your hand up!). This started out as a shot of Larry Fischer, Braden Pollock and Tracy Fogarty (all seated) when others among the last to leave started spontaneously filling in the gaps behind them! If three's a crowd - then 16 is an even better crowd!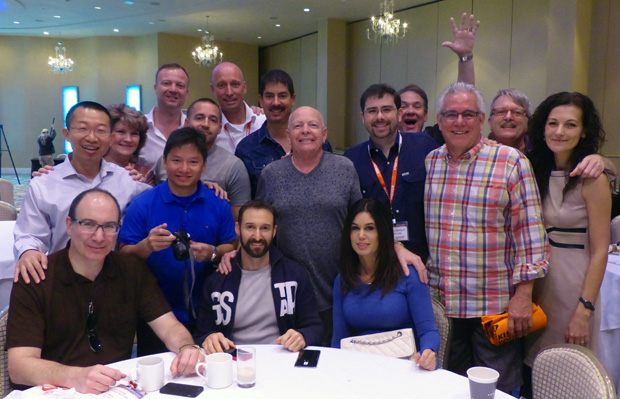 And so another T.R.A.F.F.I.C. show is in the books, but we have more to come. We'll be doing a full show review pulling the whole week together along with many great as yet unpublished photos that will give you more insight into a very enjoyable and rewarding week on Miami Beach.