Troy Rushton
CEO, Protrada.com

When I entered the domain business almost a decade ago I quickly found myself spending 12-16 hours a day, 7 days a week, researching, acquiring and managing a rapidly growing portfolio of domain names. I wish Protrada.com had been around then - it would have allowed me to get all of my domain acquisition and management chores done in a fraction of the time. Not that I have any regrets - this business has been good to me, as it has to hundreds of others - but time is our most valuable asset (it's the only thing we can never replace) and Protrada makes it possible to save prodigious amounts of time and still run a huge domain portfolio including all of the tasks attendant to that - acquisition, sales, monetization, management and even a respectable level of development.

Protrada, built by the same talented Australian team that created the Parklings.com domain monetization platform, made its public launch this evening, but I got a preview last night when the company's Business Development Manager, Louise Munck arranged for CEO Troy Rushton to take me through a complete demo of what the platform is capable of. I came away from the hour extremely impressed with what I saw.
Protrada might be described as the domain world's version of the Swiss Army knife - it does everything and it is extremely easy to use. I am going to touch on a few of the features in this post but the best way to see what Protrada can so is to see it for yourself, something they allow you to do through a free 7-day trial. If you decide it is for you, they have four different monthly price levels (ranging from $29 a month to $199 a month) based on the number of domains you want to have under management and the feature sets you want. This is a serious platform with unbridled power designed for domain professionals (or those hell-bent on becoming one).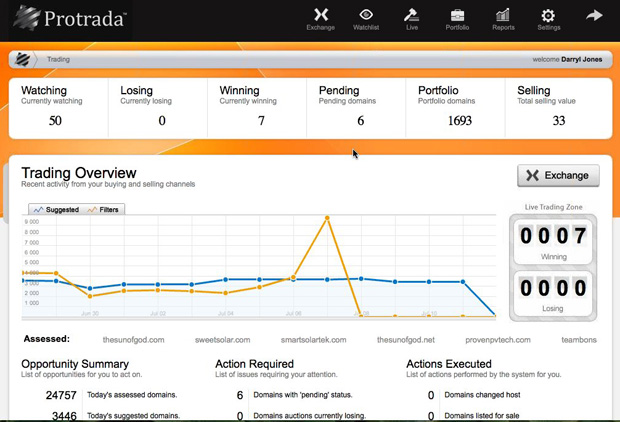 A screenshot of a sample Protrada dashboard detailing auctions you are watching, winning and losing, as well as those you are selling. Access to other functions are accessed from the menu in the black bar at the top.
Let's start with domain acquisition functions. You can enter specified keywords and each day Protrada will automatically search all of the major auction platforms (including expired and aftermarket domains) and import a list of names available that day along with key data for each name to help you decide what to go after (you can set up parameters in advance to further filter the list to show only those that meet data metrics you specify). The system will also bid for you and hold those bids until the last possible minute so your activity doesn't attract competitors to names you are interested in. It can even grab Buy It Now domains that meet your pre-set price and criteria.
A list of domains up for bid that have been imported and assessed by the Protrada system.
(Note: In addition to new acquisitions, you can of course import any of your existing domains into the system, either manually one by one or in bulk with a text of .csv file. You can also pull them into this system directly from many major registrar accounts).
If you want to go off auto pilot from time to time and get into the middle of the action there is also a 24-hour live trading floor that will be right up your alley.
Another great feature is that you can set up various Actions that will automatically put the domains you acquire to work instantly. Those actions can change DNS to the nameservers you specify, place the domain up for sale (on multiple platforms with a price marked up by any percentage you specify) or even do a quick development project, complete with articles, user generated content and social media features that are much better received by search engines than the usual parked page.
The powerful Create Action screen at Protrada
Another big plus is that you can collect email addresses from your site visitors so you can build a valuable lead database that can be tapped over and over.
You can also add your own advertising network codes to display ads and, if you wish, add your own original content and images - but most will probably prefer to let the system do all of the work. Most sites are generated in well under one minute. You can see an sample auto-generated site at FiremanTShirts.com.
The Portolio area of the platform lets you track how each domain is performing across a variety of monetization options than can be tapped with each name (everything from CPC and CPA to Amazon, Shopping.com, ClickBank and others). Domains are sorted into four performance categories (from Dog to Star) making it easy to see which ones are doing well and which might be better letting go.
A screenshot from the Protrada Portfolio area
In the portfolio area you also have access to all of your management tools including those that edit the look and content of your auto developed websites.
The Reports area is also extremely robust with access to Google analytics, detailed data on your sources of traffic and much more. Having these stats constantly at hand can also be a big help in selling your domains.
As I noted earlier this is a very intuitive system than I found unusually easy to use for one that has so much power under the hood. To further aid those who need a little help along the way, pop-up videos are available across the platform to show you how things are done.
I've barely scratched the surface here, so if it looks interesting, explore the platform in depth for a week via Protrada's free trial and see how this compares to the way you are currently managing your domain business. This must be what it feels like to upgrade from a Model T to a Ferrari.