Michael Ward: Our goal with DMG 2010 content and speakers has been very clear from the beginning. We want new compelling speakers and content. We want engaging conversations and no self-promoting. Most importantly, we want attendees to walk away with new ideas on how to increase their ROI on their domain investments.
Scene from one of last year's panel discussions at Domainer Mardi Gras
Michael Ward: The content that we have put together for DMG 2010 ranges from new players in the industry making a name for themselves - that we could learn a thing or two from – to having a meaningful conversation on new TLDs. The issues that surround new TLDs are plenty but what I don't see are the various parties talking to each other. Some would say that "Well they are talking to each other within the ICANN process" but I would suggest that a lot of people who will be impacted by new TLDs are not part of the ICANN process. Sure, it is easy to talk AT each other on a forum or blog or in a comments section on the ICANN webpage. What is more challenging, but also more productive, is to also talk TO and WITH each other. So I am looking forward to the discussion on New TLDs where we have some very compelling panelists participating.
Website development is also a hot topic this year and we have the right experts on the panel that can get to the heart of the matter when it comes to developing domain names and how to increase revenue on domain assets. Back by popular demand we will have a session on where is the industry heading. We are also introducing a new session where I turn on the microphone and sort of speak and sit down for what I know will be an exciting interview with you and Andrew Allemann, two leaders in the domain name blogging space. The expectations have been set with all panelists. They have been preparing for the past few weeks on their sessions and I know they are looking forward to the challenge.
DN Journal: With New Orleans and Mardi Gras as a backdrop you have an almost "unfair" advantage when it comes to social events. Tell us what you have planned to give registrants the full Big Easy/Mardi Gras experience during DMG.
Michael Ward: We are bringing back the Crawfish Boil for the first night. If you have not ever had a crawfish, this will be your chance to get down and dirty with the crustacean delicacy.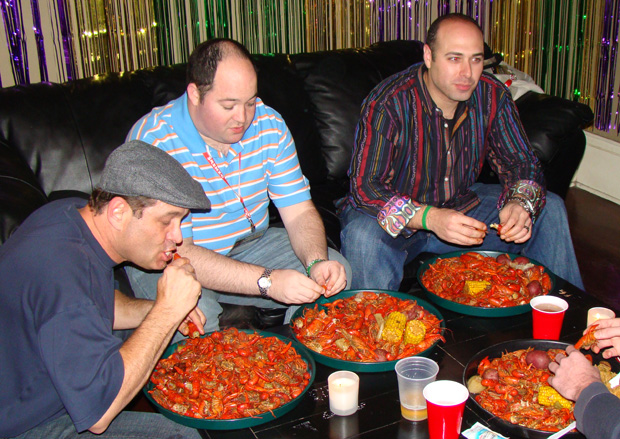 Attendees at last year's Domainer Mardi Gras dig in during the Crawfish Boil
Michael Ward: We will also have other food available making for a truly traditional New Orleans evening. Mardi Gras would not be complete without spending time on a Bourbon Street Balcony so courtesy of Parked.com, we are bringing the balcony back to DMG 2010 – and PLENTY of beads for everyone.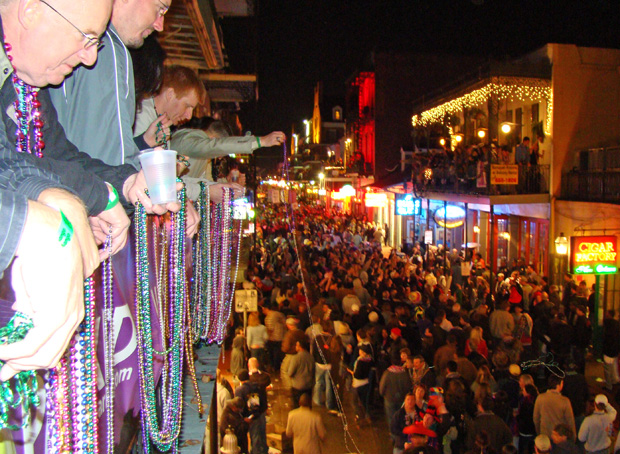 DMG attendees on the Parked.com Bourbon Street Balcony in 2009
Michael Ward: We also have built time into the agenda to experience the parades that will take place throughout the weekend.

I also want to point out that on Thursday, we have registration taking place beginning 12 pm through 5 pm.

We all know it only takes 5 minutes to register so I would highly encourage DMG 2010 attendees to consider taking a 2-hour cruise on the Steamboat Natchez.

It departs 15 minutes away from the hotel at 2:30pm and returns at 4:30pm.

I have been told it is the only steamboat that still cruises the Mississippi River and is well worth the money. Get a group together and check it out. We also have a dedicated place offsite, near the hotel, where people can meet up, grab a drink and a bite to eat. Come

The Natchez steamboat rounds a bend
on the Mississippi River

Sunday or Monday or whenever you return home from your weekend in New Orleans, you will be pleased with your Mardi Gras experience and glad you attended DMG 2010.
DN Journal: Domain auctions go hand in hand with domain conferences but I understand you have something a little different planned for the DMG auction. Tell us about that.
Michael Ward: We are doing something different this year. With so many live auctions taking place in the first few weeks this year, Moniker and DMG felt it would be more effective to partner and host a weeklong online showcase Mardi Gras auction. Moniker is clearly demonstrating the success they are having with their online showcase auction. Deadline for domain submissions is January 26th. The auction begins Tuesday, February 9th and concludes on Fat Tuesday February 16th. We are looking forward to seeing quality domains submitted and reserves being met. This will also free up time for afternoon networking and parade viewing.
One of the parade photos we took during last year's Domainer Mardi Gras
DN Journal: Plane reservations and hotel rooms are always tight during Mardi Gras. The block of rooms you have at the Marriott will be closed by the time this reaches print. So, with the show coming up Feb. 11-13, will it still be possible for late deciders to find accommodations and attend?
Michael Ward: Finding accommodations is extremely difficult but not impossible to find in New Orleans during Mardi Gras. I have held back a few rooms for this reason. If you want to attend DMG 2010 but are unable to book at room at the New Orleans Marriott, contact me at mward@domainermardigras.com. I may still have a room available. I would also recommend going online and seeing what you can find through travel sites. Whatever you do, make sure you book a room on the right side of the street. If you book a room on the wrong side, you may find yourself confined to a certain area and not able to cross the street because it is blocked off by parades – A situation you don't want to be in!
DN Journal: Thank you for your time Michael. Looking forward to seeing you at Domainer Mardi Gras.
*****