Sedo CEO Tim Schumacher
welcoming guests to Key West

As the cocktail party got underway Sedo CEO and Co-Founder Tim Schumacher welcomed the company's guests to Key West. Schumacher told attendees that he was optimistic about the direction the domain business is headed now, a sentiment he said he didn't hold a year ago when the general economy entered a historic financial crisis.

Schumacher also took the opportunity to express the company's support for The Water School, a charity project strongly supported by a domain industry group headed by Gregg McNair (International Director of Strata PPX Services) that we told you about in July. McNair helmed a group of 18 industry leaders who just returned from Kenya where they got a first hand look at The Water School's efforts to eliminate waterborne diseases in Africa. Sedo's support came in the form of a much appreciated $4,500 check that Schumacher personally presented to McNair at the end of his brief talk.

Next up was a lavish buffet dinner on the beach with a stunning Key West sunset serving as the backdrop.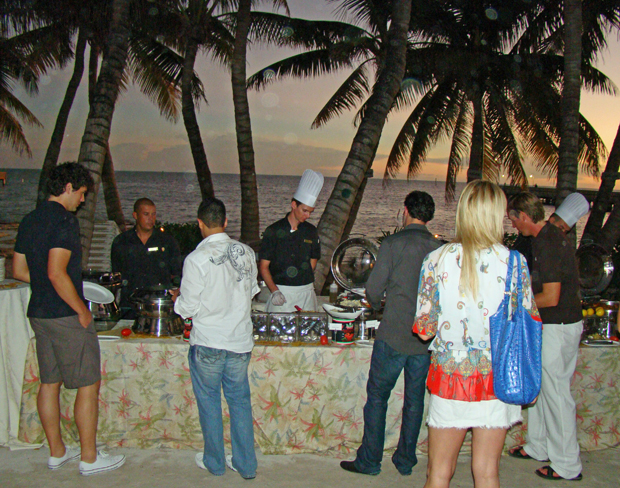 Above: Guests check out the buffet at the SedoPro Partners Forum opening night dinner.
Below: Attendees dined at tables that were set up directly on the beach.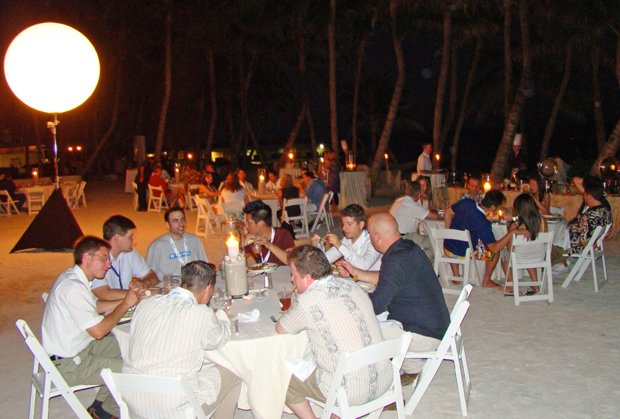 After dinner attendees heard comments from an interesting keynote panel that featured (left to right in the photo below) Sedo Director of Sales Kathy Nielsen, Hotels.com founder Bob Diener (now the Executive Administrator of GetARoom.com) and Sedo Senior Broker Tessa Holcomb.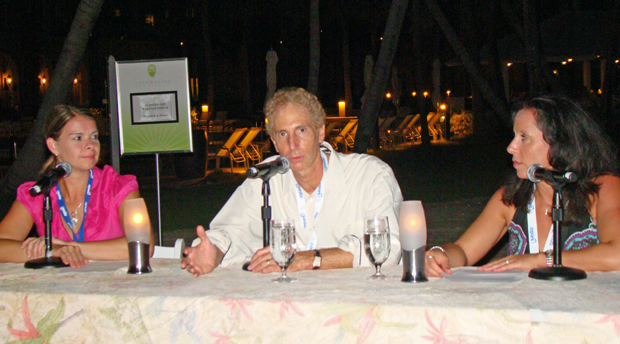 Diener accepted a five-year non-compete clause as part of the contract agreement when his company sold Hotel.com and Hotels.com in late 2003. Once that expired he decided to re-enter the travel business and called on Sedo to help him secure a memorable domain name. Holcomb brokered Diener's eventual purchase of GetARoom.com for $30,000.

Diener presented an end user's perspective on the importance of a good domain name, noting "If a name stands out in the marketplace, it costs you a lot less to market." Diener went on to say that he had also purchased additional travel related keyword domains to drive more traffic to GetARoom.com.

After the keynote session, people stayed on the beach chatting until almost midnight when the hotel staff had to pack up the portable lights that had been set up on the sand.

Sedo Senior Broker Tessa Holcomb
After breakfast the next morning (Thursday, October 8), the conference resumed with a pair of presentations from Sedo Co-Founders and executives. In the opener, Co-Founders Ulrich Essman and Ulrich Priesner detailed Sedo's One-Stop Shop Product Solutions.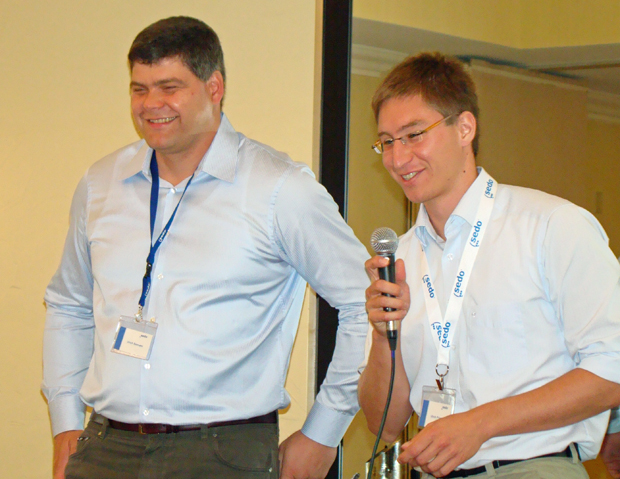 Sedo Co-Founders Ulrich Essman (left) and Ulrich Priesner conducting the opening
seminar at the SedoPro Partners Forum in Key West, Florida Thursday, Oct. 8.
This session gave attendees a closer look at Sedo's Domain Monetization and Aftermarket services. Essman and Priesner described Sedo's "One Stop Shop" strategy as the first fully integrated suite of online services spanning domain buying, monetization and selling. Guests were also given tips on how to best optimize the domains they have parked on the SedoPro platform and details on new selling tools that offer suggested prices and auto categorization of names put up for sale. Another highlight was a review of the recently launched SedoMLS fixed price sales platform that utilizes partner registrars to increase exposure for domain listings.
Next up was a session titled Sedo: The Future & You, conducted by Sedo CEO & Co-Founder Tim Schumacher (at left in the photo below) and Sedo's COO & General Counsel Jeremiah Johnston (at right).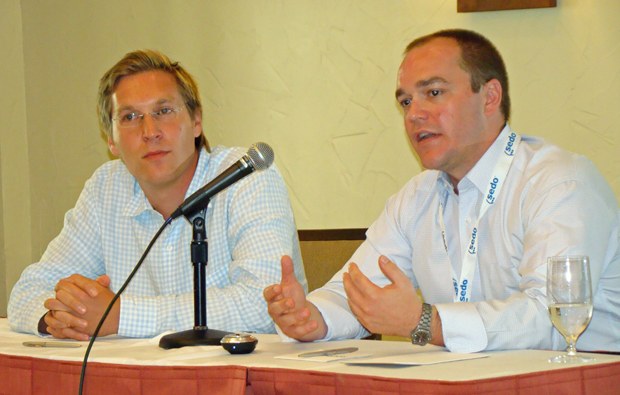 Schumacher, who was also recently named CEO of Sedo's parent company, the AdLink Group, talked about how his new role there will allow him to oversee the group's strategy focusing on the domain industry and performance marketing. He said this will build synergies between Sedo and its sister companies and also leverage the group's reach with advertisers.
Johnston talked about his plans to continue championing the value of domains for business and marketing as well as working to protect the rights of domain owners. Johnston is frequently quoted in mainstream news articles about the domain industry and also serves as President of the Internet Commerce Association.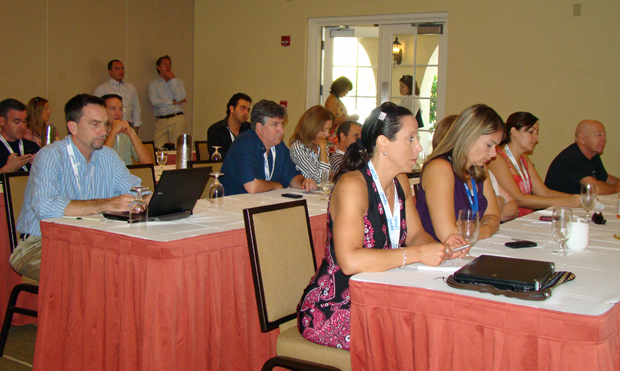 Part of the audience at the Thursday morning (Oct. 8) business sessions.
After the two morning business presentations, everyone hit the beach for a waterfront luncheon on another beautiful day in Key West.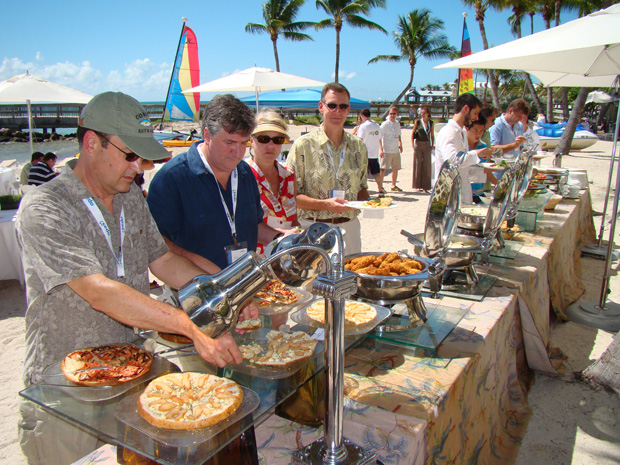 Scene from Thursday's luncheon on the beach (Oct. 8, 2009)
After lunch Thursday attendees could choose from a variety of fun in the sun activities including Waverunner rides, snorkeling, biking or just sunning by the pool or napping in a hammock.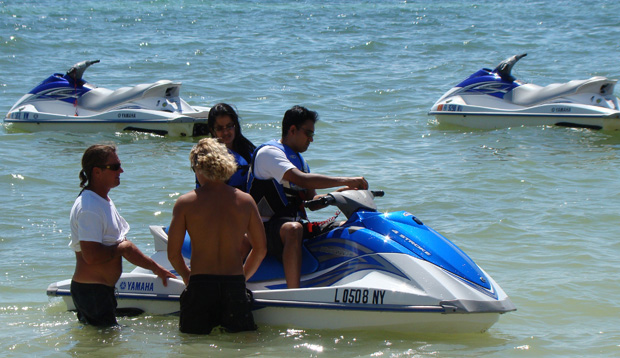 The more adventurous guests climbed aboard Waverunners Thursday afternoon.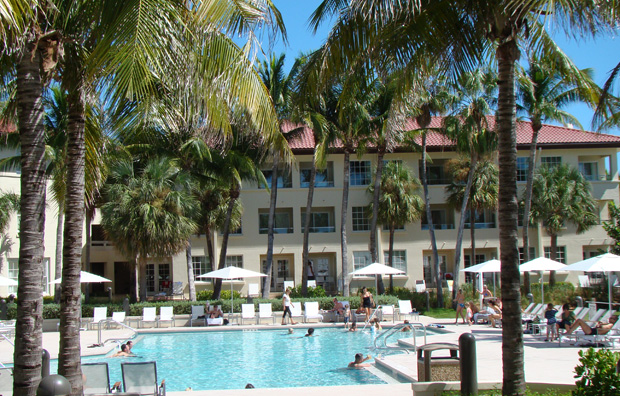 Others headed for the Casa Marina's inviting pool area.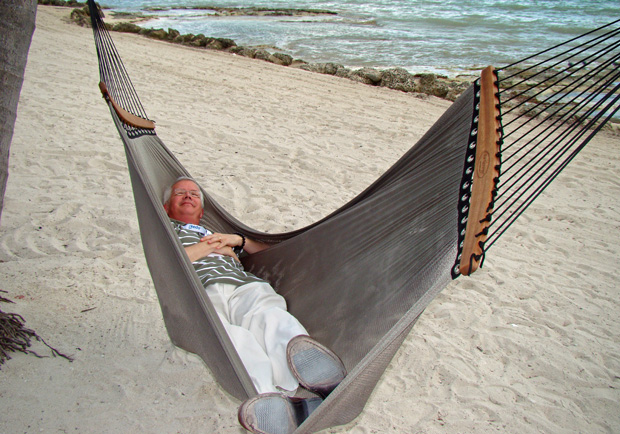 The oceanside hammocks were also hard to resist as Neustar's Ken Hansen proves here.
Business would remain on the back burner Thursday evening as well. It started with guests walking together to one of Key West's most popular restaurants - The Strip House - where they were treated to a gourmet dinner on the waterfront deck.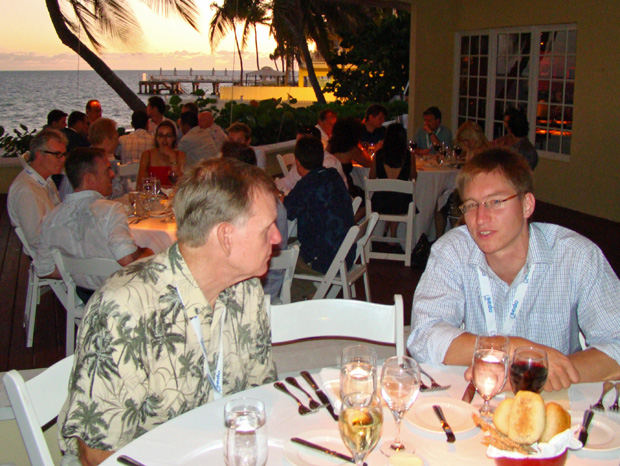 Eric Sundberg (left) and Sedo Co-Founder Ulrich Priesner chat
during the Thursday night dinner at The Strip House restaurant in Key West.
After dinner, everyone headed back to the Casa Marina Resort for a 1920's themed gala complete with flapper girls and a great live band performing in the hotel's ballroom.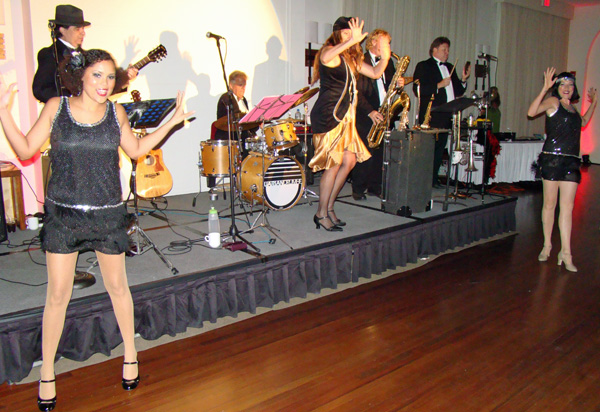 Above: Flapper girls set the stage for the 1920's Themed Gala Thursday night
Below: Domainers hit the dance floor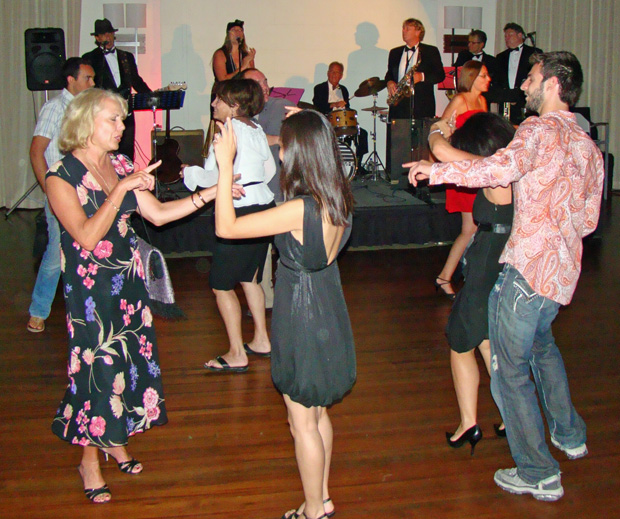 Anticipating that it would be be a late night for everyone, Sedo let their guests sleep in Friday morning (Oct. 9) and that helped just about everyone make it to the final business session of the conference that got underway at 10:30am.
That 90-minute panel discussion on The DNA of TLDs was moderated by Sedo's COO & General Counsel Jeremiah Johnston and featured (left to right in the photo below) Andrew Allemann (DomainNameWire.com), Ron Jackson (DNJournal.com), Jeremiah Johnston, Lance Wolak (.Org registry) and Ken Hansen (.Biz registry).

The wide ranging discussion touched on a number of areas, including valuations and prospects for the various TLDs. Panelists also expressed opinions on ICANN's plan to roll out an unlimited number of new gTLDs starting next year and that topic also dominated the audience question and answer session that followed.

Hansen, who is the Development Director at Neustar (operator of the .biz and .us registries) expressed support for the ICANN plan. .Org's Wolak said his registry had no position one way or the other, but noted that he felt the widely used .org extension would continue to thrive in any case. Allemann and I both expressed serious reservations about the wisdom of flooding the market with an unlimited number new TLDs at once (we have each written about this topic on our respective sites in the past and I'm sure we will continue to do so in the future, so there is no need to take this conference review article off topic by delving deeper into that subject here).

Antony Van Couvering (Minds+Machines)
in the audience for the closing business
session Friday morning - October 9.
After the closing session, the curtain came down on the SedoPro Partners Forum with a farewell buffet luncheon on the beach.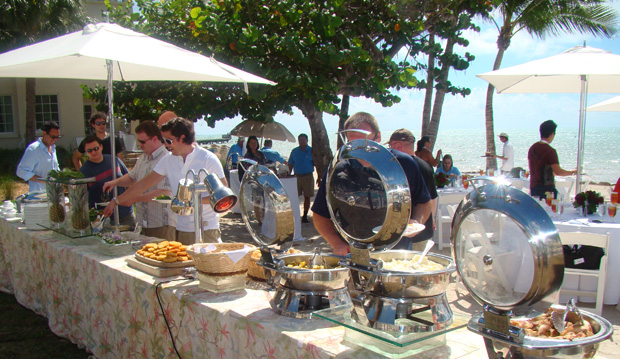 Guests sample delicacies at the beachfront buffet luncheon
that closed the 2009 SedoPro Partner Forum Friday October 9.
The 2009 SedoPro Partner Forum drew high praise from attendees. Sedo's North American Marketing Team Supervisor Heather DelCarpini and Marketing Associate Tiffany Cuddihy took care of all of the details, large and small, that went into making this year's gathering something special. It will be back to Europe 2010 and the Sedo staff is already fielding suggestions for where the next Partner Forum should be held.