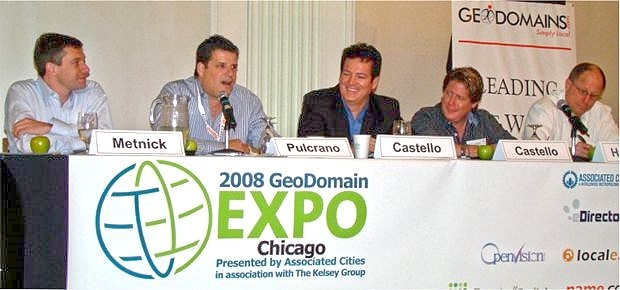 Metnick recalled how he built an Excel file listing the owner and contact information for every major .com city domain then set about contacting every one of them to see if they would be interested in forming an association. Most ignored his inquiries, but a handful saw the value in what he proposed and enthusiastically joined with him to get Associated Citied off the ground. Hoagland recalled sitting with Metnick in a New Orleans bar and sketching out plans for the group on a napkin.
At lunch Saturday, Internet Commerce Association Legal Counsel Phil Corwin delivered a compelling speech, covering a wide range of issues facing the domain community as well as geodomain owners specifically. Corwin keeps an eye on all proposed legislation in Congress as well as policy changes being considered by ICANN that could have an adverse effect on domain owners.

Corwin said a lot legislation is being trotted out in Washington aimed at separating domain owners from their assets and much of it would have become law if the industry did not have its own voice on Capitol Hill - this year's Snowe bill, being a prime example. Likewise it is critical to be involved in the ICANN process and the ICA recently joined ICANN's Business Constituency (as have the Castello Brothers) to make sure domain owners have a voice in domain name system governance issues.

The key issue facing the ICA is garnering enough financial support to continue its mission and broaden the scope of what the association can do to defend domain owners. If everyone in the industry joined at the minimum level domain owners would have a much better chance of fending off attacks that are sure to accelerate in the months and years ahead.

Phil Corwin
ICA Legal Counsel
After lunch I sat on a GeoDomains in the News panel with David Kesmodel, Andrew Allemann (DomainNameWire.com), Elliot Silver (ElliotsBlog.com) and Steven Morales (SimplyGeo.com) that was moderated by David Castello.

GeoDomains in the News panel (left to right): Ron Jackson, David Kesmodel,
Andrew Allemann, Elliot Silver and Steven Morales.
Silver was one of the first bloggers to write extensively about geodomains as he detailed (and continues to detail) his experiences in acquiring and developing geo domains like Lowell.com and Burbank.com (he also bought Seacaucus.com in Moniker's live auction that followed soon after our panel session).
Morales went a step further and created a blog that was entirely about geodomains. His work caught Skip Hoagland's attention and they formed a partnership that has rolled out several geo related media sites with more on the way.
Kesmodel deserves credit for being one of the first mainstream reporters to break the domain story to the man on the street through his articles for the Wall Street Journal's online edition. Allemann and I write about the domain industry at large but both find ourselves writing frequently about the geo space as it continues to rise in prominence.

Mark Burgess and Skip Hoagland presided over the GeoDomainer Town Hall Meeting

At 3 o'clock it was time for a GeoDomainer Town Hall Meeting presided over by Mark Burgess (SanDiego.com) and Skip Hoagland (Domain New Media LLC). This session put the audience right in the middle of the mix. The open mike format allowed registrants to ask questions of Burgess and Hoagland or pose questions of their own that either the moderators or other audience members could answer. It was a great format for putting problems on the table and getting solutions from fellow geodomainers who had faced similar issues and found viable solutions.

Auctioneer Wayne Wheat

At 4:30pm Moniker's live geodomain auction took center stage. Moniker brought in a new auctioneer for this event, Wayne Wheat, whose high energy style kept things moving at a brisk pace (Wheat was assisted by a frenetic spotter named Leb who added further color to the show).

The sale stretched over the next two and half hours and produced $279,000 in total sales. The top sale was SantaClara.com and a group of additional Santa Clara related domains that Page Howe purchased for $82,500. The next best sales were Afghan.com ($30,000) and Asia.org (also $30,000). OysterBay.com added another $24,500.

The Castello Brothers raised $2,500 for the Internet Commerce Association by donating ChicagoHotelReservations.com to the sale with the proceeds earmarked for the ICA. You can see the complete list of auction results here.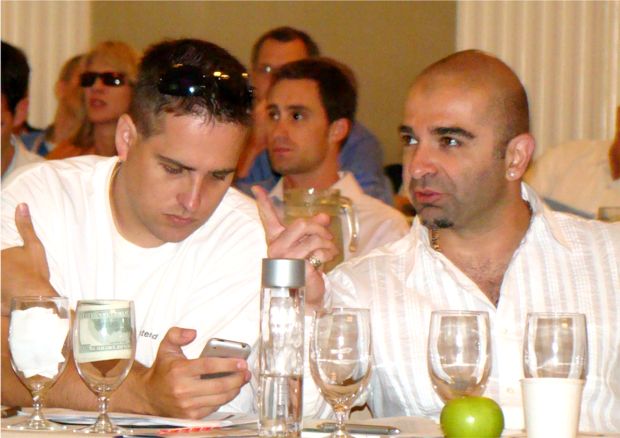 Jay Westerdal (Thought Convergence/Name Intelligence) and Ammar Kubba
(Thought Convergence/TrafficZ) compare notes during the live domain auction.
The final event of the conference was a big one, the 2008 GeoDomain Awards Dinner Saturday night. I had the honor of emceeing the event and handing out the highly deserved honors. Below is a list of the winners in the ten categories with photos of those who had representatives at the dinner to accept their awards.
Also note that in addition to the plaques the winners are pictured with, all will receive beautiful engraved crystal awards to suitably commemorate their accomplishment. We are also listing the other nominees in each category. All of the nominees and winners were selected in voting by their peers (conducted at the show), a high honor that every nominee can take pride in.
The envelopes please....
David and Michael Castello accept the
Best Monetized GeoDomain Award for PalmSprings.com
Most Economic Impact - Richmond.com
(Nominees also included PalmSprings.com, PigeonForge.com, Richmond.com and SanAntonio.com)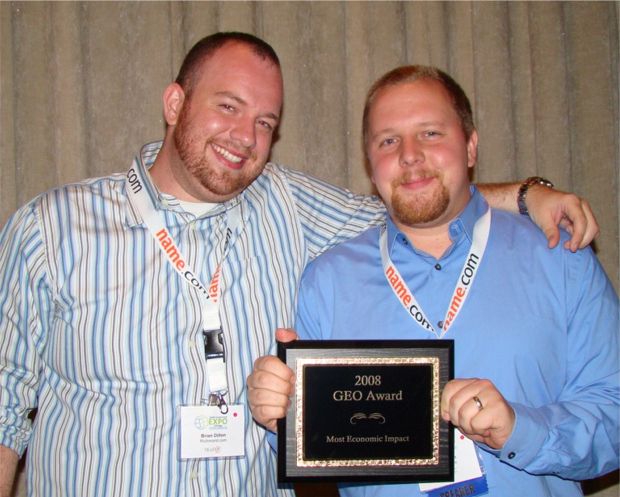 Brian Dillon and Jon Lumpkin accept the Most Economic Impact Award for Richmond.com
Vegas.com did not have a representative at the Expo - I accepted on their behalf.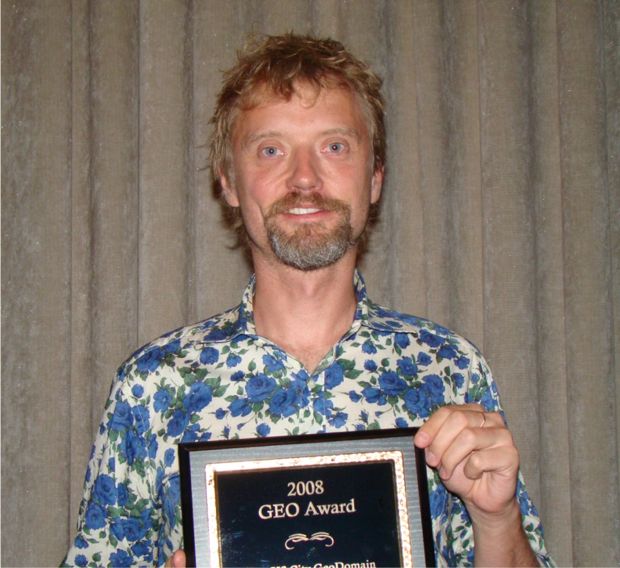 Sean Miller accepted the Best GeoDomain Technology Award for NewYorkCity.com
Vegas.com did not have a representative at the Expo - I accepted on their behalf.
Hawaii.com did not have a representative at the Expo - I accepted on their behalf.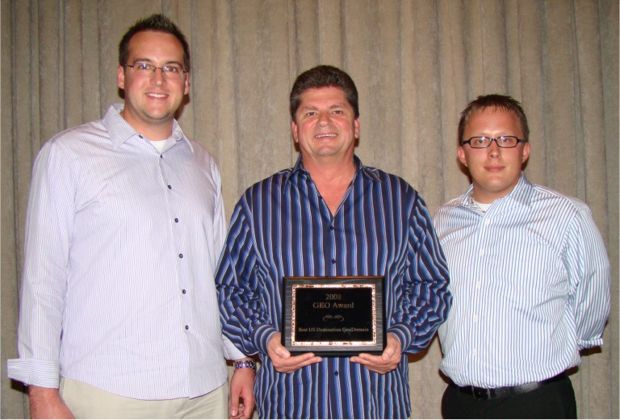 (Left to Right) Josh Stauffer, Larry Milton and Jeremia Froyland accepted
the Best U.S. Destination GeoDomain for Branson.com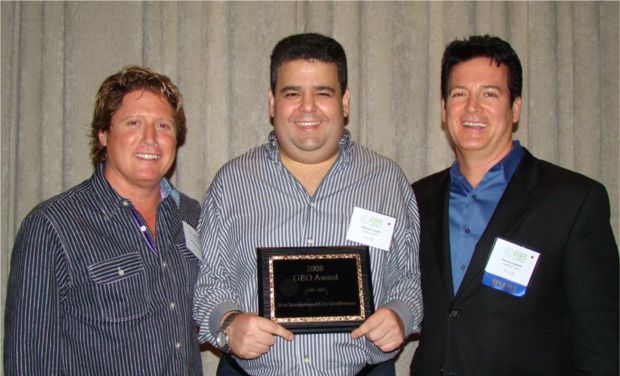 (Left to right) Michael Castello, Ramon Lujan and David Castello accept
the Best International City GeoDomain Award for CCIN's Acapulco.com
Australia.com did not have a representative at the Expo - I accepted on their behalf.
GeoDomain Hall of Fame (a new honor that will be bestowed on two inductees each year) - The inaugural winners were: Patrick Carleton (Executive Director of Associated Cities) and the Castello Brothers (Michael and David).
(Nominees also included Jessica Bookstaff, Skip Hoagland and Dan Pulcrano).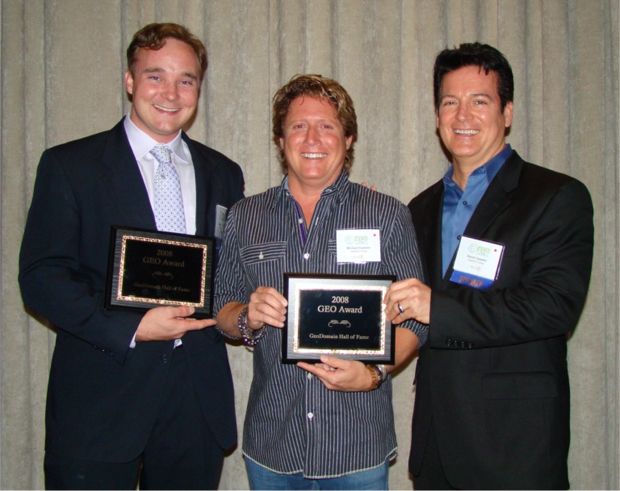 (Left to right) Patrick Carleton, Michael Castello and David Castello
accept their awards as the first inductees to the GeoDomain Hall of Fame
After the awards dinner officially brought down the curtain on the 2008 GeoDomain Expo many of the winners and nominees scattered around Chicago to celebrate. One large group including the Castello Brothers, Patrick Carleton and the Branson.com team (Larry Milton, Jeremia Froyland and Josh Stauffer) congregated in the lounge at the Four Seasons Hotel where Skip Hoagland spent the week and co-hosted this post-awards party.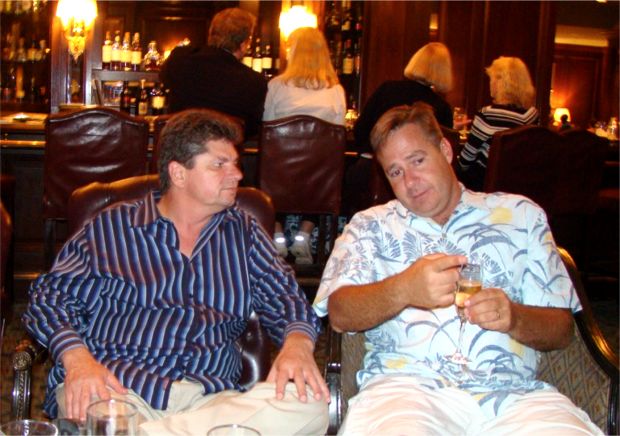 GeoDomain Award Winner Larry Milton (at left, from Branson.com) chats with
Mike Ward (Atlanta.com) at a post awards celebration at Chicago's Four Seasons Hotel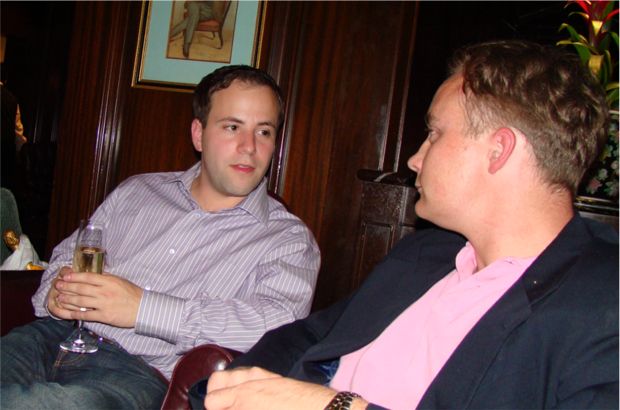 Elliot Silver (left, ElliotsBlog.com) and new GeoDomain Hall of Famer Patrick Carleton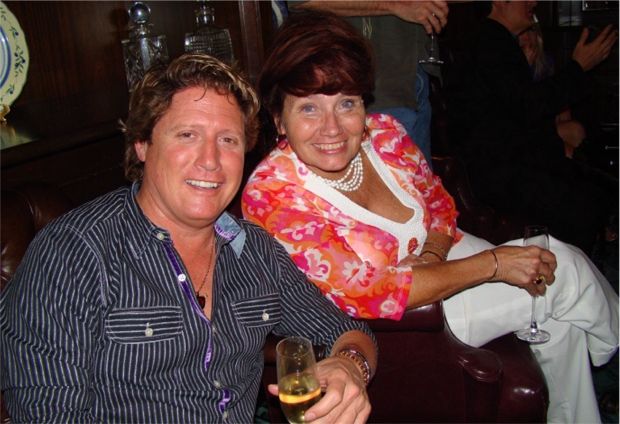 Multiple GeoDomain Award Winner (with brother David) Michael Castello
and Diana Jackson at the Four Seasons
Diana and I hung in with them as long as we could but finally had to throw in the towel at 1:30am and barely woke up in time to catch our Sunday morning flight back to Florida. I later read on Elliot's Blog that he and Michael Castello were still up smoking cigars in front of the Four Seasons at 3am. I'm going to have to talk to Phil Corwin to see if he can get Congress to pass some legislation requiring that geodomainers go to bed at a decent hour! Lack of sleep aside, this was a great week in Chicago and the bright entrepreneurs in the geo space and their business development focus always make them a pleasure to be around.
In closing I think three people deserve special recognition for their exceptionally hard work in the trenches to make the 2008 GeoDomain Expo successful; Patrick Carleton, Brad Spirrison (MidwestBusiness.com) and David Castello put out the fires that inevitably crop up behind the scenes to make this conference run like a well-oiled machine. David's many years as a concert promoter on L.A.'s Sunset Strip served the team well as they managed to draw a crowd despite having just seven weeks to work with (the short window resulted from the need to find dates that the co-promoting Kelsey Group could also work into their schedule).
Above: Brad Spirrison and Patrick Carleton

At right: David Castello
David said they expect to have six months to promote the 2009 conference and with that much lead time there's no telling what they can achieve. Several potential locations are being bandied about including Dallas and the southern tourism mecca, Branson, Missouri. A good location always adds to the package, but with this group it's the people who really make the difference. So I'll go wherever they stage it. If I'm lucky it might even be someplace with an 11pm curfew so I can get some sleep during show week!
*****