We have always been big proponents of domain conferences. There is no quicker way to jump start a domain enterprise or investing career than to build personal relationships by meeting others in the industry face to face. Domain conferences, large and small, conducted far and wide, have provided a perfect place to do that and generated millions of dollars worth of business activity in the process. Even so, in recent years over expansion of the show circuit proved to be too much of a good thing.

With conferences scheduled in one place or another on an almost monthly basis, there was no longer enough sponsorship, registration and auction sales revenue to support them all. The inevitable shake out occurred and 2012 will go down as the year that equilibrium returned to the conference game led by promoters with successful track records and clearly defined differences that should allow them, their sponsors and guests to prosper going forward. With plenty of breathing room once again built in between shows, each has a chance to shine as a special, can't miss event.

Orly Tabibi catching a few rays before the start of
T.R.A.F.F.I.C. 2012 in Fort Lauderdale Beach, Florida
The year began with DOMAINfest Global 2012 in Santa Monica, California putting the final stage of the renewal process in motion by broadening the focus of their show (operated by Oversee.net) from a purely domain oriented event to one that encompasses all areas of website development and online business marketing. They cemented that change by officially changing the name of the conference to Webfest Global effective with the next show that will held February 5-7. 2013.
That left the show that started this industry sector back in 2004, Rick Schwartz and Howard Neu's T.R.A.F.F.I.C. conference, as the last globally focused pure domain conference still standing. With T.R.A.F.F.I.C., Webfest Global and several well run regional conferences (especially in Europe) to choose from, anyone can now find a proven event that is perfectly tailored to their needs without having to sift through a show "haystack" to find the "needle" that insures the best fit.
With unique approaches and a limited number of dates where everyone can get together to do business, it is now much more likely that when you pick the show most closely aligned with your interests, the specific people and companies that you want to see will be at the show you go to.
The Ritz Carlton on Fort Lauderdale Beach
Site of T.R.A.F.F.I.C. 2012

While the landscape has continued to change, T.R.A.F.F.I.C. once again demonstrated why it has been able to stand the test of time by staging another outstanding show, the 23rd in the popular series, October 7-10, 2012 at the Ritz Carlton Hotel on Florida's Fort Lauderdale Beach. It was the only conference they staged in 2012 but they will return to the popular East-West format they first used in 2005 by putting on two shows in 2013. The first will be in Las Vegas at the Bellagio Hotel May 29-June 1 and the second will be back at the Ritz on Fort Lauderdale Beach in October 2013.

I posted daily photos and highlights from this month's 2012 T.R.A.F.F.I.C. conference in our Lowdown section (available through the links below):
Even though show activity was going on almost around the clock, we were able to cover a lot of ground in those posts while on the run from one event to another. However, we always benefit from having time to reflect on what transpired once we get back home and get the opportunity to put a full show wrap-up together in one place for posterity (the place you are in now) with more details and lots of previously unseen photos that we did not have a chance to share in our daily posts from show week.
T.R.A.F.F.I.C. 2012 began with two days of informal pre-show cabana and poolside networking (Friday and Saturday, Oct. 5 & 6), a new "tradition" instituted a couple of years ago that many say has become one of the most productive periods of show week.

It is amazing what can spring from casual conversations and gatherings in a pleasant, low key environment (in this case much better than simply pleasant - the oceanfront Ritz has one of the world's most beautiful views).

Below: Early birds at T.R.A.F.F.I.C. 2012 enjoying the pre-show cabana networking and the Ritz's gorgeous view of the Atlantic Ocean.

Above: Two of the first pre-show arrivals for T.R.A.F.F.I.C. 2012 (L to R) Daina and Morgan Linton with T.R.A.F.F.I.C.
Co-Founder Howard Neu on the Ritz Carlton pool deck.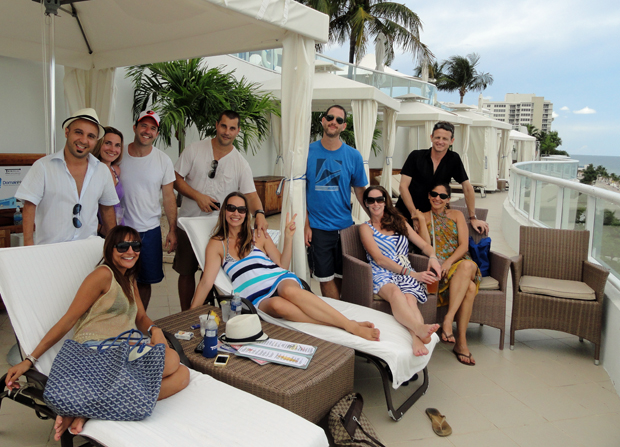 Below: Back at the pool deck lovely Dynadot.com ladies
Robyn Norgan (center) and Jacqueline Daly (right) with their friend Tessa Carey.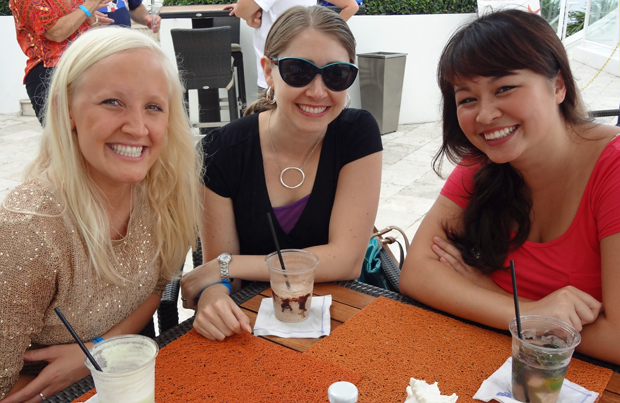 Below: On Friday night (Oct .5) DNForum.com owner Adam Dicker treated a large group
of T.R.A.F.F.I.C. early birds to a great dinner at the Shula's On the Beach restaurant.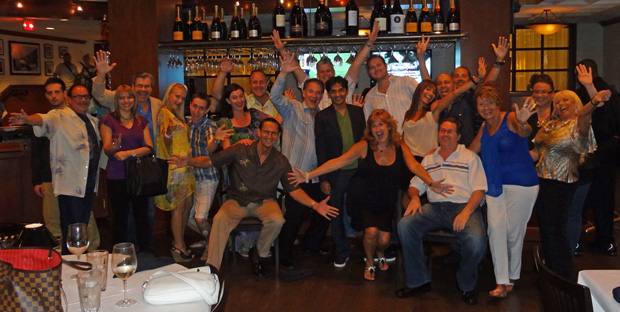 Below: Some of the more adventurous T.R.A.F.F.I.C. 2012 attendees spent part
of their pre-show networking time on a deep sea fishing trip Saturday afternoon (Oct. 6)
(Photo courtesy of Steven Kaziyev who is at far right in the front)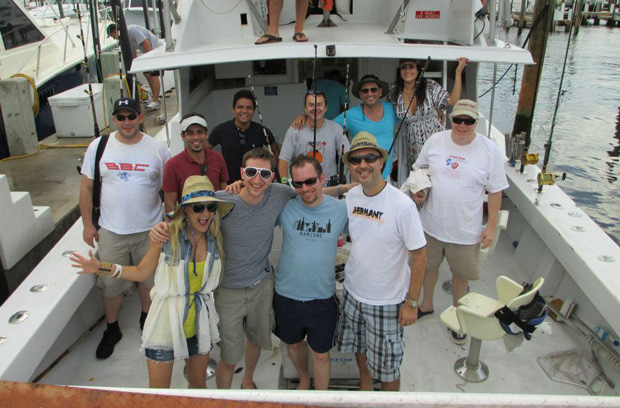 On the show's official opening day Sunday (October 7), those who had not come in for the pre-show networking got their first look at the Ritz's fabulous surroundings. They had all afternoon to do it, as well as some pre-show networking of their own, before the Opening Night Cocktail Party kicked things off at 6pm.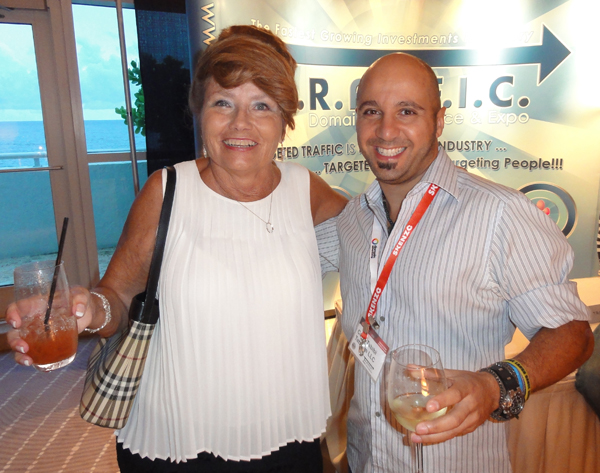 Diana Jackson and Carlo Tabibi get acquainted at
T.R.A.F.F.I.C. 2012's Opening Night Cocktail Party (Sunday, Oct. 7)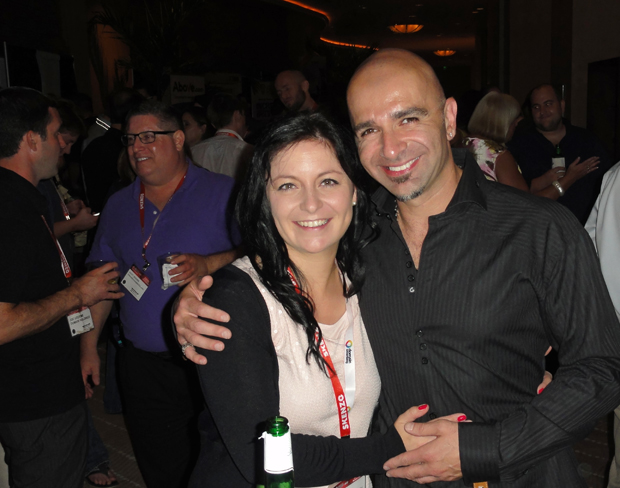 Also on hand, Monica Hans (KeySystems) and Ammar Kubba (Thought Convergence)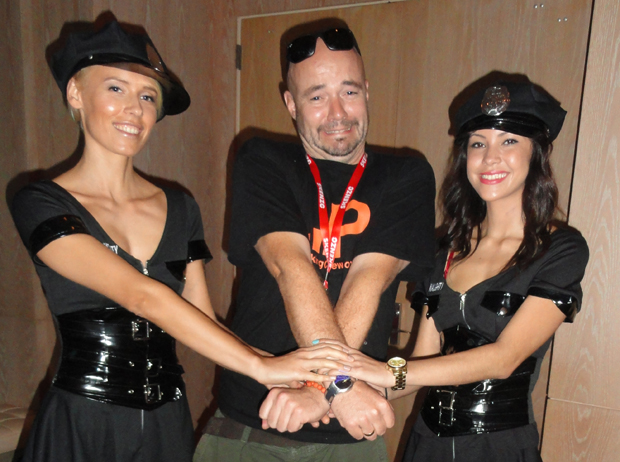 Opening night party attendees are usually well behaved but ParkingCrew.com's Axel
Kaltz was "apprehended" by two officers from the large battalion of T.R.A.F.F.I.C "Cops"
who keep an eye on things. We suspect Axel got caught on purpose and after the officers
came to the same conclusion they let him go (much to his chagrin!)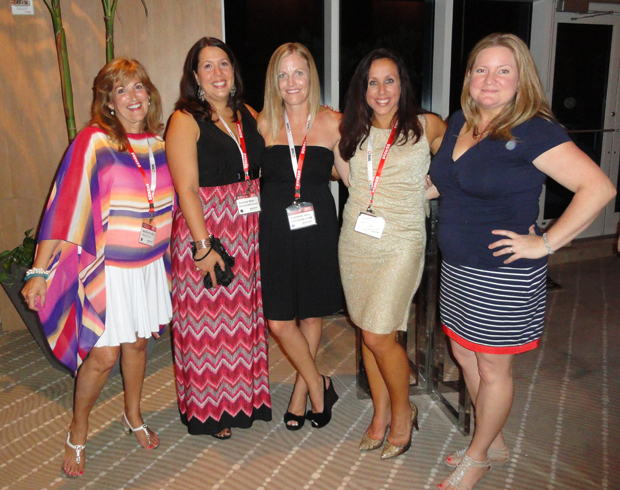 Lighting up the room (Left to right): Barbara Neu (T.R.A.F.F.I.C.), Amanda Waltz (DomainAdvisors.com), Andee Hill (Escrow.com), Tessa Holcomb (DomainAdvisors.com)
and Lisa Box (Moniker/SnapNames).
The cocktail party wound down around 8pm but the night was just beginning with both Afternic and NameJet hosting parties at popular nightspots near the Ritz. With everything within easy walking distance many people dropped in at both soirees.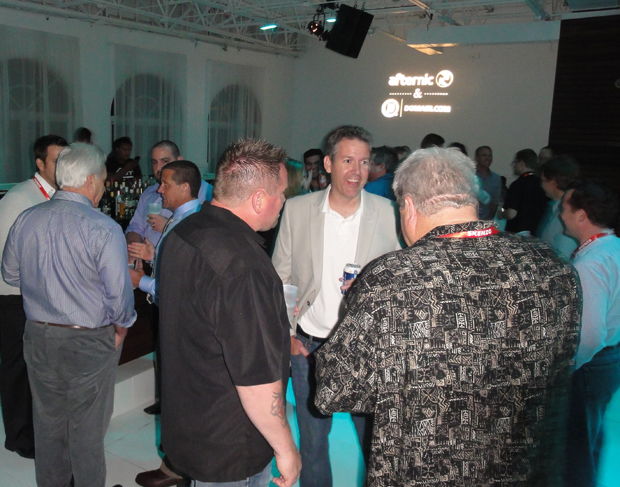 A scene from the Sunday night after party that Afternic and Domain.com
threw at the spacious Exit 66 night club on Fort Lauderdale Beach.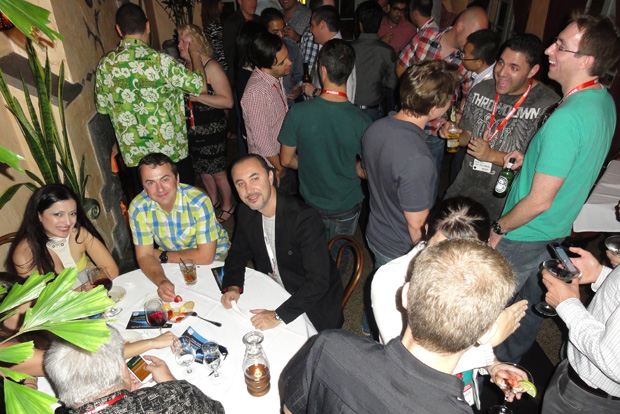 This shot is from the NameJet after party Sunday night at the Casablanca Cafe.
Monday morning (Oct. 8) it was time to get down to business with T.R.A.F.F.I.C. Co-Founders Rick Schwartz and Howard Neu delivering their opening remarks during a Power Brunch. Schwartz used the occasion to highlight a new personal crusade he has undertaken to out reverse domain name hijackers.

A Brazilian attorney named Marcio Mello Chaves, who was involved in a failed attempt to hijack one of Schwartz's domains, SaveMe.com, became the reverse hijacking poster boy with Schwartz plastering his face in the most visible locations throughout the conference area. Schwartz promised those who attempt to steal domains in similar fashion in the future can expect to have their exploits widely publicized as well - both in the real world and online where they will never be erased.

At right: Conference Co-Founder Rick Schwartz delivers his opening remarks at T.R.A.F.F.I.C. 2012 at a podium decked out with a poster of reverse domain name hijacker Marcio Mello Chaves whom Schwartz kept a bright spotlight on throughout the show.
The show's first business session followed - a Meeting of the Chiefs featuring eight industry leaders on the dais offering their views on the current Health of the Industry.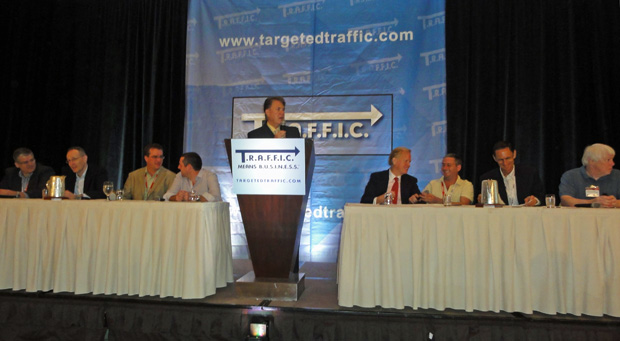 The Monday morning (Oct. 8) Health of the Industry panel featured (left to right):
Michael Gilmour (ParkLogic.com), Ted Olson (Afternic), Brad Lemire (Sedo), Jeff Gabriel
(DomainAdvisors), moderator Howard Neu, investor Chris Hartnett, John Ferber
(Domain Holdings), Ron Jackson (DNJournal.com) and Steve Cheatham (JuiceCow.com).
Next up was a session on New gTLDs vs. .Com and other incumbent extensions.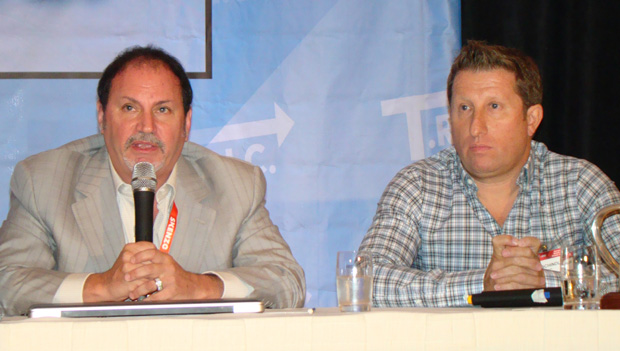 Michael Berkens (RightOfTheDot.com), at left, and Daniel Schindler (Donuts.co, at right)
joined Monte Cahn (RightOfTheDot.com) and Michael Mann (DomainMarket.com) on a
panel that offered predictions on the fate of impending new gTLDs Monday morning (Oct. 8).
At noon the topic changed to How to Select Domains and Build Profitable Websites on them with DNForum.com owner Adam Dicker (at right in the photo below) dispensing a lot of great advice while fielding questions from interviewer Michael Cyger of DomainSherpa.com (below left).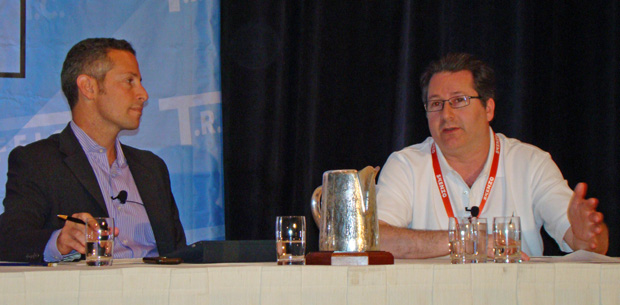 Dicker's advice created a great deal of positive buzz that may have helped prompt his decision to launch a new video blog after the show at TheArtOfTheName.com where anyone can access many of the valuable tips he provided at T.R.A.F.F.I.C. 2012 (as well as many new ones).
Dicker was followed by keynote speaker Declan Dunn who was also a fount of money-making knowledge. The well-known author presented a ton of tried and true marketing ideas that fit his theme - Net Proifts: How to Win the Internet Game.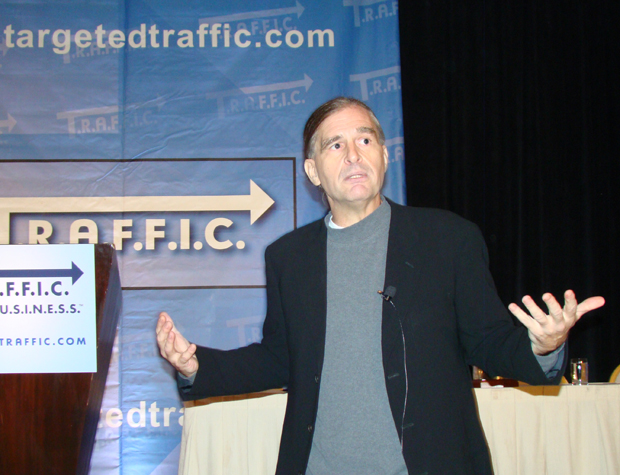 Keynote speaker Declan Dunn
After a nice buffet lunch break it was time for T.R.A.F.F.I.C.'s live domain auction. This would prove to be the only disappointment of show week. Though a high percentage of listings were sold, the total value of those sales came in around $100,000 (some additional sales from the auction list were made after the conference closed). All conferences have had less than scintillating auction sales in recent years, a situation that has prompted T.R.A.F.F.I.C. to try a number of different approaches to re-ignite the excitement and more importantly, the sales results, that live auctions used to produce. Odds are you will see their formula tweaked again for the Las Vegas show late next spring.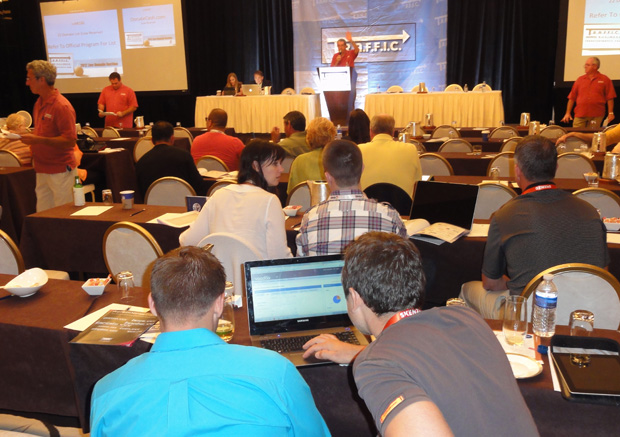 Scene from the T.R.A.F.F.I.C. Live Domain Auction Monday, Oct. 8, 2012
After the auction the business day closed with one of T.R.A.F.F.I.C.'s perennial favorites - the Speed Networking event. The fast moving format gives every participants a chance to make a large number of valuable contacts in a short period of time (75 minutes for this year's session).
Scene from the busy T.R.A.F.F.I.C. Speed Networking session Monday (Oct. 8, 2012)
With business out of the way it was time to play and the Official Traffic Party, hosted by DomainMarket.com, provided ample opportunity to do that why a high flying event in the revolving rooftop restaurant and night club at Pier 66 that ran well past midnight.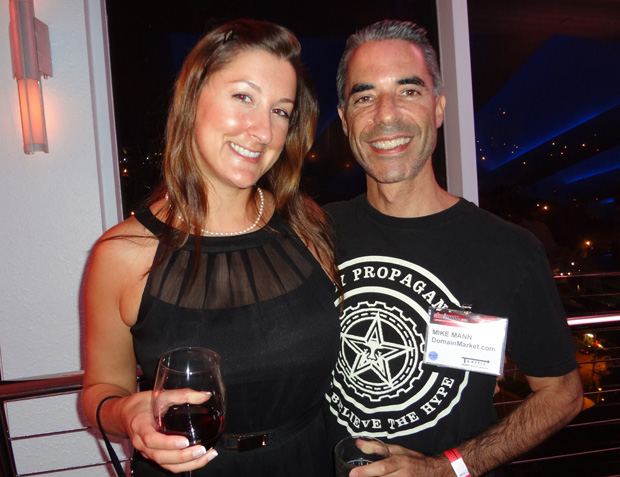 DomainMarket.com Founder Michael Mann and his fiancée Tiffany Reynolds joined
DomainMarket executives Chad Bennett and Sonia Martinez Doubet in welcoming guests
to the official T.R.A.F.F.I.C. 2012 Party the company sponsored Monday night, Oct. 8.
In a special surprise a top notch Elvis impersonator showed up at midnight much to the
delight of Above.com's Nancy Bianchi and LegalBrandMarketing.com's Braden Pollock.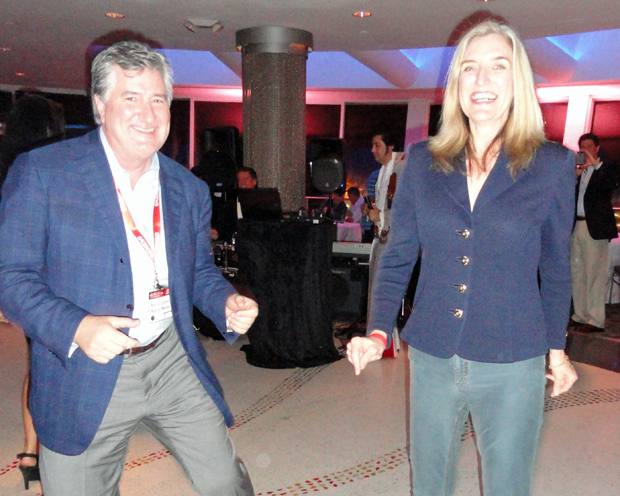 It's not easy to top Elvis, but two popular CEO's, NameMedia's Kelly Conlin and
Oversee.net's Debra Domeyer did it by showing The King some flashy moves of their own!
The final day of business, Tuesday (Oct. 9), opened with another annual show highlight, the T.R.A.F.F.I.C. Awards brunch. This year's brunch was sponsored by Frank Schilling's companies - InternetTraffic.com and DomainNameSales.com - and Frank was there to unveil an exciting new iPhone platform that is drawing rave reviews from clients who say it is helping them better manage negotiations and accelerate sales (you can download the app from Apple's app store - just Search "domainnamesales.com"). You can also see a video with more details on how it works here.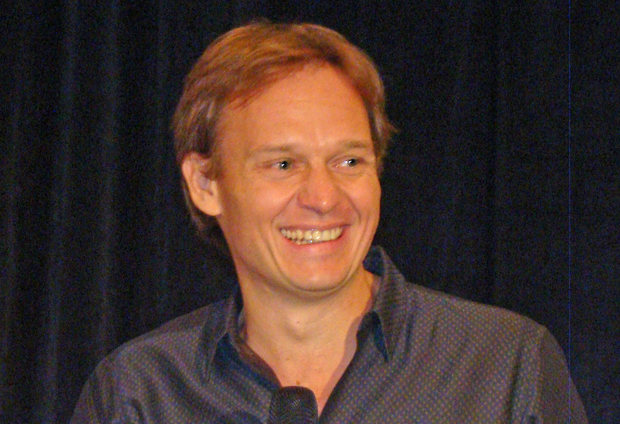 Frank Schilling wowed attendees with his company's new iPhone based sales platform.
After Frank's presentation and a brief talk that I gave detailing the latest sales trends in the domain aftermarket, it was time to recognize this year's Award Winners. The envelopes please...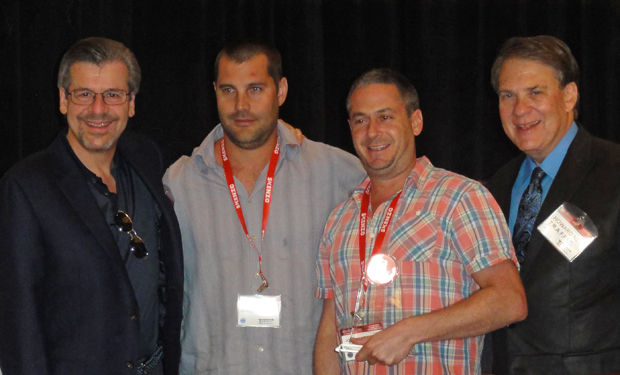 Best New Monetizing Solution - DomainPower.com. Accepting the Award from
T.R.A.F.F.I.C. Co-Founders Rick Schwartz (far left) and Howard Neu (far right) were
was DomainPower's Chad Folkening and John Ferber (2nd and 3rd from left).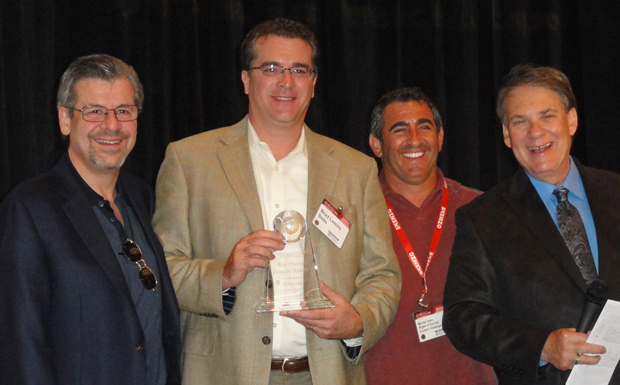 Best Overall Domain Solution - Sedo.com. Accepting the Award from T.R.A.F.F.I.C.
Co-Founders Rick Schwartz (far left) and Howard Neu (far right) was Sedo's Brad
Lemire (2nd from left). Each T.R.A.F.F.I.C. Award winner was announced by a member
of T.R.A.F.F.I.C. Domain Hall of Fame. Monte Cahn (3rd from left) announced Sedo's honor.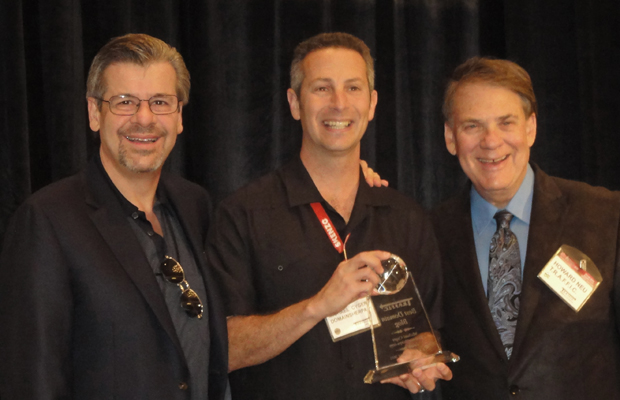 Best Domain Blog - DomainSherpa.com. Accepting the Award
from T.R.A.F.F.I.C. Co-Founders Rick Schwartz and Howard Neu
was DomainSherpa.com Founder Michael Cyger (center).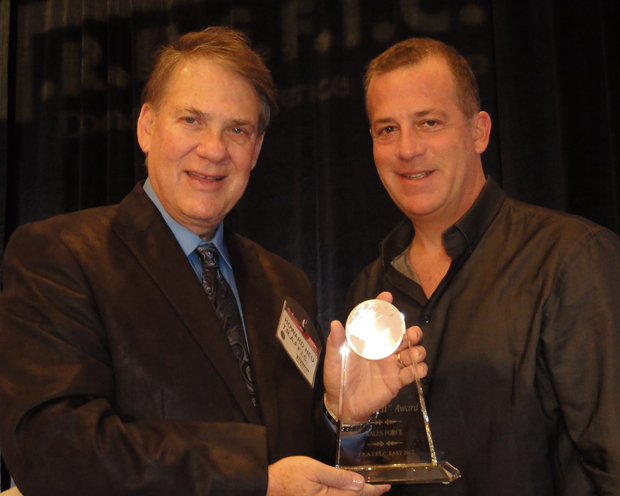 "we Get It" Award - SalesForce.com. Accepting the Award from T.R.A.F.F.I.C. Co-Founder
Howard Neu on behalf of SalesForce.com was Ari Goldberger (right).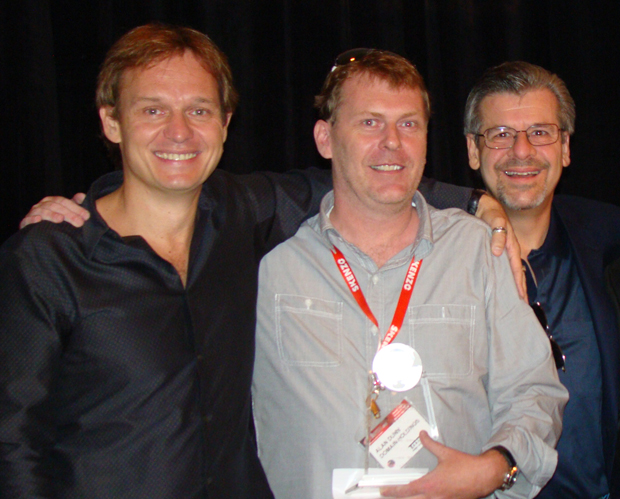 Developer of the Year - Alan Dunn (DomainHoldings.com). T.R.A.F.F.I.C. Domain
Hall of Fame Member Frank Schilling (left) announced that Alan Dunn (center)
won the Award presented by T.R.A.F.F.I.C. Co-Founder Rick Schwartz (right).
Broker of the Year - Dave Evanson (Sedo.com). T.R.A.F.F.I.C. Co-Founders Rick
Schwartz ( left) and Howard Neu (right) presented Sedo's Dave Evanson with the Award.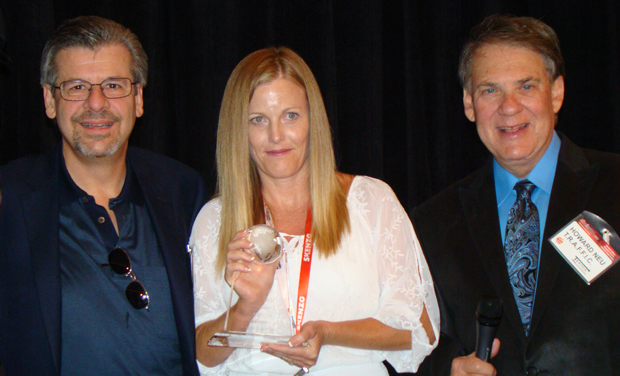 Sponsor of the Year - Escrow.com. T.R.A.F.F.I.C. Co-Founders Rick Schwartz ( left)
and Howard Neu (right) presented Escrow.com's Andee Hill with the Award.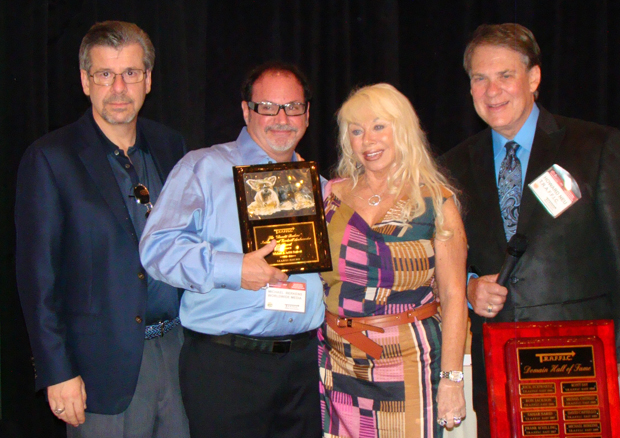 Bandit Berkens Goodwill Ambassador Award - Michael & Judi Berkens. This new award was created in memory of Michael and Judi Berken's beloved Yorkie Bandit who passed away earlier this year. Bandit warmly greeted hundreds of T.R.A.F.F.I.C. attendees over the years making the Good Will Award in his name especially appropriate. It was also appropriate that friendly South Floridians Michael & Judi (between T.R.A.F.F.I.C. Co-Founders Rick Schwartz
and Howard Neu above) were the first recipients of the annual award.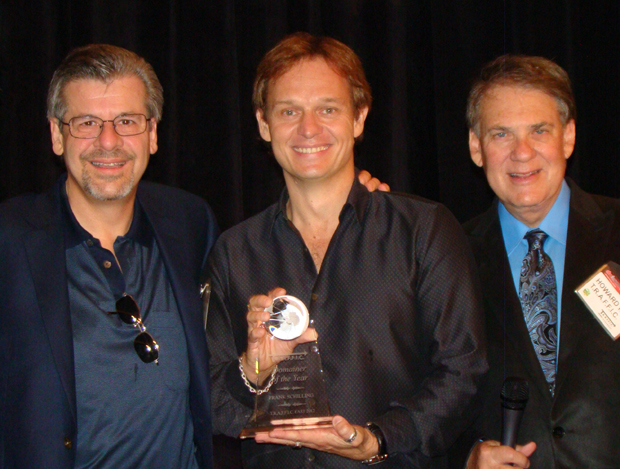 Domainer of the Year - Frank Schilling. T.R.A.F.F.I.C. Co-Founders Rick Schwartz ( left)
and Howard Neu (right) presented Frank Schilling (center) with the prestigious
Domainer of the Year Award making him the first three time winner of the honor.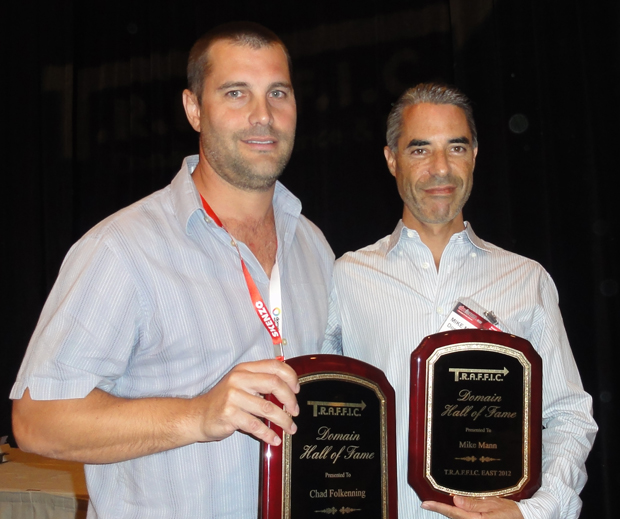 Domain Hall of Fame (two new members are elected each year)- Chad Folkening and Michael Mann. The grand finale of the 2012 T.R.A.F.F.I.C. Awards was the announcement of this year's inductees into the T.R.A.F.F.I.C. Domain Hall of Fame. The honor went to Chad Folkening (left) and Michael Mann.
After the awards ceremony there was a break that gave attendees time to visit the sponsor booths in the exhibit hall to check out the latest developments at many of the industry's leading companies.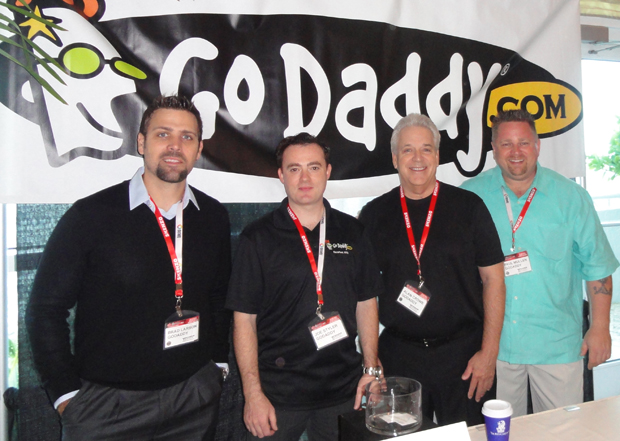 GoDaddy.com was one of the many sponsors set up in the exhibit hall to meet T.R.A.F.F.I.C. guests. Representing the world's leading registrar were (left to right): Brad Larson, Joe Styler, Alan Crowe and Paul Mullen.
At noon it was time to head back to the meeting rooms for the first of three afternoon sessions that would close the final business day. Things got started with a session on Monetizing Your Domains in Different Ways for 2013 and Beyond.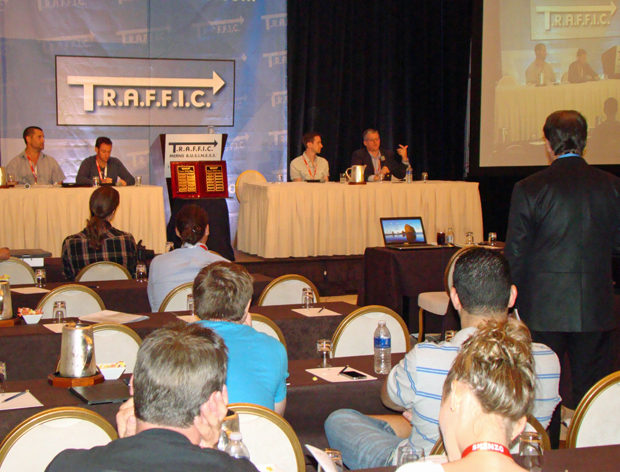 The Monetizing Your Domains in Different Ways panel included (left to right on the dais in the photo above): Chad Folkening (DomainPower.com), Braden Pollock (LegalBrandMarketing.com), Morgan Linton (MorganLinton.com) and Michael Gilmour (ParkLogic.com).
Next up advice on How to Turn a Category Leading Domain Name into a Category Leading Business was provided by three experts in the the development and monetization of financial and business related domains.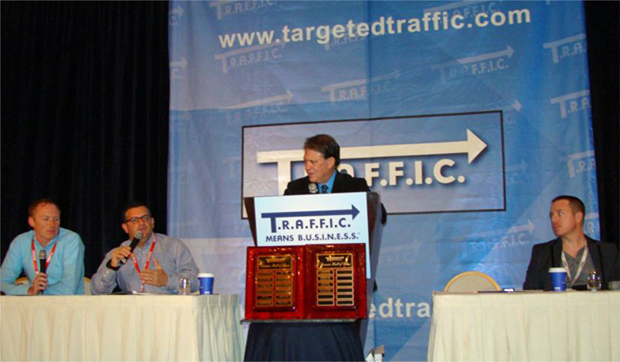 (Left to right) BankRate.com VPs Hanno Damm and Michael Ricciardelli, moderator
Howard Neu and Sean Sullivan of BankAds.com at the session devoted to building a category leading business.
After a deli lunch break, it was time for the grand finale - a second Meeting of the Chiefs with some interesting perspectives on What the Future Looks Like from Here in Domaining and Beyond.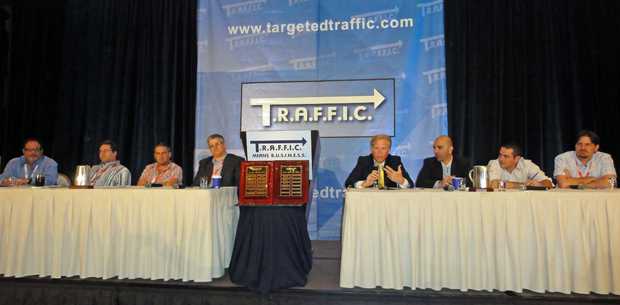 Tuesday afternoon's Meeting of the Chiefs featured (left to right): Michael Berkens (TheDomains.com), Adam Dicker (DNForum.com), John Ferber (DomainHoldings.com),
Michael Gilmour (ParkLogic.com), Dr. Chris Hartnett, Ammar Kubba (Thought
Convergence), Jeff Gabriel (DomainAdvisors.com) and Daniel Law (RookMedia.net)
While that session completed the business side of T.R.A.F.F.I.C. 2012 there was still a lot of networking left do and fun to be had that started with the Closing Celebration featuring wide array of desserts, coffee, beer and wine.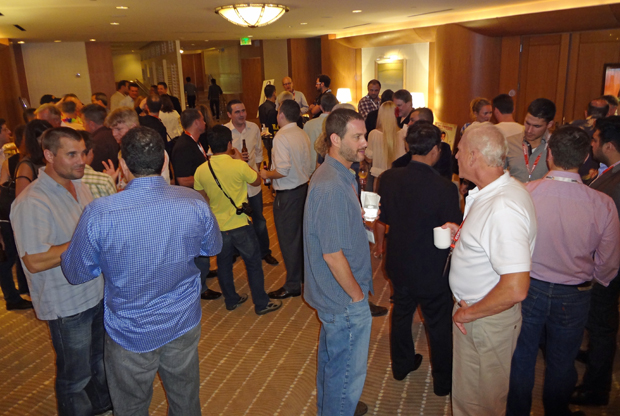 T.R.A.F.F.I.C. 2012 attendees got in another round of networking, along with some
great coffee, desserts, beer and wine at the show's Closing Party Tuesday night (Oct. 9).
Of course, as T.R.A.F.F.I.C. veterans know, even the Closing Party is not the end! As soon as the official party wound down, the crowd headed to a suite at the top of the Ritz where PPX International Chairman Gregg McNair hosted yet another of his famous late night DomainAdvisors.com parties. For people who figure they can always sleep when they get home, these lively informal events are always a treat and they play a key role in making and maintaining friendships with industry colleagues.
The real closing event at T.R.A.F.F.I.C. (and we mean it this time!) is the traditional Farewell Breakfast that was help Wednesday morning (Oct. 10). The Ritz laid out a fabulous spread and everyone who was still in town spent the morning hopping from table to table sharing laughs, stories and hugs before saying their final goodbyes (at least until 2013 when a new, streamlined and supercharged show cycle begins).
Even though he was running on just a couple of hours of sleep after hosting a DomainAdvisors.com party in his suite that ran into the wee hours of Wednesday morning, PPX International Chairman Gregg McNair (left) was bright eyed and bushy tailed when I greeted the domain industry's answer to the Energizer Bunny at the Farewell Breakfast that morning.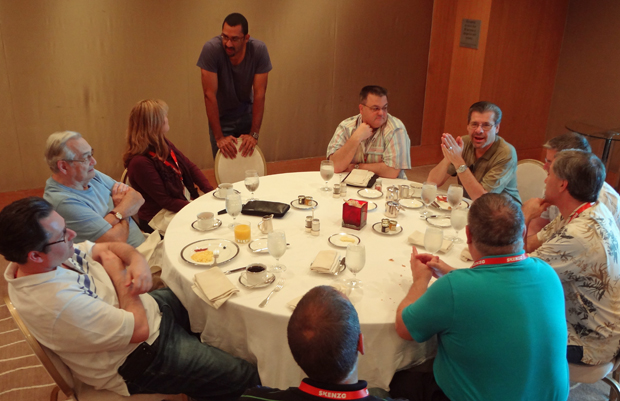 T.R.A.F.F.I.C. Co-Founder Rick Schwartz (hands clasped at right) anchored one the many tables
at the Farewell Breakfast Wednesday Oct. 10 that brought T.R.A.F.F.I.C. 2012 to a close.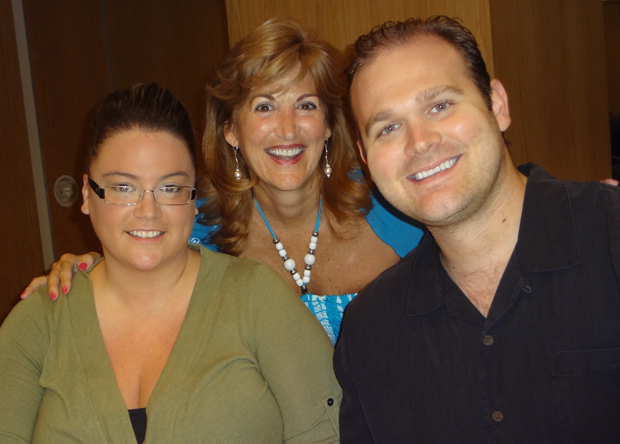 (Left to right) Kimberly Howard, Barbara Neu & Ray Dillman Neu were also on hand
to send guests off with a full stomach and a smile after the Farewell Breakfast.
As always we left T.RA.F.F.I.C. with a great appreciation for the tremendous work and hospitality that Rick Schiwartz, Howard Neu, their wives Barbara & Alina, along with Ray Neu, Kimberley Howard and everyone else on the T.R.A.F.F.I.C. team put into making sure their guests had a great experience. They've never wavered from the formula they established in 2004 and that's why they are still at as 2012 comes to a close and we look forward to a new year with a great deal of optimism, excitement and gratitude that we are in the business we are in.