In 1998 Calle discovered the Internet
while spending a winter in France
as an exchange student.

Soon after he and his siblings settled in Miami, Calle started his first real business installing car stereos from the garage of their home. He later enrolled at the University of Miami to study engineering but in 1998, while spending a year in France as an exchange student, Calle discovered the Internet.

"France was cold in the winter and I spent a good portion of my time reading the news on the Internet – I'm a bit of a news freak," Calle confided. "Excite.com was big back then as were Yahoo and AltaVista, but the reason I was hooked is because I knew more about current events than my friends and even family members back home. When I returned to Miami in 1999 the internet bubble was in full force and it became clear in my mind that I had to be a part of it."

Within a year, at the age of 22, Calle opened his first web-based company – a search-advertising network (PPC) for Latin America called TeRespondo, but things did not go quite the way he planned. "Our first business plan was a huge disaster," Calle said. "It was a hybrid between GoTo.com and AskJeeves

for Latin America. We thought we would get millions in funding, take the company public, and drive Ferraris forever more. Not so. The bubble burst and our funding dried up."
Calle said that taught him the first of three key lessons he learned from that company - don't invest in a bubble.
"We fired ourselves and our staff and shut down the company, but my co-founder and I made the wise decision to keep the servers running," Calle said. "Surprisingly, the traffic on a meta-search engine that we built continued to grow during all of 2001. Seeing that traffic growth, we made the decision to give the company another try. I dropped out of school and this time, with little money at our disposal, we actually had to come up with a revenue model and keep our expenses low. Our lack of resources is what lead us to build a fully automated PPC platform which over time, powered the paid search results on MSN in Latin America, Terra, UOL, and a few other large portals."
That was lesson number two: Lack of money is good for start-ups. It allows creativity to flourish.
"By March of 2002 Google had entered the space and started a massive war against GoTo.com (Overture.com) for world domination," Calle continued. "In an effort to survive, Yahoo would then acquire Overture. However, Google doubled its efforts, blasting lethal rockets in the form of guaranteed payments and 100% (+) revenue share deals to Yahoo/Overture distribution partners. It wasn't long before the archrivals saw Latin America as the next frontier in their war and found TeRespondo to be a fast way into the market. In early 2005 we decided to sell the company in a deal with Yahoo."
Juan Calle (second from left) with his team at TeRespondo.com
"Sure, I would have liked to continue competing head on against Google and Yahoo but the economics weren't there. Both of those companies were using their global platforms to subsidize their entry into smaller markets - our market," Calle said.
"That's when I learned the third, and possibly most valuable lesson to compete effectively on the internet: build a global platform, and make sure you scale it fast."
"Apart from those valuable lessons, along the way I've made consistent efforts to surround myself with really smart, self-driven individuals," Calle said. "It starts with having a keen understanding of what you're not good at and making sure that the people around you compensate for those weaknesses. But the key component is letting them flourish - empowering them. When you have a bunch of really smart people in one room, the worst thing you can do is give them specific instructions. I offer some guidance and the rest is up to them."
.CO Director of Marketing Lori Anne Wardi,
one of the really smart people that Juan
Calle recruited for his .CO Registry team.

After selling TeRespondo to Yahoo Calle went back to business school and started contemplating his next career move. "I had become interested in the domain world by the end of 2004," Calle said. "At the time, a good portion of the traffic growth at TeRespondo for our PPC ads was coming from domain portfolios that needed to monetize traffic originating from Latin America. Most of the company's attention was focused on monetizing the big search engines so I didn't really understand the concept that well – all I knew is that our domain partners kept growing and growing. So, once we sold the company I started to look into it and saw it as a huge opportunity, particularly on the development side."

"I started a new company, STRAAT Investments, and began acquiring and developing .com travel domains with exact match keywords like New York

Hotels and London Hotels. Today those sites are part of FederatedTravel.com, our online lead generator for travel suppliers. It's not a huge business yet, but the margins and upside potential are enormous," Calle said.
Though they were separated for a time while waiting for conditions in Colombia to stabilize, Calle's family remained a huge part of his increasingly successful business life. "Our family is very close knit and business is a shared interest that we are all passionate about," Calle said. "The advice of my father and brother has been invaluable. While we all work in different businesses and industries, every major decision is shared. Our family has a pact to split every aspect of our respective companies' successes (profits) or failures (losses). The way we see it, one day I will be doing well, and the next, it may be my younger sister who carries the baton."
"As a family, I suppose we've learned from what has happened in Colombia. Today, the country is doing extremely well. It's safer than ever and it's institutions and democracy are thriving. Foreign direct investment is booming and the economy grew even through the global recession," Calle noted.

Now, with .CO, Calle, his family and his homeland all appear to be on the way to another major success. Calle told us how he became involved in the re-birth of .CO.

"In 2006, a good friend and colleague in the Internet world pointed me towards .CO," Calle said. "Having already spent a few million dollars acquiring premium travel domains, I understood that .com was a scarce resource and that entrepreneurs and businesses like mine would benefit from a new option as long as it was global, credible, and recognizable. If marketed properly, .CO was perfect in that context," Calle concluded.

"While I'm very proud of the fact that .CO is the ccTLD assigned to the country

Juan Calle and his wife Christina at the .CO
Gala Party at the Versace Mansion during the
T.R.A.F.F.I.C. Miami conference in Oct. 2010

Colombia, most people do not know or care about that," Calle continued. "The fact that it was of assigned to my country at some point in history is largely irrelevant today from a marketing standpoint. To prove this, prior to our launch we enlisted PSB (a leading market research firm) to run a study of 600 individuals in the U.S. who"had registered" or "were planning to register" a web address. Among other things, the survey asked them what .CO meant: 80% thought it meant "company." Only 3% said it meant Colombia," Calle noted.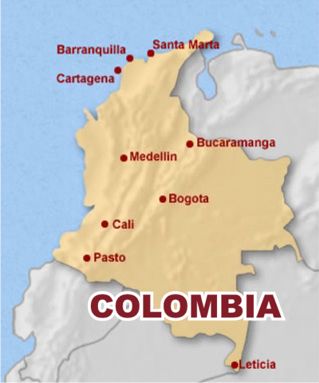 Colombia came to realize that there was huge potential waiting to be tapped in their under utilized TLD. Calle outlined the problems that had to be overcome.

"In addition to having very strict registration requirements, an ill-conceived effort to protect the country's identity on the Internet resulted in the extension existing only in the third-level (for example, .com.co) prior to our administration," Calle said. "It was also the reason why Colombia, the 30th largest economy in the world, with a population of 40 million, had only 28,000 .com.co domains registered as of February 6th, 2010. There were 4 times more .coms registered by Colombians than .com.co's! If anything, the effort to protect the country's internet identity through restrictive policy, was in fact killing it." Calle declared.

"During public forums between 2006 and 2008, the government started to see this and realized that it needed a new policy
and a new administration for the country's domain extension. Part of the change they saw was that the new TLD process going on at ICANN would make the distinction between gTLD's and ccTLD's a lot less relevant," Calle said.
"The conclusion from those forums was that Colombia would have to relax its registration requirements in a responsible and secure manner, if it wanted its domain extension to survive. After a thoughtful procurement process, which resulted in large international players bidding for the administration rights, our company, .CO Internet SAS, a joint-venture with Neustar Inc., was awarded the contract to manage .CO during the next decade."
"The benefits to the country are huge," Calle said. "The .CO extension is now sustainable long term, it's powered by world-class technology, it's a new source of revenue for the country, and it's becoming part of the fabric of the global Internet. In essence, Colombia is now a player on the Internet."

That fact was underscored by ICANN's decision to hold its 39th International Meeting in Cartagena, Colombia Dec. 5-10, 2010. "The ICANN Meeting in Cartagena was huge for the country and for .CO's marketing efforts," Calle affirmed."For me personally, addressing attendees there was a symbolic moment in my career."

"Part of the objective of the meeting was to demonstrate that Colombia is embracing the Internet in a big way. In a video presentation to ICANN delegates, Colombia's President Juan Manuel Santos

Juan Calle address delegates at the 39th International ICANN Meeting (Dec. 2010)


boldly described a $2.8 billion dollar government initiative called "Vive Digital" (translated in English to mean "Live Digitally") to help the country expand its information and communications infrastructure and to radically expand Internet use over the next four years - quadrupling the number of Internet connections."

"Also at the ICANN meeting, Diego Molano Vega, Colombia's Minister of Information Technologies and Communications, discussed how studies consistently show that there is a direct correlation between Internet penetration, technology use, job creation, and increased prosperity. While Colombia's level of technological development is average for Latin American countries, the government recognizes that the more technologically advanced Colombia becomes, the more accelerated the pace of economic growth it will enjoy," Calle said.

Juan Diego Calle (right) greets ICANN Chairman Peter Dengate Thrush at the
39th International ICANN Meeting in Cartagena, Colombia in December 2010
As for his beloved .CO, even Calle has been pleasantly surprised by how well things have gone. "That we are now past 600,000 domains, at such an early stage is definitely unexpected, particularly because of our pricing strategy," Calle said in noting that .CO domains are priced higher than most other TLDs. He added, "Even more encouraging are the stats behind our registrant base:
- .CO has registrants from over 200 countries.
- 90% of registrants have purchased only 1 or 2 .CO domain names each.
- 99% of registrants have purchased 10 or less .CO domains each.
- Only 1% of all registrants of .CO domain names have purchased 11 or more names.
These numbers prove that we were successful in our initial goal of allocating names among a very wide audience while limiting massive speculation," Calle said. "The other important metric – development (ie, use) – is improving each day and we'll be showcasing more and more of those developed sites on Opportunity.co."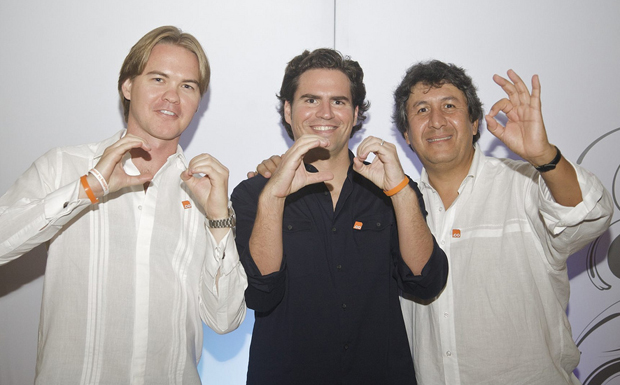 Leaders of the .CO Registry team (left to right): COO Nicolai Bezsonoff,
CEO Juan Diego Calle and VP & ccTLD Manager Eduardo Santoyo
"Although this early success was unexpected, from day 1 we've had the vision of building a very large business. It's a 10 to 20 year business plan to build a global platform for opportunity online. With that in mind, I see our launch as a solid start; but we are part of a marathon, not a sprint."
"Our 5-year goal is to be a significant portion of the fabric of the Internet – with 3 to 5 million active registrations. That may seem small relative to other extensions, but we are focusing our marketing efforts (and our pricing) to target real use – not speculation," Calle said.
With that long term view Calle believes .CO can overcome a challenge that other extensions have wilted under - that is maintaining momentum after a fast break from the gate.
"I admit that it's a big challenge, but we've crafted our company's strategy with that in mind. Let's dig deeper on that subject:"

First, at the most fundamental level, we have a very good product. Since before any of us were born, the letters CO have been used as an acronym for "company". In the U.S., China, France, Argentina and in just about every major country "the letters "CO" are used in that context within the real economy. Also, in the virtual economy, over 40 ccTLDs use the acronym to describe a commercial intent (.co.uk, .co.jp and .co.kr are a few examples of this)."

Second, while the launch was successful, a very small fraction of the population knows we exist. Right now awareness of .CO is limited to the early adopters, web entrepreneurs, technologists, and developers.

Natalie Lambert and David Castello admire
the .CO Registry's "Anything is Possible"
flying pig mascot during .CO's Versace
Mansion Party in Miami - October 2010)

With those two things in mind, our job requirement is to create awareness – massive awareness. That's where things like the Superbowl ad with GoDaddy, Overstock launching O.co internationally, the upcoming auction of i.CO, and other fun things on the horizon come into play.
Calle comparing notes with the .CO Registry's
Sr. Marketing Manager Crystal Peterson

"The formula is simple: we create massive awareness. People will "get it" because they've known about it their whole lives. That creates growth, which in turn creates use. Use creates more awareness, and the whole thing becomes a self-fulfilling cycle," Calle said.

Calle, who will be talking more about this as a keynote speaker at the Dot NXT conference Feb. 10, 2011 in San Francisco, expanded on his team's three-pillar plaform (Awareness, Growth and Use) noting "The marketing tactics you have seen correspond to one or all three of these pillars. For example, our deal with Twitter (T.CO) corresponds to awareness and some use. We make a big deal out of showcasing sites such as Angel.co, Enter.co,and Playbutton.co, all of which corresponds to the tactics around inspiring and demonstrating use. On the other hand, things such as GiveA.CO and our registrar relationships

correspond to growth. But it's the interaction of all three pillars that gives us a very powerful strategy – a strong competitive advantage. In that interaction lies the secret sauce.
Still, this is a business that changes rapidly and another big change is on the horizon - ICANN's plan to roll out an unlimited number of new gTLDs. That is expected to create a more competitive marketplace, especially for current new extensions that already have their hands full trying to make a dent in .com's dominance. "You might think that as the administrator of one of the most promising upstarts Calle would like more time to establish .CO but that is not the case.

"In my mind it's quite simple," Calle said. "In today's world, there is absolutely no valid reason to limit the number of new TLDs, other than to protect established monopolies. Let the market decide. Sure, we will have a much harder time competing against all the new options but I'm confident we will do so effectively. In fact, new TLDs will help us educate consumers that there is something different to .com, making .CO even more credible to the end user," Calle concluded.