As a new industry, it is always interesting to see how the colorful cast of characters in this business managed to find their way here. In a sector that is unrivaled when it comes to spellbinding biographies, the roundabout route that brought Neu into the domain world has produced one of the most diverse volumes in the industry's rich library.

Considering that the current chapter in Neu's life revolves around names, it is appropriate

Immigrants arriving at Ellis Island in the early 1900's

that our story starts with an account of how Howard's family acquired their surname almost nine decades ago.

Howard's grandmother, who was deaf and also could not speak, came to America from Galicia ( Poland ) in 1920 with her two children, Howard's dad Maury, who was five years old at the time, and Maury's two-year-old sister. Neu told us "They landed at Ellis Island, didn't speak any English and when asked what his last name was my dad said something that the authorities could not understand. It sounded like "Neu" to them, so that' s how we got our surname!"
The family made their way to Chicago and when Maury grew up he married a bright young woman from Toronto named Phyllis. Their union produced three children, with Howard the first to arrive on the scene. Brother Les came along three years later and sister VedaLynn followed three years after Les to complete the family who lived in an apartment just two blocks from Lake Michigan.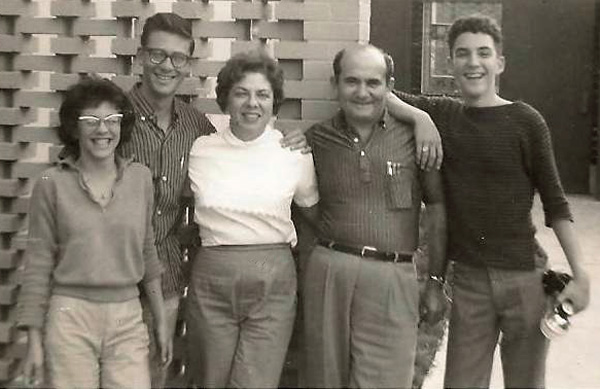 1959 Neu family photo snapped in front of Howard's fraternity house at the University of
Florida. (L to R): sister VedaLynn, Howard, mother Phyllis, father Maury & brother Les.
America was in the middle of World War II when Howard was born and his father supported the war effort by working in a local defense plant while his mother worked as a secretary in a fruit and vegetable business operated by Howard's uncle. Howard's dad was not your

Father & son, Maury & Howard sing together

everyday factory worker though. "My father had a wonderful tenor voice and sang in the choir at the world-famous Anshe Emet Synagogue under Cantor Joshua Lind. Lind, his three sons and my dad would travel all over the country giving concerts and they were very well-known in Jewish society," Neu said. "He was also a championship ice speed skater and would take me on a sled speeding around the frozen-over ponds of Lincoln Park ."

Though Howard would one day follow in his father's footsteps as a singer, he almost died before that day arrived. "When I was 7 years old, I was hit by a car while chasing a girl across the street around the corner from my apartment," Neu recalled. "She made it across, but I didn't. I am told that I was in a coma for two

weeks and was in a body cast for almost six months. In order to get around, I became a master of walking and running on crutches for over a year as I kept re-breaking my leg."
At this same time, Howard's sister was suffering from asthma that was aggravated by hay fever every fall. Maury and Phyllis had also grown tired of the frigid Chicago winters so they decided it was time to move the family to a friendlier climate. Lured by "The World's Most Famous Beach", Maury and Phyllis packed up the three kids and headed for Daytona Beach, Florida.
"While there, my dad owned a gas station and became the Cantor of the Synagogue there, so I started singing in the choir," Neu said. Singing would become a passion that has remained a constant throughout Howard's life and T.R.A.F.F.I.C. conference regulars have had the pleasure of hearing him perform.

I particularly recall him singing the John Travolta role in a skit based on Grease during the very first T.R.A.F.F.I.C. conference in Delray Beach, Florida in 2004. There were also memorable duets with Emily Anne at the 2007 T.R.A.F.F.I.C. New York show in Manhattan.

Neu belting out "Summer Nights" with Felicia Lynn
at the 1st T.R.A.F.F.I.C. conference in October 2004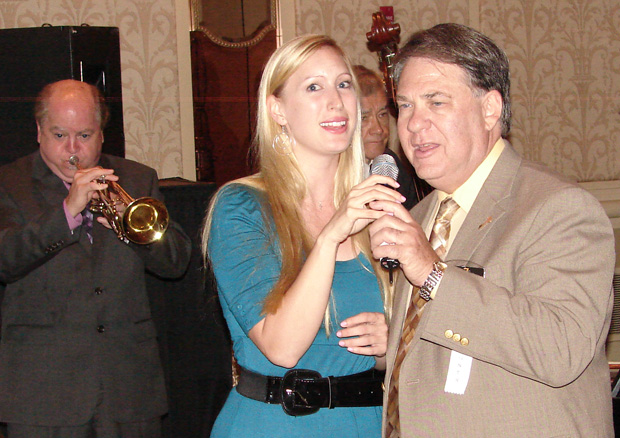 Howard Neu and Emily Anne perform together at T.R.A.F.F.I.C. New York 2007
The Neu family, Howard, wife Barbara and her son Ray Dillman (who is so close to Howard that many in the domain business know him as Ray Neu ) live just north of Miami, an area Howard was first introduced to 55 years ago. "In 1954, my folks decided that they could do better financially in South Florida so they moved to North Miami where my Dad got a job at National Shirt Shops, located at Lincoln and Collins in Miami Beach," Neu said.
Howard went to North Miami Senior High where he got good grades and used his singing skills to earn leading roles in several school musicals. He also got his first taste of another discipline that would become a major part of his adult life - politics. "I ran for Student Council and lost a couple of times, but it didn't take away from me the thrill of running for office," Neu said. By the time he graduated a lot of different interests were competing for his attention.
Before making a decision on what he would do with his life, Howard wanted to earn a college degree and he set his sites on the University of Florida in Gainesville. It looked like that might not happen because, even though his parent were doing better than ever financially, the couldn't cover the tab for four years at UF.
Neu was determined to be a Gator though and he made it happen. As a member of the National Honor Society, he was able to qualify for a tuition scholarship to Florida and he paid for room and board by holding down two jobs - one as a waiter in his fraternity house and the other, arranged by his dad, at a local men's store. Neu was quick to add, "I was also Playboy Magazine's representative on campus. But that didn't pay anything - not in money anyway!"

Neu would actually wind up getting his bachelor's degree (and his law degree) from the University of Miami after transferring there for his senior year. Neu explained why he made the switch. "Some of the best years of my life were spent at the University of Florida , but it didn't do much to further my career - I was having too much fun! Yes, I got good grades and was very involved in campus life including being a fraternity brother of AEPI, soloist in the Men's Glee Club and President of Hillel House, but some classes were a bore."

"What I really wanted to be was a Rock Star as I had developed a good voice and stage presence over the years and even wrote some music that



Howard Neu & mother Phyllis
on his 1968 graduation day at the
University of Miami Law School

I recorded with a band at Criteria Studios where the Bee Gees and the Eagles recorded hit records. Unfortunately, I couldn't get any parental support in that area, so I majored in accounting at Florida and then Miami so that I could be gainfully employed as an accountant while I went to law school at night."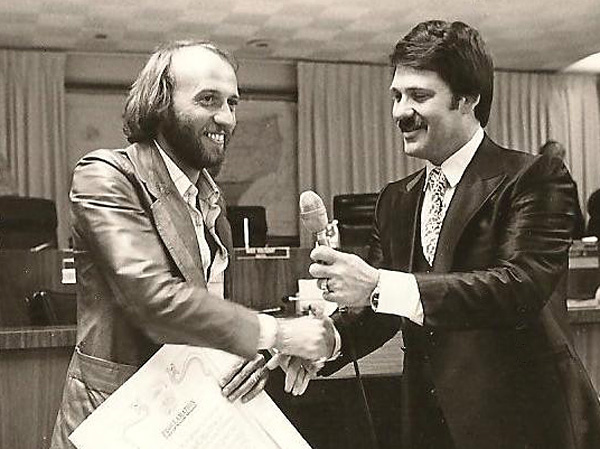 Neu once recorded songs in the same Miami studio used by the Bee Gees. Years later
the Bee Gees' Maurice Gibb attended Neu's swearing in as mayor of North Miami.
Law appealed a lot more to Neu that accounting did. If he couldn't be a rock star he felt that being an attorney would be the next best thing. "Probably the most successful relative that I had was one of my mother's brothers, Harry Spector who lived in Detroit," Neu said. "He had a very prominent law practice, so I decided early on that I wanted to be a lawyer like Uncle Harry."
Neu would realize that dream, but not before going through a long stint in the accounting business while he worked toward that law degree at night. They say that the Lord works in mysterious ways and that appeared to be the case here. Even though Neu's heart was not in accounting, it was that field that gave him the connections that would lead to a very successful run in the world of politics.
"When I graduated from UM with a B.B.A. degree in Accounting, I went to work for a medium-sized C.P.A. firm in Miami and, after a year and a half, left to work for a large C.P.A. firm that eventually became Deloitte Touche Ross," Neu said. "The principal partner of the firm, Robert Morgan, was known as Mr. Democrat in South Florida and he was very politically connected. He knew of my interest in politics and that Senator Hubert Humphrey was my guest speaker when I was installed as President of the South Florida Lodges of B'nai B'rith and that I had become very friendly with him and his lovely wife Muriel." (Several years later Neu would chair Humphrey's campaign for President of the United States in Florida).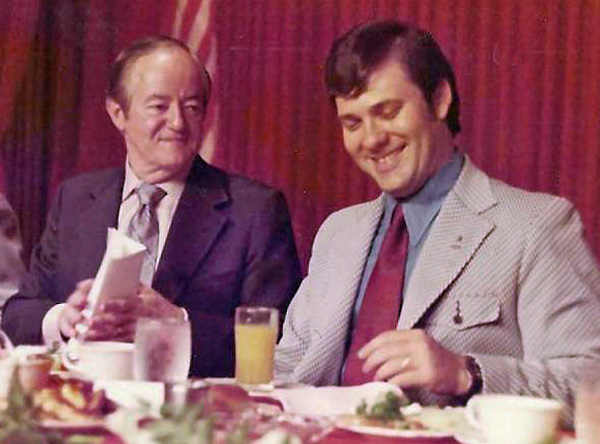 U.S. Senator Hubert Humphrey with Howard Neu at a dinner
installing Neu as the President of the South Florida Lodges of B'nai B'rith

Morgan introduced Neu to then County Commissioner Joe Boyd who wanted to run for the Florida Public Service Commission against a long-time incumbent. "I became his Campaign Treasurer and, though he lost by the slimmest of margins, we became good friends," Neu said. "Two years later, Joe came to my Law School graduation party and told me that he was running for the Florida Supreme Court and wanted me to run his campaign statewide. We traveled the state, won the race and I was asked to enrobe Joe Boyd as Supreme Court Justice."

Two years later Circuit Judge Hal P. Dekle decided to run for the Florida Supreme Court too. Word had spread about the great job Neu had done on behalf of Boyd, leading Dekle to call and ask Neu to run his campaign. "I was practicing law then and told him I was flattered to be asked, but I really didn't have the time anymore," Neu said. "He brushed my protestations aside and asked me to give him whatever time I could for scheduling speaking engagements and buying T.V., radio, billboards and newspaper ads." Neu relented and again shepherded his candidate to victory. "I became the first (and I believe the only) attorney in the history of Florida to enrobe two Justices to the Supreme Court," Neu noted.
With those successes under his belt, his accounting firm told him that if he stayed with the company after he finished work on his law degree he would be put on a fast track to partnership. "It took me five years to finish law school because I took off one semester to study for and pass the C.P.A. exam and another to have my first daughter," Neu said. "When I graduated in 1968, I went to a party for Hubert Humphrey who was now running for President . I met an attorney named William Goldworn at the party who asked me if I

Howard Neu on the campaign trail.

knew anyone who was familiar with S.E.C. work. When I told him that I had done a lot of work in that area, he offered me a job with his small law firm. I told him that management really wanted me to stay at the C.P.A. firm. He asked how much I was making, and when I told him, he said that he would double it. I gave the firm two weeks notice and they were so upset that they changed the rules so that no one could attend law school while working at the firm," Neu recalled.

At the same time Neu was switching careers from accountant to attorney, another door opened that transformed him from campaign

manager to candidate. "After Judge Dekle won his race in the Primaries he had space on a number of billboards and signs left over. There was an open seat representing my District on the County Commission and he said that he would give me all his billboards if I would run for the seat," Neu said. "I was one of five candidates for the seat, and though I won every African-American precinct, I came in 3rd with 27,000 votes. My record of losing elections was still intact." That would soon change as well.
"I had become active in the city of North Miami and had been appointed as Municipal Judge to hear misdemeanors before the Municipal Courts were abolished by the State two years later," Neu said. "I became unhappy with the way local government was being run and decided to run for the City Council in 1975. I won without a run-off against four other opponents and served a four-year term."

"When it ended, I decided to run for Mayor and again won without a run-off against two opponents. I was re-elected two years later with token opposition. We had term limits, so I could not run for a third term, but when my successor's second term ended, I was urged to run again and did so, winning without any opposition."

During his years as mayor Neu promoted film production in North Miami and was rewarded with the smash hit series Miami Vice being filmed at studios there. His outreach to movie and TV production companies yielded an unexpected bonus, as he also found himself in front of the cameras.
Neu and actor John Saxon on the set of Welcome to Spring Break.

Howard Neu in his role as a
high school biology teacher in
the movies Porky's & Porky's 2

"I was cast in a number of movies as an extra, but had speaking roles in Porky's, Porky's 2, The Opponent with Ernest Borgnine, Welcome to Spring Break with John Saxon and was cast as a judge in a Miami Vice episode," Neu said. "I also had my own TV talk show called South Florida Speaks which I produced and hosted. The half-hour interview program was broadcast every Sunday afternoon for ten years on WLRN-TV."

"I became involved in the theater and starred in a number of productions in Miami Shores and also had my own radio talk show every Sunday morning on WKAT called Can We Talk?; all the while practicing law so that I could make a living," Neu said.

"I had been doing extensive Estate Planning and Trust work for a client who had some very successful adult web sites," Neu recalled. "He asked me to lecture to adult webmasters on First Amendment problems and Copyright and Trademark Infringement. Though I wasn't that familiar with the latter subject, I studied up and was warmly received. I found that there were literally only a handful of attorneys who were practicing Domain Defense Litigation. I saw that this could be a very lucrative and not that difficult niche that I could specialize in, so I gradually did more and more ACPA defense work in Federal Courts and later when it became adopted, UDRP work."

Soon after he took up his new specialty, Neu

gained a client who has been an integral part of his life ever since. "I represented Rick Schwartz successfully on a few C & D Letters and Federal litigation where we not only won, but the other side had to pay our attorneys fees," Neu said.
"I then started representing the notorious John Zuccarini in a number of Federal lawsuits all over the country, until he became so paranoid about getting served with process on these suits that he wanted me to go to jail when the Judge asked me to give up his phone number so that he could be served. We parted ways and soon thereafter he was arrested and incarcerated. But my position at that time was that though John was a "typosquatter" with all of his mistyped trademark domains, he was not a cybersquatter as defined in the ACPA

and therefore it should not apply to him. Unfortunately, the U.S Circuit Court of Appeals for the Third District in Philadelphia did not agree and we made new law."

"Word got around on the web that I was a fairly competent Domain Defense attorney along with John Berryhill and Ari Goldberger, so that phase of my general practice became so prevalent that I no longer accepted new clients in other areas of the law," Neu added.

Attorneys John Berryhill, Howard Neu and Ari
Goldberger at the 1st T.R.A.F.F.I.C. conference in 2004.


Dean Shannon

Meanwhile Neu's new association with Rick Schwartz blossomed into something much bigger than the usual attorney-client relationship. "Rick was asked by Dean Shannon (the founder of Dark Blue Sea, parent company of Fabulous.com) to get members of his private chat board to attend a "Deanfest" that he was throwing in Beverly Hills to announce a new product for Fabulous.com," Neu said. "Rick asked me to help put an agenda together for the board members who were coming and the precursor to T.R.A.F.F.I.C. was born when 40 folks showed up for a lunch just for Rick's Board."

"It was so successful that we were urged to do a "BocaFest" closer to home, so Rick and I went to a number of hotels here in south Florida to see what would work. We both knew that the Delray Beach Marriott was the ideal location and worked to put together an agenda and set up a structure for the conference (that structure would become the World Association of Domain Name

Developers, Inc.). We both put some money in my trust account to fund the project, but never had to draw any out except to cover incorporation expense. To this day, our partnership has been on a handshake. When we decided that we had to come up with a catchy alliterative name for the event, I came up with Targeted Redirects and Financial Fulfillment Internet Conference and voila! – we had T.R.A.F.F.I.C. The rest, as they say is history, wonderfully recorded and covered by DNJournal.com," Neu said.
Schwartz and Neu forged a powerful partnership that has endured despite the two having personalities from completely opposite ends of the spectrum. Schwartz told us, "We are definitely the "Odd Couple! It is funny how we interact together. We never sat down and discussed who would handle what when it came to T.R.A.F.F.I.C. I take care of the things I am strong on and Howard takes care of the things he is strong on. For example, it took me five years to convince myself that I could get on stage and talk to a large group of people without having a panic attack. On the other hand Howard is completely comfortable on stage."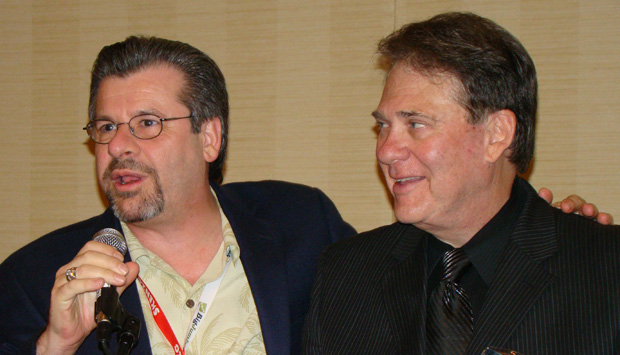 Partners Rick Schwartz and Howard Neu
"We first met on a cruise in 1999," Schwartz recalled. "We hit it off, I needed to have some legal work done and we became fast friends. The relationship developed and by the time T.R.A.F.F.I.C. started in 2004 it was a natural. We have a gift of filling in each other's shortcomings. When he is angry I calm him down and when I am angry he calms me down. We laugh a lot and at the end of the day it's only business," Schwartz said.
"What attracted to me to Howard as an attorney to begin with is many lawyers just are out to scare you," Schwartz said. "Howard does not operate that way. I remember early on I got some cease and desist letter from some company and I called him up and asked him what to do. He said something like...."Ignore it, toss it in the garbage and let me know if you ever hear from them again" At that moment I knew this was a guy I could do business with...Old school. Practical. Down to earth."
"In those early days you needed an attorney to "Ride shotgun." It was like hiring protection. Armed with a good attorney, those trying to STEAL domain names from the weak were put
on their heels when Howard came out with all guns blazing. He secured a number of early and big victories against the likes of Godiva, Lilly Inc. and Register.com. Those victories had others thinking twice before over reaching or trying to take advantage of what I was building," Schwartz said.

"Over the years we have grown very close. He is more a brother than a partner. Of all the things I have accomplished in the domain industry and if it ended tomorrow, my friendship with Howard would have been worth it all. His wife Barbara, son Ray and my wife Alina are all very close. We are family and when you come to T.R.A.F.F.I.C. we embrace you as family too."

"While others want us to go corporate with all the trappings, we just won't fall in line. We would rather do it our way or not at all," Schwartz added.

Howard and son Ray at a time when
Howard was still taller (Ray is 6'6" today).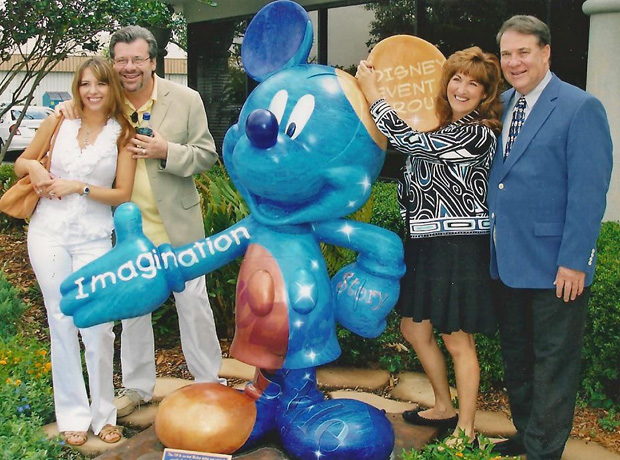 Alina & Rick Schwartz at left with Barbara & Howard Neu
during preparations for T.R.A.F.F.I.C. East 2008 at Disney World in Orlando.
When asked about the special relationship he has with Schwartz, Neu said, "We have been polar opposites though I must say that we are seeing more eye-to-eye now than ever before (primarily because my previous liberal outlook has become more conservative). He is a new-born Republican Conservative while I have been a lifelong somewhat liberal (though more middle of the road) Democrat and that has led to a number of very heated discussions. But right from the start we knew each other's strengths and weaknesses and played off each other and capitalized on each other's strengths."
"My background was as a C.P.A., lawyer and movie, TV, radio and political personality while his was in sales, numbers, knowing the domain industry inside and out and having an uncanny ability to see the future and trends that others could not see. So together we have been able to bounce things off each other and stay creative and more than one step ahead of anyone else in the domain conference industry. For that matter, we believe that before the first T.R.A.F.F.I.C., there was no "domain industry", just a number of individuals doing business with parking companies and affiliates," Neu said.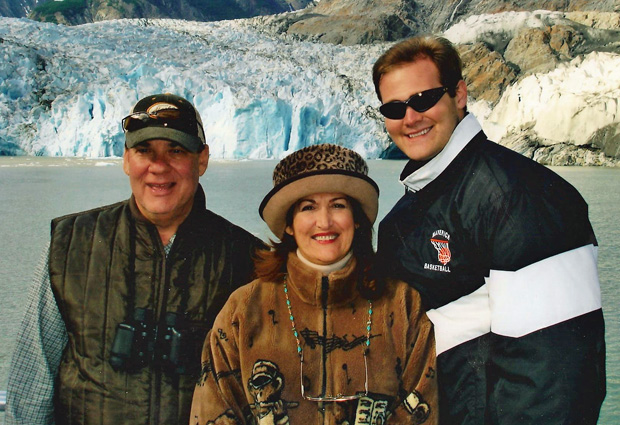 Howard, Barbara and Ray vacationing together in Alaska.
As Schwartz noted above, the domain business has become a family affair for the Neus. Barbara has served as an exceptional hostess at all of the T.R.A.F.F.I.C. conferences. Ray has been helping out at the shows from the start, has grown into a full time domainer and is now also an executive in Rick Latona's organization. It would be fair to say that the Neus are the First Family of Domaining, something that Howard finds very gratifying.
"It's great when a family that domains together, stays together. Ray is a genius when it comes to the domain business and I know that if I ever retire, that business will be in good hands. We couldn't do a T.R.A.F.F.I.C. Conference without Barbara, not only acting as hostess with the mostest, but behind the scenes providing counsel and advice and doing all the secretarial work that is required. We have a wonderful relationship with Rick and Alina, who are not just business partners, but also the closest of friends. Life is good when the whole family is involved in what you do."
Neu actually has seven more family members he hasn't yet coaxed into the domain business, but that could be just a matter of time. "I have three beautiful daughters, Carol Stolarski, Wendy Goldberg and Andrea Neu and four wonderful grandchildren, Brandon and Brian Goldberg and Chad and Alexa Stolarski," Neu said proudly.
In addition to all of the other balls he has in the air, Neu is getting more involved in buying and developing his own portolio of domains. It is hard to spend much time around this business without getting bitten by that bug. "I am working with Danny Pryor who has done some amazing work in developing web sites for my lottery domains including
FloridaLotteryResult.com, and every other state that has a lottery. He is putting them all together in a portal that we are developing that will encompass all lotteries everywhere. He is also working on two other niche groups which I cannot presently disclose."

"I am working with Jeff Beasley on developing my dotMobi domains and my medical domains. I have developed mini-sites with aeiou.com and work with my son Ray in domain businesses in which he has gotten involved," Neu noted.

At the time of this writing, Neu was also preparing for the 15th T.R.A.F.F.I.C conference, to be held at the Santa Clara Mariott in California's Silicon Valley April 27-30, 2009. "T.R.A.F.F.I.C. Silicon Valley is happening at just the right time and in just the right place to bring life-changing ideas and business to the domainers who attend," Neu said.

"New thoughts, New ideas and New solutions to increasing income from

domaining will be brought to the fore and all serious professional domainers need to be there to stay one step ahead in this tight little business of being domain investors and developers that we all love," Neu concluded.