Just over two and a half years after they started the T.R.A.F.F.I.C. domain conference in a Delray Beach, Florida Marriott with a little over 100 registrants on hand, co-founders Rick Schwartz and Howard Neu took their show to Broadway and staged a major hit in the Big Apple. The June 19-22, 2007 meeting at the Grand Hyatt in Manhattan was also a groundbreaking affair for the domain industry as a whole, putting it squarely in the spotlight in the financial and media capital of the world.
In addition to Wall Street investors and analysts, the show attracted mainstream media for the first time with the Associated Press, Forbes Magazine and all of the major New York newspapers sending representatives. The profile of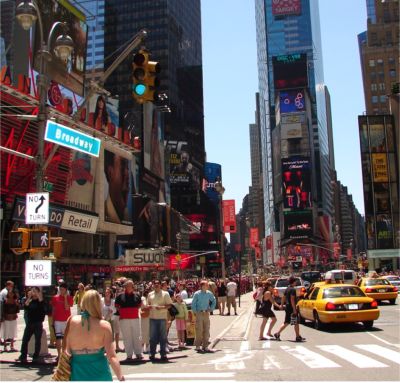 Times Square during T.R.A.F.F.I.C. week in New York
We were actually a bit late for the start of the ball - a 6:30pm cocktail party Tuesday night at the Grand Hyatt. Three busloads of domain owners (including my wife and I) had been 90 miles north of Manhattan since Sunday (June 17) attending the 2007 SedoPro Partners Forum at the stunningly beautiful Mohonk Mountain Resort near New Paltz. The trip back to New York City began at mid-afternoon Tuesday so by the time we reached Manhattan rush hour was in full swing and the streets were completely gridlocked. The 90-mile trip wound up taking three hours but that would turn out to be a blessing in disguise.
Let me explain. T.R.A.F.F.I.C.'s opening night cocktail parties are always high energy events with people making connections and often laying the groundwork for new deals. They are such important networking opportunities that I've always made a point of trying to be there from the start. Typically as the evening progresses the crowd and buzz gradually builds to a crescendo and if you are there for the whole thing it feels like being in the middle of a tide that steadily rises around you. When we arrived in New York the party was already well underway and the electricity tachometer was already past the redline.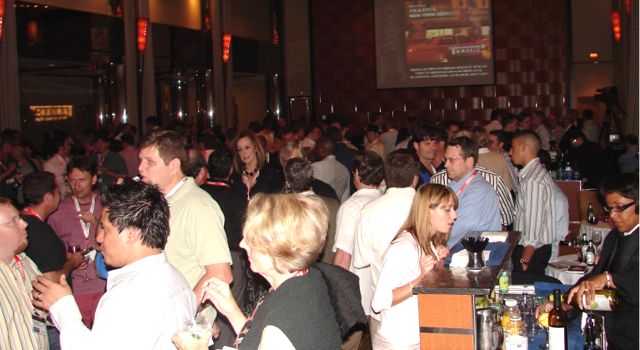 Sea of people at the opening night cocktail party in New York
Walking into that room was like stepping into a tub of water with a 20,000 volt live wire in each hand. There were more new faces than I've ever seen at a domain conference, including well-funded new investors as well as a surprisingly large number of professional women (a group that has traditionally been in short supply in what has been a male-dominated business). This was a very welcome development. The new blood drawn to New York brought fresh ideas and the combination of that element with the expertise of the industry's old hands created a truly unique environment - an environment that I believe will end up yielding major dividends for this industry in the months ahead.
Travelocity founder Terry Jones

Tuesday night was a non-stop express as the cocktail party segued right into to the keynote address from Terry Jones, the founder and former CEO of Travelocity.com. Jones now runs a hot new travel start up at Kayak.com and he shared some great insight on the high value of good domain names and the potential rewards from domain development. Jones started Travelocity as a small department inside the multi-billion dollar Sabre Corporation. He began with an idea and just ten members on his team and wound up growing the enterprise into a $3 billion public company with 1,200 employees and over 35 million members.

Jones was chosen to speak as the first step in a plan by T.R.A.F.F.I.C. organizers to start zeroing in on the most important verticals in the domain space. Travel was the logical place to start since it generates more dollars on the web than any other category of ecommerce and many attendees own solid travel domains. The mission for previous shows has been to make the world aware of the inherent power and value of high quality generic domains in general. That goal has now been largely realized with the domain business now regularly featured in mainstream business magazines and daily newspapers around the globe.

Schwartz and Neu now feel the time is here to shift the focus from the general to the specific and show the importance of domains to every industry that wants to succeed on the web. Unlike many corporate leaders who can't see beyond their brand, Jones understands the head start an enterprise can get from owning a great generic. He said he wanted Travel.com when he started Travelocity but the airline pilot who owned the name refused to sell. He wound up settling for a memorable coined name but said smart marketers should try to get the category killer domain for their business if at all possible.
Jones gave the crowd plenty to think about as they headed off to either sample New York nightlife or get a good night's sleep ahead of the first full day of business Wednesday morning (June 20). Schwartz and Neu kicked that day off with a welcoming address at 9:30am, followed by Moniker.com CEO Monte Cahn's instructions for participating in the live and silent domain auctions (that would go on to break all previous records with $12.3 million in sales - more on that later).
The Internet Commerce Association's Legal Counsel Phil Corwin and the non-profit trade group's new Executive Director Michael Collins then each took a turn at the podium to fill attendees in on ICA developments and encourage domain owners to band together to protect their assets by becoming ICA members. Corwin gave a condensed version of the compelling keynote speech he had delivered at the SedoPro Partners Forum earlier in the week. Since I have already talked about that in our review of the Sedo meeting that was published over the weekend I won't repeat it here. For the T.R.A.F.F.I.C. audience Corwin summed up the ICA mission in a nutshell saying the sole purpose of the organization is to defend and advance the interests of its members. Among other things that requires lobbying for fair laws in Washington, D.C. and fair treatment from the overseer of the domain name system, ICANN.

ICA Executive Director Michael Collins

ICA Legal Counsel Phil Corwin
In the first seminar session Wednesday morning at 10:30, the topic was Beyond PPC with a 6-man panel exploring alternatives to domain parking for monetization. Lead generation, leasing, development and operating a full-blown business built on your domain were among the strategies discussed. The panel had representatives from all of those areas in Joe Alagna (General Manager at CentralNic.com), Jonathan Boswell (CEO of LeaseThis.com), Rick Latona (CEO of Offshoring.com), domain investor Anthony Peppler, Ofer Ronen (CEO of Sendori.com) and Sahar Sarid, co-founder of Recall Media Group). All are on the dais in the photo below along with moderator Howard Neu at the podium.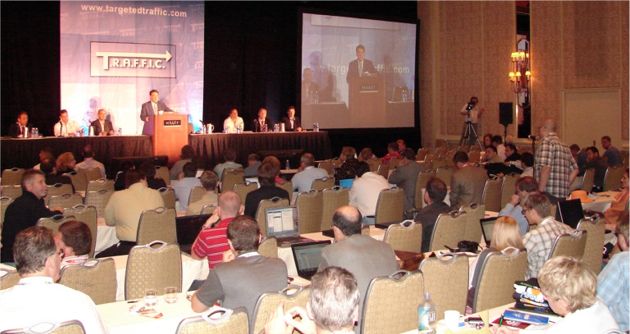 First seminar of T.R.A.F.F.I.C. New York 2007 - Beyond PPC
While there is a lot of talk about development among domain owners today, Sarid, whose company operates full-fledged web businesses like FuneralHomes.com, cautioned that development requires a great deal of effort and often will not work out. When it doesn't you have to be ready to make changes and keeping trying until you find a winning formula. Though no gaurantee of success, development does have the potential of producing great rewards. Latona (whose developed sites are listed at AEIOU.com) said that in his case, a focus on development has been well worth the time and money invested.
After a lunch break hosted by Casale Media, the focus switched to Wall Street's view of domain names in a panel discussion moderated by RBC Capital Markets Managing Director Jordan Rohan. The panel featured private money manager Stuart Rabin of Jacobson Family

Jordan Rohan, Managing Director
RBC Capital Markets

Investments (an early backer of iREIT.com), Miles Arnone of American Capital Strategies and Shawn Colo, co-founder (with Richard Rosenblatt) of Demand Media.

Rohan is the best-known analyst of the domain industry and one of the very first to start paying attention to it. He said he has been amazed to see how many other financial firms have jumped on the bandwagon, noting that he is aware of at least 15 companies that are now devoting major staff resources to following this space.

It's interesting that the domain extension debate that is so common at the domain speculator's level extends to the analyst community at well. While Rabin said .com is where it is at (with some exceptions overseas), Arnone said he thinks using .com will be less important over time as growing recognition around the globe boosts alternatives. Arnone said what is on the site will be more important than the extension.

Stuart Rabin
Jacobson Fam. Investments

Shawn Colo
Demand Media co-founder

Miles Arnone
American Capital Strategies
In the second of four afternoon sessions, Fabulous.com executives Dan Warner and Jackson Hopkins were on hand to talk about the domain aftermarket. Warner, the company's Chief Operations Officer, detailed their new Domain Distribution Network (DDN). In this program, hundreds of thousands of aftermarket domains are being made available for instantaneous sale through well-known registrars like GoDaddy.com. If domain owners are using a registrar that is part of the DDN they can post their domains for sale through their registrar's interface and they will become visible on the registrar's site when customers search for a related domain name.
Fabulous COO Dan Warner
gets a grip on the aftermarket

Domains must be priced between $350 and $5,000, which Warner said is the range that makes up the bulk of the secondary market. If a customer wants the domain they can put it in their shopping cart, pay for it and have it immediately transferred to their account with that registrar.

Warner believes that increasing visibility of names available on the aftermarket in this way, eliminating the wait and offering reasonable set prices will lead to a huge jump in aftermarket transactions. If you have Powerpoint, you can get his entire T.R.A.F.F.I.C. presentation here.

We have been planning to cover the DDN in more detail in a separate article. We originally planned to do separate pieces on DDN and NameMedia's aftermarket solution DLS (Domain Listing Service) that also incorporates registrar partners. However, given these and other major changes in the secondary market we are now planning on expanding this topic into a Cover Story next month. Moniker, who pioneered the booming live auction

format, and Sedo who just bought GreatDomains.com and has a highly successful traditional auction business, will also be included in this upcoming overview of where the aftermarket is now, where it is headed and what it will mean for you. We already know the good news - business is up everywhere and with so many new initiatives underway it is very likely to get even better for domain owners.
The third afternoon seminar centered on Domain Name Investing and featured panelists Tim Schumacher (CEO and co-founder of Sedo.com), Ari Bayme (VP of Milbank Roy & Co.) and attorney Steve Sturgeon who is putting together joint ventures to develop high quality domains. Schumacher delivered the presentation on investment opportunities that he first gave to a smaller group Tuesday at the SedoPro Partners Forum. We covered his advice in our review of the Sedo meeting.
| | | |
| --- | --- | --- |
| | | |
| Sedo CEO Tim Schumacher | Steve Sturgeon, Esq. | Milbank Roy's Ari Bayme |
Sturgeon talked about his efforts to bring domain owners and development experts together in limited partnerships designed to build out top quality domains and unlock the full value in those names.
Bayme presented his always balanced view of the potential risks and rewards of investing in domains. He also urged domain owners to spend more time explaining the value proposition in good names to new investors who are unfamiliar with the space. He said most major investors are looking for opportunities that can provide a 25-35% annual return on the capital they put at risk. If you can show them that you hold domain assets capable of doing that (either through monetization or resale at a higher price) they will invest in domains.
In the final seminar session Wednesday, the relationship (or more accurately, the lack of a relationship) between domain owners and Madison Avenue was discussed by a panel that included Jackie Stone (EVP of Digitas responsible for American Express advertising), Deborah Brown (Peppercorn Director/Partner responsible for Tyco and Whirlpool brands among others), Eric Rice (president of Domains for Media) and Mike O'Connor (Haven.com).

For a long time now, domain owners have been frustrated by the corporate advertising community's lack of appreciation for the value of premium generic domain names as they focus

Faces in the crowd at the Wed. afternoon seminars

solely on brands. Unfortunately, that frustration will continue after this seminar. Listening to those who understand domains (Rice and O'Connor) trying to communicate with ad agency reps is like listening to someone who only speaks English trying to carry on a conversation with someone who only speaks Swahili. Having seen several of these Madison Avenue discussions over the past year it may be time for domain owners to forget about it and move on.

Eric Rice
President, Domains for Media

No matter how well Rice explained the importance of owning the channel (by holding the category killing domain name) or how much better type-in traffic converts than the search engine traffic purchased by the ad agencies - it went in one ear and out the other. Stone said few companies or agencies would pay a lot of money for a domain name (Brown, who is a PR specialist rather than ad agency executive did understand the value of domains). At every session I've attended on this topic the tune sung by the ad agency side is that it is up to domain owners to educate them on why they should buy domains.

After listening to still another session with the same message my gut reaction, to put it bluntly, is that no, it is not the domain owner's responsibility to save these people's skins. If they can't be bothered to do the research themselves when the way media is used by their target audience is changing at a clip that may render them irrelevant overnight, then so be it. The track record showing what great domains

do for a business in generating leads and sales is out there, along with the statistics showing that direct navigation traffic converts twice as well as search engine traffic. If they want to keep their eyes closed and hope the new world just goes away no one can make them look.

It would be one thing if domain owners needed the money and were desperate to sell their assets - then by all means, spend your time trying to convince them why they should buy - but those who hold great generic domains own personal cash machines that never go empty and thus have no motivation to let them go. That being the case, I think the domain community's time can be spent more productively elsewhere.

| | |
| --- | --- |
| | |
| Digitas EVP Jackie Stone | Mike O'Connor - Haven.com |
| | |

While the final seminar may have ended on a frustrating note, the mood quickly lightened at the LeaseThis.com cocktail party that followed. Then it was on to a gourmet dinner sponsored by the overall show sponsor TrafficZ.com. After that, TrafficZ shuttled everyone to their official T.R.A.F.F.I.C. Party at the Hawaiian Tropic Zone night club in Times Square. T.R.A.F.F.I.C. has a history of great parties and this was certainly one of the best. This part of the story can best be told in pictures!
At right:

TrafficZ co-founders Ammar Kubba (left) and Kevin Vo welcomed their guests to the Hawaiian Tropic Zone. These gentlemen have been innovators in the domain monetization space since the day they began and they continue to push the envelope today.

Below: View of of the crowd from the second level of the club - a great place to get away for a quiet conversation or take a break from hubbub on the ground floor.
Ron Sheridan (DomainSponsor.com) with T.R.A.F.F.I.C. co-founder Rick Schwartz

BuyDomains.com co-founder and current Washington Venture Capital owner Michael
Mann (left) with attorney Ari Goldberger.
Left to right: Patrick Carleton (Executive Director of Associated Cities),
Natalie Castello and David Castello (Castello Cities Internet Network)
and Sahar Sarid (Recall Media Group)
Alexander Schubert (CyberInvest) and
Freddy Schiwek of EuroDNS (right)

David Chiswell (Rebel.com/Pool.com)
and Rob Hall (right) of parent company
Momentous Corp. of Canada
Above: Ammar Kubba helps judge a Miss TrafficZ Pageant

T.J. Demas and William Gormally (right) enjoy their vantage point on the second floor
There is still a day to go at T.R.A.F.F.I.C. and we don't want you to completely forget about business so we'll break from the party here. You can find more photos from the TrafficZ party and other T.R.A.F.F.I.C. events in the Photo Gallery at the end of this article. But first, be sure to continue on to Page 2 to see what happened at T.R.A.F.F.I.C. Thursday, including that record-breaking Moniker Live Auction that saw over $10 million worth of domains change hands.
Coming up on Page 2

Final Day at T.R.A.F.F.I.C.

Scenes from the Exhibit Hall

Four Great Seminars

$10 Million Auction!

Farewell Dinner