If the name reminds you of real estate's MLS (Multiple Listing Service), that is exactly what it is supposed to do. NameMedia President Jeff Bennett told us "Domain names—digital real estate—need the equivalent of the Multiple Listing Service (MLS) to create a transparent, efficient market between buyers and sellers. A marketplace where consumers can see in one place the broadest inventory of what's for sale and make an informed choice with excellent customer service. That's why we have launched the DLS (Domain Listing Service), the first and largest distribution platform for domain names in the secondary market—bringing the same benefits of MLS to the domain marketplace."
Jeff Bennett
NameMedia President

"The key to this platform is expanding demand beyond today's marketplaces like BuyDomains.com and Afternic.com by bringing secondary market inventory to wherever a consumer or business is looking for a domain name, most often registrars," Bennett said. "Over the last eighteen months, we have signed partnerships so that our DLS inventory now appears in more than 60 sales channels around the world, including 8 of the world's top 10 registrars."

"In addition, we have built extensive marketing programs to drive awareness and demand, including email newsletters, online advertising, search engine marketing, inventory alerts along with many other tools. And we have been investing in technology so that we can offer benefits like Instant Transfer Protocol and, soon, expanded auctions. Most important, we have results: our DLS has now sold domains to customers in more than 115 countries."
Bennett added, "The bottom line is that with AfternicDLS there is finally a marketplace where domain owners can access the industry's broadest distribution, the largest sales force and the most extensive marketing programs to increase their chance of selling their domain for the highest price. Just like MLS gives homeowners confidence that their home will have maximum exposure to potential buyers, AfternicDLS now does the same for domain owners."
Of course, the natural question for domain owners is how can they get their names plugged into the AfternicDLS system for maximum exposure. Senior VP Peter Lamson, the General Manager of NameMedia's Domain Marketplace addressed that topic. "AfternicDLS's industry leading sales velocity and sales prices are available to all Afternic members. Afternic members wishing to sell domains have a choice between two levels of promotion; the traditional Afternic Marketplace (unchanged since NameMedia acquired Afternic in November 2006) and our AfternicDLS Expanded Promotion option for sellers wishing to maximize sales velocity and pricing."

For domains sold via traditional Afternic Marketplace promotion, sellers pay a 10% commission. NameMedia introduced a new choice in March when they launched AfternicDLS Expanded Promotion to provide domain sellers with broader access to small and medium sized business (SMB) buyers worldwide.

Peter Lamson
NameMedia VP & Marketplace GM
Lamson told us "The benefits of the Expanded Promotion include:
3rd Party Distribution Network: NameMedia now has more than 60 marketing partners who are promoting AfternicDLS names. This includes 8 of the top 10 Registrars in the world. 2007 announced partnerships include Melbourne IT, Tucows, HiChina, Xin Net, LeaseThis, China Springboard and dnZoom. There are many more to come.
Professional Sales Representation: NameMedia's 17 Sales Executives assist buyers with a consultative sales approach to domain procurement. Our marketplace is staffed 7 days per week, with near 24 hour coverage.
AfternicDLS Marketing: Our marketing staff drives sales performance through targeted outbound marketing and advertising placements. Approximately 300,000 monthly targeted direct emails are delivered to domain buyers in our proprietary database through newsletters, alerts, and inquiry follow up initiatives. Our marketplace also invests monthly in leading search engines (Google, Yahoo and others) and advertising placements include the DN Journal, Entrepreneur, Inc., The Wall Street Journal Online and many others.
Increased Product Conversion Rates. Our objective is to have every buyer who visits Afternic or BuyDomains leave having purchased the perfect domain to fit their needs. This drives continual focus and enhancements to our user interface, search algorithms, support tools, and marketing communications.
Access to the latest technology. With Instant Transfer Protocol, buyers can have "instant ownership" of their purchases, similar to other ecommerce activities.
Sellers pay a 20% share of the revenue for domains sold via the AfternicDLS Expanded Promotion service."
As we will talk about in other sections of this article, Fabulous, Sedo and Moniker are also taking new tacks in the secondary market. The Fabulous Domain Distribution Network is the one most often compared to NameMedia's AfternicDLS. We asked Lamson what he saw as the key differences between the two systems which sometimes appear side by side at the same registrar.
"One of the most significant differences is that we tend to focus on customer service, execution and results rather than speeches or market theories," Lamson said. "Specifically, some key differentiation points between AfternicDLS and what Fabulous has talked about include:
Results: Q2 NameMedia Domain Sales of over $12 million versus less than $1 million for Fabulous.



Platform: NameMedia's reseller network exceeds 60 global marketing partners, including 8 of the 10 largest registrars in the world. No other provider has this kind of reach.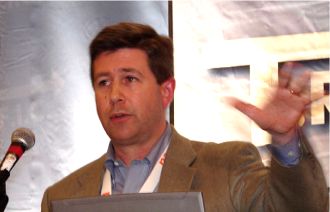 Lamson speaking at the Silicon Valley
T.R.A.F.F.I.C. conference in 2006
Demand Creation: Rather than passively waiting for buyers to find a seller's domain name, AfternicDLS members benefit from promotion on major search engines and leading SMB sites, as well as AfternicDLS comprehensive market programs that include monthly themed promotions and direct email marketing. No other provider is doing this demand creation.
Yield: Sellers are able to list their domains on AfternicDLS for as much – or as little – as they choose. For example, in the past month, sellers have successful sold domains for as high as $300,000 and $75,000, and as little as $10. No other provider has our years of experience in domain selling.
Marketing: Seller support services, including Telephone, Email and Instant Chat Sales Support, Personalized Appraisals, Domain Alerts, Home Page Promotion Upgrades, Secure Escrow Services and industry leading parking through ActiveAudience. No other provider offers this range of marketing tools.
"The bottom line: for domain owners looking for the broadest distribution, the most comprehensive marketing and sales support, and the highest value for their name, there is no offering that comes close to our DLS service," Lamson said, adding "As Dan Warner of Fabulous said in January of this year "BuyDomains and Afternic are unequivocally today's leader in domain name agency sales. In particular, their personal involvement with customers add real value to the transactions and provide superior sale service."
Lamson said AfternicDLS sells more than 3,000 domains a month and has signed up more than 100,000 members. "The second quarter of 2007 set new records across the board for the company and July will be the best month in the company's history," Lamson said.
| | |
| --- | --- |
| In recent years, domain monetization discussions have centered on PPC programs, even though in most cases, the vast majority of domains in a given portfolio are not strong revenue generators via PPC. Many domain owners have been reluctant to sell, even though the sales channel is the only way to earn a return on investment for those names. With the ongoing expansion of the aftermarket we asked Jeff Bennett if he felt that domain owners should be giving the sales channel the same consideration they give PPC monetization. | |
"NameMedia's view on domain portfolio investing is to maximize total investment return by implementing a balanced investment strategy utilizing a blend of monetization options," Bennett said. "Certain domains are best suited for PPC or Content Development, while others are best suited to take advantage of the spread between a wholesale market (savvy domain investors who buy in volume) and a retail market (individuals and consumers looking for a particular name)."
"VeriSign recently reported that total .com and .net registrations now exceed 69 million, and 24% of these names are "parked" which one could interpret as being held by investors for development or resale. Since the the majority of these names presumably receive little to no traffic, it makes sense to have a balanced "build and sell" approach to portfolio management. Sellers may wish to protect the "head" of their portfolio, while targeting the "long tail" for divestiture," Bennett said.
"To execute against this strategy, the first thing a domain seller needs to do is set a clear sales objective. How quickly are they looking to complete their sale? What ROI and sales price are they hoping to achieve?"
Bennett added "Answers to these initial questions should serve as the basis for a portfolio owner's sales strategy. Selling quickly may come at the expense of a lower negotiated price. Holding out for maximum value may require a prolonged sales process. We advise most domain owners to look for a sales solution that offers the greatest end user reach and personal assistance. Promoting a domain portfolio to large "end user" buyers is the most effective method to sell low trafficked names, as SMB's will be purchasing on brand potential rather than a name's organic traffic," Bennett concluded.
Kelly Conlin
NameMedia Chairman and CEO

The domain aftermarket has enjoyed a great ride in recent years. Things have been so strong lately that there is now talk about a top, or even another bubble, in domain valuations. We went to NameMedia Chairman and CEO Kelly Conlin to find out how he thought things would play out over the next year or two.

"Internet business fundamentals are far different than the conditions that existed during the tech bubble in the late 1990's," Conlin said. "Business models are matured and are generating real profits and consumers have adopted the Internet as a means of communication and commerce that is unparalleled in human history."

"The global business community continues to migrate from traditional to online media as its preferred method of communication with current and prospective customers. Newspapers and Yellow Pages are facing challenges to the business models they have enjoyed for a century," Conlin noted.
"Our management team has extensive experience launching and operating businesses abroad. We see growth coming from many places around world as online migration is not limited to the United States. Korea is now the most connected country in the world. China is a giant in the making. Our recent announcements in the Aftermarket demonstrate our ability to expand across the global markets."
Conlin added "A central requirement of every business expanding their online footprint, or moving online for the first time is the need for a compelling domain name. Companies already online need additional domains to support new marketing initiatives and product launches. SMB's need domain names to create their online identity."
"While ups and downs are inevitable in any market, the long term outlook for the Aftermarket is extremely bright," Conlin concluded.