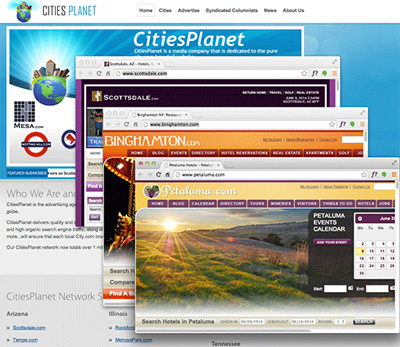 Mercaldo told us, "We not only have immediate goals, we have a long term game plan and an exit strategy. The latter involves selling our national/international network of pure City.com brands, along with highly developed quality generic brands, to a major media company. A company that desires the footprint of quality traffic we bring to the table, along with the highly desirous loyalty that pure City.com brands possess." Mercaldo added, "Think about a City.com for a moment - so much history and branding has already been done; combined
with the pride of living in a City, and the name recognition - simply add the .com and you have a brand that has a huge head start over any other competing site."
Mercaldo said his original exit strategy was to target traditional major media operators - the Hearsts, Gannetts and Rupert Murdoch's of the world, however in recent years that has changed. "In the past four years we've seen the birth of so many "new media" corporations that one of these newly formed entities may ultimately become our partner/owner," Mercaldo said, noting "Many of them are well financed and staffed with experienced and successful executives from other major industries, allowing them to take full advantage of the way the world operates and gets its news. Daily papers will soon be gone, and I am very impressed with the many visionaries that are entering the "new media" and digital space."
Mercaldo added "I also believe our endeavor is a major milestone and tipping point for the geo domain industry. If we can establish and succeed at our game plan, values will be validated, solidified, and even greatly enhanced by the cash flow. This is an important project that must succeed."
Toward that end Mercaldo and his partners are entering a third round of funding (one they expect to be the final round) and they are doing it in a thoroughly modern way, having engaged business crowd funding firm Fundable.com to help CitiesPlanet reach its goal of raising $500,000 in exchange for 25% equity in the company (Mercaldo said $150,000 of that has

already been committed). Fundable has helped businesses raise over $100,000,000 in the past 12-18 months and they have a database of 22,000 accredited investors who look at their deals. You can go to https://www.fundable.com/CitiesPlanet to see the CitiesPlanet profile and Business Plan (in order to view the entire Business Plan, you must first register as an accredited investor, a process that typically takes just a couple of minutes).
Mercaldo said, "The crowd funding world is growing up and Fundable's sweet spot is companies that have been around for a couple years, have clients, traction and revenue, and have a worth between $2 million to $10 million. The minimum investment is $20,000, so this is not your typical $25 Kickstarter deal, but it is Kickstarter on steroids, with and money in exchange for actual equity."
| | |
| --- | --- |
| | Mercaldo believes CitiesPlanet is one of the better deals on Fundable, pointing out that Tallwave appraised the company at $3.1 million last year. Mercaldo said, "We are making this offering available at a valuation of $2 million in order to close it out as quickly as possible so we can proceed and execute our game plan. These funds will allow us to finish and launch our new City.com platform, convert all existing sites, launch a generic platform for the many sites waiting to utilize CitiesPlanet, and hire the proper marketing team." |
Mercaldo himself is all in. "It has taken four years and well over a million dollars to get this far and I have personally not drawn a penny in compensation. We also have well over $600,000 of our own funds in the project. I am confidant that between all of the Fundable.com investors, combined with my inner circle, we will get this done and we look forward to making the CitiesPlanet network one of the most profitable, relevant, highly trafficked, and successful aggregation of geo domain and high quality generics in the world"