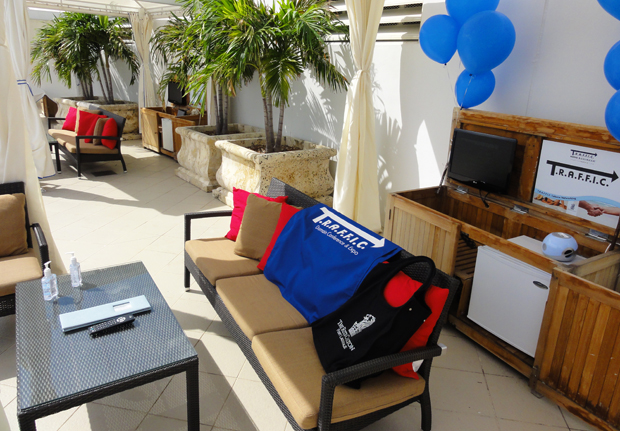 An inside view of one of the T.R.A.F.F.I.C. cabanas. The companies
that rented them will add some of their own personal decorating touches
as they get ready for their guests to join them Saturday and Sunday.
By lunch time today, T.R.A.F.F.I.C.'s Barbara Neu, Ray Neu and Kimberly Ann had set up the poolside registration desk where they will be signing attendees in this weekend. Some of the early arrivers joined them for the photo below.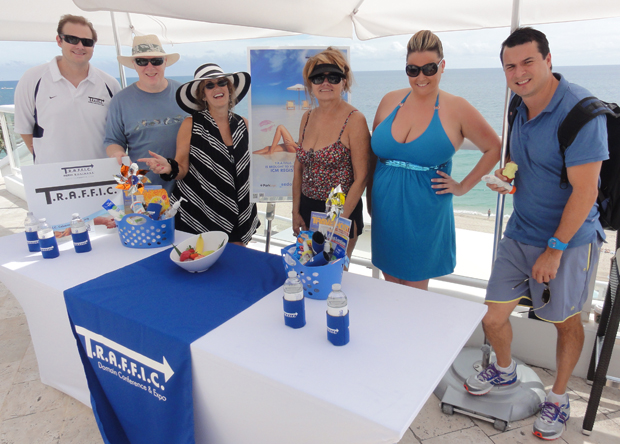 Behind the outdoor T.R.A.F.F.I.C. registration desk today (left to right) are
Ray Neu, Steve Cheatham, Barbara Neu, Diana Jackson, Kimberly Ann and Eric Rice.
I'll have another post from Fort Lauderdale Beach for you on Sunday before the show starts to give you a look at some of the preshow networking that will fill most of the next 48 hours. I will also have posts from the Ritz Monday through Wednesday to provide you with daily photos and highlights from the show. For those who are coming in I look forward to seeing you. For those who can't make it, I wish you were here but since you can't be, I'll try to make this column the next best thing to being there as the show unfolds.