Just got an update on the item below from Associated Cities Executive Director Patrick Carleton who was at the NTIA/ICANN review meeting today in Washington, D.C. Patrick said that Phil Corwin and veteran domain investor Nat Cohen both had an opportunity to speak from the audience during the 3.5 hour meeting and that both made very good points that were well received from the panelists. More background on today's session can be found on the NTIA website.
Internet Commerce Association Legal Counsel Phil Corwin is at the U.S. Department of Commerce auditorium today along with several individual domain investors to sit in on an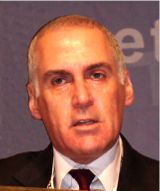 Phil Corwin
ICA Legal Counsel

important National Telecommunications and Information Administration (NTIA) mid-term review of the government's Joint Project Agreement (JPA) between the Department and ICANN. ICANN has expressed a desire to be released from U.S. Government oversight so it can operate as an independent international organization. Corwin submitted a letter to the NTIA in advance of the meeting detailing why members of the professional domain investment and development community represented by the ICA do not support termination of U.S. oversight over ICANN at this point in time.
Corwin is also in the process of drafting a response to the proposed Anti-Phishing bill that was introduced by three U.S. Senators earlier this week (see our Feb. 26 post). While we all support anti-
phishing measures that bill as currently written contains overly broad language that could be used to target honest domain owners as well as those who mis-use domain names to perpetrate fraud. It is just this kind of legislation that we have been warning about for over a year now.
There are parties searching for a way to change laws so they can more easily take domain assets they have no right to away from their current owners. The easiest way to do that is to get language favoring their agenda slipped into an otherwise well-intentioned bill like this that would normally sail through the legislative process with little scrutiny. The dangerous language gets inserted in such a bill through lobbying efforts by people who want to remove current barriers that keep them from grabbing domains they are not entitled to. Combating this sort of legislative sleight of hand is exactly why the Internet Commerce Association was formed and why we think it is critical for domain owners to support the organization. Your very livelihood could be at stake in the legal battles over your assets that are just now getting underway.
(Posted Feb. 28, 2008)