Booking the Week's #1 Domain Sale Should Have the Former Owner of ILL.com Feeling a Lot Better!
Nobody likes to be sick but everyone loves a 3-letter domain name, especially one that is also a dictionary word! That was shown again this week when Sedo Senior Broker Dave Evanson closed a $70,000 deal for ILL.com, giving Dave his latest stay at the top of our weekly all extension Top 20 Sales Chart. The domain was being used by a California cycling club and was still resolving to their site at press time even though the transfer of the domain has been completed. The identity of the new owner is under WhoIs Privacy so it remains to be seen how they will use the domain. There are obviously a lot of great potential uses for it in the medical field but, as with any 3-letter domain, it could also be used as an acronym by a variety of companies and organizations.
Sedo pretty much had the show to themselves this week, sweeping 18 of the 20 chart entries, including the entire top half of the elite list. They filled the #2 slot with NVDR.com at $40,000 and #3 with the week's biggest ccTLD sale, Appiscreen.fr (French for "iScreen App) at $31,122. That was one of six country code domains to crash the Big Board. The non .com gTLDs also got into the act, though it was a single entry, Sedo's $19,000 sale of a new gTLD - #4 Go.holdings. The .coms claimed everything else, taking 13 of 20 entries overall.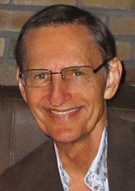 By Ron Jackson
Two different sellers used Afternic to close the two charted sales that did not go to Sedo - and both of those were ccTLDs. MagnumDomains.com moved #11 HOD.co for $10,000 with that domain already being put to good use as the new home of a company called Home Owners Direct. Mark Levine's DomainTheory.com cashed in with another country code sale, #15 Entrust.io at $6,850.
One other interesting bit of sales news to share with you before we go to this week's chart. A few days ago I published an article in our Lowdown section about a Guta.com sales report that provided some insight into activity at the high end of the domain market that goes unseen because most sales in that range are subject to NDAs. Sales of 2-letter .coms were a primary example of that. Along those same lines I've learned (and seen documentation proving) that MavenDomains.com has brokered a $2.2 million dollar sale of another very nice 2-letter .com. As with those in the Guta report the name is subject to a non disclosure agreement, but I think it is important to periodically remind readers that the publicly reports sales we are able to compile each week are just a fraction of what is happening in the aftermarket, especially at the high end were NDAs are especially commonplace.
Now, let's take a look at how the sales leaders stacked for the week ending Sunday, January 13, 2019:
HealthInsurance Services, Inc
eHealthInsurance Services, Inc
eHealthInsurance Services, Inc
The DN Journal Top 20
Highest Reported Domain Sales - Mon. Jan. 7, 2019 - Sun. Jan. 13, 2019
(Foreign currency to U.S. Dollar Conversions Based on Rates in Effect Jan. 16, 2019)

Domain

Sold For

Where Sold
1.
ILL.com
$70,000
Sedo
2.
NDVR.com
$40,000
Sedo
3.
Appiscreen.fr
("iScreen App" in French)
€27,300 = $31,122
Sedo
4.
Go.holdings