Major industry events, like the 2022 NamesCon Global conference in Austin, Texas, have always featured evening social events that give companies an opportunity to connect with loyal customers and thank them for support. For new companies looking to make a big splash, these shows that bring domain pros from around the world together in one place also provide an ideal location to stage a launch.
A new company called Giant Panda (GP) took full advantage of that opportunity in Austin where attendees were eager to learn what this new service would be bringing to the table. The curiosity level was especially high because GP's CEO and majority owner is serial entrepreneur Rick Latona, an industry veteran who has been successfully tilling the domain fields for over 20 years now. However, the thing that really pegged the needle on the curiosity meter was hearing that Giant Panda is a domain monetization company.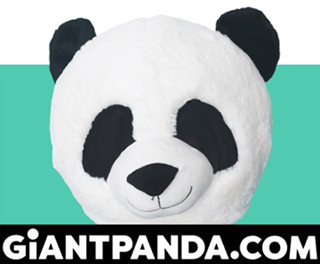 Giant Panda leaders (left to right): CRO Paul Dinin, CTO Ryan Steel and CEO Rick Latona
at the Giant Panda Launch Party during NamesCon Global in Austin, Texas Sept. 1, 2022.
My first thought was "wait a minute, a new parking company is entering the business after around 20 others have disappeared since the mid 2000s pinnacle of PPC?" That turned out to be NO, not a new parking company. While domain monetization and parking are often thought of as the same thing, Giant Panda is a different animal - a middleware service provider that performs what appears to be keyword optimization magic for domain portfolio owners before their traffic is delivered to one of Giant Panda's two parking company partners, Smartname or Parking Crew. Latona said GP's clients have seen a big enough uptick in earnings to cover GP's 15% of revenue fee and still walk away with considerably higher payouts than they had before.
Since the Giant Panda crew was busy entertaining their guests at NamesCon Global, we agreed to get on a call after the conference so I could get an inside look at what GP has conjured up. Rather than magic it turned out to be data driven science and along with the biggest differentiator of all - human interaction, a combination that is producing the kind of results Latona and team members have been working on for nearly eight years now. At a time when it was common practice for domain owners to continually move their portfolios from one provider to another in search of higher returns, Latona said he had an epiphany. What if you could achieve the same goal by changing the PPC keywords rather changing providers? The result is what you see today at GiantPanda.com. Notice I did not say the end result, because Latona said the GP team continues to work every day to improve the product in search of the perfect landing page - an animal akin to a unicorn in that no one has seen one yet.

I got my first close up look at the system when I joined Rick and Chief Revenue Officer Paul Dinin on a video call a couple of weeks after NamesCon. As most of their system is proprietary work they want

Giant Panda CEO Rick Latona

to protect, I agreed not to take screenshots as they guided me through the presentation, nor identify client names (though I can tell you that even before their big reveal at NamesCon GP had already been working with a number of major investors whose names would be immediately recognizable to anyone who has been in this business for any length of time).
My first impression in seeing the data filled screens was that they looked like something you might expect to see in a space launch at NASA. No bit of information about the domain's traffic and results from keyword changes that had been made was missing. The primary goal at GP is to discover the real intent of the visitor. While Latona allowed that Google's automated process for doing that is good, there was room for improvement that only human interaction could provide. A word can have many different meanings depending on the context in which it used. For example, GP was given a one-word domain with "Benefit" as the word. Google automatically provided links to employee benefit services. However GP research discovered more visitors were looking for consumer benefits, especially discounted residential internet services and financial help. So they changed the keywords for the lander and saw a huge jump in revenue for that domain. Rick and Paul showed we many more of these startling "before and after" revenue boosting cases for specific keyword domains.
| | |
| --- | --- |
| Image from Bigstock | Of course, the need for human evaluation to make their system work makes one wonder about the scalability of the GP model, especially for a company that is determined to serve clients worldwide. To tackle that problem, Giant Panda, who has teams of optimizers in countries around the globe, has put an emphasis on hiring people who have mastery of languages beyond English in order to spot critical nuances in what words mean in local markets around the world. GP now covers French, German, Spanish, Japanese, Korean, Mandarin, Hebrew and many more. In fact, Latona said today the company rarely adds anyone unless they are fluent in a language they do not already have covered. This has also allowed the company to identify and effectively monetize foreign language traffic to domains. Once these unique traits of keywords are identified they become part of the GP record and can be used again. |
CRO Paul Dinin noted that Giant Panda has also benefited from having a very low attrition rate in their global workforce. He said the jobs GP needed to have done were positions that didn't even exist before Giant Panda pinpointed their need for them. Since the task of optimizing a domain is much like solving one puzzle after another, Dinin said GP looked for people who were adept at solving problems. Those hired went through a six-month training program and are paid very well to protect Giant Panda's investment in them.
All of those bodies are needed because Latona said GP typically reviews thousands of the their highest value client assets at least once a month to check performance and see if data they have collected over the previous 30 days revealed further keyword tweaks they could make to insure the best results possible. One reason that is so important is that a lot of intent changes with the season. For example, in the floral category the specific variety of flowers being looked for changes for different holidays and events over the course of the year. Latona refers to this never ending hunt for intent at an exact point in time as an obsession with "using every part of the animal" to boost income.

Anyone who has domains with organic traffic can apply for a Giant Panda account (GP does not do arbitration). Keep in mind that GP can't create traffic that isn't there but the company is confident they

can improve the results for domains that draw visitors. For those wondering about selling domains handled by Giant Panda, yes, your landers can display For Sale notices and no commission is charged if you sell a name.