for the first time is over two-and-a-half-years (due to the Covid pandemic), the joyous mood at this year's show made it feel like we have finally gotten an irreplaceable part of our lives back.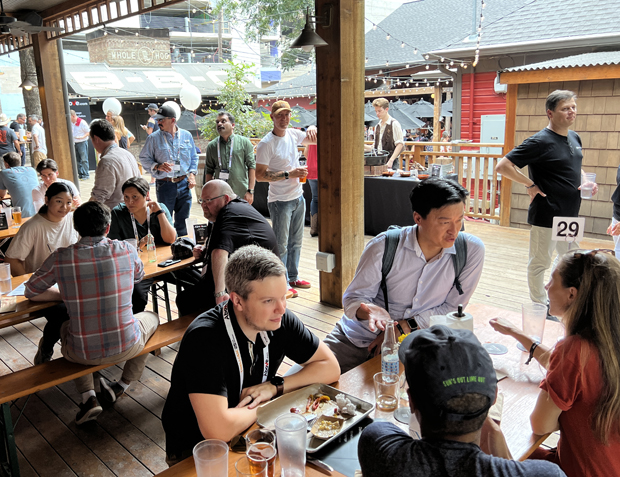 Above: The Fun Day was a great way to wrap up the week. No business - just hanging out, having a good time with old friends and making new ones. The latter is an easy thing to do in this business because everyone is welcome and we all feel a special kinship with those who share our love for domains (and understand how difficult it can be to explain that passion to people who are not in this business).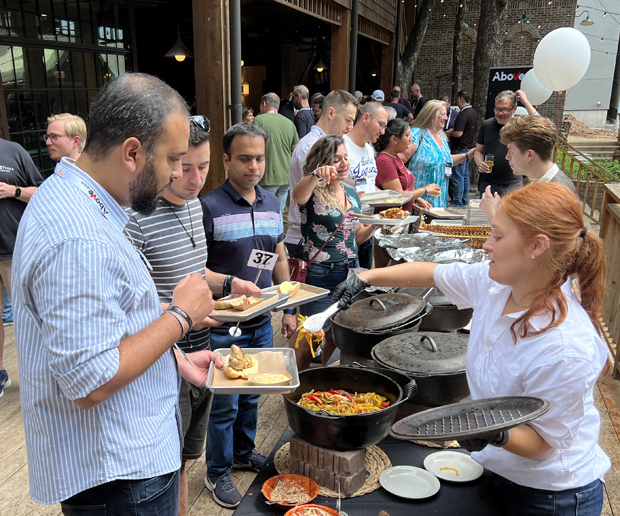 Above and Below: Banger's, an Austin institution, was the perfect place to celebrate domain world camaraderie with their tasty homemade sausages and vast array of craft beers.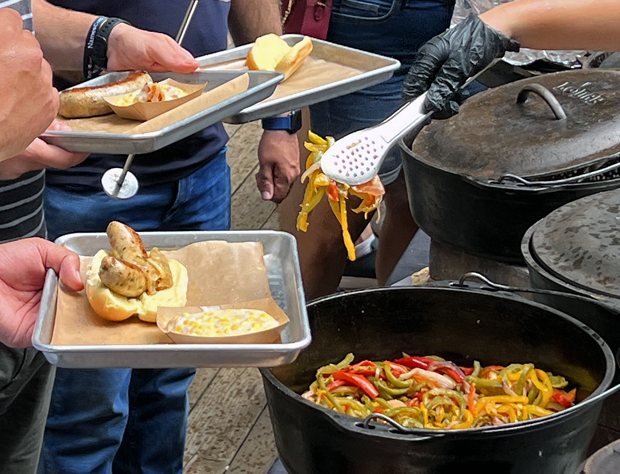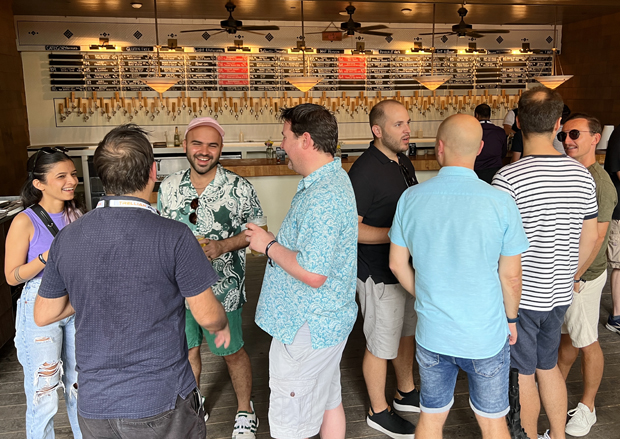 Above: One of the most popular gathering spots at Banger's was in front of the rows of taps that deliver 132 different varieties of beer, hard cider and other specialty beverages!
Below: No matter what time of day you dropped by (Fun Day ran from 10am to 5pm Saturday) you were sure to see both new faces and familiar ones in the crowd. We were happy to meet April Hawthorne (at left) for the first time and grateful for a chance to see Maxam and Abigail Magnata (center and right) again for the first time in years. The thing about long time friends in our field is that, no matter how much time has past, you can just pick right back up where you left off as if no time had passed at all.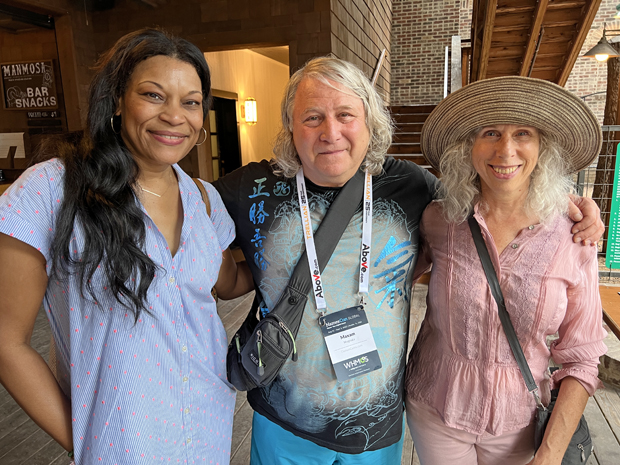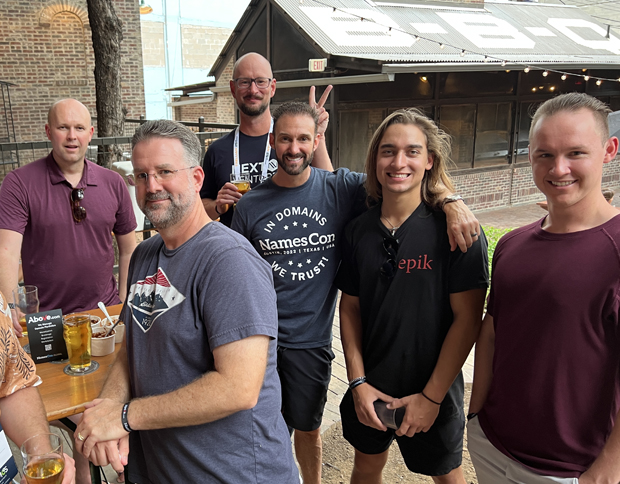 Above: In this group you see a guy who stands out in any crowd, Braden Pollock (at center in the NamesCon shirt). The personable and witty Californian (I had to admonish him for being funnier than me) is one of the industry's most familiar faces after years of success as a domain investor and countless appearances on conference stages as a popular speaker and skilled moderator. In the latter role there was never a dull moment in Braden's sessions at NamesCon Global 2022 - and I can say they same thing for every conversation I've had with him over the years.
Below: Speaking of successful investors and fun people to see, it was good to connect again with Texas's own Francine Callahan (left), top notch broker Jeff Garbutt from PrimeLoyalty.com (center) and, of course, spend another day with my wife, Diana Jackson (right - well, she is always right, so what did you expect!), who has spent the past 20 years enjoying the journey with fellow domain travelers every bit as much as I have.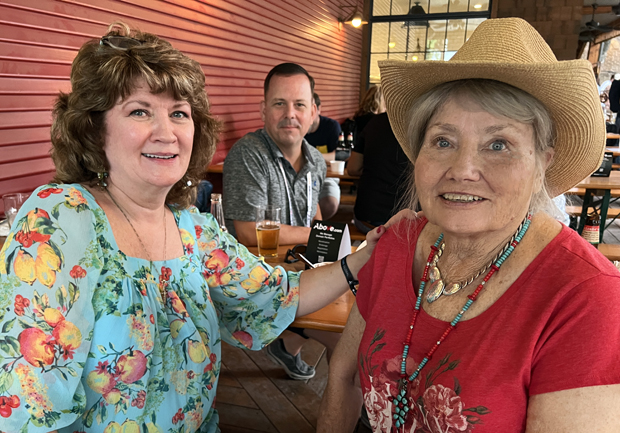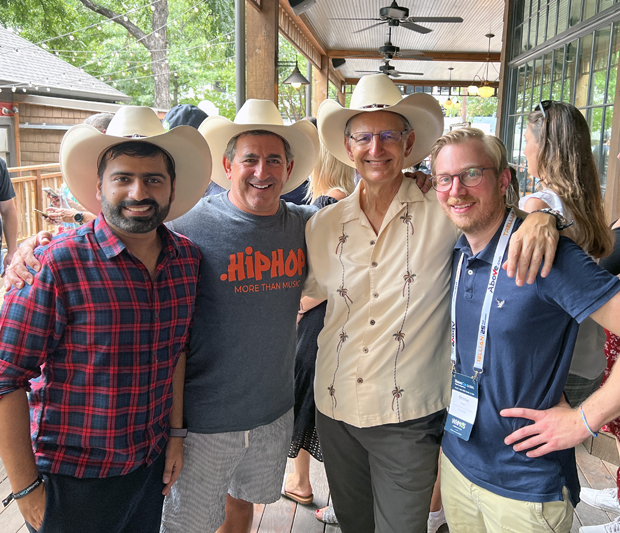 Above: (L to R) Aishwin Vikhona, Monte Cahn (RightOfTheDot.com), Ron Jackson (DNJournal.com) and NamesCon CEO Christian Jaeger.
I continue to be amazed how our business - one that spans the entire globe and sits at the very center of the Internet infrastructure that allows anyone to instantly communicate with others worldwide - has managed to retain the feeling of a small family business. People come to NamesCom from all over the planet and quickly become personal friends, regardless of what culture or unique background they come from. Aishwin is an industry veteran from India, Monte (who has been in the business since the late 1990s) and I are Americans (both based in Florida) and Christian, who became NamesCon's CEO last year, is from Germany. NamesCon attendees also included people from Canada, Australia, multiple countries in Europe, South America, the Far East and more. It's a diverse crowd, some cosmopolitan, some country, but all intellectually curious about the world we live in, creative and just a joy to be around.
Thanks to Christian, Soeren von Varchmin, Helga Neumer and the entire NamesCon team for a great week and a triumphant return to in-person conferencing! Can't wait to see you again when NamesCon returns to Austin in 2023 (dates to be announced)!