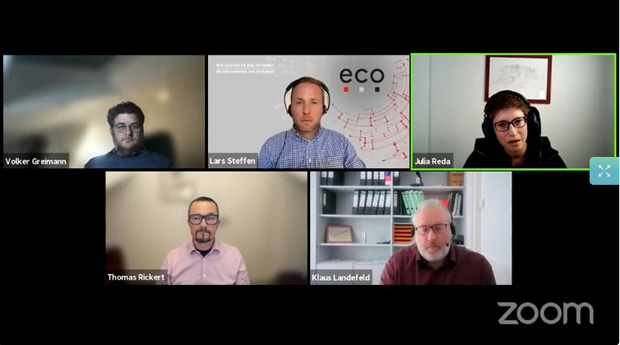 Having been up late putting the Day 1 column together, I was only able to catch the final session on the Europe Stage (above and below) this morning, titled The Future of Intermediary Liability. The discussion around Intermediary Liability is drawing ever closer circles around Internet infrastructure intermediaries like access providers, DNS resolver operators and domain name registrars. The panelists (clockwise from top left), Volker Greimann (General Counsel at CentralNic LLC), Lars Steffen (Director at eco – Association of the Internet Industry), Julia Reda (Project coordinator control at Gesellschaft für Freiheitsrechte e.V.), Klaus Landefeld (MoB Infrastructure & Networks at eco e.V.) and Thomas Rickert (Director Names & Numbers at eco Association of the Internet Industry), talked about the legislative trends they are currently seeing in the European Union and around the globe, as well as what the potential liabilities and risks in the future are for intermediaries.
A great thing about NamesCon Online is that the conference offers replays of virtually all sessions within a day or two when they first ran (those will be available to all show registrants until the end of October). That, will give me an opportunity to see the two earlier Europe Stage sessions I missed live today. Those were The Future of Domain Name Registration Data and New gTLD Subsequent Procedures - The next round of TLDs.
Stage 1 Photos & Highlights (Thursday, Sept. 23, 2021)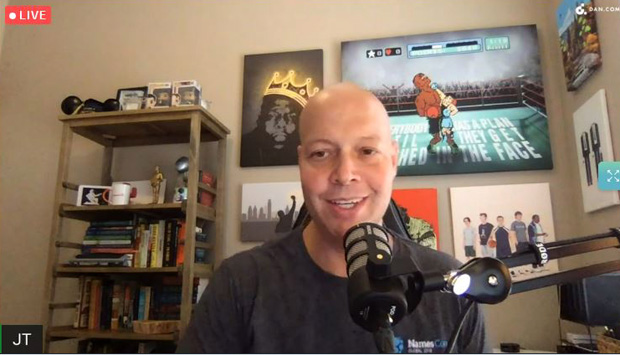 A little before 11am, the Chairman of the NamesCon Advisory Board, Soeren Von Varchmin, welcomed viewers to Day 2, then turned the reins over to moderator Jonathan Tenenbaum (above) to get the business sessions on Stage 1 started. The first of those (below) covered the connection between Domainers and Daily Fantasy Sports. NamesCon has decided to expand its horizons into other Internet areas that have proven to be popular with domain investors due to their potential for big returns and/or their recreational value.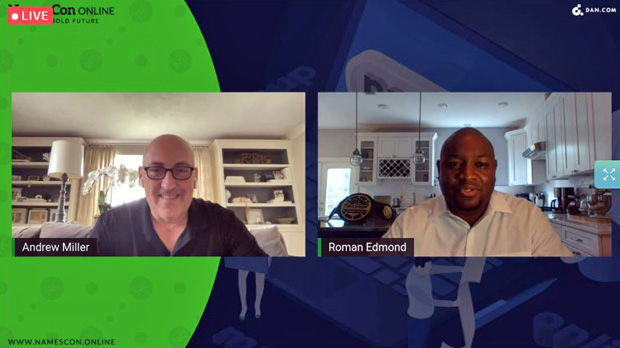 The Daily Fantasy Sports (DFS) session featured Andrew Miller (top left) and Roman Edmond, two of the most successful domain name investors and deal-makers that have also both won multiple high-paying daily fantasy sports tournaments. Roman is world champion in fantasy football as well as one of the biggest movers and shakers in the domain industry and Andrew is one of the most widely-known domain investors, having founded CreditCards.com, InsuranceQuotes.com, and recently overseen the sales of Home.com, Candy.com, and Universal.com. Andrew and Roman provided some basic DFS education and strategies on how to win a big-money, large-field NFL tournament on Draftkings and Fanduel.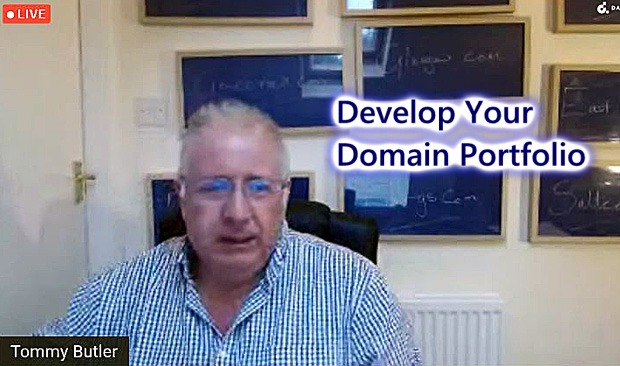 The next session (above), Develop Your Domain Portfolio, featured Tommy Butler, widely renowned in the geodomain development space for the network of websites he built devoted to Glasgow and surrounding communities, including Glasgow.com. Tommy shared his vast experience in turning a domain name into an online business including how to generate revenue and increase the value of your domain by having a social platform that matches the domain.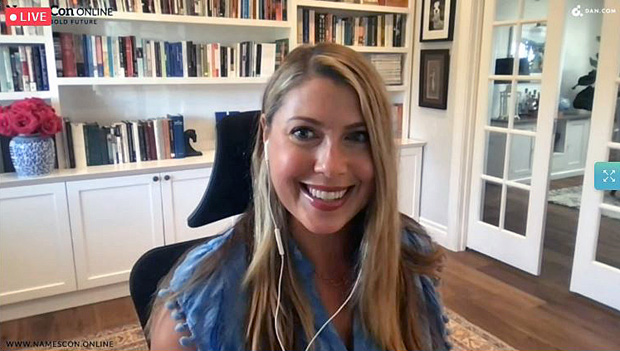 After a short networking break, one of the world's top domain brokers, Kate Buckley (CEO at Buckley Media) took center stage (in the session above) with a presentation on The Art of Collaboration. In her talk Kate said The Art of the Deal is dead. It's out of date, and no longer speaks to the values of an integrated, ever-evolving society—one in which it's recognized that creativity loves company. Effective collaboration, creating values-based community, and developing deals that benefit all parties is the next-level way to grow a business vs. the churn-and-burn tactics and scorched-earth aftermath of old-paradigm thinking such as the "Art of the Deal." She noted, "Collaboration ensures the systemic health of not only your business or brand, but also the health of our industry, and society as a whole.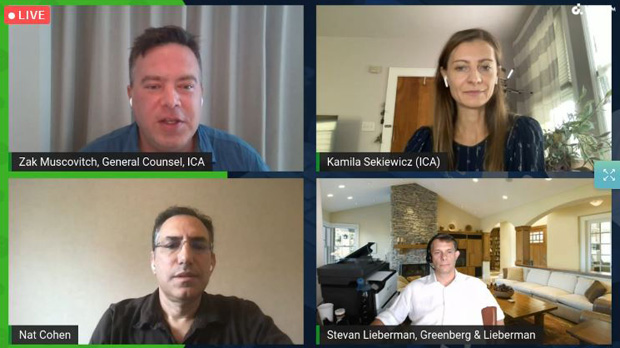 Next up, the Internet Commerce Association (ICA) presented a session called Decoding the Domain Leasing Agreement, that explained how domain owners can unlock a major new stream of revenue by leasing domains. The key is doing to doing it safely is having a professionally written agreement that spells out the terms of the lease, an agreement the ICA will provide you with free of charge! This session featured (clockwise from top left), ICA's General Counsel Zak Muscovitch, ICA Executive Director Kamila Sekiewicz, attorney Stevan Lieberman (Greenberg & Lieberman) and Nat Cohen (Founder of Telepathy, Inc. and ICA Board Member).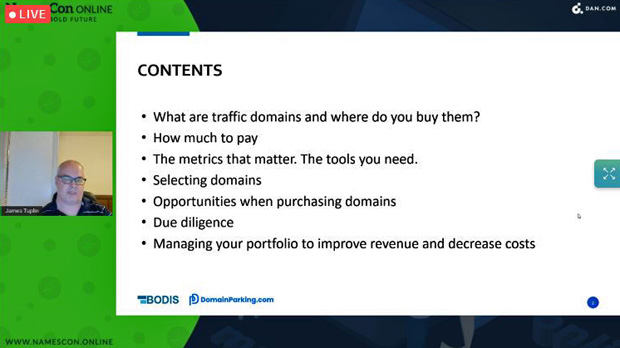 The topic turned to domain parking in the final Stage 1 business session Thursday - DomainParking.com - How to build and maintain a profitable domain portfolio, hosted by James Tuplin (Director of Business Development at BODIS). James shared his personal experience of how to build and maintain a profitable domain portfolio by understanding which domains which are worth registering, how and where to find them, and how much to pay.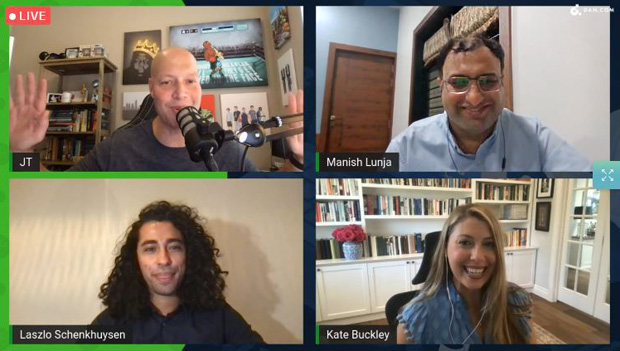 Now it was time turn attention to one of the conference's biggest events - The NamesCon/RightOfTheDot.com Live Premium Domain Auction. To get everyone ready for the big sale, the Auction Red Zone session (above) brought together a panel of experts to talk about the 112 domains that would be going up for sale and the ones that were among their favorites. The panelists were, clockwise from top left, moderator Jonathan Tenenbaum, Manish Lunja (Founder at BrandPros.com, Inc), Kate Buckley (CEO at Buckley Media) and Laszlo Schenkhuysen (Account Director at Dan.com).
In addition to talking about the upcoming auction, Laszlo took the opportunity to announce the winners of five new Dan.com Awards. The winner and their categories were:
Most data-driven domainer of the year 2021 – Nikhail Jain

Most community-driven domainer of the year 2021 – Leanne McMahon

Best newTLD domain investor of the year 2021 – Swetha Yenugula

Best ccTLD domain investor of the year 2021 – Nils Buurman

Best .com domain investor of the year 2021 – Ehren Shaiberger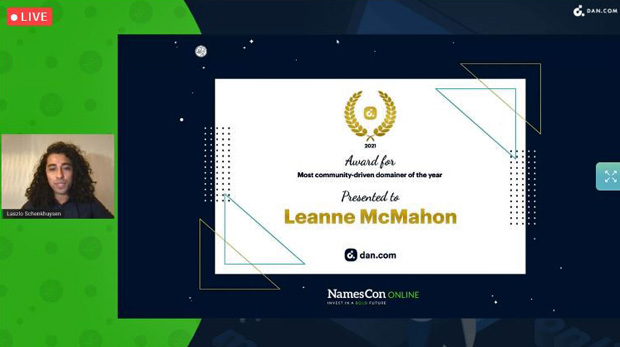 One of the new Dan.com Awards presented Thursday afternoon at NamesCon Online.
Then it was on to the big auction, with RightOfTheDot.com Founder & President Monte Cahn (at left in photo below) and World Champion Auctioneer Wayne Wheat conducting the sale live from a studio in Fort Lauderdale, Florida.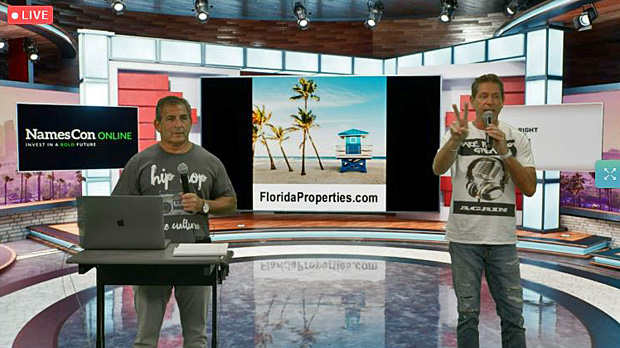 RightOfTheDot will not be releasing the final auction results until after their extended online auction concludes on October 7. Name that did not meet reserve or sell in the live auction will remain available in the extended auction until that date.
Stage 2 Photos & Highlights (Thursday, Sept. 23, 2021)
The auction officially concluded the activity on Stage 1. Now let's take a look at the four sessions that were presented on Stage 2 Thursday.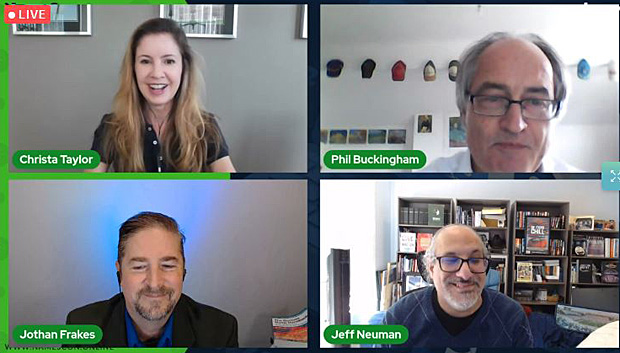 First up was a session titled So You Want to Run a New gTLD featuring, clockwise from to left, moderator Christa Taylor (Head of Marketing at Dot Brand Services & Founder), Phil Buckingham (CEO at Dot Advice Consultancy), Jeff Neuman (Founder & CEO at JJN Solutions, LLC) and Jothan Frakes (CEO at Private Label Registrar). This session filled registrants in on the timeline for ICANN's second round of nTLDs, the challenges applicants to run a new gTLD will face, and how the landscape has been shifted by the changes put in place since the first round was released.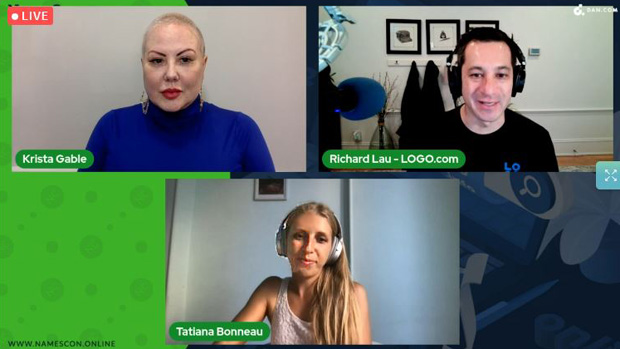 The next session was for those who are more interested in running their own business than administering a new TLD. Titled From Start-Up to Grown-Up: Strategies to Make it Happen! it featured, clockwise from top left, moderator Krista Gable (Founder at Domain Domme, LLC), Richard Lau (Founder at LOGO.com) and Tatiana Bonneau (Founder & MD at MarkUpgrade). This group provided insight into why some startups make it and others don't. They also detailed how certain verticals, particularly those that were already beginning to grow before COVID, have accelerated tremendously due to the pandemic forcing so many businesses to build or improve an online presence.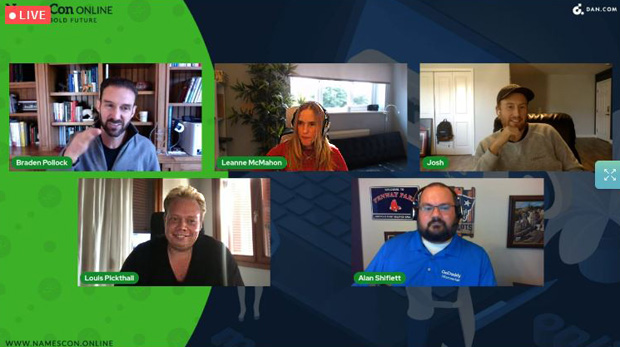 The next session on stage 2 covered a subject that always draws huge interest at NamesCon - What's my domain worth? With panelists, clockwise from top left above, Braden Pollock (LegalBrandMarketing.com), Leanne McMahon (Domain Investor at Pixel Corp), Josh Reason (Founder at DNWE.com), Alan Shiflett (Sr. Director at GoDaddy) and Louis Pickthall (Co-Founder & Vice President at BrandForce.com), NamesCon assembled the right people to answer that question. The panelists provided real-time, no holds barred domain name valuations, with case studies from high-profile sales used to back up their appraisal instincts.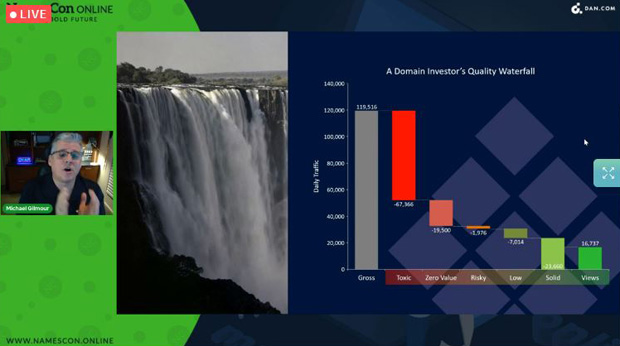 The final session on stage 2 - ParkLogic - A Future of Innovation - featured a presentation by ParkLogic Co-Founder Michael Gilmour, who had also presented another one of his Masterclasses on a separate track earlier in the day. This session was put together for large portfolio investors that already understand the basics of domain monetization and wanted additional insights into advanced domain traffic management.
Day 2 Masterclass Track (Thursday, Sept. 23, 2021)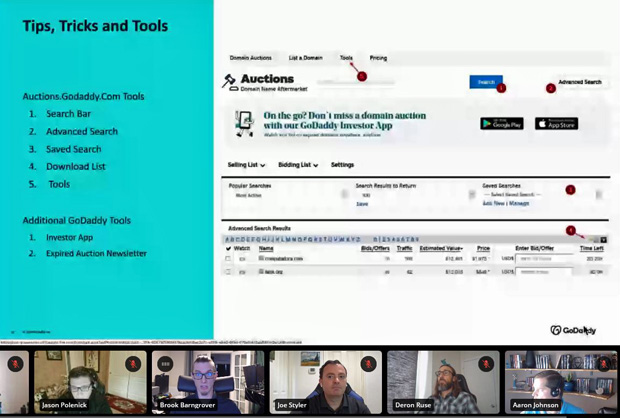 In addition to Michael Gilmour's masterclass, there was a second session (above) on the Masterclass track - All Things Expiry 2.0 - presented by GoDaddy. In this well attended workshop GoDaddy Aftermarket experts shared tips on how to build your portfolio through Expiry Domain acquisitions.
Handshake Stage (Thursday, Sept. 23, 2021)
There was also another four full hours on content on the Handshake Stage Thursday. We had a chance to catch the session below - Handshake: A community-first blockchain project, that featured, clockwise from top left, Kiba Gateaux (Founder, DATA Index), Fist Full (HNS fund community manager at HNS Fund), Matt Zipkin (Lead Developer at Impervious), 0xStefan (Creator at niami.io) and Chad Folkening (Leader at RealtyDAO). This group discussed how Handshake fits in to the larger blockchain ecosystem. Rather than going into the technical details of the project, they covered how the project was started, funded, developed, and released.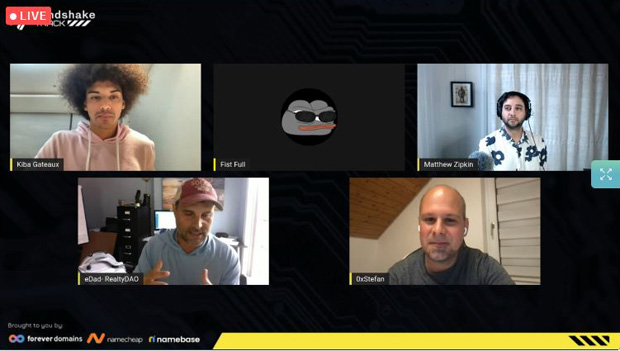 All of the other Thursday sessions on the Handshake Stage will be available for replay with the next day or two. Those included Alexa100k - The Missing Link Between Alexa Ranking Sites & Handshake, What is Bob Wallet?, Decentralized Name Exchange and You, Issuing Lifetime Domains: Data and Insights, War Stories: Handshake Pioneers Share SLD Sales and Lessons Learned for TLD Owners and Use cases for Handshake names.
This edition of NamesCon Online concludes with another full day of activity Friday. I'll have all of the final day photos and highlights for you in my next Lowdown post!