Soeren Von Varchmin, Chairman of the NamesCon Advisory Board, got things started just before 11am (US Eastern time) with his welcoming comments, followed by introductions to the conference's three primary moderators. Moving clockwise after Soeren (in the top left corner of the photo below) are moderators Elisabeth Klughart (i2Coalition), Jonathan Tenenbaum (MediaOptions.com) and, for the Handshake track, Michael Michelini (Shadstone).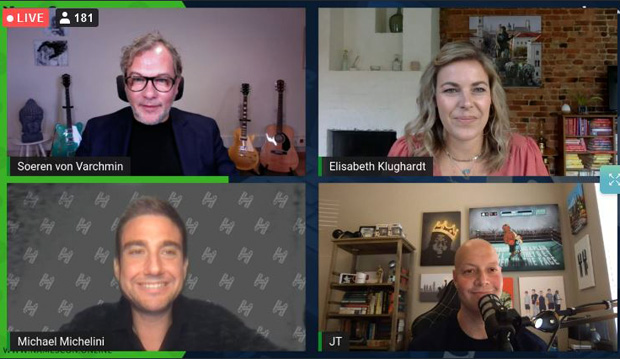 To give registrants a big-picture look at the domaining industry, and set the tone for the next three days of learning, sharing, and networking, Soeren also spoke with wildly successful serial entrepreneur Bhavin Turakhia, Founder of Flock, Radix and Zeta (at right above) and DomainNameWire Editor Andrew Allemann (at right below).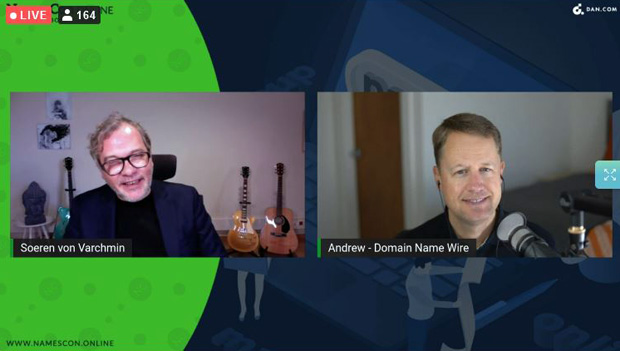 The first business sessions of the show then got underway and through much of the day, discussions were going on concurrently on multiple stages. To give you a better idea of the flow on each stage, we'll run down one at a time, starting with Stage 1.
Stage 1 Photos & Highlights (Wednesday, Sept. 22, 2021)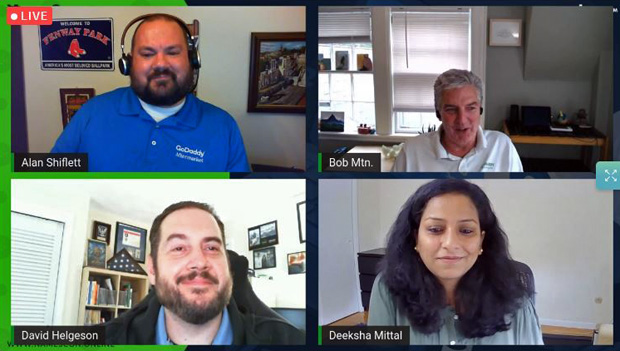 Above: The Stage 1 track started with a session called The Investor Experience with GoDaddy Leadership that featured, clockwise from top left, Alan Shiflett (Sr. Director at GoDaddy), Bob Mountain (Chief Revenue Officer at Afternic.com), Deeksha Mittal (Sr. Director Product Management at GoDaddy) and David Helgeson (VP of Sales & Care for GoDaddy Aftermarket). They covered areas where progress has been made and opportunities created, with their focus on providing the tools and resources domain investors need to succeed.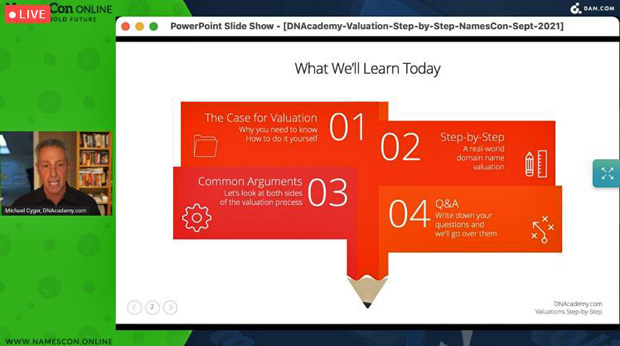 Next up (above), registrants learned How to Value Domain Names Step-by-Step with Michael Cyger. The DNAcademy.com Founder is the top educator in the domain name field. Michael detailed metrics that need to be examined (like relevant, recent and retail-priced comparable sales) that help owners value domain names in the wholesale and retail markets. Cyger noted they must also make educated assumptions about factors like desirability, traffic and appreciation.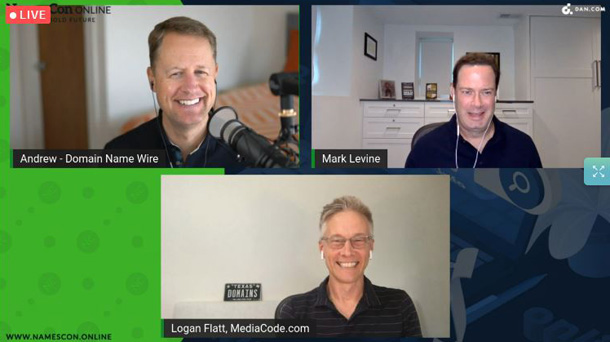 Judging from comments left during the above session - Finally, Some Real Numbers - it was a big hit (one wrote that this session alone was worth the cost of admission for the entire show). Moderator Andrew Allemann (top left) talked with domain investors Mark Levine (Domain Theory LLC) (at top right) and Logan Flatt (Media Code LLC) about their 2021 sales and the two industry veterans were very forthright in detailing both the names they sold and the prices they were paid. Levine and Flatt have each made dozens of sales already this year and both have had success with both .com and non .com TLDs (especially with hot ccTLDs like, but not limited to, .io). NamesCon makes their sessions available for replay for a month after their conferences end and this is one that should be on your watch list if you missed it today.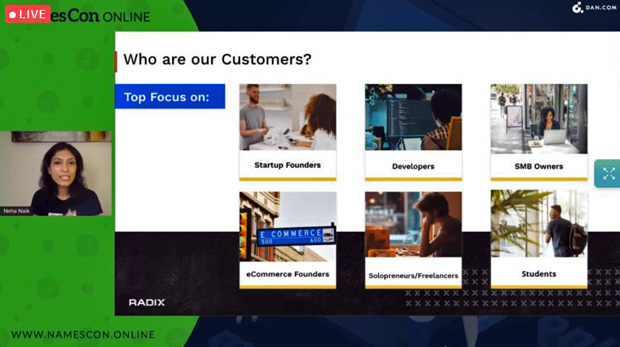 Given what Mark Levine and Logan Flatt revealed about their own success selling multiple TLDs, the next session (above, featuring Neha Naik, Sr Director, Channel Partnerships at Radix) titled Don't invest in New Domain Extensions, they said! Here's some food for thought, proved to be timely. Neha detailed how new gTLD registry operator Radix has been marketing their TLDs and the results they're seeing with some of the most sought-after new domain extensions. Radix administers .tech, .online, .store and many others.
The final order of business on Stage 1 Wednesday was the RapidFire Domain Auction, the first of three auctions (one per day) being held during NamesCon. Before, the auction, five industry experts got together (above) for the Auction Red Zone Countdown show, in which they discussed their opinions of the various names going up for bid in this low cost auction (no reserves above $500 were allowed) that also benefited charity (Entrepreneurs for Knowledge). The entertaining preview featured (clockwise from top left) Braden Pollock (LeaglBrandMarketing.com), Reza Sardeha (DAN.com), Alistair Banerjee (Founder, Quaint Media LLC), Ammar Kubba (CEO, afterTHOUGHT, Inc.) and Leoni Rossberg (Head of Program at Entrepreneurs for Knowledge).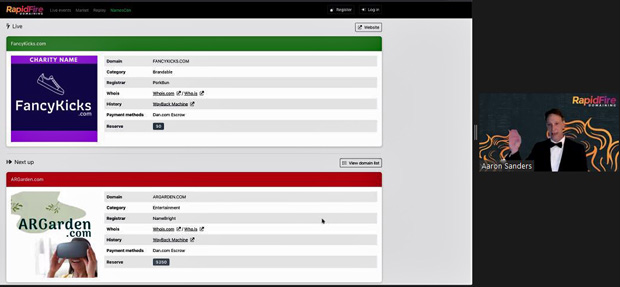 Above, the two-hour auction then got underway, hosted by Aaron Sanders (Founder, Repeat Brands), Tom Gallagher (Co-Founder, RapidFireDomaining.com) and Michele Rae (Co-Founder, RapidFire Domaining.com). 73 names went up for sale with 10 those donated to raise funds for Entrepreneurs for Knowledge (EFK). 40 of those names totaling $11,000 were sold, with $3,495 going to EFK. Good job by everyone involved!
Stage 2 Photos & Highlights (Wednesday, Sept. 22, 2021)
While all of the above was happening on Stage 1 Wednesday, things were just as busy on Stage 2!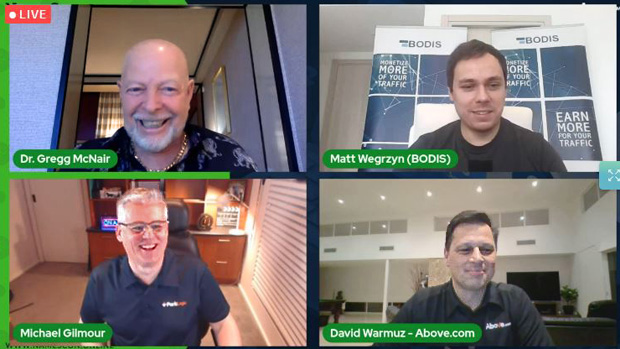 The action on stage 2 began at 11:20am (US Eastern time) Wednesday with The Traffic Jam (above), in which four of the most widely-known figures in the domain monetization business covered the state of that domain science. The panelists (clockwise from top left) were Gregg McNair (Chairman at Premium Traffic Limited Group), Matt Wegryzn (CEO & Founder at BODIS), David Warmuz (CEO, Above.com) and Michael Gilmour (Co-Founder, ParkLogic.com). The all-star group covered search to parking and beyond in providing information on how to make the most of the traffic you get –and get more of it.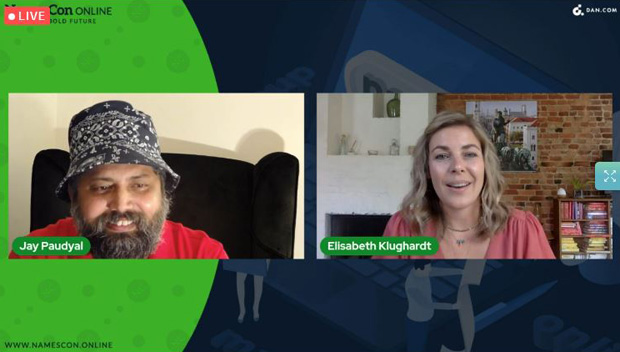 The next session was one of the most engrossing ones I've seen at any conference. In it Jay Paudyal, Co Founder at DN School (at left above with moderator Elisabeth Klughardt) told his remarkable story of Domain Name Trading on a Crazy Road Trip, in which he and a half dozen passionate people spent two months and traveled more than 20,000 kilometers around India to share information about how how domains and affordable technology could change people's lives.
As Jay noted, in his talk and slide show (below), they all piled into one van on a mission to impact the lives of millions of their countrymen and women. They were greeted by inquisitive and sizable crowds everywhere they went. You will absolutely want to put this one on your replay list when those become available after the conference.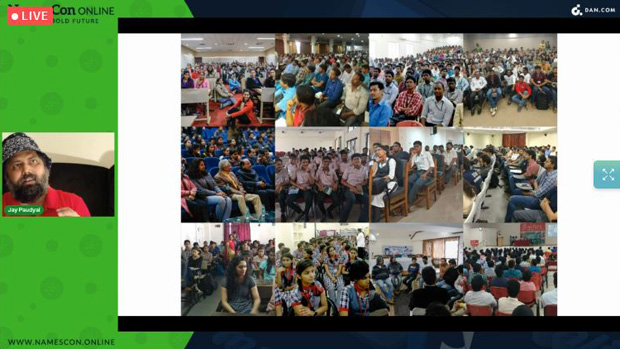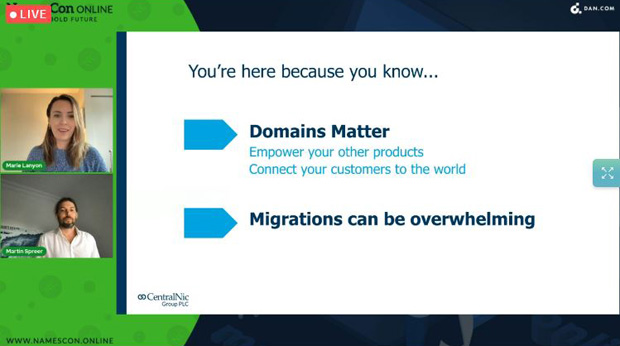 The Stage 2 action continued with CentralNic's Marie Lanyon and Martin Spreer (above) talking about Domain Migrations Done Right. The session covered how resellers can address the challenges of moving domains to another provider should the need arise. CentralNic's ICANN accredited registrar, RRPProxy, provides the services and support that help reseller registrars increase their profits without overwhelming their teams or disrupting their customers.
In the next session (below), Jebidiah Burnett (Business Development Manager at Above.com), spoke about Killer Cash Flow: Unlocking Your Portfolio's Potential. With over 20+ years of experience in monetizing portfolios with innovative services such as Above's Optimizer, Maximizer and now Managed Monetization, the company specializes in creating innovative opportunities that can help you flourish in today's monetization environment.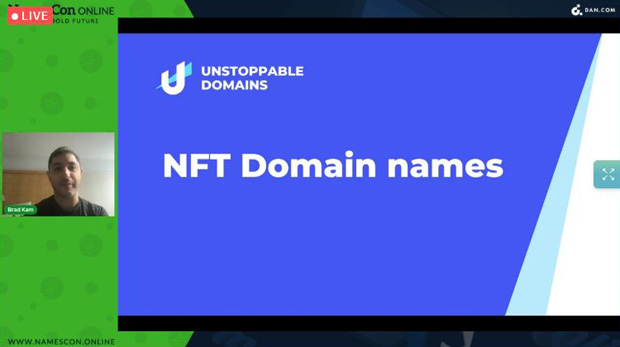 As they headed down the opening day home stretch on Stage 2, Brad Karn (above), Co-founder at Unstoppable Domains, answered the question What Are Domain Name NFTs? Karn covered how how this decentralized domain option can give your more control over your digital identity, as well how you can start accessing the benefits now, before the decentralized web hits the mainstream.
In the final Stage 2 session below, is was all about What's Up with .IO? This ccTLD was assigned to the British Indian Ocean Territory but, after being re-purposed for global generic use, it quickly found a home in the startup world. With that new association, .io popularity and prices have skyrocketed. This panel of experts included clockwise from top left, Christa Taylor (Head of Marketing, Dot Brand Services at Com Laude), Jay Paudyal (Founder, UrbanSkill.com), Morgan Linton (Co-founder & COO at Bold Metrics Inc.), Braden Pollock (LegalBrandMarketing.com) and Mark Ghoriafi (MrPremium.com). They explored the dynamics of .IO's pricing and use cases, and how these factors can work in your favor as a domain investor or entrepreneur.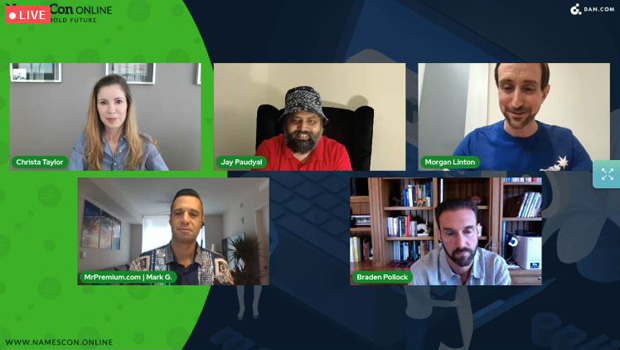 Day 1 Masterclass (Wednesday, Sept. 22, 2021)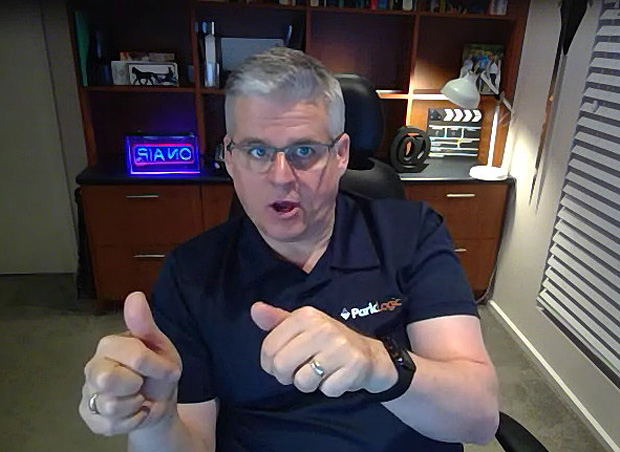 ParkLogic.com Founder Michael Gilmour (above) is conducting a daily Masterclass in domain monetization and investment at NamesCon Online. In the first one Wednesday, Michael delivered a performance analysis of the traffic industry and followed it up with a fireside chat with his ParkLogic teammates Laci Nagy and Robert Lasky-Davison. Together they have over 50+ years of combined experience in domains.
Handshake Stage Photos & Highlights (Wednesday, Sept. 22, 2021)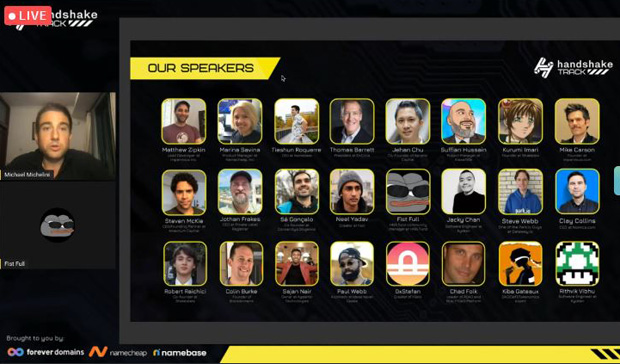 In something totally new for NamesCon, an entire stage was dedicated to the rapidly developing Handshake naming system. Activity on this stage kicked off started at 4pm (US Eastern time) with a Welcome and Handshake Highlights session (above) hosted by the stage moderator, Michael Michelini (President at Shadstone).
Below, the first business session, Handshake 101, presented by Matt Zipkin (Lead Developer at Impervious), started with all of the basic to prepare for the deeper dive that followed in five additional sessions.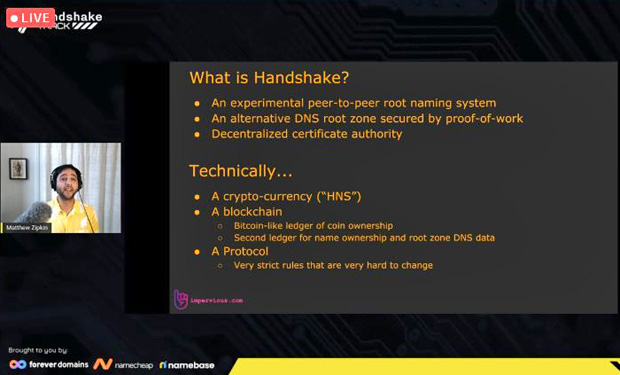 Activity on the Handshake Stage continued until 8pm (US Eastern time) with sessions on Namecheap Now Offers Handshake Domain Registration, The Risks and Impacts of Name Collisions, Why Decentralization Matters, NFT and Blockchain Investing and Numbers on Handshake Investing. Four more hours of Handshake content will be presented Thursday (September 23), again starting at 4pm (US Eastern time).
Another Thursday (Day 2) highlight will be the opening of the Europe Stage at 6am (US Eastern time). That will be early for U.S. residents but that is why NamesCon's replay system (available soon after the conference closes) is so valuable. We will be back with you here with the Day 2 Photos & Highlights in our next post from NamesCon Online September 2021!