With every passing year Ms. Buckley's star grows brighter in the domain world as she closes one blockbuster sale after another. In 2016 it was selling Rate.com for $725,000 for the Castello Brothers of Castello Cities Internet Network (whom she has been associated with since 1998 - more on that shortly). In 2017 she had three of the year's top 30 sales - Refi.com at $500,000, Advance.com at $300,000 and Agenda.com at $225,000. We are only halfway through 2018 yet Kate already has three of this year's top 15 sales to date - Sleeping.com and Snoring.com at $502,225 each and Inspection.com at $335,000. Now that you have no doubt sat up and taken notice, you may be thinking, "Who is this Wonder Woman and where did she come from!?"
Kate was born in Lexington, Kentucky in 1974 - a ninth-generation Kentuckian whose grandparents and great-grandparents lived just a short walk or bike ride away. In that environment, enveloped in her family's colorful history and embraced by their love, Kate quickly blossomed. "The innovative and entrepreneurial spirit—and storytelling—of my family has influenced me since my earliest days," Ms. Buckley told us, "as has their emphasis on philanthropy and giving back."

"One great-grandfather, Benjamin Franklin Buckley Jr., a third-generation Irish immigrant, owned the first Cessna in the state (and piloted it himself)—using it to check on his property holdings around Central Kentucky. I remember him sitting at the piano at our living room after dinner, sweating glass of bourbon on the rocks at hand, picking out a melody while spinning a highly colorful and improbable tale—much to our great delight," Kate continued.

Kate Buckley - 3 years old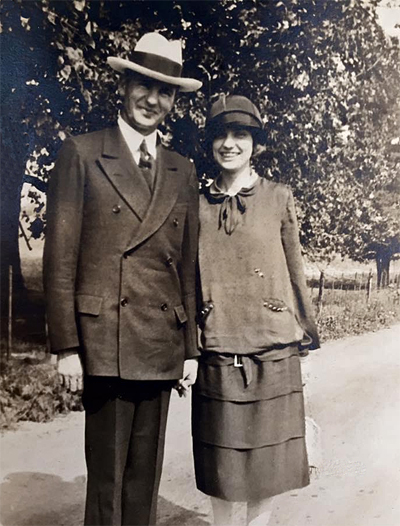 Kate's great-grandparents, Eldon & Christine Dummit,
in Lexington, Kentucky 1926.
"Another, Eldon Dummit, a Missouri farm boy, worked his way through the University of Kentucky, then UK Law School, and went on to serve as Attorney General of Kentucky and was a nominee for governor before retiring to serve as president of the service organization, Optimist International. And his wife—to whom he proposed in 1926 atop the bear cages at the old Joyland Park!—my beloved great-grandmother, Christine Shouse Dummit, earned an English degree from the University of Kentucky and taught continuing education to Appalachian school teachers. She was my biggest encourager in every area of my life. I was lucky enough to have her in my life until her death at 102 - when I was 33," Kate recalled.
"My grandmother, Roberta Buckley, informs me that, as a child, I said I'd be a poet, artist, hostess and acrobat when I grew up. If we can count Pilates as acrobatics, I think I can check all those boxes!," Kate laughed. "I always knew my life would be different. I wasn't sure how or
why, but it was an innate sense that has led to my taking risks that others thought odd at the time (for example, going into the domain industry in 1998!)"
While Kate was absorbing all of the knowledge her antecedents were imparting, she was less enthralled with her formal education. "I did not enjoy high school," Kate said. "I went to a small, private school and was champing at the bit to get out into the world. I went to my father and expressed my desire to leave school after my junior year. In typical Biff Buckley fashion, he commissioned me with research on all available options (senior year abroad, boarding school, gap year, college early, etc.), then asked me to present my findings and make a recommendation, and then we'd strategize together from there. So, I started college at 16 (skipped first grade and twelfth), and then was interested in so many things that it took me three colleges (four, if you count grad

Kate with her Dad, B.F. "Biff" Buckley IV

school!), four majors and five years to earn my BA in Advertising and Public Relations."
"My major influences were my father, my great-grandmother, my best friends, and my favorite advertising professor, Mr. Dennis Altman. My dad, Biff Buckley, influenced me with his deep and profound kindness to all around him (think a Southern Mr. Rogers), his work ethic and entrepreneurialism (he ran my family's insurance company and also amassed a sizable real estate

Kate with her great-grandmother Christine Dummit
and her grandmother Molly Dummit (R) in 1987.

portfolio that he's still growing at age 68), and his deep (and at times frustrating to my teenaged self!) practicality. My great-grandmother, Christine Dummit, was the kindest person I've ever met and I can feel her love, encouragement and support envelope me to this day. She was also incredibly charming and a world-class storyteller."

"My favorite professor, Dennis Altman, who'd worked on everything from President Ford's campaign to Ford Motor Cars, was incredibly supportive and encouraging of my fledgling career in advertising. "And that's how it's done," he say after each of my pitches. And I was just naive and ambitious enough to go for it. My best friends at the time were also restless and desirous of a "big life." We moved en masse to Manhattan after college," Kate said, leading into the next stage of her life.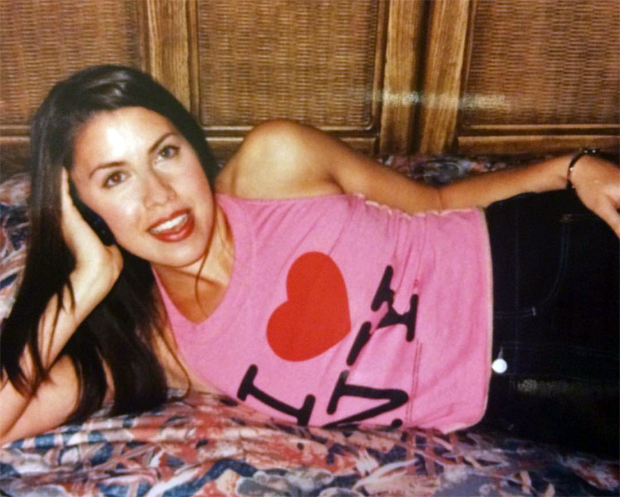 Kate in New York City at the start of her business career in 2000.
"I'd worked at Gray Advertising and Landor in New York City, then moved back to Lexington for a stint as Director of Marketing for an equine advertising firm, and then found myself restless again," Kate recalled. "The West Coast called this time. I started out running accounts for Kiner-Goodsell Advertising in Palm Desert, California (the largest advertising agency in the Inland Empire at the time). I left Kiner-Goodsell when I realized how disruptive sites like PalmSprings.com were becoming to traditional media."
"David and Michael Castello recruited me at the tender age of 24 to help them grow PalmSprings.com in 1998 (and by the way, as an interesting sidebar—I was briefly married to David in 1999!), and then LagunaBeach.com along with assisting on other assets in the CCIN Network (I also moved to Nashville for a year in 2011 to work on Nashville.com). The entire Castello family has always been incredibly supportive and just a joy both professionally and personally. In fact, I still send Mother's Day cards to the amazing Victoria Castello, and am honored to be the godmother of Michael's lovely and talented daughter, Jessica," Kate noted fondly.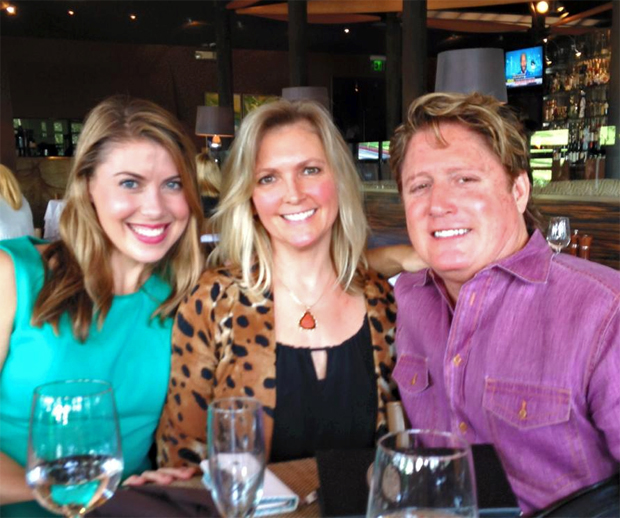 Kate with CCIN Co-Founder Michael Castello and his wife Sheri in Newport Beach, CA.
Kate is still the Executive Vice President at CCIN but she also has another big iron in the fire, having branched out with her own brokerage and consulting shop, Buckley Media Group, five years ago. Ms. Buckley told us how that came about.
"I sold LagunaBeach.com for David and Michael in 2013 for $600,000, after creating a business plan and branding and marketing blueprint for the site and then marketing it up and down the coast to VCs and media companies alike," Kate said. "I was then engaged by the acquiring entity to help them implement the plans I'd created and launch the redeveloped and redesigned site. (It's since changed hands again and the current site does not reflect my efforts.) That's how I came to start Buckley Media Group (BuckleyMedia.com /

BuckleyMediaGroup.com). I've always been fascinated by the intersection of branding and domains—my company is a happy marriage of my skill sets, experience and interests, and my desire to provide value both to my clients and the companies to which I market."
"Buckley Media Group not only sells high-end premium domains on the aftermarket to end users, but we also work with buyers on stealth acquisitions. We've actually done quite a few already this year and have some very satisfied clients. Chris Gannon, the CEO at Bolay Enterprises, was kind enough to say, "It was a true pleasure working with Kate and team. After a quick internet search, I landed on Kate and she gave sound advice on domains without asking for anything in return - which turned into us using her for business. She worked throughout the weekend to secure our domain name for a substantial price under asking. We cannot thank Kate enough for her professionalism and hard work on getting our Bolay.com domain. I highly recommend her."
Looking back over her five years running Buckley Media Group, Kate told us, "Some of my favorite experiences have been working with my phenomenal clients—many of whom have become close friends, and, of course, the thrill of negotiating big sales! I see myself as an educator, consultant and connector—far more than as a salesperson. I bring neatly packaged opportunities to the front doors of very smart CEOs and CMOs and then share the story of the opportunity around acquiring my clients' ultra-premium .COM domains. It's an honor and a privilege and I love every minute of what I do—from the research to the positioning to the outreach to the pitch to the negotiation…to, of course, sealing the deal."

As I noted at the beginning of this article, there is far more to Kate than her business dealings. The domain world has given her a place to help entrepreneurs (who often start with a empty canvas), create an unforgettable identity with a great domain but that is just another manifestation of something she was literally born with.

On top of the world - Kate in Barcelona, Spain.
Kate doing a poetry reading at the Laguna College of
Art + Design, Laguna Beach, CA

"I'm a poet, writer and visual artist (KateBuckley.com)—and have been my entire life. My mother, Elise Buckley, read to me from day 1—even in utero, she tells me!," Kate smiled. "I grew up with the cadence of story and song, poetry and memory, woven into my days and nights. It affected me profoundly, and became an inextricable part of me. I wrote and illustrated my first poem at the age of 3 ½ (please never ask me to recite it!). I went on to earn a minor in painting and fine arts, and then an M.F.A. (Master of Fine Arts) in Creative Writing."

"I've written two books of poetry, won several national awards, and my fiction has been short-listed for an international prize. Most recently, I had the honor of serving as the inaugural poet laureate for the City of Laguna Beach. My platform included serving as a brand ambassador for the literary arts—creating content, performing readings, teaching workshops and classes, and creating, coordinating, and leading Laguna Beach's first-ever literary festival (LagunaBeachLitFest.com). I also created and produced

a Poet Laureate's Showcase Series, bringing nationally known poets and writers to Laguna Beach," Kate noted.
Kate has also become well known for her continuous support for good causes. "Apart from my personal involvement, Buckley Media Group donates a considerable portion of the after-tax proceeds of each domain sale to worthy charities," Kate said. "In fact, we were honored to be a sponsor of WaterNight at the 2018 NamesCon Global conference. In addition to WaterSchool, other charities dear to my heart are With My Own Two Hands Foundation, and Big Brothers Big Sisters. I have mentored a very special "Little Sister" for two years through BBBS, and Monet continually inspires me with her curiosity, creativity, resiliency and kindness. She has taught me more than I'll probably ever teach her. It's an honor to serve in whatever capacity I can. We're all in this grand thing called life together."

Returning to the domain world - like the rest of us - Kate has watched hundreds of new gTLDs launch over the past

Kate with her "little sister" Monet

four years but all of her big sales have been .com domains. As a premier broker we wondered how she viewed the aftermarket prospects for new domain extensions.
"I have regular conversations with brilliant CEOs and CMOs who understand the impact that a quality premium .COM can have on their brand, bottom line, and overall company valuation, and are willing to make substantial investments to leverage these powerful assets," Kate said. " It comes down to control. A premium domain allows companies to rely less on Google, Amazon, and social media platforms. The value of that is incalculable. I'm seeing more and more understanding of this in the broader marketplace, which is tremendously encouraging. Our industry is still in the growth phase—the best is yet to come," she declared.
Kate added, "I've always been a stalwart and staunch .COMer. New gTLDs may be helpful for companies from a defensive position or for small B2B companies who aren't reliant on consumer-facing initiatives, but I don't see new gTLDs moving the needle in any measurable way for either startups or established companies. There's a reason premium .COM domains positively affect company valuation and new gTLDs do not. As Paul Graham, founder of Y Combinator said, "Not having a dot-com signals weakness." Or as Monet would say, "It's not a thing."
With respect to the industry in general Kate said, "As a relatively immature—and unregulated—industry, we need more industry leaders to carry the torch of ethics and professionalism. We have some phenomenal industry leaders who exhibit these traits in their daily interactions,

Kate with her boyfriend, Todd Henderson
(CEO of INKAgency.com), in Laguna Beach, CA

and I'm grateful for their leadership. More is needed. Best-in-class professionalism and integrity across the board are essential for our industry to continue to grow and mature into the powerful force for growth and good that we all know it can be."

With constant change in the domain business keeping up with today is a full-time job in itself but Kate is still a young woman who relishes new challenges, so we asked what she sees for herself in the years ahead.

"When I used to regularly do life and executive coaching (TransitionandTransform.com), I taught my own life mantra—The 4 Cs: Engaging life with Curiosity, Courage, Compassion and Creativity, Kate noted. "Practicing that in every area of my life is what I wish to continue doing now and until I draw my last breath. I also wish to continue providing value to my clients, to continue to give back in every way I can, and to always make space to enjoy

quality time with my boyfriend, family, and friends…and my beloved pup of 13 years, Murphy. What a magical journey life is!"