arduous as that of her parents and grandparents. They were Latvian immigrants, displaced by World War II, who traveled halfway around the globe to build a new life in an unfamiliar country. That decision to leave everything behind and endure whatever hardship came their way made it possible for their descendants to prosper in a way they never could have dreamed of. Their courage became a source of pride and inspiration that has served Ilze well.
Ilze's mother Vizma and grandmother Oma
with young Ilze and her brother Marty

"I don't have a lot of details about their lives before they emigrated from Latvia because it was a subject they didn't like talking about," Ilze said. "However, before my mother, Vizma, passed away, I sat down with her and got her to discuss some of her less painful memories."

"Born in Liepaja, Latvia, she was able to finish four years of high school before the war and in the 1940's she and her mother, (my "Oma"), worked in a Latvian ammunition factory. One of the stories that my mother remembered vividly was when my Grandmother, who worked in the kitchen of the factory, brought home a single potato that was given to her by the kitchen boss. The other people living in the apartment made a big stink - lots of yelling and arguing. They were jealous that my mother and grandmother had a potato to eat. Every time I eat a potato I think of those hard times and appreciate my own life."
"My mother worked in the same factory making ammunition boxes and both she and my Grandmother lived in that apartment building until it was bombed out by enemy shelling. Vizma recalled that when she ran out of the building she found the one kettle they used to cook in down the street and it was still in one piece! Well, that kettle found its way to America and I remember to this day cooking potatoes and soups in it."

"From Latvia, they found their way to Germany to a Displaced Persons Camp and this is where my mother, at age 19, met my father, Gunars," Ilze continued. "He was there with his family along with thousands of other displaced persons from all over Eastern Europe. My father saw my mother for the first time at the food barracks and later they met at a dance. It seems it was love at first sight. Both of their families eventually left Hamburg by boat and arrived in New York City with my mother and Oma then moving on to Terre Haute, Indiana because there were jobs waiting for them there. After working as maids for one year, they moved back to New York to live in a boarding house owned by a Latvian. My mother

Ilze's mother Vizma cooking with the kettle
retrieved from her Latvian apartment building
after it was bombed in World War II.

found housework on Long Island but got fired soon after because during a rain storm the windows were left open!"
While that was a setback for a young woman struggling to get by in a foreign country, Vizma's fortunes would soon change. "Throughout this time she stayed in touch with Gunars who was in California picking oranges to make ends meet," Ilze said. "He then moved to Mount Vernon, Ohio where his family had relocated and eventually both their families moved to Shaker Heights where Vizma and Gunars got married. I was born there and my brother and best friend, Marty, was born one year later."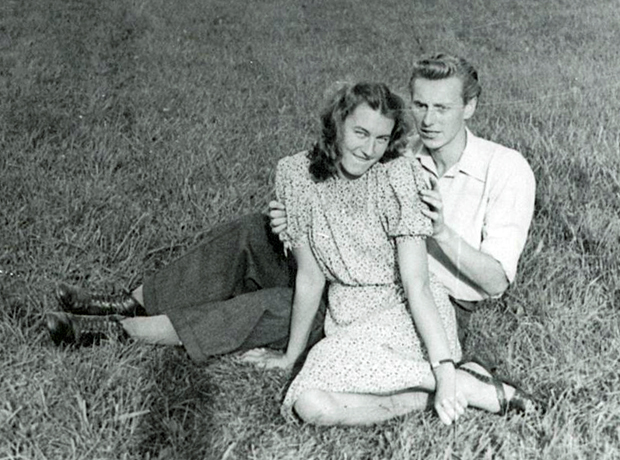 Ilze's parents, Vizma and Gunars Kaulins, starting a new life in America.
"My father started his own roofing business and my mother eventually got a job at the upscale Halle Brothers department store doing "key punch" data entry. Looking back, the interesting part was that she was on the cutting edge of the computer/Internet revolution without realizing it!," Ilze mused. "My childhood was a happy one as I had Marty to play with and as a child life seemed pretty good. We had lots of family gatherings and joined a Latvian church where Marty and I learned to speak Latvian, as well as embrace the "old country" culture."
The family made another short move within northeastern Ohio to Warrensville Heights where Ilze and Marty (who accompanies Ilze to many domain conferences today) spent their school years from kindergarten through high school. During that time, when Ilze was 10 years old, a new sister, Rita, was born. "It was wonderful having a little sister to play with and take care of," Ilze recalled. "We are all still close to this very day! I will always remember that our Grandmother lived with us and took care of us while our parents went to work. My grades were average and I never even thought about college. Financially, it was not an option and I couldn't wait until school was over so I was lucky just to have graduated from high school."

Now that she was out in the real world, Ilze had to figure out how to make a living. She would prove to be a quick learner with an aptitude for both early technology and sales - fields that would remain a constant in her life right up to today. "When my mother worked in the key-punch department she insisted that I learn the same skills," Ilze said. "She also passed on an early life lesson telling me "Get your own skills and never count on a man to support you!"

Ilze's high school senior year photo
"My first real job, after working at Royal Castle flipping burgers at 15, was in a part-time school work program doing programming and data entry for computers! Of course, The internet as we know it didn't even exist at the time but somehow, with the support of my mother, I became very familiar with the keyboard and could type and input data like a maniac," Ilze laughed. Even so, she was not crazy about the job because she hated sitting at a desk all day. "I think I missed the "human element" most of all - not being able to talk and interact with people. My friends will confirm that shyness is not a part of my personality!"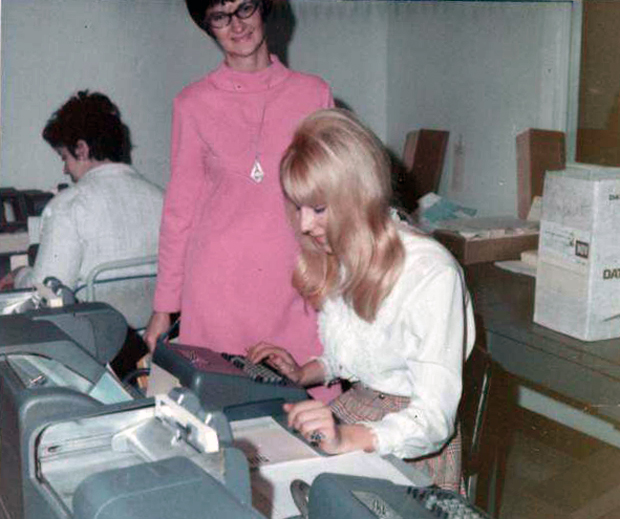 Data entry whiz Ilze Kaulins burns up the keyboard as her appreciative boss looks on.
"When I graduated from high school my grandmother gave me $300 to buy my first car, an ugly brown Rambler," Ilze recalled. "I quit my part time computer job and answered an ad in the newspaper to sell waterless cookware and "hope chest" items to young, single women with jobs, living at home. The company put me in a room with a list of phone numbers, and told me to "get the appointment!" I made appointments for the salesmen and then eventually, I was allowed to go out on my own sales calls."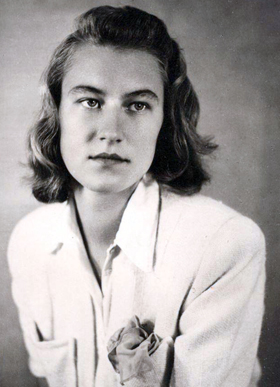 Ilze's mother Vizma had some
misgivings about her daughter's
career choice but sales turned out
to be a perfect fit for Ilze.
" Back then, in the late 60s, almost every girl aspired to "landing that perfect husband!" Our target market was nurses because they could afford the very expensive china, silverware etc. The nurses lived at home with their parents who had to be present at the "pitch", along with co-signing for the sale. My mother thought I was nuts, and she could never understand how I could give up a steady job at the key-punch machine, processing data, in exchange for an unreliable commission only job. If I did not sell anything, I did not get a paycheck."
Despite her mother's misgivings the sales job was right up Ilze's alley. " I worked morning until late at night developing my sales skills," Ilze said. " It was very fulfilling to start from "zero" and create a sale where none existed. I loved what I was doing, so I never considered sales hard work. This is where I developed my fearless "Cold Calling Skills". To this day, I am able to contact anyone, anywhere, and ask for the appointment. I read books by Napoleon Hill, and Dale Carnegie and later embraced Tony Robbins. I currently am a student of the Abraham – Hicks "Law of Attraction" theory and practice being aware and thankful every day."
A good salesperson can sell anything and that is a skill set that would soon send Ilze on a new
journey, far from her Midwestern home. " I quickly moved from selling cookware to selling print media," Ilze said. "My first job was for Exit Magazine, an alternative music and lifestyle publication in Cleveland. After that I was hired by Cleveland Magazine in 1975, to set up their Classified Advertising section. Once that was accomplished, I decided to move to California for some adventure. I filled up my new orange Buick with all my belongings, and drove across country with my CB radio, chatting all the way. "Breaker 1-9 Copy that!," she laughed. " Back then, we did not have cell phones so, I realize now, I loved communicating with people, regardless of who they were, even if they were stuck in a truck! I had no idea where I was headed, and I realize now that was the best part. Every day was new, different and a challenge!," Ilze exclaimed.
Of course, as soon as Ilze reached California she did the same thing every newcomer does - headed to the beach - but her stay there didn't last long. "I found out very, very quickly that living in Redondo Beach was expensive, and that the real jobs were located in the city of Los Angeles. So, I ended up moving to the affordable part of Hollywood and had the best time living in that run-down apartment building, meeting the most eccentric people ever! Everyone in Cleveland thought I was living the glamorous life, but I never saw any famous people!," Ilze laughed. That is something that would change too.
"I ended up working for some really crazy companies. One of the guys in my apartment building worked putting on decals for a company called BeetleBoards. He got me an interview and I was hired as an Operations Manager based on my sales skills and independent nature. Some Angelenos may remember seeing decaled Volkswagens running around town. BeetleBoards would sell advertising to companies like Brown and Williamson Cigarettes for Kool, Levis Jeans, and Clairol Shampoo. These companies would pay Volkswagen Beetle owners every month to drive around in a decaled car. Drivers would get inspected monthly

A Volkswagen transformed into a
rolling advertisement by BeetleBoards.

at the local Maaco body shop for a clean and undamaged car and, only if they passed inspection, would they get a check in the mail. I traveled from city to city meeting with Maaco paint shops and recruiting VW Beetle drivers, offering them free paint jobs for their cars if they promoted various products. I cringe at the thought now, promoting cigarette smoking, but back in the early 70s smoking was still politically correct," Ilze noted.
Above: Ilze backstage with Bruce Springsteen
(August 1975)

Below: Ilze with John Travolta at a
Welcome Back Kotter cast party

Ilze next move put her back in the print media world - this time in Tinseltown - a place where she often found herself in the same room with some of those famous people her friends back in Ohio thought she had been seeing all along. "After BeetleBoards, I was hired to sell ads for the LA WEEKLY newspaper, which continues to be very successful today. After a stint there, I was offered a job in Venice Beach to sell advertising for WET MAGAZINE, which, at the time, was the coolest and hippest Lifestyle publication, outside of Andy Warhol's Interview. I made less money, but the perks were amazing!," Ilze recalled.

" WET writers were interviewing the cutting edge artists and musicians of that time, like the Talking Heads, Bryan Ferry, Helmut Newton, David Hockney and Deborah Harry. I worked Melrose Avenue and the Sunset Strip like it was my backyard! I wined and dined record company executives and spent my evenings at the Roxy or Barrymore's, "networking". It was the most fun time of my life! Hanging with the L.A. crowd in the late 70s was a dream. I loved going to the clubs, dancing to the disco beat of Donna Summer or hanging out backstage with Huey Lewis and his band. How I got any work done, I will never know!," Ilze laughed. " It was during this time that I met some really nice people like Bruce Springsteen, Boz Scaggs and John Travolta. For a midwestern girl, these were exciting times!"

As much fun as she was having Ilze eventually noticed that her bank account wasn't getting any bigger. "In 1981 I realized that I had to move forward in my profession and make some real cash," Ilze said. "The "ah-ha" moment came from meeting Arlene Kaplan, a female account executive at one of LA's leading oldies

radio stations, KRTH 101. Arlene was driving a Cadillac and sporting some very nice bling. I remember asking her what the pay was like selling radio time and what her commission structure was like. It didn't take a math genius to see that I was doing the same work selling advertising, but making less money. A lot less! So the very next week I enrolled in a Media selling course offered by UCLA."

"All the teachers were currently employed by radio and TV stations and this is where I did my networking and eventually got a job selling airtime for KFAC, LA's only Classical radio station. It was a niche sell, but this is where I fell in love with Opera and discovered that I loved to travel. I became the station's first Travel Editor and wrote a daily Travel segment that aired during the afternoon drive time. I was invited on junkets to Europe with other journalists and remember so clearly seeing what "first-class" travel was all about. Five star hotels and First Class cabins! I knew one day I would be able to afford to travel in comfort!,"

Ilze's KFAC Radio business card

Ilze said - and her prediction would eventually come true - but the future she envisioned would not be in L.A.
"As exciting as Los Angeles was, it eventually lost its appeal," Ilze said. "Everyone wanted to be a movie star, or know a movie star, and that left me with quite a few empty personal relationships. I wanted to be back home in Ohio, where Middle America values still existed and where I could spend more time with my family. I was lucky enough to be offered a job by the famous Walter Tiburski, the guru of famous rock station WMMS Radio in Cleveland. He had just taken over another radio station, WQAL, Cleveland's new easy listening alternative and he was looking for an Account Executive that could call on advertising agencies and work with difficult media buyers."
"I moved back to Cleveland, took the job, and shortly after that, with the help of our match-making siblings, met the Love of my Life, my husband John! We met on Thanksgiving Day and that day will always be one of the most important days in my life. A few years prior to that, my brother Marty had married a beautiful Canadian girl named Irene and her very handsome brother was John! It was love at first sight for us when we met at my parent's house for Thanksgiving dinner. Marty and Irene set us up to be the God Parents to their first son, Alexander. When John and I met we were both 36 years old. At that time in our lives we had zero interest in having children but that is exactly what happened! He proposed two years later, also on a Thanksgiving, and it didn't take me long to quit my job and move to the Canada to start a family. Having children was the best thing that could have ever happened to us. We are so proud to have our two children, Gerrit and Natasha in our lives!"

"After we moved to Canada in 1989, I immediately got pregnant with Gerrit and 16 months later Natasha joined him. We had the perfect family and those years of being a Mom were the best ever! Still, leaving Cleveland and moving to Quebec was certainly a culture shock. I had no friends and we lived in the country. There was no Starbucks on the corner to hang out

Ilze & John's Wedding Day

in and my best friends were the bears and raccoons that populated the backyard," Ilze laughed. Of course, as we all know, the only constant in life is change and Ilze's life was about to change yet again - and this change would lead her right into the domain world.

Ilze & John with their children Gerrit & Natasha
"By the time the kids were old enough for school, I was certainly ready to look for a job," Ilze said. "As I look back I will never forget my phone call to my neighbor, JoAnne, asking to borrow her typewriter so I could prepare my resume. It was after she stopped laughing hysterically that she told me typewriters no longer existed and that I had to use a data word processor. Yikes! A lot had happened in ten years. I took a course at the local community college on how to use Excel and Word and very quickly found out that NO ONE was interested in hiring me. I had no experience in the Canadian marketplace, and I was over 50. OK, Plan B. I decided to start a company designing websites and that is when I realized I needed ONE domain. Just One." Ilze didn't know that domain are like potato chips - no one can eat just one!
" I contacted Internic, a registrar owned my Momentous and Rob Hall, which was based here in Ottawa. I was told on the phone that I had to wait to register a .CA domain until November 1. This was only a few days away and this date represented the first release of .CA domains to the public. Until this date, the .CA was free to business owners - provided they could meet certain provincial requirements," Ilze said. " Canada was getting into the domain business, spearheaded by CIRA (Canadian Internet Registration Association). The timing of all of this can only be called Kismet and I was on the path to being the first and only woman to own and manage one of the most valuable .CA domain portfolios in Canada. Who would have guessed that fifteen years later, the prestigious T.R.A.F.F.I.C. conference would honor me with their first and only "Women in Domaining Award!"

"In the days approaching the .CA release, hundreds of people were queuing up to grab a premium domain," Ilze recalled. " In domain jargon, it was the first drop for the .CA. Up here in Canada, they call it TBR (To Be released). I had no idea what a Premium domain was. All I knew was that I needed only one domain for my new website. Since I was not sure if I would get the domain name I wanted, I applied for 10 names at $100 per registration, figuring I should get one or two. The people at Internic told me that if I "grabbed" all 10 names, I could return the domains I did not want and get my money back. Internic was charging everyone for all the TBR domains up front to prevent "cyber squatting". At the time, I was

Ilze receiving T.R.A.F.F.I.C. Women
in Domaining Award (Nov. 1, 2014)

not familiar with the term but I see now it made absolutely no sense. It was the Wild West up here. The Registrars, along with CIRA, were just making up the rules as they went along. Of course, I got all the domains I registered because they were of no value to anyone but me - that is they were not commercially sellable, like say, cars.ca or trucks.ca."
"I registered domains like Web101.ca, WebVision.ca, WebDoctor.ca, and WebProgramming.ca. Of course, I was stuck with paying for all 10 domains and I was not happy with the $1,000 expenditure that appeared on my husband's credit card. For days I called Internic asking for the refund that they promised me, but to no avail. It was during this time that Loans.com was sold in the U.S. for $3 million to Bank of America. My husband suggested that I just keep the domains and sell them. When I tried to find a website to list them on, all that existed were U.S. sites, like Afternic, and the .CA did not have much chance of being noticed, much less sold.

It was at that point that I decided to create my own website to showcase these lowly 10 domains. Of course I had to have more than 10 domains to list, so I decided to hand register approximately 60 more .CA domains. With John's credit cards, and most importantly, his emotional support, I started to populate my website with, what I thought were sellable .CA domains," Ilze said.
Though it was never what she intended, Ilze suddenly found herself in the domain business - a business she didn't yet know enough about. " There were domainers in Canada, like Peter Maxymych, Frank Schilling and Jason Chapnik, who already knew the domain system and were experts at registering the premium one-word generics," she noted. " Maxymych would later sell part of his portfolio to Yellow Pages Canada for a whopping $ 2.5 million and we all know how successful Frank Schilling is and continues to be. Canada has so many successful domainers that I was fortunate that they all embraced me and many helped mentor me. Adam Dicker's DNForum is based in Canada and was a serious tool for me when it came to communicating with other domainers."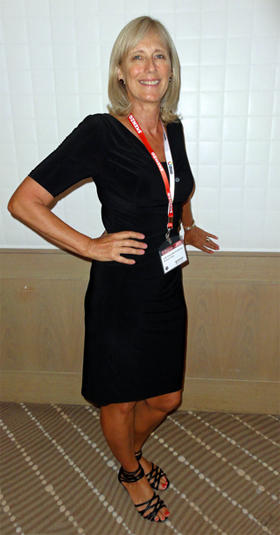 Ilze at the 2012 T.R.A.F.F.I.C.
East Conference at Fort Lauderdale
Beach, Florida.
"I ended up dropping all of the domains that I had originally registered that initial day and replaced them with true key-word generics. I realized I could not afford to hand-register hundreds of domains just to make my website more commercially appealing, so I reached out to numerous Canadian domainers and offered to list their domains on my website for free. I put in a "French" link and became long-time friends with Fernand Camire, who showed me the value of an acronym. After an "acronym lesson", I asked one of my Registrars to run a program and parse out all the unregistered 3- letter acronyms ending in the letter i, c, e, s, a, and l. I hand-registered over 500 in one fell swoop and later started to go after all the 2-letter domains I could get my hands on. I contacted every owner of a 2-letter name and offered to buy them. I ended up collecting some very nice domains, like HI.ca, AD.ca, FB.ca, Ma.ca VP.ca and XM.ca. Currently I own close to 80 LL.ca domains."
" During this time I also registered several hundred Travel related domains, like CubaTravel.ca, HawaiiTravel.ca, and MexicoTravel.ca. However, when I tried to sell these domains to the Travel industry, no one was interested. I had a huge renewal bill coming up and not one single domain sale! This is when I met one of the most influential people in my domain career - Chris Stewart. He contacted me after receiving one of my sales letters, and suggested I get in touch with Ron Sheridan from Domain Sponsor in Los Angeles and find out about their PPC (pay per click) program," Ilze said.
"After uploading my entire portfolio to Domain
Sponsor, I started to see real-time pennies start to accumulate in my PPC account. My husband and I were so excited to see that there was another way to earn money from my domain portfolio. It was the beginning of a very lucrative business for me. In addition to earning money on my own domains, I signed up every Canadian domainer I could find and received a referral commission on their PPC earnings. As PPC grew as a business, my paychecks increased to the point where selling domains took a back seat. I started to focus on registering domains that would generate traffic. I worked with Clickbank and TrafficZ and Skenzo, making the most out of this opportunity. Of course, the PPC business has since collapsed, but I still receive a nice paycheck every month. Thankfully, I still own many of my original generic domains. Stupidly, I dropped many of them, when I saw they had no PPC traffic. Oh well, live and learn!"
While Ilze now had a very profitable business, one thing was still missing - the social interaction that has always been such an important part of her life. " I felt very isolated. At the time the only person I could discuss my business with was my husband," Ilze said. "But then I read in one of the blogs about a domain conference, called T.R.A.F.F.I.C., run by Rick Schwartz and Howard and Barbara Neu. So I attended my first domain conference at the Hyatt in New York

City in June 2007. I did not know a single person, but by the end of the conference, I had made many friends and I was awed by the caliber of investors that I had only read about in the blogs. I was hooked and invited my brother Marty to join me at the next conference in Florida. We had so much fun attending the seminars, bidding at the auctions and getting to know some of the nicest people in the world!"

"It was during this time that I started to add the .com to my portfolio. Previously, I had only purchased .CA domains and some .biz and .info which turned out to be a disaster for me as an investment. Marty became an integral part of my domain business as he has an in-depth financial and Investment background. Marty and I started Baltic Internet Marketing Inc. in 2008 and

Ilze with brother and business partner Marty

have added some nice domains to our portfolio, such as Banks.ca and ChickenRecipes.com.

Although Marty has his hands full managing his Real Estate Investment properties he still finds time to stay involved in our Domain investments," Ilze noted.
While hundreds of new gTLDs have arrived on the scene in the past year Ilze isn't convinced she needs to expand her focus beyond .com and .CA. "The .CA seems to still be growing, according to the statistics at www.CIRA.ca. To date, there are well over 2 million .CA names registered," Ilze noted. "And I think the .com is here to stay. I have yet to see a single New TLD being branded. Google might have bought abc.xyz, but if you go onto the street and ask the regular guy who will eventually own a website, thus needing a domain name, I doubt if he will say he wants a .xyz!"

"In Canada, he will want a .CA, and, if he can register it, also the .com. I have gone thru the .biz, .info, .mobi, etc, and I have been reminded of what I have always known - people do not like change. They know and understand the .com and the .com will rule for a long time to come. Of course, as our kids grow older and

become decision makers and end-users there is always the possibility of more extensions being used. My crystal Ball only goes one decade at a time," Ilze laughed.
The main reason Ilze doesn't place even bigger bets on her preferred extensions is that bargains are getting harder to come by. "Investment opportunities are becoming more expensive for the average Canadian investor. I have stopped doing the TBR Drops because the bidding prices are just too high, with not enough profit to justify holding on to a domain, waiting for it to sell," she said. "I am lucky that I have a huge portfolio of sellable acronyms and generics that pay the bills. Although I will be spending my time selling .CA domains, I am still always looking for that .com gem!'
Looking ahead Ilze has reason to be optimistic about the future of her business especially since she added a new partner last year. " My son Gerrit was bit by the domain bug when he attended his first T.R.A.F.F.I.C. conference at the Bellagio in Las Vegas in May 2014," Ilze confirmed. " He was embraced immediately by the domain community and especially after meeting Barbara and Howard, he felt like he was "home".

"He reads all the blogs, especially DNJournal.com. He particularly enjoys the conversations at Domain Sherpa and the interesting conversation over at DomainGang! I think he probably knows more about the state of the domain industry today than I do! He is pretty busy as he is in the process of building his brokerage business, while still managing the sales at www.ExcellentDomains.ca and finishing his Marketing/Computer Science degree at McGill University."

Ilze and her son Gerrit at the T.R.A.F.F.I.C.
Las Vegas Conference in May 2014.
Ilze's daughter has also gotten involved and husband John has remained her rock. "Natasha, who currently attends Carleton University and is a player on the Women's basketball team is involved with the accounting aspect of my company and helps manage the day to day operations when I am out of town. I credit my husband, John with supporting me financially and emotionally when I started this business. When he finds time to get away from his Horse Farm, and his Real Estate business, he is always the first person to talk about our domain business. When he can, he makes a rare appearance at one of the Domain Conferences. He plans on attending the Neu family's new show, THE Domain Conference, in Fort Lauderdale this month (September 2015). Because Gerrit and Natasha are both interested in the Domain Business, I plan on working with them on the Brokerage/Sales aspect. I have collected enough domains to keep everyone busy selling! It is reassuring to me to know that my business will pass on to my children when I cross over to the other side."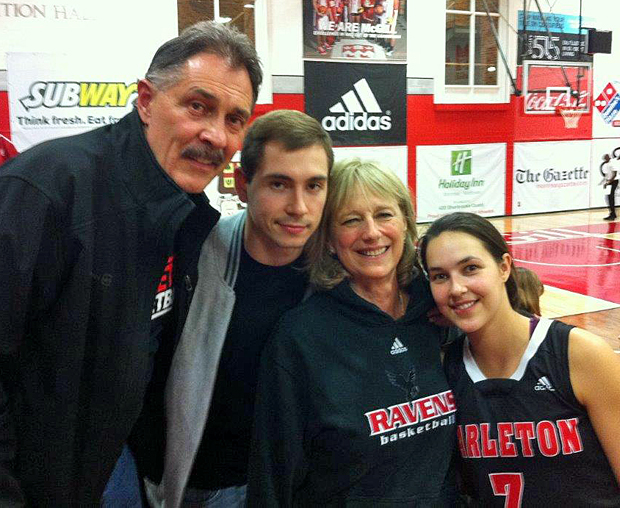 The family that works and plays together, stays together! John, Gerrit, Ilze and Natasha
While the domain business may have seemed like an unlikely place for Ilze to land, looking back, she thinks that in a way, it all makes sense. "Historically, I have always looked for the challenge and this was certainly the greatest challenge to date. To think that a person could purchase a domain for under $100 and sell it for thousands and to think that person was going to be me was also crazy but I believed if anyone could do it, I certainly could," Ilze said. "I worked around the clock collecting domains. In Canada, the drops were at midnight every day for many years. I would spend endless hours going over domains, setting up auctions and then bidding on them, sometimes, bidding more than our family could really afford. I had no idea what I was getting into. Yes, the concept was "out there" but it was an exciting challenge," Ilze said.
"As the years went by and I was earning money from sales and PPC, I became very excited about discovering the "Domaining Community." For five years, the only person I could really talk to about domains was my husband. No one else understood what I was doing. Knowing I could finally meet with people that did the same thing I did was so exciting. I would say, bar none, the most important benefit to me personally have been the wonderful people I have met. The domaining industry changes, as all industries do, but The people remain the same. I know when I go to any domain conference or gathering I will have lots of laughs and the people there are genuine. My first friend (although she probably does not know it) was Barbara Neu. When I arrived at my first domain conference in New York City, she was there to welcome me and make me feel like a million dollars, as did her husband Howard and son Ray. She manages to do that to everyone, even to this day!"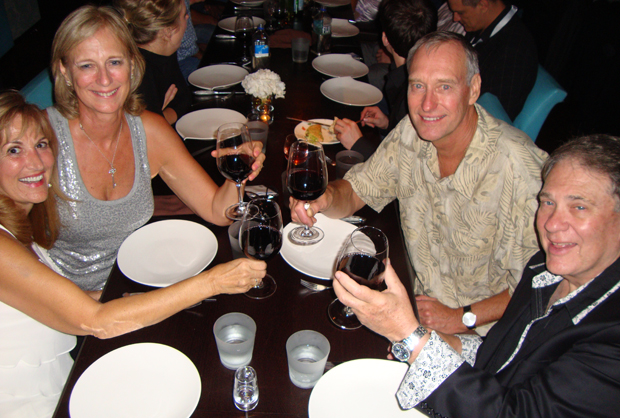 (L to R): Barbara Neu, Ilze Kaulins-Plascakz, Marty Kaulins and Howard Neu
at the 2011 T.R.A.F.F.I.C. East Conference at Fort Lauderdale Beach, Florida.
"I understand exactly how Gerrit felt when he attended his first conference two years ago," Ilze concluded. "Outsiders might think we are a bit "clicky", but they are wrong. We are family and I am so lucky to have so many friends in this business. I know that when I see these people I get a huge hug and that they are my friends. There is no agenda. Just a pure love for being alive and being a part of something very special!"