Many of our readers not only invest in domains as assets in their own right but also develop full-featured informational or ecommerce websites on one or more of their favorite names. For those who do operate websites, Google is planning to enact a major change in July (yes this July - 2018) that could cause your site to lose a significant amount of traffic if you have not prepared for it.
As most of you know Google's Chrome browser is by far the one most commonly used by web surfers. As of this writing, Chrome's browser market share was over 60% with Internet Explorer and Firefox both far behind at at about 12% each. When Google releases Chrome version 68 in July the company plans to mark all websites that do not have an SSL certificate as Not Secure. With an

Above: Current Chrome browser address
bar with SSL certificate installed.

SSL certificate properly installed a padlock icon will appear next your address in the browser bar and an "s" for secure is added to the "http" part of your URL. On Chrome, it adds a Secure label as well. This assures visitors to your site that the connection between their browser and your website is encrypted, protecting sensitive information from prying eyes.
Below: Starting in July 2018 if your web address (and site pages) still begins with http (the result of not having an SSL certificate in place) Chrome will label your website Not Secure in its address bar which could keep a significant number of your visitors from proceeding to your site.

A couple of years ago only about 3% of websites were encrypted but since Google made it known it was heading in this direction with Chrome there has been a mad dash by site owners to get their own certificates in place. Over 50% of sites are believed to have them now. In the past they were a necessity for e-commerce and financial sites to assure visitors their data would not be intercepted. Now all kinds of sites will need to have one in place to leverage advanced mobile and browser features and to avoid the not secure stigma. The penalty for not acting is expected to get even more severe in the near future with full page "not a secure site" warnings coming up when surfers try to reach an unencrypted site.
Michael Ward
EVP, Strategic Partnerships
The SSL Store

I have to act on this myself and it could have been a problem for me as I had no idea what was involved in buying an SSL certificate, what kind to buy (there are several options) and how to get it installed. Fortunately, I had the perfect contact to reach out to and get my many questions answered - answers I will share with you in this article.

If you have spent much time at all in the domain industry odds are you already know who Michael Ward is. Michael entered the business the same year I did (2002), starting with Verisign and proceeding through executive positions at the Public Interest Registry (the administrator of .ORG domains), domain monetization service Parked.com, DNC Holdings (who operates registrar DirectNic) and Uniregistry. As it happens, Michael most recently took a position as Executive Vice President, Strategic Partnerships,
for the world's largest distributor of SSL certificates, The SSL Store.

Better yet, Ward and The SSL Store are based in the same place we are, Florida's Tampa Bay area - specifically downtown St. Petersburg for The SSL

Store, who also maintains offices in Ahmedabad, India and Amsterdam, The Netherlands. So, I took advantage of having the highest level of SSL expertise in our backyard and paid a visit to Michael at The SSL Store where he introduced me to Chief Operating Officer Bill Grueninger and Director of Channel Operations Kyle Grueninger. The four of us retired to the company's conference room where Bill, Kyle and Michael gave me a great introduction to the basics of SSL certificates and encryption.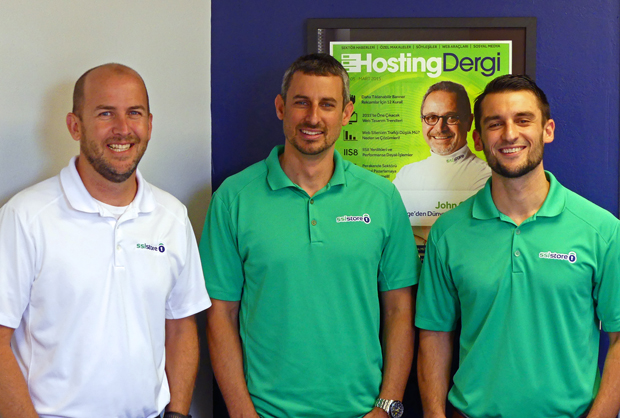 (Left to right): Michael Ward, Bill Grueninger, Company
Founder John Tuncer in photo on wall, Kyle Grueninger.
SSL reselling officially started in 2007 when serial entrepreneur and company founder John Tuncer saw an opportunity to satisfy a gap in his own business and eventually the entire SSL industry. Bill worked with John previously in another capacity on Johnís own web development/SEO service that included building e-commerce enabled websites. Those websites required SSL certificates and they decided as long as they had to have them they might as well provide them themselves. Tuncer and Grueninger quickly became an SSL certificate reseller and eventually a top tier partner of RapidSSL allowing them to immediately offer clients one popular brand, great service and support while maintaining the lowest possible pricing.
As the SSL business grew Tuncer and Grueninger knew to get to the next level they needed a higher level brand that would allow the company to represent multiple SSL brands and services. The SSL Store gave them the opportunity to do that. In one place, The SSL Store offers all of the leading SSL certificate brands including giants Comodo and DigiCert (formerly Symantec) as well as GeoTrust, Thawte, RapidSSL and Certum. This product lineup accounts for the majority of the commercial SSL market.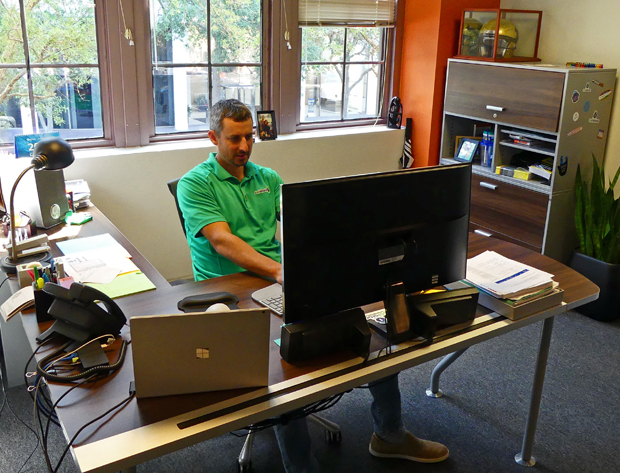 SSL Store COO Bill Grueninger at work in his office in the historic
Palais Royale building in downtown St. Petersburg, Florida.
The SSL store operates on several levels. There is a retail channel for individual website owners and a reseller channel with over 8,000 resellers under them that is their bread and butter. The latter clients are hosting companies, registrars, web designers, etc. There is also a rapidly growing enterprise channel in which they service large companies that may operate hundreds of different public and private websites. The SSL Store offers complete certificate management solutions that takes the management load off of the client and makes sure they have the appropriate certificate in place for all of their sites.
When I say "the appropriate certificate" that refers to the many different kinds that can be purchased, with the right one for your site depending on your specific needs. The least expensive one is a Domain Validated (DV) certificate which will likely be all most of our readers will need. They are popular because they are fast and simple to get - all you have to do is prove you own the domain you wish to secure - and inexpensive (as little as $15 annually). The process usually takes just a few minutes to complete and you'll get industry standard encryption and trust indicators like HTTPS and the padlock icon.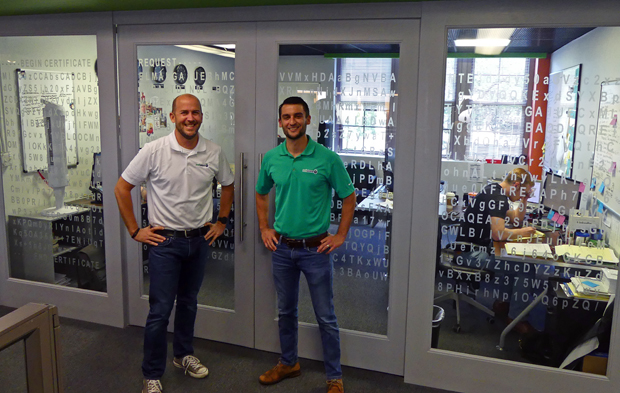 Encryption is coming and at the SSL Store the writing in on the wall - literally on the wall! Those letters and numbers on the glass behind Michael Ward and Kyle Grueninger are the company's actual Certificate Signing Request (CSR) - a block of encoded text included in an SSL certificate that includes information like the organization name, domain name, locality, and country.
The next step up are Organization Validated (OV) certificates. These certificates increase the level of trust because they validate that a domain belongs to a registered business before being issued. This process typically takes a day to complete. The added benefit of an OV certificate is a dynamic site seal, which when clicked on, displays validated company information to a visitor, along with HTTPS and the padlock icon.
At the top level are Extended Validation (EV) certificates. The main feature of EV certificates is the green address bar that displays the verified company name in green next to the URL - itís the most universally trusted symbol across the web. Websites equipped with the green address bar Ė like Apple, PayPal and Twitter Ė are instantly recognized as a legitimate, legal entity thatís behind the website and can be trusted with sensitive information at glance. The business validation process is a little more thorough than OV, but can typically be completed in a day or so, but it is the highest level of trust for a website and your brand.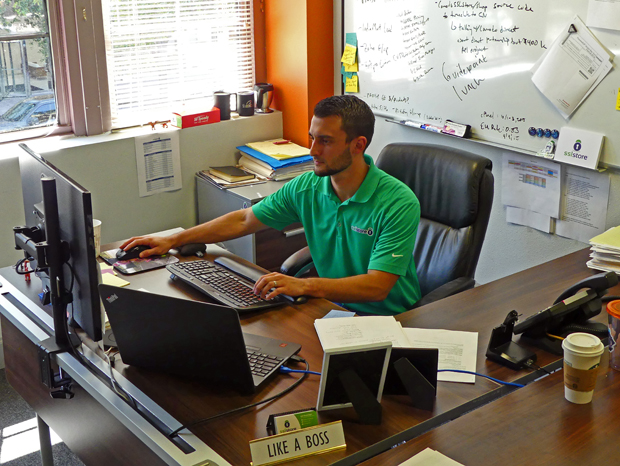 Director of Channel Operations at work in his office at The SSL Store.
There are several other kinds of special use certificates, including Multi-Domain (MD) and Wildcard certificates. One Multi-Domain SSL certificate can cover up to 250 total domains, depending on the brand of certificate. Multi-Domain certificates are an extremely convenient option for businesses that own a lot of different TLD extensions and want to cover them all with full 256-bit encryption without having to purchase and install separate SSLs for each one. A Wildcard can protect all subdomains with just one certificate. Whatever kind you may need The SSL Store offers it.
With respect to installation, once you buy your certificate it is installed through your hosting company. The SSL certificate comes with files you can provide your host to install (or those with some technical expertise shouldn't have any trouble installing them on their own). I mentioned earlier that many hosting companies resell SSL certificates. So, you can order one through most hosts and they will likely install it for you at no additional cost but you will pay dearly for the convenience. I did a quick check at my host and found the DV certificate I can buy through The SSL Store for $15 costs $75 for the same level of certificate through my host. Since a quick Google search returned instructions for installing an SSL certificate through CPanel, odds are you can do it yourself. Of course, if you buy through The SSL Store and run into problems you can take advantage of their Customer Experience Department for around the clock support.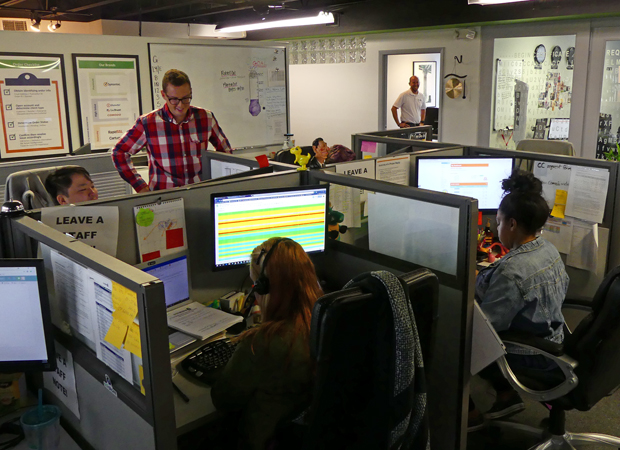 Just one corner of the SSL Store's Customer Experience Department where SSL experts
are always on duty to answer questions and solve any problems that may arise.
Regarding cost, we also talked about a new development - free SSL certificates. These are being offered through Let's Encrypt, a Google-backed Certificate Authority. As always, this is a case of "you get what you pay for." Bill Grueninger noted that Lets Encrypt offers basic encryption only - none of the higher trust levels like verified identity. As a free service it is free to anyone - bad actors as well as good ones. Being encrypted doesn't necessarily mean being safe if you don't know who is behind the site. Grueninger believes this could make an already bad phishing problem worse unless a way to keep the keep the miscreants out is quickly implemented.
With security issues front and center for so many Internet users today your SSL certificate is probably not the best place to cut corners, especially when there are so many low cost options available from the long established trusted companies represented in The SSL Store's offerings.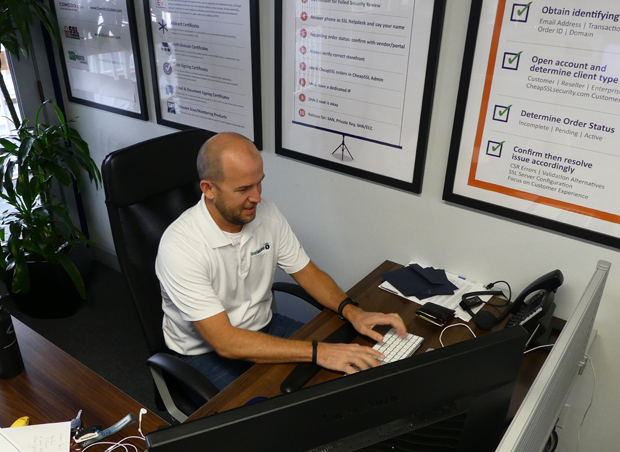 For us, being able to get SSL certificate guidance from a trusted domain industry veteran, Michael Ward (at his SSL Store desk above), will make it a lot easier for us to make the right choice in implementing encryption before Google's Chrome update changes the landscape in July.