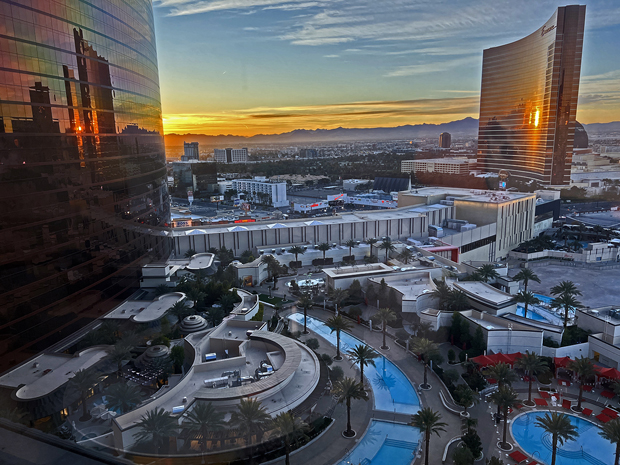 Above: The Sunday morning sunrise in Las Vegas viewed from Resorts World where
the 2023 ICA Annual Meeting is underway and continuing through Tuesday (January 23).
Below: ICA Executive Director Kamila Sekiewicz greets Sedo CMO Christian Voss
at the registration table Sunday morning at the Las Vegas Hilton.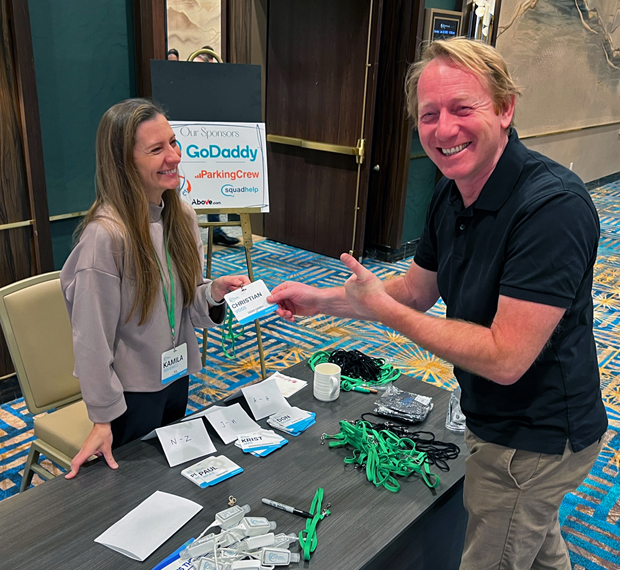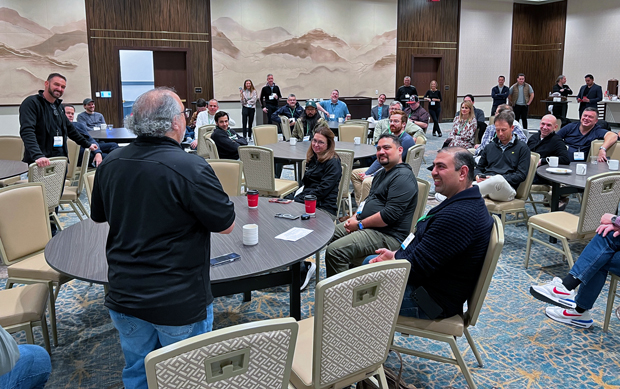 Above: Shortly after registration began, ICA Board Member Braden Pollock (standing at far left) gathered some of those first to arrive so they could introduce themselves to fellow members.
By early afternoon most of the attendees had registered and ready to start a busy day of social events that gave them a chance to choose among several attractive options. One group (at right) went to the famous Neon Museum that has preserves dozens of dazzling original casino and hotel signs from the city's golden era. Having seen the museum on various TV programs over the years it was a place we always wanted to visit so we went with that group.

In another photo from the Neon Museum (below) you see the massive original sign that graced the historic Moulin Rouge hotel and casino in the 1950s and 60s. There were also original signs from the Sahara, the Stardust, the Golden Nugget and many more. Nothing says Vegas like neon so it was a real treat to get this close up look at the city's history.

Meanwhile, others were either exploring the city's old downtown art district on an electric scooter tour, driving exotic race cars or hiking to the highest elevation they could find in Red Rock Canyon.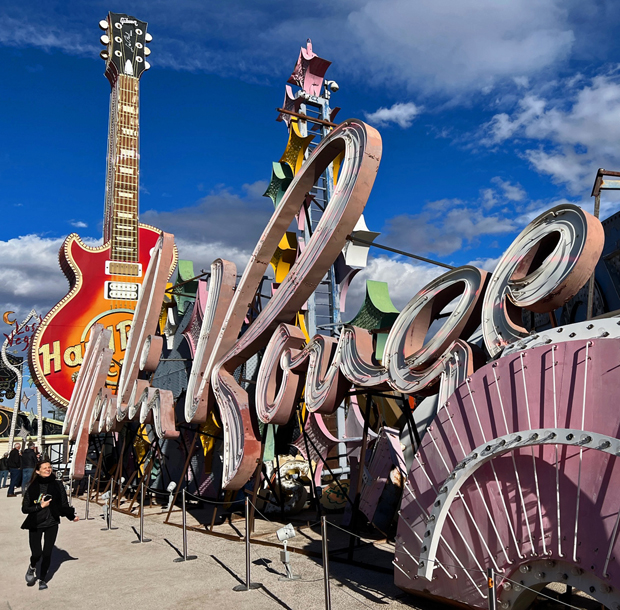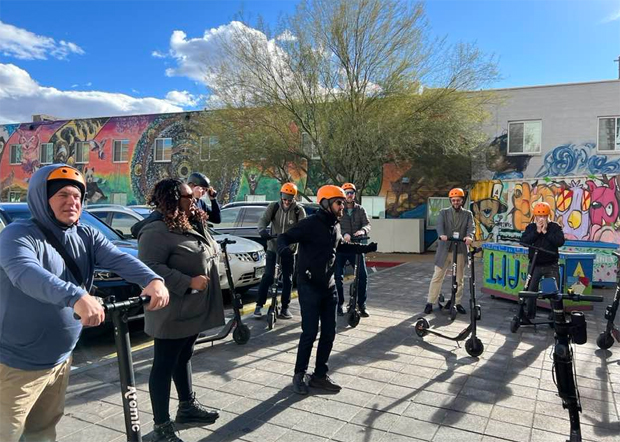 Above: ICA members on the electric scooter tour of old Las Vegas Sunday afternoon.
(Photo courtesy of Kevin McKim)
Below: At the same time one of the most adventurous groups went on a hike at Red Rock Canyon. We heard the temperature at the highest point in their trek dropped to just 20 degrees!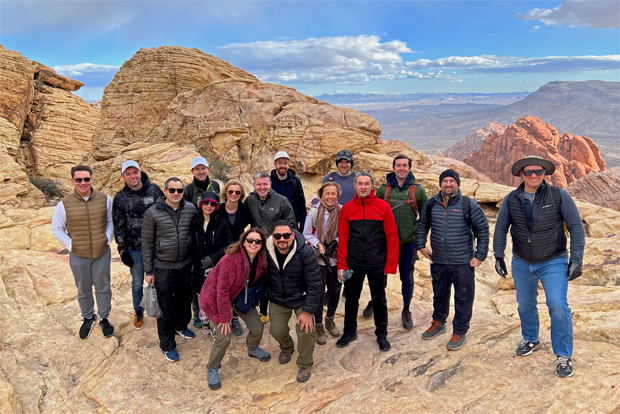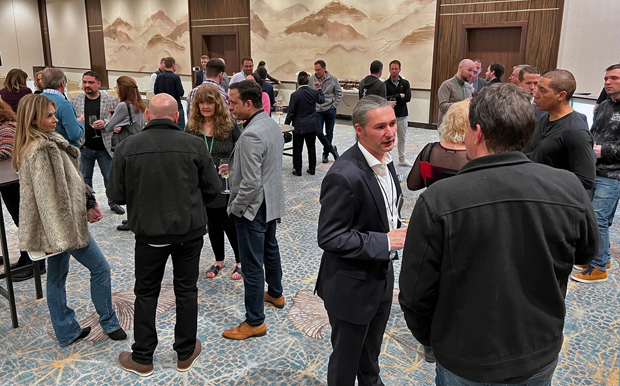 Above: After the busy day of social outings, members returned to the Las Vegas Hilton
for the opening night reception and dinner sponsored by GoDaddy.
Below: Some of the familiar faces in the opening night crowd (left to right)
were ICA Board Member Nat Cohen, Attorney Jason Schaeffer,
ICA Legal Counsel Zak Muscovitch and ICA member Ryan Finnesy.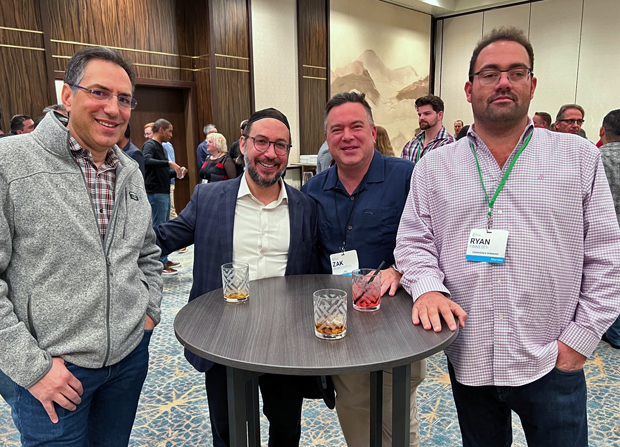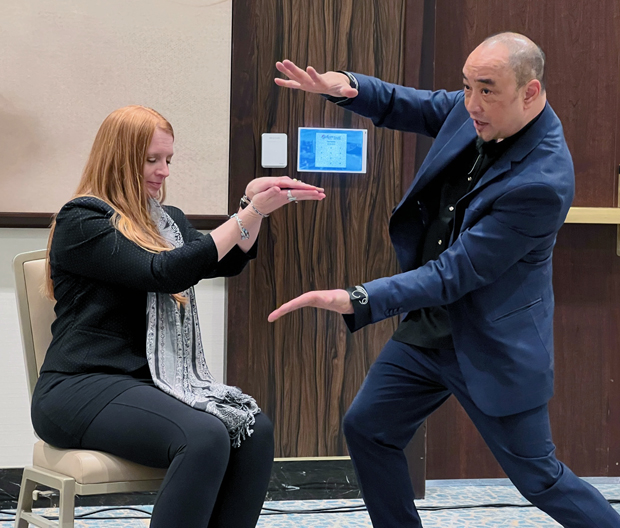 Above: After dinner members were treated to an astonishing show put on by veteran Las Vegas mentalist Alain Nu - Tthe Man Who Knows. The entertaining magician, mentalist and comedian incorporated members in one remarkable trick after another, including Penny Nicks (above), Penny's husband Paul, Tessa Holcomb, Ammar Kubba, Dr. Gregg McNair and Christian Voss among others. Alain's appearance was facilitated by ICA member Kina Merdinian who is a personal friend of Nu's.
Below: Truc Tran (center) and Nat Cohen try to figure out how Alain Nu does it but, like the rest of us, were left in amazement. Kind of the way we felt were after seeing how well ICA leaders performed in bringing their members such an unforgettable opening day!