Just minutes after we completed our latest bi-weekly domain sales report we got a quick note from veteran broker James Booth letting us know he had closed a $3.8 million deal for IT.com - the highest publicly reported price for a domain sale so far this year. Since then I have gotten more details on the transaction and am able to tell you that James served as the broker for the seller. The buyer was represented by Igor Furdyk who, in addition to being a veteran domain broker, is a Project Manager at Intis Telecom (the domain buyer) and also Head of Sales for the new domain registration service that, as of today, began operations on IT.com.
IT.com follows the model that CentralNic has employed for years with top tier two-letter .com domains - which is using them as the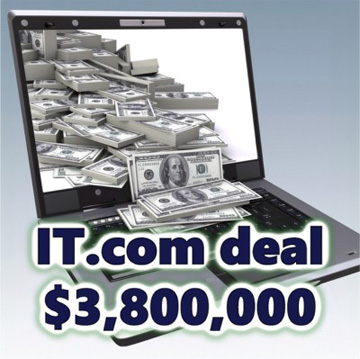 base to sell third level sub-domain registrations. For example, with the IT.com site now open, names like dnjournal.it.com can be registered at a retail cost of $49. IT.com is launching an ambitious marketing campaign including a high profile presence at the 2021 WebSummit conference in Lisbon, Portugal that runs today (November 1) through Thursday.
UK-based Intis also owns UK.IT and throughout this year the company has been buying up two-letter .IT domains in other extensions including .hn, .to, .ax, .sb, .uy, .tn, .by, kz, .ae and .broker with the prices they paid for IT in those TLDs ranging from $2,000 up to $25,000. The new 3rd level registration service will be offered on all of those extensions as well.
Igor also provided us with documentation showing that full payment for IT.com is being made over a three-year period that follows a $1.5 million down payment. While the $3.8 million deal is the biggest one publicly report so far this year, we don't chart sales until payment has been fully completed, so Hippo.com at $3.3 million will remain in the #1 position on our 2021 YTD Top 100 Sale Chart. No matter how you slice it, it is a terrific acquisition for UK-based Intis Telecom and a major feather in the cap for brokers James Booth and Igor Furdyk.