As we are all painfully aware, the global financial system is going through a major crisis. However despite severe dislocation in the general economy, our latest quarterly analysis of domain sales data shows the domain aftermarket holding up better than the vast majority of asset classes. The financial meltdown first hit the headlines near the end of the recently completed third quarter of 2008 but mainstream economic activity had been weak for months before the depth of the crisis was made known.
In that atmosphere it is not surprising that the total dollar value of reported domain sales in 3Q-2008 was down 22% from the same quarter in 2007- $24,554,704 this year vs. $30,173,296 last year. However, most of the approximately $5.5 million year over year decrease was concentrated in less than a handful of domains at the ultra high end of the market.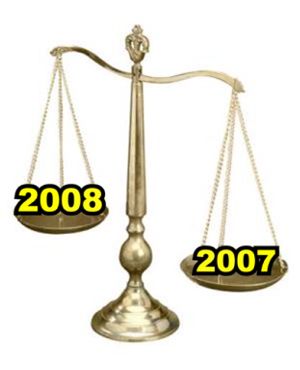 In 3Q-2007, just four names accounted for more that $5 million worth of that quarter's sales (the pair of CreditCheck.com and FreeCreditCheck.com at $3 million, Chinese.com at $1,120,008 and Poker.de at $957,937). In the leaner times that overshadowed 3Q-2008, only one sale broke the seven figure barrier - and just barely when Invest.com changed hands for $1,015,000 in the final week of the quarter.
If you look beyond those five sales (four last year and one this year) at the ultra high end, the rest of the market was down only slightly from the same quarter a year ago. This is better illustrated by the median sales price for individual domains (the price at which half of all sales were higher and half of all sales lower). In 3Q-2007 the median sales price was $2,950. In 3Q-2008, the median price was a bit lower at $2,788.

The transaction volume year over year was also virtually unchanged. In 3Q-2007 3,823 transactions were reported at the levels we track ($2,000 and up for .coms and $1,000 and up for all other extensions). In 3Q-2008, 3,863 transactions were reported - 40 more than last year. As you would expect with more high dollar sales last year, the average sale price was higher then - $7,892 vs. $6,356 this year.
One more interesting bit of data, especially given that this year has been much more challenging in the overall economy than last year, is that the total volume of Year To Date reported sales is still running slightly higher this year than they were at this time last year. In the first three quarters of 2008, total reported sales were $87,426,600, a hair above the $86,716,020 reported in the first three quarters of last year.
With confidence in the economy at such a low ebb now, we will almost certainly finish the year with a slightly lower sales volume total than we saw in 2007. However with domain aftermarket values holding up as well as they have against such daunting odds, I think we have much to be thankful for, especially when so many others are dealing with far greater difficulties than we are.

The big difference we have seen this year is less activity at the very high end of the market while the mid to low range has remained largely unaffected. With the huge drop in PPC revenues over the past year, domains sold on the basis of their PPC revenue have obviously dropped in value but existing revenue is a non issue for the small to medium sized business market. Those SMB end users continue to be as active in the aftermarket as ever and there is little reason to believe that will change. At a time when every dollar counts, a cost efficient web platform is more important to business success than ever before.
The Domain Industry's Good Doctors, Ham and Hartnett, Graduate From the Harvard Business School

Dr. Chris Hartnett and Dr. Kevin Ham
at Harvard Business School graduation
ceremony October 24 in Cambridge, Mass.

Domain industry leaders Dr. Kevin Ham and Dr. Chris Hartnett reached another major milestone in their illustrious careers a few days ago when they received diplomas for completing the Harvard Business School's prestigious Advanced Management Program, the highest level executive program offered by the school.

Chris and Kevin had joined 177 other executives from 45 countries around the world for the intensive two-month program that had them sequestered in a classroom 14 hours a day, six days a week. They successfully completed the rigorous course and graduated October 24. Dr. Hartnett and Dr. Ham are close friends and Hartnett serves on the board of the company Dr. Ham founded, Reinvent Technology. Both were featured in DN Journal Cover Stories ths year, Dr. Ham in May and Dr. Hartnett in June.

Hartnett told us, "Without a doubt, it was one of the hardest things I have ever done. Financial and Business Boot camp it was, of the highest degree. We studied in great detail over 200 global

companies from all angles ranging from their Finances to their Strategy, Marketing and Personnel. On many days, we would finish with our learning and study groups at 1:30am -2:00am and be up and showered and ready for more studying and classes at 7am the next day. We did this 6 ˝ days a week for two months. The last two weeks, I don't remember getting more than 4-5 hours of sleep on any one night.

The work load was unbelievable but the teachers where absolutely world class and the other 177 students were literally world leaders (27% from North America and the rest from around the globe with strong concentrations from Australia, China, Japan, Singapore, Britain, Norway and 30 other countries). They represented all the very top Global Companies: eBay, Xerox, Nissan, Reinvent, Renault, Lenovo, IBM, Northrop-Grumman's, Goldman Sachs, Mitsubishi, BP, EMC, Wal-Mart and Flextronics. There were also Generals from the Australian Army, Government Officials from China and many other countries such as Bhutan and Mauritius, not to mention leaders from the banking and financial worlds."

Kevin and Chris in their Harvard classroom
Dr. Hartnett added, "This all was happening while Harvard Business School was celebrating its 100th Anniversary with guest speakers and classroom guests such as Michael Dell, Bill Gates, Meg Whitman, The Chairman and CEO of Intel, the Chairman of BP, the Chairman and CEO of GE and the list goes on and on. It was literally the Who's Who of the global business world past, present and future. We also had the great pleasure of having visitors from the domain world's elite such as Zappy Zapolin and Andrew Miller (also Harvard Alumni) and Hitfarm's illustrious Don Ham . It was very, very cool and this was all happening while the entire global economy, as we knew it, was melting down right before our eyes!
Chris closed by noting that he and Kevin were able to serve as evangelists for the entire domain industry while going through the Harvard program. "All the major companies of the world now know what a "Domain" is and also have a new found appreciation for their value, traffic and future development potential!," Dr. Hartnett declared.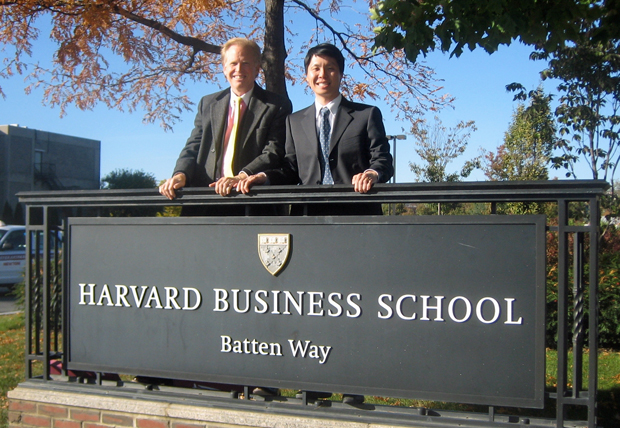 Chris and Kevin on their graduation day at Harvard Business School Oct. 24
*****