For over a decade now Brett Lewis, owner of Brooklyn based law firm Lewis & Lin, LLC, has been one of the top attorneys in the domain industry. What many may not have known is that Brett, like many other highly creative people in our business, is equally talented in other fields.
In particular acting and film making have long been of particular interest to Lewis. He acted throughout grade school, high school and college, often in comedic roles. At New York's Hamilton College he acted alongside Sarah Rafferty, the star of hit USA Network TV series Suits.
After college Lewis made the painful choice to forego acting, following a career path in law (he graduated Magna Cum Laude from Brooklyn Law School) that he said " made his Jewish grandmother proud!" Still, his passion for creative expression never waned. He started writing for fun in 2006, then wrote and produced a short comedy film, High Maintenance, in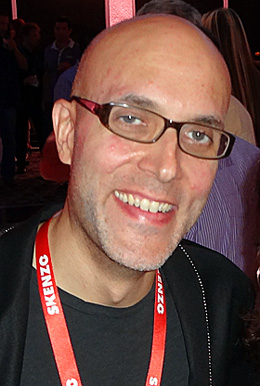 Brett Lewis
2009. He also wrote and produced a series of Web clips for the political web site Omiro.com in 2012 - the same year he originally planned to release his biggest project to date - new comedy farce C STREET that is finally available through Video On Demand Channels iTunes US and iTunes Canada. Yes, it's been a long and winding road to get here but it was journey Lewis felt compelled to take.
The C STREET Movie Poster

ďI had to write this script," Lewis said. "After years of watching libidinous lawmakers perp-walking their way across the cable news networks, it made me wonder why such holier-than-thou politicians kept getting caught, literally, with their pants down. It seems like every week thereís another lurid story involving an oversexed politician engaged in an adulterous tryst."

"Whatís so compelling to me about these falls from grace is the breathtaking hypocrisy. The anti-prostitution crusader caught transporting an escort over state lines using taxpayer funds. The anti-gay lawmaker discovered in a roadside rest stop literally with his pants down. The religious right figure who preaches conversion therapy, only to be caught with an escort he hired on RentBoy.com. The family values Governor who got lost on the Appalachian Trail."

"I got the idea for C STREET after three politicians who each roomed at the shadowy

C STREET house in Washington, D.C. were all implicated in sex scandals. I thought, what if there was a place that politicians all went to have affairs? What would that be like? Who would be running it? Just as Titanic isnít really about a sinking ship, C STREET is about more than a sex scandal. At its core, C STREET is about redemption and change. Itís about two people finding themselves and finding love amidst a sea of corruption. Itís also about people not being what they always seem on the surface, and being open to what lies underneath," Lewis said.
"And then I had to make it. I love writing, and I wanted to be part of the creative process of
bringing my vision from script to screen. Making C STREET has been a true labor of love. It has taken five years, a lot of perseverance, and a home equity loan to get to this point. When I started writing C Street in 2010, my goal was to produce the film in time for the 2012 elections but The Universe threw me a doozie of a curve forcing C STREET went to the back burner."

"We raised half the budget and had momentum going into 2013, but life intervened again when my mother was diagnosed with lymphoma. C STREET went back on the shelf. After a year-long battle with cancer, my mother passed away. Her death forced me to think hard about my priorities. Was it realistic to think I was going to make this movie? Was I just

Brett Lewis (standing at left) on the C STREET set.

wasting time? Was I really crazy enough to finance the movie myself? Yup. Thank you Citizen's Bank!"
"With C STREET I had the opportunity to work with a rising star of a director in Peter Iengo, a dear friend and amazing producer in Ann Luster, and the best crew on the planet (or at least in Brooklyn!) They made the impossible possible, shooting the entire movie in fourteen days Ė one day ahead of schedule. We had a terrific casting director in Erica Palgon and an AMAZING cast. They elevated the script to an entirely different level. Iím so fortunate to have been a part of this process, and proud of our irreverent little baby,Ē Lewis declared.
You can check out the official C STREET Movie Trailer below:
Lewis's many friends in the domain world can support his effort by downloading a copy of C STREET - and just as important - posting a review at Rotten Tomatoes. Those VOD download links again are iTunes US and iTunes Canada.
However C STREET fares it isn't likely to be Lewis's last effort. He has already written seven feature length scripts, and is currently working on a television series and new feature script!