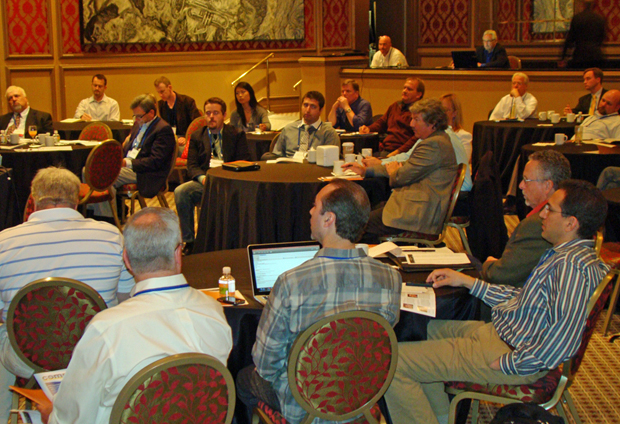 Expo attendees absorbing information during Saturday's business sessions (Oct. 1, 2011)
The men behind NewOrleans.com (two gentlemen who were also instrumental in forming GeoPublishers.com) Don Jones and Bill Hammack were on hand for the Expo and Jones took a turn at the podium, detailing what they had learned about what works and what does not work after years of trial and error at NewOrleans.com. Every attendee I spoke with agreed that was one of the most informative and valuable talks of the weekend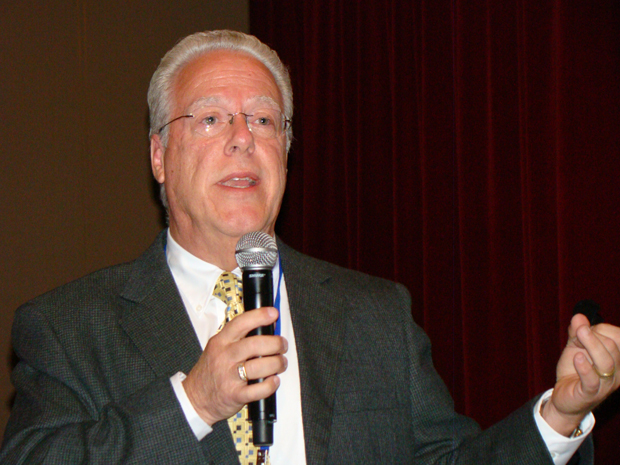 Don Jones shares what worked and did not work on the way to building
a geodomain powerhouse with partner Bill Hammack at NewOrleans.com.
Next up, the Castello Brothers, Michael and David, of Castello Cities Internet Network, owners of Nashville.com, PalmSprings.com and many other great geo and generic domain names, offered their own proven tips and fielded questions from an appreciative audience during a well-received lunchtime talk.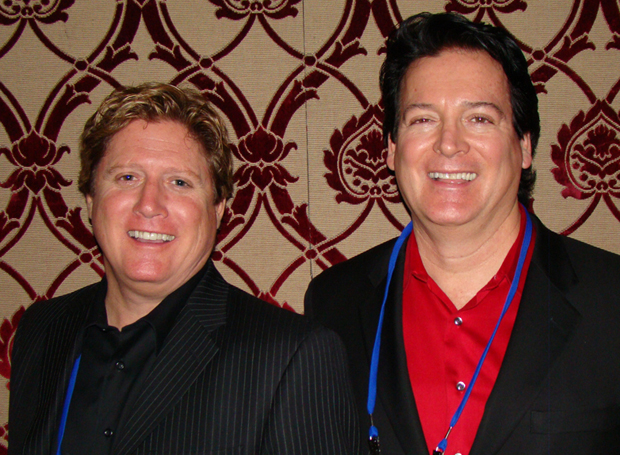 Michael Castello (left) and David Castello of Castello Cities Internet Network
turned Saturday's luncheon into much more than a meal - giving attendees
some geodomain tips they could really sink their teeth into.
After lunch two of the sharpest ladies you will ever find in any industry, Jessica Bookstaff Doppelt (PigeonForge.com) and Sara Mannix (Albany.com), took turns detailing how they have turned their multiple city .com websites into popular local destinations. These two are killing it in their markets and once again I came away from one of their talks feeling like those sessions alone were worth the trip.
Jessica Bookstaff Doppelt
PigeonForge.com

Sara Manniix
MannixMarketing.com
Through her (and husband Mark's) Mannix Marketing, Sara is running several upstate New York city sites that are growing like wildfire (her staff now numbers over 30) and her proven methods for driving traffic to those sites will be adopted by many who heard her speak in Chicago.
The rapid emergence of mobile was also a big topic in the Windy City and there was a lot of advice for geodomain owners on how they could catch the mobile wave and use it to their advantage. The next two speakers, Aimee Irwin of Verve Wireless and Sandy Martin of Schurz Communications (formerly Director of Mobile Intiatives for Borrell Associates) covered the subject from top to bottom.
Aimee Irwin, Verve Wireless

Sandy Martin
Schurz Communications
That left only two opening day stones unturned. Rick Schneider of the Priceline Partner Network and Mike McDonnell, CEO at GeoPlatforms LLC and Captis Media Inc., took care of those. Schneider detailed how Priceline's white label hotel booking affiliate platform can supercharge geodomain site monetization while McDonnell covered Geo SEO, providing ways to win terms and drive more traffic to your sites.
Rick Schneider
Priceline Partner Network

Mike McDonnell
GeoPlatforms LLC
Before the conference room cleared at the end of day one, I gathered the leadership of GeoPublishers.com together for a group photo. Let me introduce you to the new association's Board of Dorectors and its Executive Director:
The GeoPublishers.com Board of Directors (left to right): Michael Castello (CCIN.com), Peter Niederman (DenverRealEstate.com), Don Jones (NewOrleans.com), Jessica Bookstaff Doppelt (PigeonForge.com), Bill Hammack (NewOrleans.com), GeoPublishers.com Executive Director Andrew Martin, President Fred Mercaldo (Scottsdale.com), David Castello (CCIN.com) and Gordon Borrell (BorrellAssociates.com). There is one more board member who was unfortunately unable to attend - Scotland's Tommy Butler (Glasgow.com).
One thing I've always enjoyed about visiting Chicago is having a chance to hook up with Chicago.com owner Josh Metnick (who as I mentioned earlier, is the guy who first came up with the idea of an association of geodomain owners). I got that opportunity again Saturday night (Oct. 1). First I joined Michael Castello (Nashville.com), Sean Miller (NewYorkCity.com) and Toby Hardy (FrenchRiviera.com) for dinner, then Michael, Sean and I arranged to meet up with Josh at a popular local lounge, The Aviary. Josh had not had dinner so we soon taxied to a nearby Irish pub to get him some nourishment.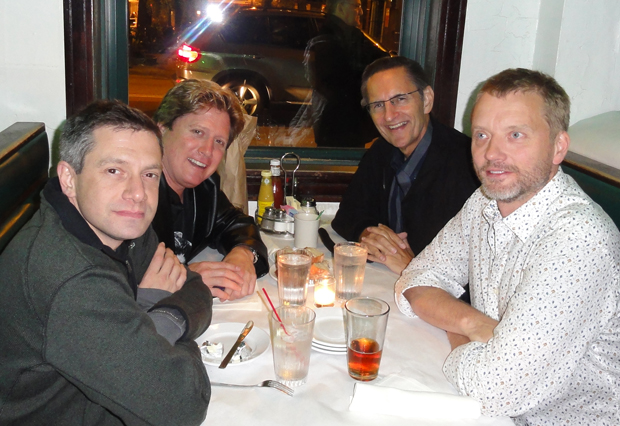 Good food, good conversation and good company in Chicago Saturday night
(Left to right): Josh Metnick (Chicago.com), Michael Castello (Nashville.com),
Ron Jackson (DNJournal.com) and Sean Miller (NewYorkCity.com). (Oct. 1, 2011)
The inaugural GeoPublishers.com Expo concluded with a pair of sessions Sunday morning, Oct. 2, 2011. Forkfly.com CEO Paul Wagner got things started with an eye-opening talk about how to engage your audience through mobile products and social media integration. Mobile was a recurring theme throughout the weekend and it deserved to be. Wagner said 30% of all website traffic is now coming from mobile and that number is expected to climb to 50% in the next two years!
A grand finale that lived up to its named followed with Gordon Borrell, founder of Borrell Associates, Colby Atwood (President, Borrell Associates) and Pete Conti (VP of Marketing, Borrell Associates) teaming to give attendees a knockout presentation absolutely stuffed with invaluable information on local markets and trends. Borrell Associates is America's top local media research company and their clients pay huge fees for the kind of information the Borrell team dished out in the Expo's closing session.
Sunday's heroes: (above left) Gordon Borrell (Borrell Associates), (above right) Paul Wagner (Forkfly.com), (below) Pete Conti (left) and Colby Atwood (both representing Borrell Associates)
During his talk, Borrell, who serves on the GeoPublishers.com Board of Directors, promised continual improvements in the association's Expo going forward. This debut show was a good first step with its exceptionally strong programming and a first rate venue in a great city. It augurs well for geodomain owners who already have the wind at their backs - a position you have to envy.
The 2011 GeoPublishers.com Expo was officially history by noon on Sunday, but a few of us who had late flights out of town decided to get together and enjoy the fabulous fall weather in Chicago before heading to the airport to catch our evening flights. Page Howe (BestGeos.com) and Michael Cyger of DomainSherpa.com joined me for a jaunt that began in Millennium Park, just south of the Fairmont. One of the coolest things in the park is Cloudgate - a massive egg-shaped mirrored object that reflects everything around it in an infinite variety of ways.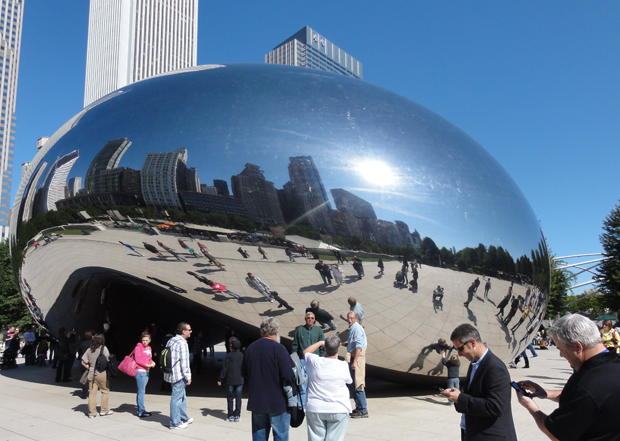 The ultra-cool Cloudgate in Chicago's Millennium Park Sunday (Oct. 2). The two guys in
the lower right corner are Michael Cyger (DomainSherpa.com) & Page Howe (BestGeos.com).
There is an opening that allows you to walk underneath the "egg". While there I was fooled by the mirrored image and accidentally smashed my head into the metallic surface. Michael and Page thought that was hilarious. Me, not so much :-) The entire time we were out walking Page was constantly looking up domain names on his smartphone, so I asked him to look up CloudgateHeadInjuryAttorney.com. They got a further chuckle out of that while I rubbed the knot on my forehead.
From Millennium Park we headed over to the Navy Pier to have lunch at Harry Caray's (a treat for me because I spent many days hanging out with the late great baseball play by play man when I was a TV sportscaster. Harry was with the White Sox and I was the Sports Director at the ABC-TV station in Sarasota where the team held spring training. He was truly one of kind,)
After lunch we headed back to the hotel to collect our bags and headed off to the airport. I couldn't have asked for a more enjoyable and rewarding weekend than I got from the GeoPublishers.com Expo. It will be exciting to see what blossoms from the seeds planted at this event.